Interview: Thai Designer Venice Wanakornkul On Spotting Tourists & Befriending Your Clothes
Presently based in Bangkok, fashion designer Venice Wanakornkul's colourful background has seen her live and work across Europe and the US, graduating from Parsons' MFA Fashion Design & Society programme in 2018. Her background in fine art is apparent in her conceptual views on clothing, with each of her garments fitting into a complex narrative meticulously conceived by the designer. Having previously spent time at Telfar, earlier this month, Wanakornkul presented her label VeniceW's Spring/Summer 2021 collection during New York Fashion Week, as part of the CFDA's pandemic-friendly digital initiative. To learn more about Wanakornkul, the thinking behind VeniceW, and how life's going in Bangkok, Something Curated spoke with the talented designer.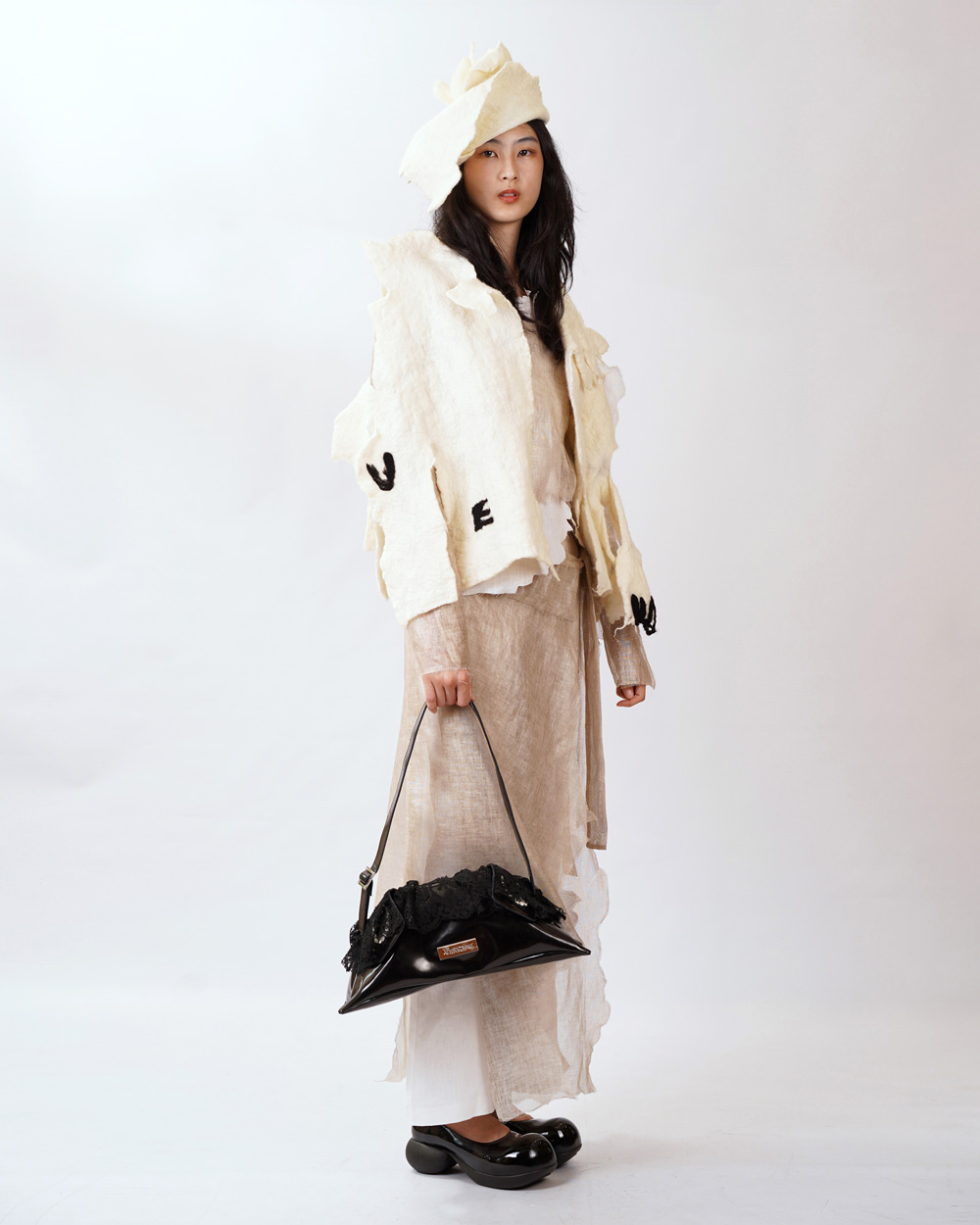 Something Curated: Can you give us some insight into your background; how did you enter this field?
Venice Wanakornkul: I like observing, drawing and studying a subject, so that once you understand it, you can always do it, like math. I wouldn't say I understand the fashion system fully yet but the designing and making part have all the things I like, observation, math, and imagination… 3 in 1. I wanted to become a fashion designer and undertook a foundation course at Central Saint Martins in London. Unexpectedly, I discovered fine art, and the works of artists like Martin Creed opened up many possibilities for me. Especially for my younger self, who was an exchange student from Bangkok, Thailand who went to high school in Idaho, USA. My host sisters and I would go around ding dong ditching and teepeeing neighbours' houses with toilet paper during free time – I wonder if this culture shock was the reason why I like to investigate the boredom or the idea of killing time.
Instead of fashion design, I took a detour and enrolled into BA Fine Art at Chelsea College of Art London where I spent most of my time thinking (a lot) about objects like a glass of water, A4 paper and toilet paper. The main idea was to look for excitement within the objects. For example, I let toilet paper rolls bungee jump down from the college's windows. Toward my dissertation, nothingness occupied my mind and somehow after thinking about nothing, I just really really wanted to do something… fashion design! So, I joined MA Fashion Design at Istituto Marangoni in London and graduated from the MFA Fashion Design & Society programme at Parsons in New York in 2018. Since then, I am thinking about clothing everyday.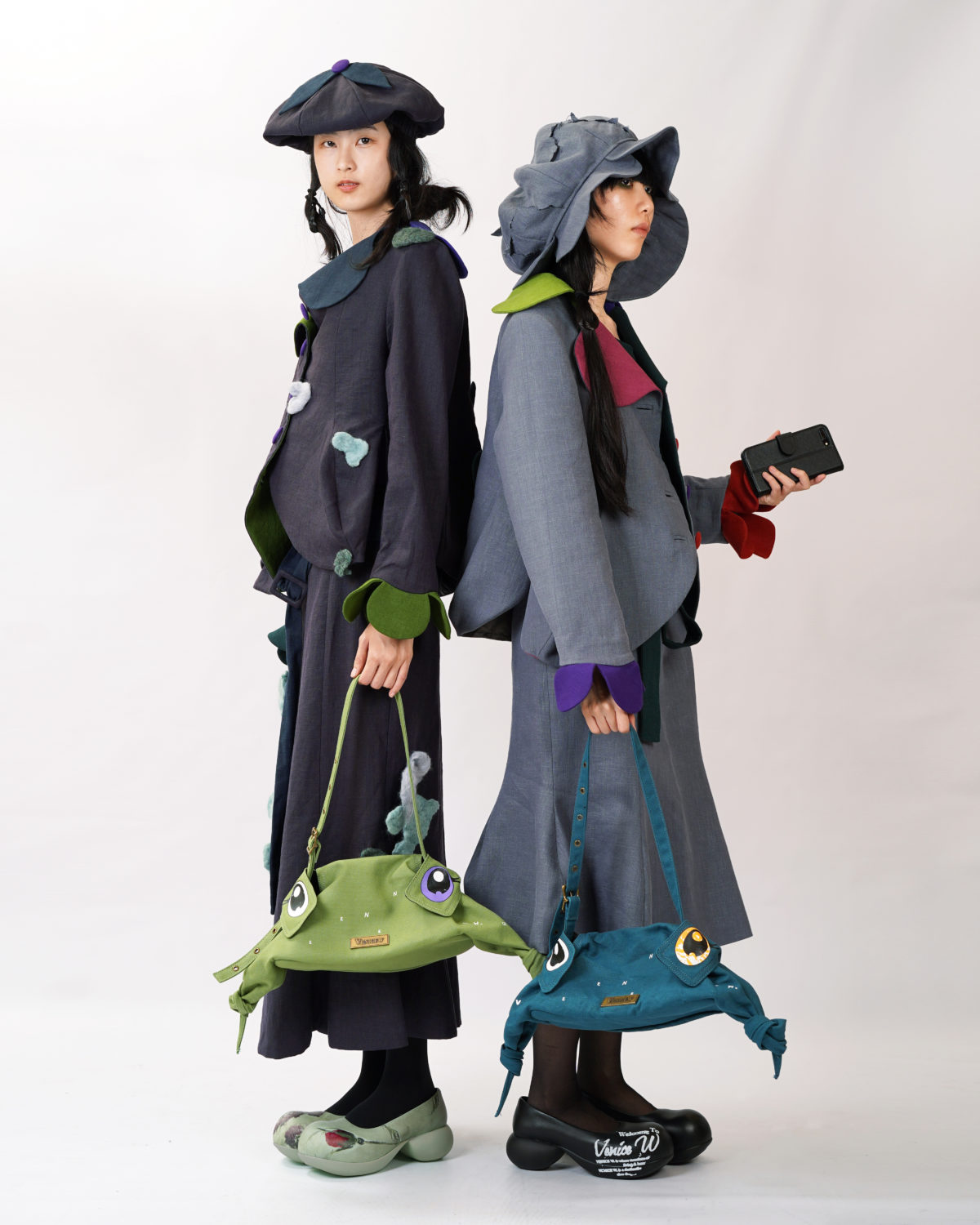 SC: How would you describe the ethos of your label, VeniceW?
VW: VeniceW is a destination for humans to visit, as a city or sometimes as a mind-set. Growing up having been named "Venice," one of the world's most romantic destinations to visit, and growing up in Bangkok (also named Venice of the East), where the main economy is also tourism, the relationship between tourism and clothing has always been the supportive structure of how VeniceW as a fashion label could possibly functioned as a city – humans are the tourists, VeniceW garments are the locals, souvenirs are the products.
I am interested in how tourists dress differently in different cities or how you can tell the visitors apart from the locals, and how a powerful city could affect one's fashion choices and its relation to happiness – like how everyone is looking forward to wearing a special item on a holiday. Is it possible for VeniceW clothing to give its wearer the exciting feeling of going on a trip? What essential items would you pack before traveling to VeniceW? Or what VeniceW souvenirs would you buy to remember the good times. I like to think of it this way… it is a pretty romantic destination.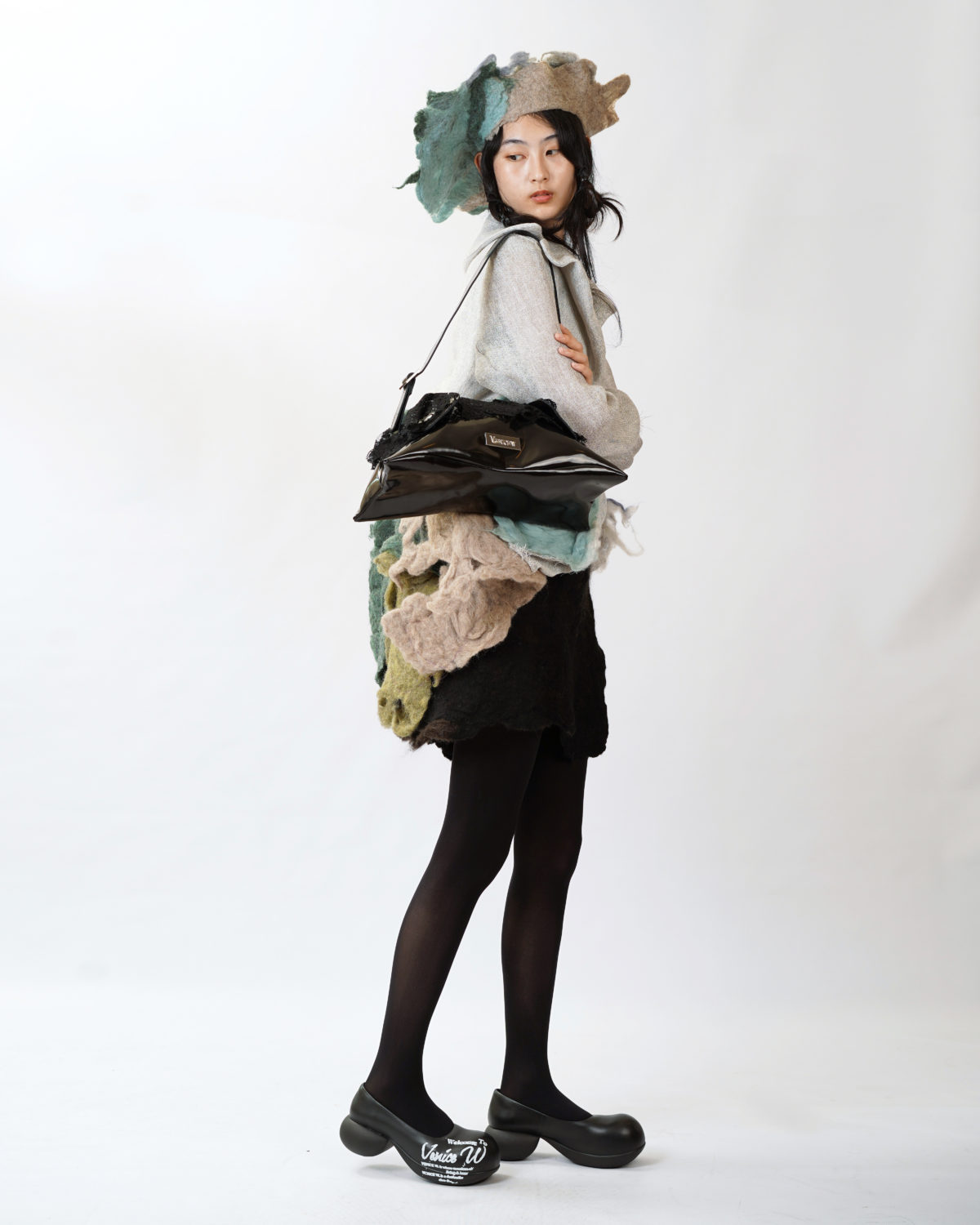 SC: What are you working on at present, and how has the pandemic affected your way of working?
VW: It is my first time working on a collection from home in Bangkok. "Discovery of Ancient Apple," VeniceW's SS21 collection, was shown on 15 September 2020 as part of NYFW's official schedule. I presented the collection via the CFDA Runway 360 digital platform with an animation in collaboration with Audr3y X along with the SS21 lookbook. Since VeniceW is still young, I have the opportunity to choose how to design my own business, such as planning out the production chain and producing in my hometown, which means I can see my family more often.
I enjoyed working non-stop without distraction but the challenge was balancing work vs. life; I worked hard but am missing playing harder… and missing friends, so in the midst of the pandemic, I started thinking, "Can we be friends with our clothes? Can we have eye contact and fall in love with a bag? We are never walking alone, but always accompanied by a pair of shoes!" These lonely questions led me to focus more on creating items that give the sense of friendship and familiarity such as "Listening Hoodie," a hoodie with ears inspired from my very first piece of clothing, "Stinky Blanky," a dusty green and pink blanket that wrapped my baby body out from the hospital… we are now the same age and we are still friends.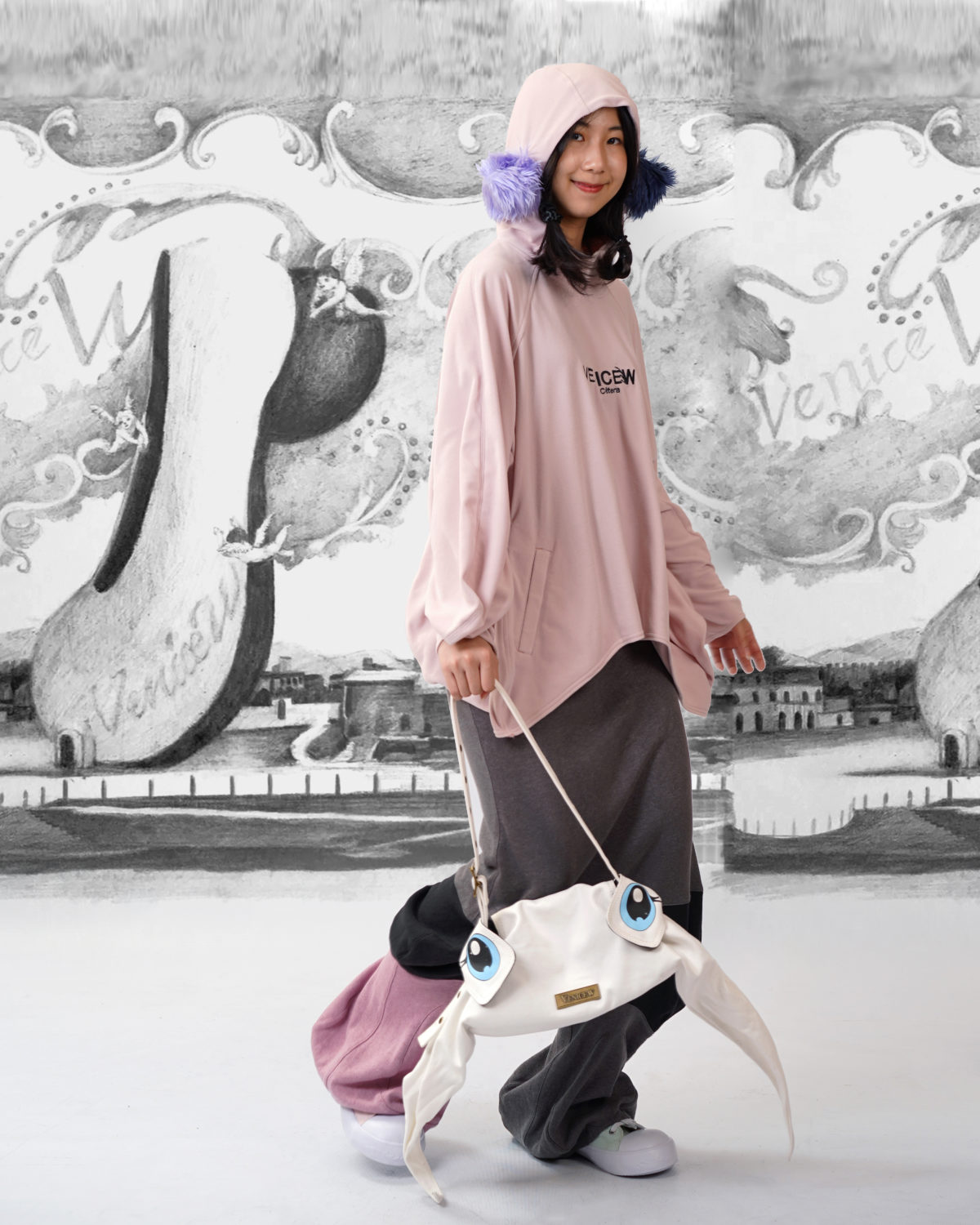 SC: Are there any materials or processes that you are particularly enjoying exploring currently?
VW: Thai hemp is a new material I'm using in my work. It is healthy as it gives the wearer more oxygen to the skin. So I incorporate hemp fabrics into clothing as well as sneakers. For example, the "Elephant Shoes" came in mismatched colour pairs exploring the idea of running late and grabbing the wrong pair of shoes, enjoying the imperfection, taking things easy, being happy and healthy, both body and mind.
SC: What do you want to learn more about?
VW: Ancient Egypt, photography and Photoshop.



Images courtesy VeniceW / Drawings by Max-Hanyu Cui