Barboun Head Chef Fez Ozalgan's Guide To A Levantine Inspired Christmas
Head Chef of Eastern Mediterranean grill restaurant Barboun in Shoreditch, Fez Ozalgan's signature creations span diverse seafood and meat dishes cooked over open fire, bolstered by her heritage and references to the meals her grandparents prepared, alongside inventive takes on classics like dolma, stuffed vine leaves, and manti, a dumpling popular in many Turkic cuisines. Celebrating the flavours of the Levant, a historic and approximate geographical term referring to a vast area in the Eastern Mediterranean region of Western Asia extending from Greece to Cyrenaica in eastern Libya, Ozalgan shares with Something Curated her brilliant Levantine inspired interpretations of familiar Christmas favourites, along with a mouth-watering floral dessert fit for any season. The below are her words.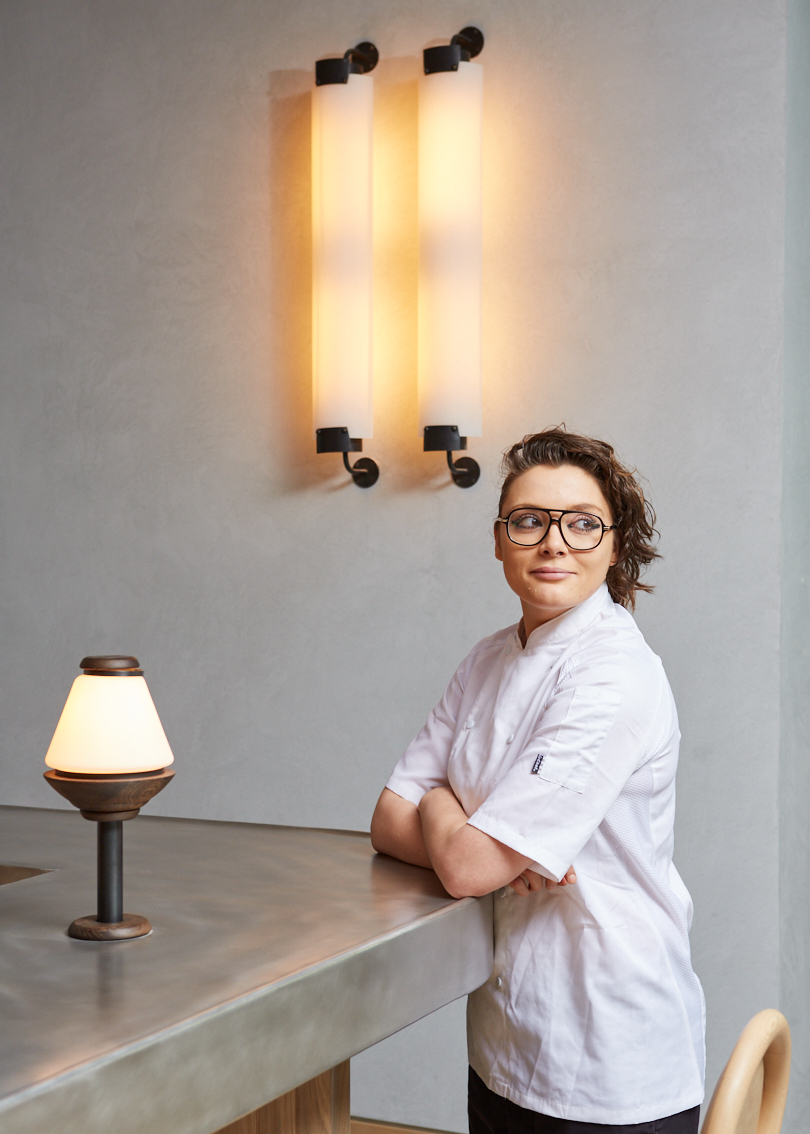 ZA'ATAR SPICED SAUSAGE ROLLS
Makes 8 sausage rolls
Ingredients:
Chicken, lamb or beef sausage – 8
Pre-rolled ready puff pastry – 1 pack
English mustard
Egg – for egg wash
Oregano – 10g
Dried thyme – 60g
Sesame seeds – 30g
Sumac – 10g
Sea salt – 10g
Method:
First, toast the sesame seeds lightly and combine the remaining dried ingredients for the za'atar. Crush this mix lightly with the back of your spoon and set aside.
Unroll the puff pastry and brush lightly with the mustard. Place the sausage on the pastry, one at a time and roll, just a singular layer of pastry required. Repeat this until all of your sausages are wrapped. Any kind of sausage can be used, though for a true Levantine inspired Christmas, beef, chicken or lamb is preferred.
Once all of your sausages are wrapped, brush one side with your beaten egg and load the top with your za'atar mix. For smaller sausage rolls, these can also be cut in half and served cocktail sausage style.
Preheat your oven to 180 and bake the rolls for approximately 8-12 minutes (depending on whether you've gone for large or small rolls). When ready, you will have a flaky, golden brown roll.
These can also be frozen before baked. Defrost in the fridge for a couple of hours and then bake.



LAMB AND RICE STUFFING (HASHWEH)
Ingredients:
Lamb mince – 400g
Long grain rice – 300g
Beef or lamb stock – 450ml
Ground nutmeg – ½ tsp
Ground allspice – 2 tsp
Ground cinnamon – 1 tsp
Olive oil – 30ml
Almond flakes – 80g
Dried apricots (chopped) – 100g
Method:
First soak your rice for 20 minutes to remove any excess starch content. Rinse and drain well.
Now in a saucepan, add your lamb mince and spices, cook over a medium heat, constantly stirring. Once the lamb is cooked, add your rice and keep stirring. There will be fat from the lamb mince in the mix, retain it, it adds plenty of flavour.
Once nicely mixed, add your stock and bring to a boil. Reduce your heat to low and cover, allow to simmer. Once the liquid has absorbed into the rice, turn the heat off completely and remove the lid. Allow to cool gently before adding your almonds. Check the seasoning and add more salt and cracked black pepper if required. Once cool, your stuffing is ready to be used for your Turkey. The added fat from the lamb mince will aid in holding your stuffing together.



CHRISTMAS MANTI
Ingredients:
Left over chopped turkey, or turkey mince
Ground star anise – 1 tsp
Water – 30ml
Cider vinegar – 20ml
Sea salt – 1 tsp
Olive oil – 1 tsp
Plain flour – 250g
Water – 125ml
Strained Greek yoghurt
Cranberry sauce
Method:
For your filling, you can either use leftover cooked turkey (with any chopped leftover veg) or start from scratch using turkey mince.
Using your cooked meat, add your water, vinegar and ground star anise and mix well. Check the seasoning. Add salt and cracked black pepper if required.
To make the dough, in a mixing bowl, combine the water, salt, olive oil and flour. Knead well with your hands until fully mixed. This dough can also be pre-made then wrapped in clingfilm and frozen to be used at a later date.
Once your dough is mixed, set it aside to rest for 20 minutes. When ready, knead once again, it should be elastic. Roll your dough on a floured surface until very thin. Depending on how big you want your manti, cut your rolled dough approx 8cm wide. Alternatively use a dough cutter for consistency to whatever size/shape you prefer.
Once you have your manti wraps ready, you can start to fill. Place the filling in the centre and using your fingers, fold up until both ends meat each other above your filling and then pinch together. Moisten the edges with water so they seal nicely.
Repeat this until all of your manti is ready. These can be frozen and boiled straight from the freezer at a later date.
Boil a pan of water and submerge your manti. Important to not add too much manti at once, they must have room to breathe inside the water otherwise they will clump together. They will take a mere 2 minutes to cook. The manti will be soft but still firm enough that they've held their shape.
Whilst your manti is cooking, in a separate pan, lightly heat your yoghurt. Important to not heat too much as it will curdle. Once the yoghurt is warm and loosened, this is your base sauce. Place the cooked manti on top and complete with your cranberry sauce. Your cranberry sauce can also be let down with a little water so its more of a saucy consistency to be drizzled over.



TURKISH DELIGHT
Ingredients:
Granulated sugar – 500g
Water – 550ml
Lemon juice – 3 tbsp
Cornstarch – 150g
Cream of tartar – 1 tsp
Rose water – 2 tbsp
Orange extract – 1 ½ tsp
Salt – ½ tsp
Chopped pistachio – 50g
Icing sugar – 130g
Red food colouring – 6 drops
Method:
To start, ensure you have a baking tray, lined with foil and sprayed well with non-stick cooking oil.
Pour your granulated sugar and half of the water into a saucepan and leave on a high heat, bring to the boil. Make sure you have a thermometer handy as you will need to remove once the sugar syrup reaches 120 degrees.
Meanwhile, in a separate pan, pour in the remaining water and whisk in the lemon juice, cornstarch and cream of tartar. Whisk very well and ensure there are no lumps at all. Keep on a high heat, constantly whisking until you get a thick consistency.
Once your sugar syrup is ready, pour slowly into your second pan. Keep whisking as you are pouring to ensure it mixes in well with no lumps.
Allow this mix to simmer for approx 45 minutes. Your end result will be jelly like. Stir occasionally but try to leave untouched.
Finally, stir in your rosewater, salt, food colouring and orange extract. Pour half of the mixture into your baking tray, sprinkle with nuts and then the remaining mixture on top. Important to do this quickly before the mixture cools and becomes too thick to pour. Place your dish in the fridge to cool for approx 1 hour until set. Once ready, set out on a surface, cut to your desired size and then coat in the icing sugar. To get your Turkish delight to a softer form, leave out at room temperature.



Feature image courtesy Barboun / Photo: Freshmike Studio