'Friends & Friends Of Friends': Keeping Friends Close & Communities Closer
Relating to virtual interconnectivity, 'Friends and Friends of Friends' at Linz Schlossmuseum has brought together twenty artists through social media to reflect on the feedback loop between artist, audience and auditor. In a movement named Post-Digital Pop, the works both capitalise and critique the algorithmic agency within online platforms. Employing innovative strategies to engage with spectators, the artists tackle the digital frontier with ostentatious apparitions from an oversaturated realm.
Contrary to the established tropes of post-internet art, the works assembled within the brutalist rooms of the Schlossmuseum are conspicuous in their solidity with an omission of new media. Placing themselves within the canon of painting and sculpture, these pieces subvert the expectations of their mediums, and are symptomatic of digital natives who are migrating towards physical fabrication to gain perspective on a life lived online. Their materiality gesticulates at issues of identity, privacy and sexuality to shed light on the connectivity and estrangement within remote socialisation. Throbbing with ironic bricolage, these defiant works revel in their own grotesqueness as they gaudily merge references from high and low culture.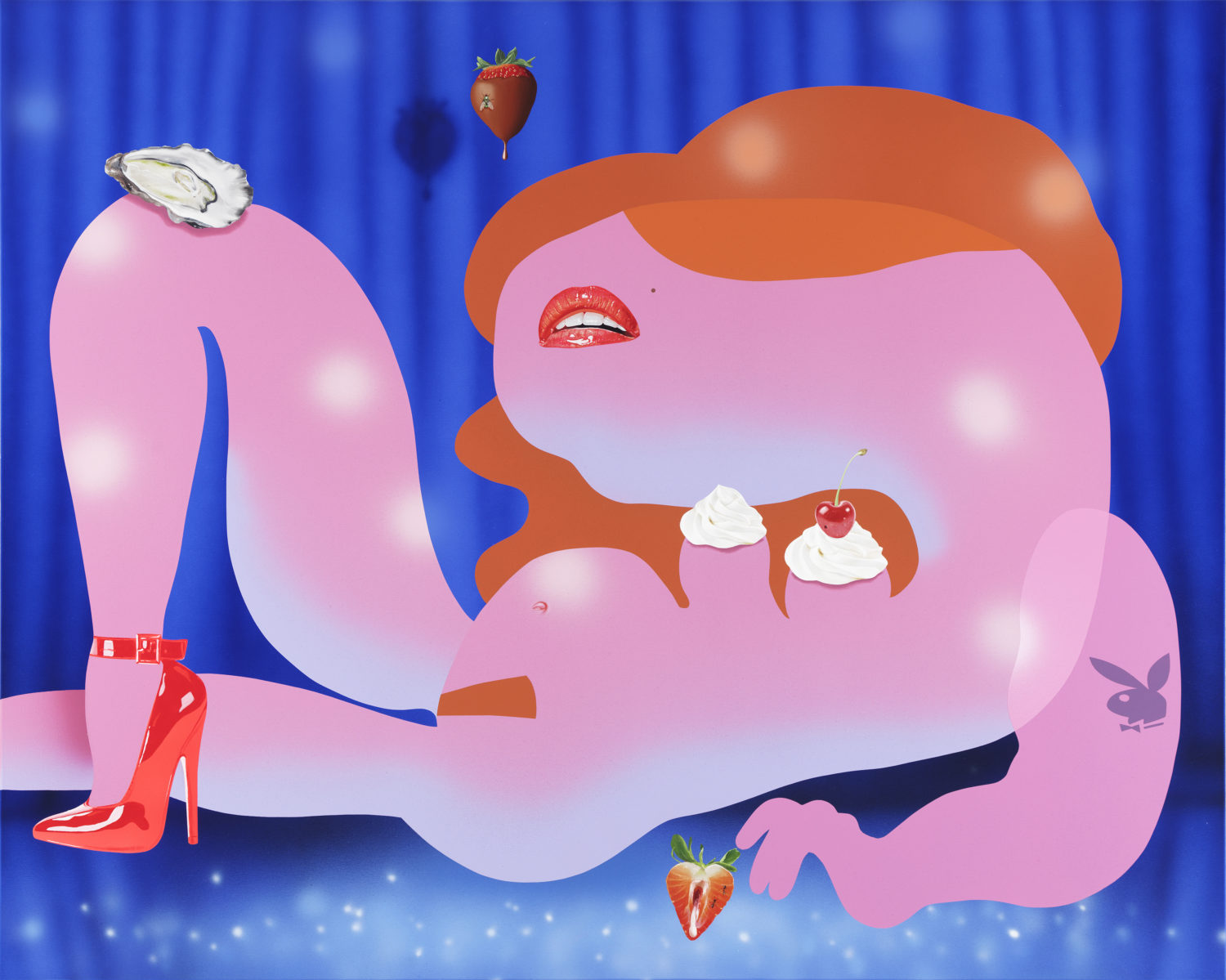 The exhibition is characterised by the term Post-Digital Pop, coined by artist Oli Epp. Describing his own work with the maxim, he identifies the genre as a reaction to performance in front of and behind the screens, a resurgence of pervasive advertising, mass media and the re-appropriation of popular culture akin to the Pop Art movement. Six of Epp's own paintings are on show, airbrushed renderings which depict "diluted anthropomorphic avatars", their blobby bodies adorned with trompe-l'œil signifiers of their consumerist nature. Their amorphism is said by Epp to be emblematic of how we "stretch ourselves between virtual and analogue realms, abstracting and flattening ourselves in the process". Rotund anatomies embody current anxieties surrounding addiction, sex and consumerism. Quarantine (2020) is clad in a coronavirus-repelling suit alluding to fetish-wear while Aphrodisiac (2019) reclines provocatively, smeared with whipped cream, as a fly swarms above. By evading painterly elements, Epp emulates a computerised feel, yet maintains that the labour involved in his painstaking process still holds a particular power.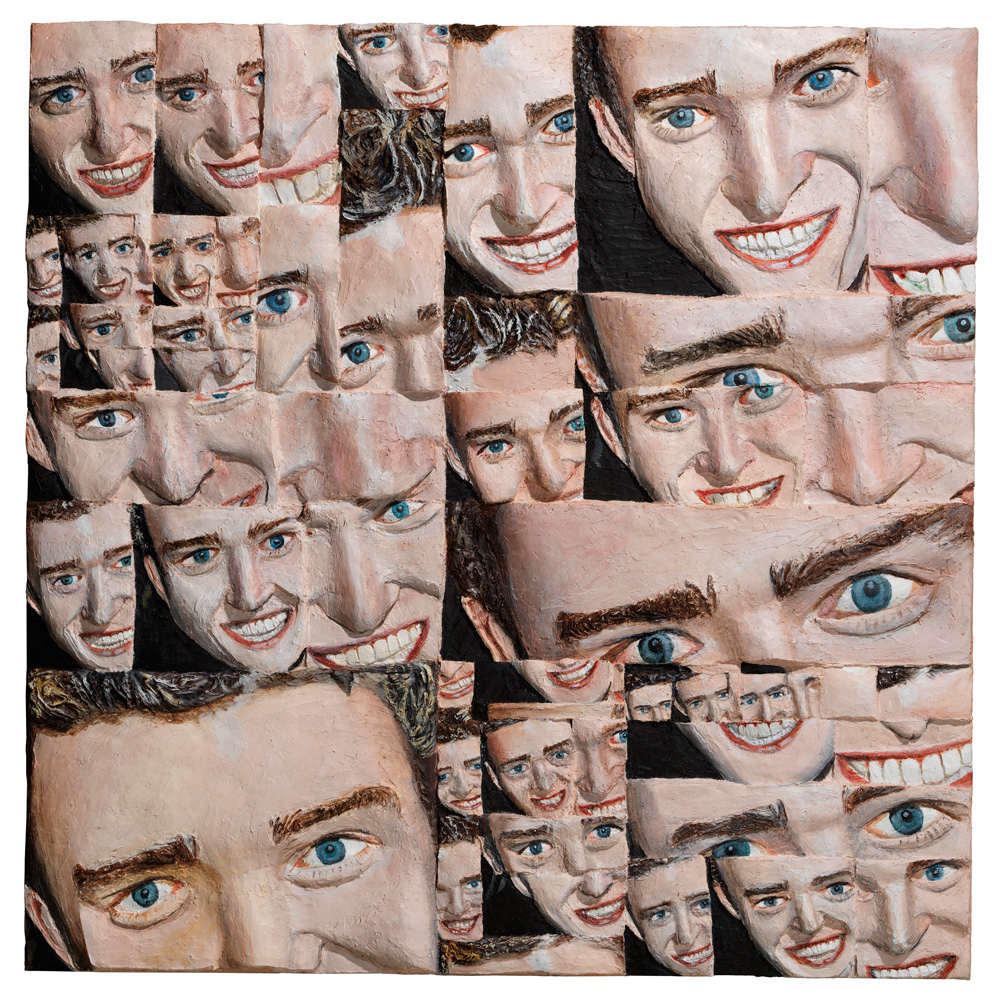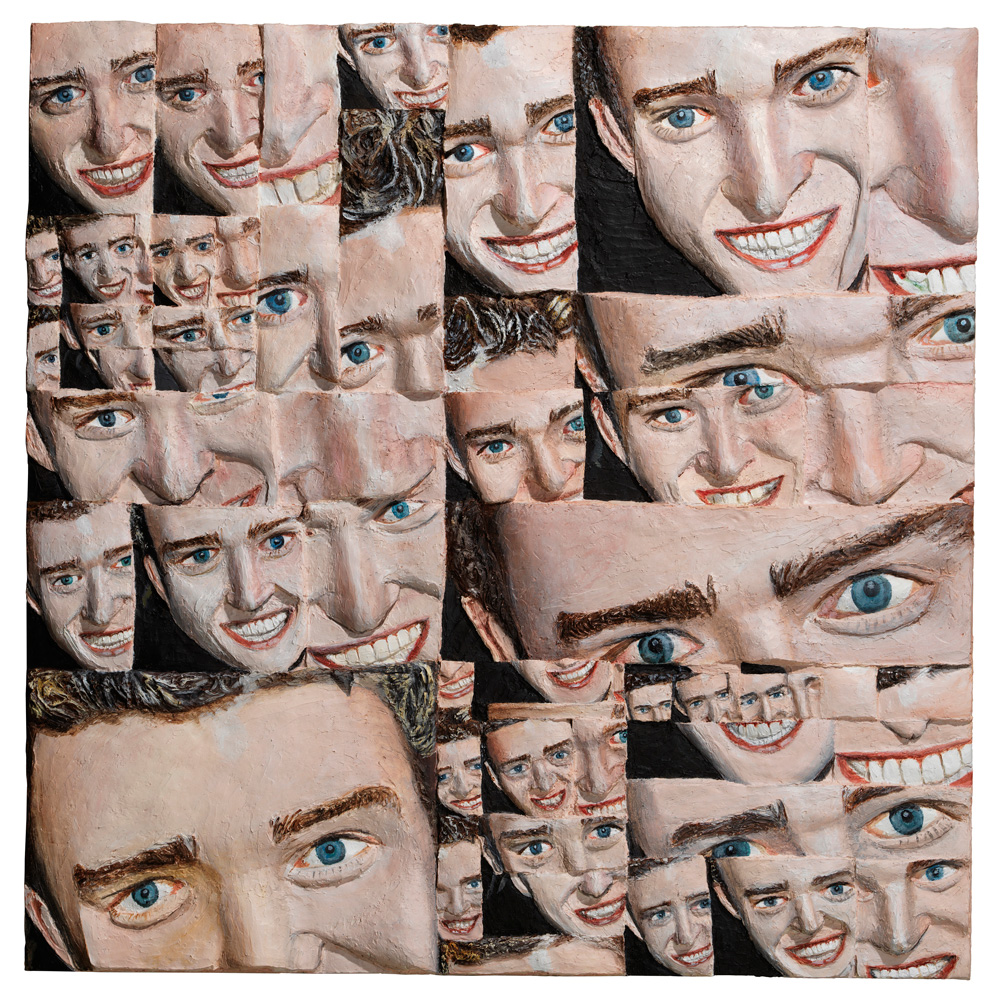 Gina Beavers' practice is both a homage and a satire of the classical art canon, transforming snapshots into paintings, as witty notations on internet culture. Comparative to a digital anthropologist, she documents the consumer culture to which she contributes. Her ironic style is epitomised in The Artist's Lips (2020), mimicking fan art realised in makeup, and poking fun of the heroism of the iconic works she has duplicated. Extending her humorous repartee, It's Gonna Be May (2019) takes its title from a meme centred around Justin Timberlake's mispronunciation of the lyric "it's gonna be me". This joke has prompted an event of posting pictures of the pop star in the last week of April. "Many people say that the digital is flat", Beavers states, yet this event is proof of the "beating heart within" the online space. Speaking on her subversion of glamorous images, she recounts, "people have commented that some of my works are wild, and that may be true in fine art" but that this is not unusual online, where the endless promotion of the self is accepted. Although she skews the beautiful, she asserts that these freakish portrayals mirror a reality that is equally absurd.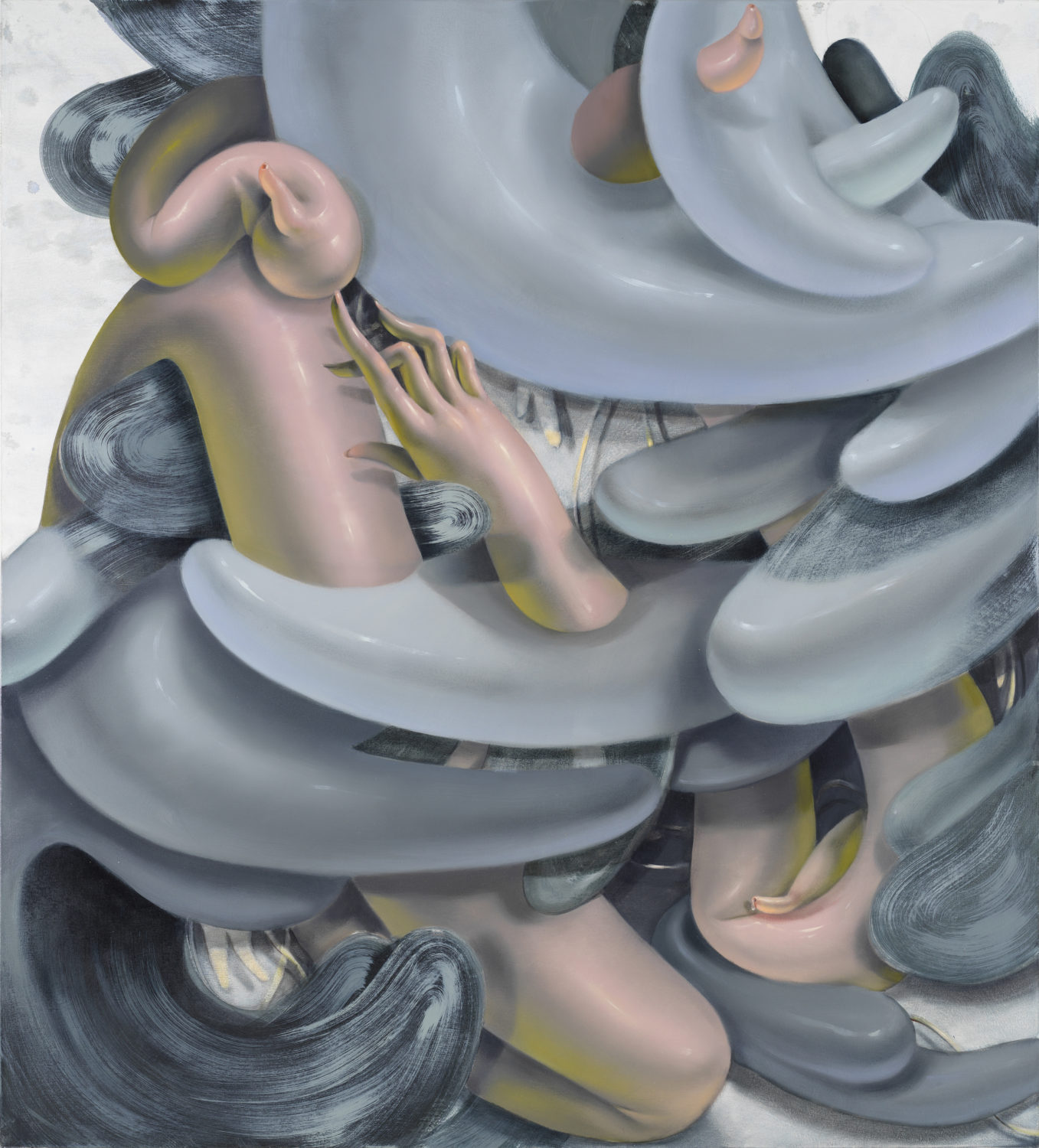 In Sarah Slappey's paintings, the surreal and the literal merge in muted dreamscapes which evoke a twisted reality. Amongst an ocean of blue flesh, hands fondle elongated nipples. Slappey abstracts the body into an amalgamation of forms, discreetly bypassing algorithmic bans. Deploying nipples as a central motif, she articulates that rather than being "purely sexual", the body part is "universal and life-giving". The protracted breasts echo Slappey's unsettled feelings about her own body. Depicting the darkness disguised in female lust, Grey Cloud (2019) drew from the novel "Dark Spring", which traces an erotic awakening. Her paintings embrace the boundaries between empowerment and degradation, desire and repulsion and pleasure and pain. In an ambiguous state of ecstasy and misery, her figures' constant touch reflects its potential to be both "caressing and cruel". Slappey affirms that physical contact is an aspect of life that has been dulled by social media, and that editing our public persona brings us farther away from human interaction. Though social platforms have led to a blooming of cyber networks, she asserts that completing the connection means meeting those new friends IRL.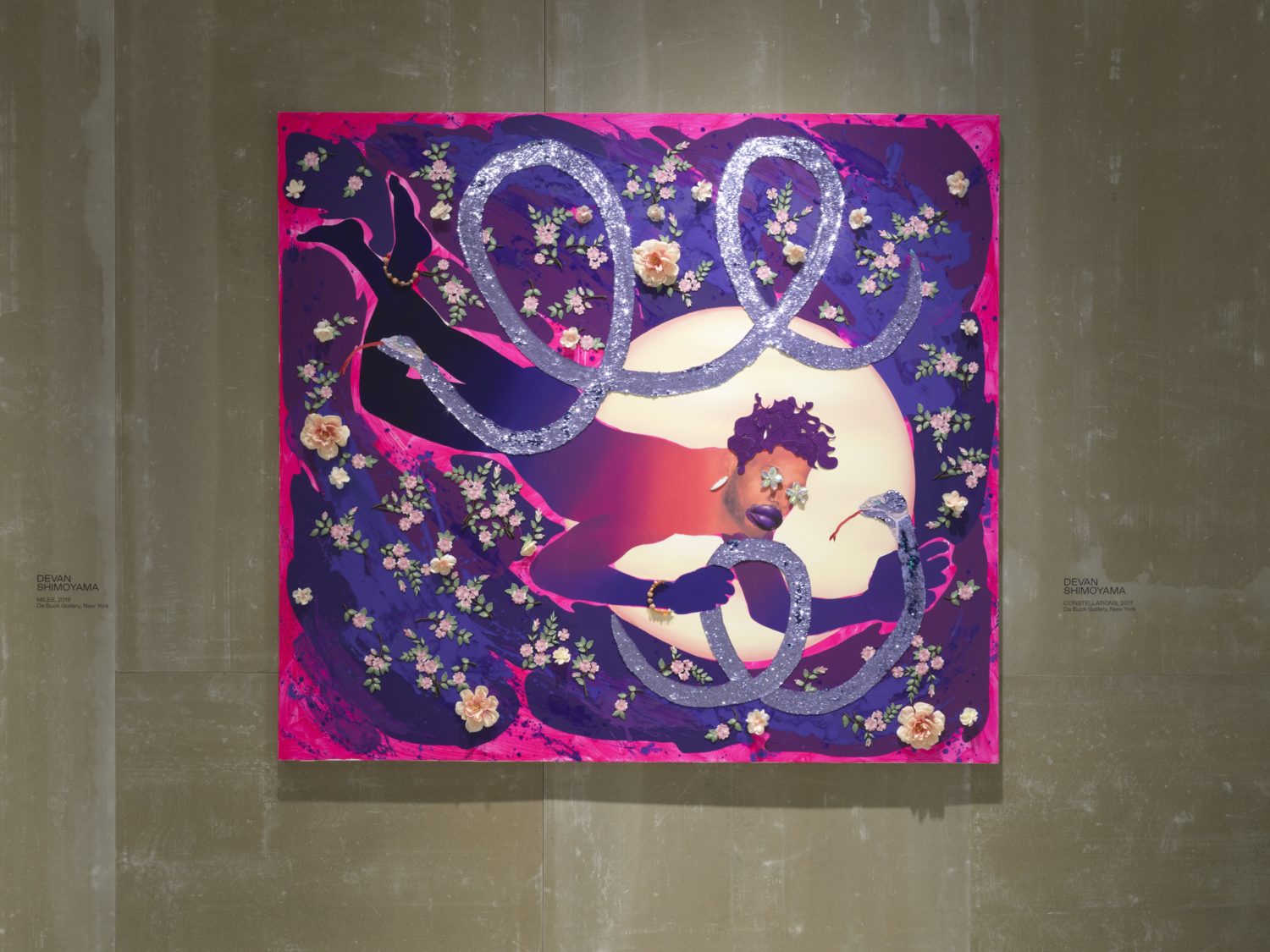 Gesturing ostentatiously towards queerness, Devan Shimonyama's male portraits blend references of Black culture with mythology. Within Constellations (2017), Shamoyama himself appears entwined in a tryst with a serpent, acting as a surrogate figure for identities who are not usually visible in fantasy settings. Placing the two in a symbiotic relationship, he expresses a shared understanding and alludes to the parables of ancient myth, where Shimoyama asserts the queerness within classical storytelling. Borrowing the pervasive symbol of the snake, the artist perceives parallels between their vilification in the West and the mistreatment of Black men. Shimoyama also draws from drag culture through embellishments to his works of costume jewellery, glitter and sequins, evoking an aspirational opulence. Likening the ritual of drag performers "constructing the fantasy" on their own body, to the action of dressing his own figures, he evokes prevailing resistance in the face of scarcity. Contributing to visibility of Black resilience, Shimoyama depicts the "joyous, curious and fantastical", in reaction to the persistent portrayal of racial violence.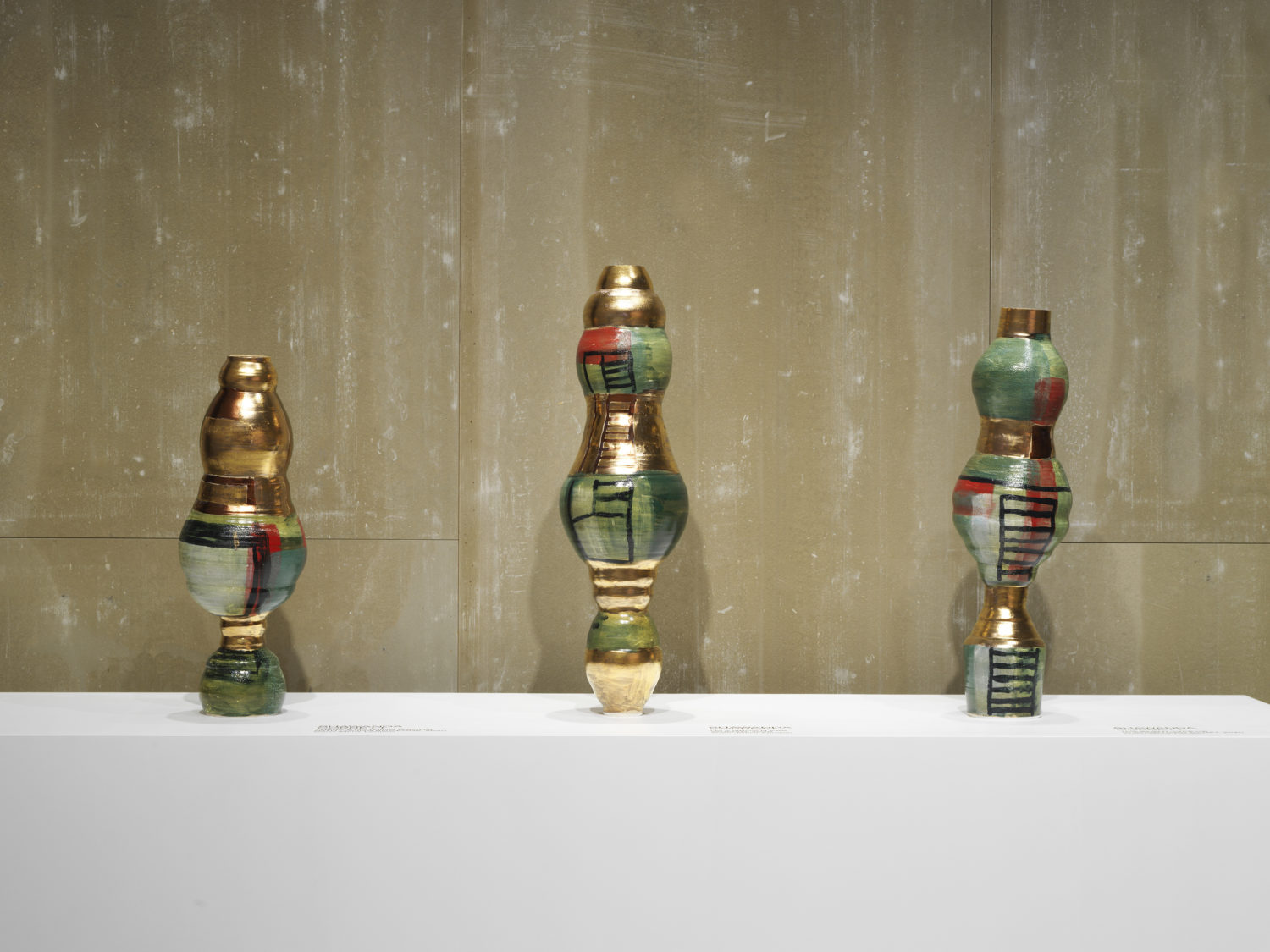 A Black woman with a differently-abled body, Shawanda Corbett's interdisciplinary practice offers viewers an alternative perception of corporeality. Her work The Black Saint and The Sinner Lady (2020) consists of gestural ceramics and paintings, fabricated in response to the titular album by Charles Mingus. Corbett's works on paper result from dance, and later works from these paintings to create ceramic vessels, which become containers for the performance. Rendered in veils of gold, a similar opulence referenced by Devon Shimoyama, she seeks the gallery to elevate Black communities. Her broad visual representations reframe stereotypes surrounding gender and race into utopian artefacts. Corbett cites the stages of coming into womanhood as a person of colour as the basis for these works. The artist states that their abstraction points out that "womanhood is lost in translation when a differently-abled body is the narrator". She references science fiction writers' ability to "root fiction in the reality that they see" as having informed her approach in integrating her existence into the microcosm of her works, echoing the widespread depiction of bodies like hers as "other-worldly".
The overarching sentiment of 'Friends and Friends of Friends' exudes a fusion of the digital and the material, and reveals the malleability of this hinterland's potential. The exhibition balances the benevolent with the sinister of social platforms, becoming more pertinent as they completely permeate our quotidian routine. The virtual realm is unveiled by the artists as both oppressive and freeing, anxious and soothing, restrictive and accessible. Entanglements of class, gender and race are continually overturned, offering speculative alternatives. Satirising and celebrating the quirks of contemporary existence, the artist's works are demonstrative of an ever more democratic art canon, one which accepts our evolving ways of life.



'Friends and Friends of Friends' runs at Schlossmuseum, Linz until 6th January 2020.



Words by Vanessa Murrell / Feature image: Installation view of 'Friends and Friends of Friends' at Schlossmuseum, Linz. © Michael Maritsch