The Instagram Account Celebrating The Creativity Of POC Hairstyles Through History
Instagram account @in.hair.itance, curated by Kyle Ring, is described by its founder as, "An anachronistic celebration of the diversity, complexity and creativity of people of colour and how we choose to style, decorate and care for our hair." From Zulu topknots and Eritrean braiding, to Tibetan hair ornaments and Egyptian "perfume cones," designed to be placed atop a head of hair, this brilliant visual archive is packed full of fascinating historical hair references and informative insights courtesy its curator. As well as providing a valuable trove of knowledge and inspiration, Ring's beautifully arranged feed is a joy to peruse.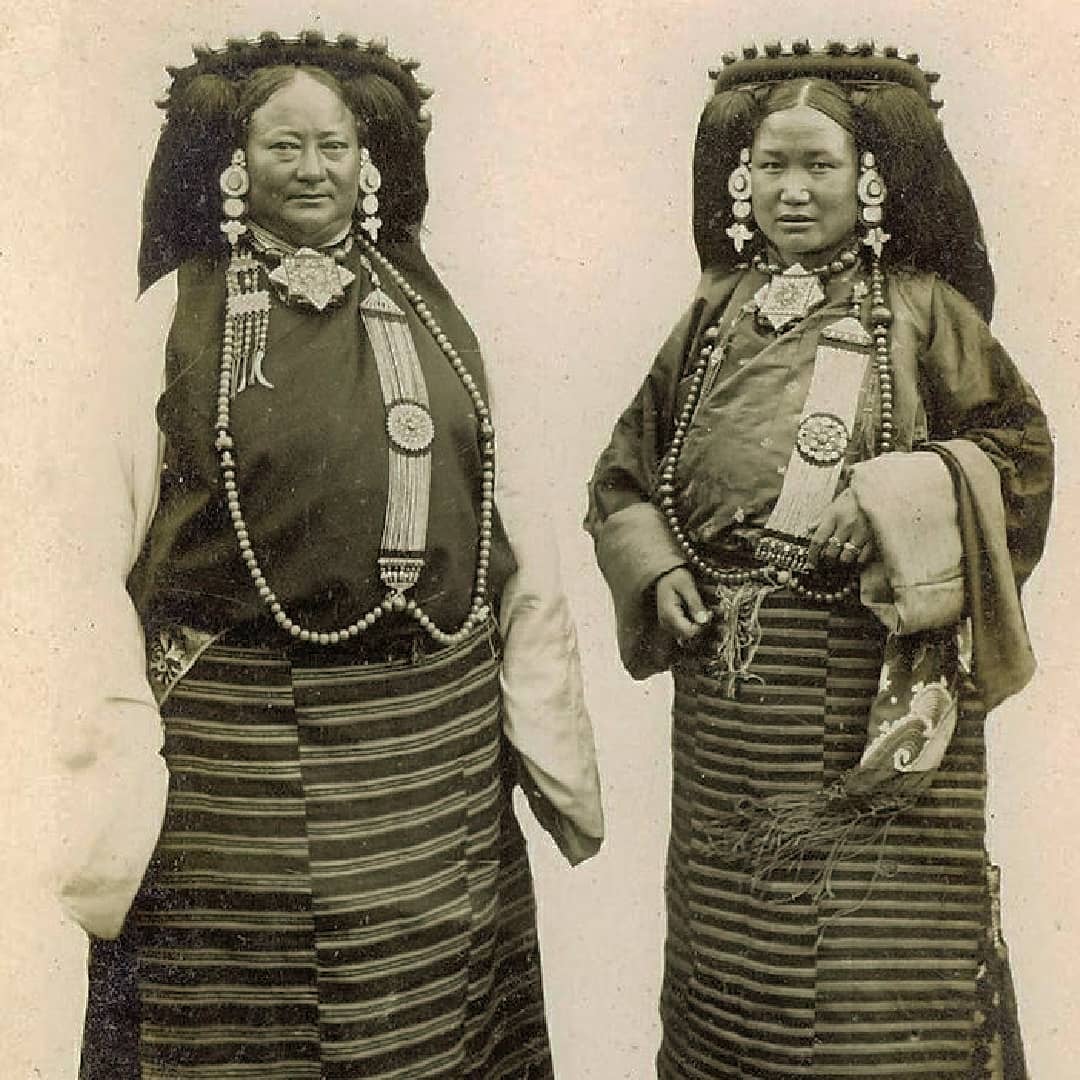 Among the pages recent highlights includes an image of two Tibetan women documented in Darjeeling. Ring notes, "In Tibetan culture, hair is viewed as a kind of essence connected with prosperity and many precautions are taken when cutting and styling hair. Both men and women generally wear their hair long. The Tibetan ladies above, photographed in Darjeeling in the early 19th Century, wear their hair in the "patruk" style. It is the female equivalent of the "pachok" worn by men. The hairstyle was inspired by a legend of the villainous King Langdarma who persecuted the Buddhist religion and brought about the fall of the Tibetan empire. It is said that his tongue was black and he had horns. To hide these he grew his hair long, braided it, and wrapped it around his horns to disguise them. To avoid suspicion his ministers arranged their hair in a similar way."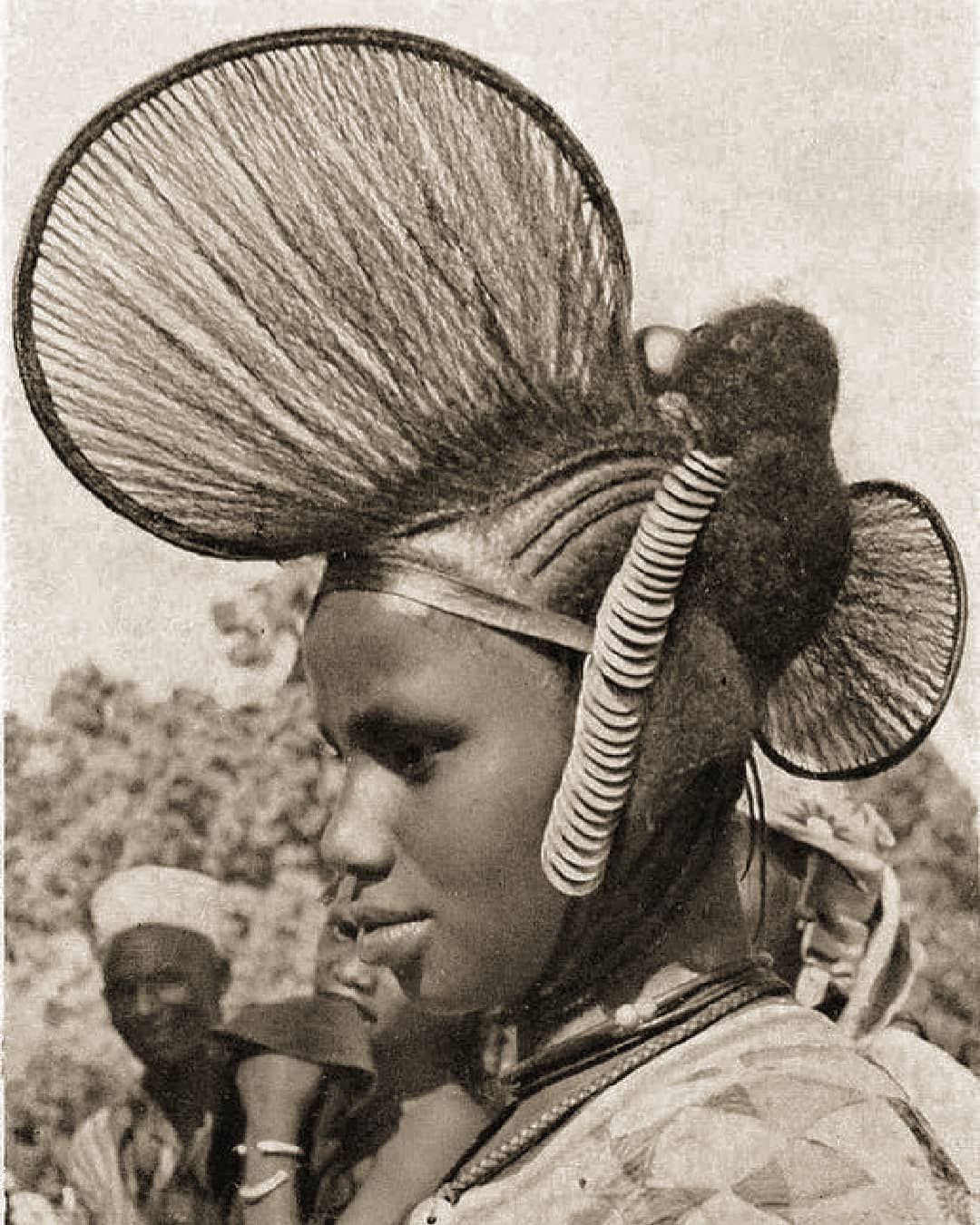 Keep scrolling to discover striking and intricate hairstyles donned by Fulani women. The Fula, Fulani, or Fulɓe people are one of the largest ethnic groups in the Sahel and West Africa, widely dispersed across the region. Inhabiting many countries, they live mainly in West Africa and northern parts of Central Africa but also in South Sudan, Sudan, and regions near the Red Sea coast. "This hairstyle has to be one of my all time favourites. Known as "gyonfo", it is worn by Fulani women and comes in various elaborate styles. The central point is the large crest running sagitally from the forehead towards the back of the head. It is created by braiding hair upwards towards a stiff piece of leather. There can be multiple lobes. If a lady is married then she often wears a pigtail at the back and braids over the ears. Amber beads and coins are incorporated into the style for decorative purposes," Ring explains.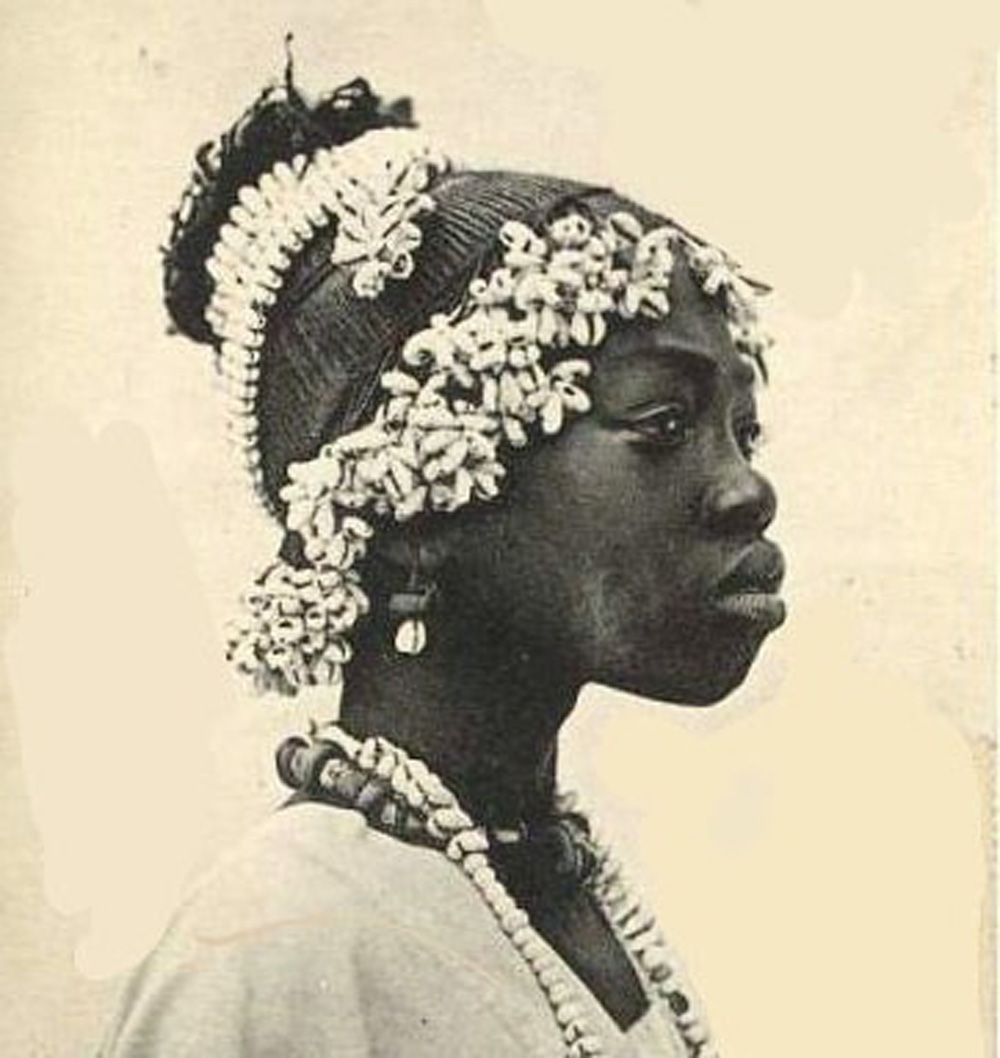 Elsewhere on @in.hair.itance is a photograph of a Fulani girl taken in Djenné, Mali. "This picture caught my eye due to the prominent use of cowrie shells within her braids. Cowrie shells have been used for centuries as a form of money in communities in Africa, South Asia and East Asia. Their use became even more pronounced during the peak of the transatlantic slave trade. African author and abolitionist, Olaudah Equiano writes that he recalls being sold for 172 cowrie shells. However, their use today extends far beyond financial wealth. In many African cultures, such as the Mende culture, shells are used in jewellery and decoration as symbols of fertility and womanhood. In Africa and the Americas, specifically within the Orisha faith, cowrie shells are often used for divination purposes."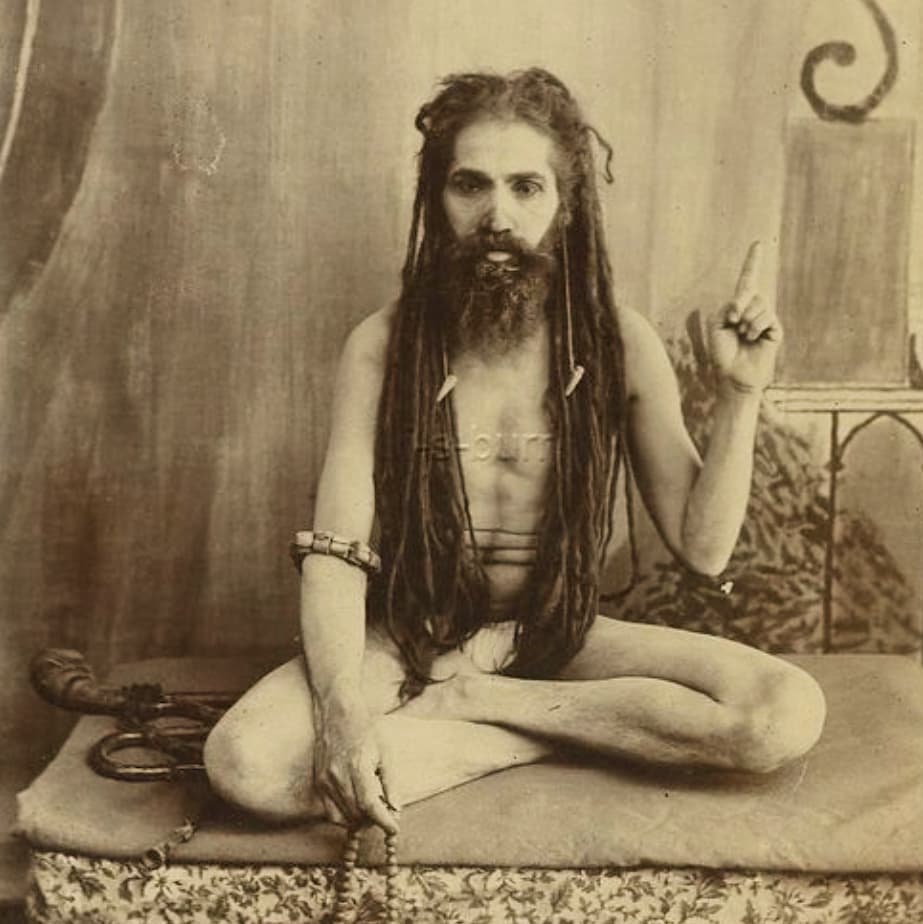 Diverse men's hairstyles also feature prominently in Ring's archive, such as the above portrait of an Indian Sadhu, a Hindu religious ascetic. Sadhus generally take vows of poverty and celibacy and depend on the charity of householders for their food. Their dress and ornaments differ according to sectarian allegiances and personal tastes; they usually wear ochre-coloured (and more rarely, white) robes, and some are nude. They shave their heads, or they allow their hair to lie matted on their shoulders or twist it into a knot on top of their heads. "In South Asian culture, allowing uncombed hair to form into matted locks is a symbol of the rejection of materialism and vanity. For many cultures locked hair is intimately linked with spirituality," Ring points out.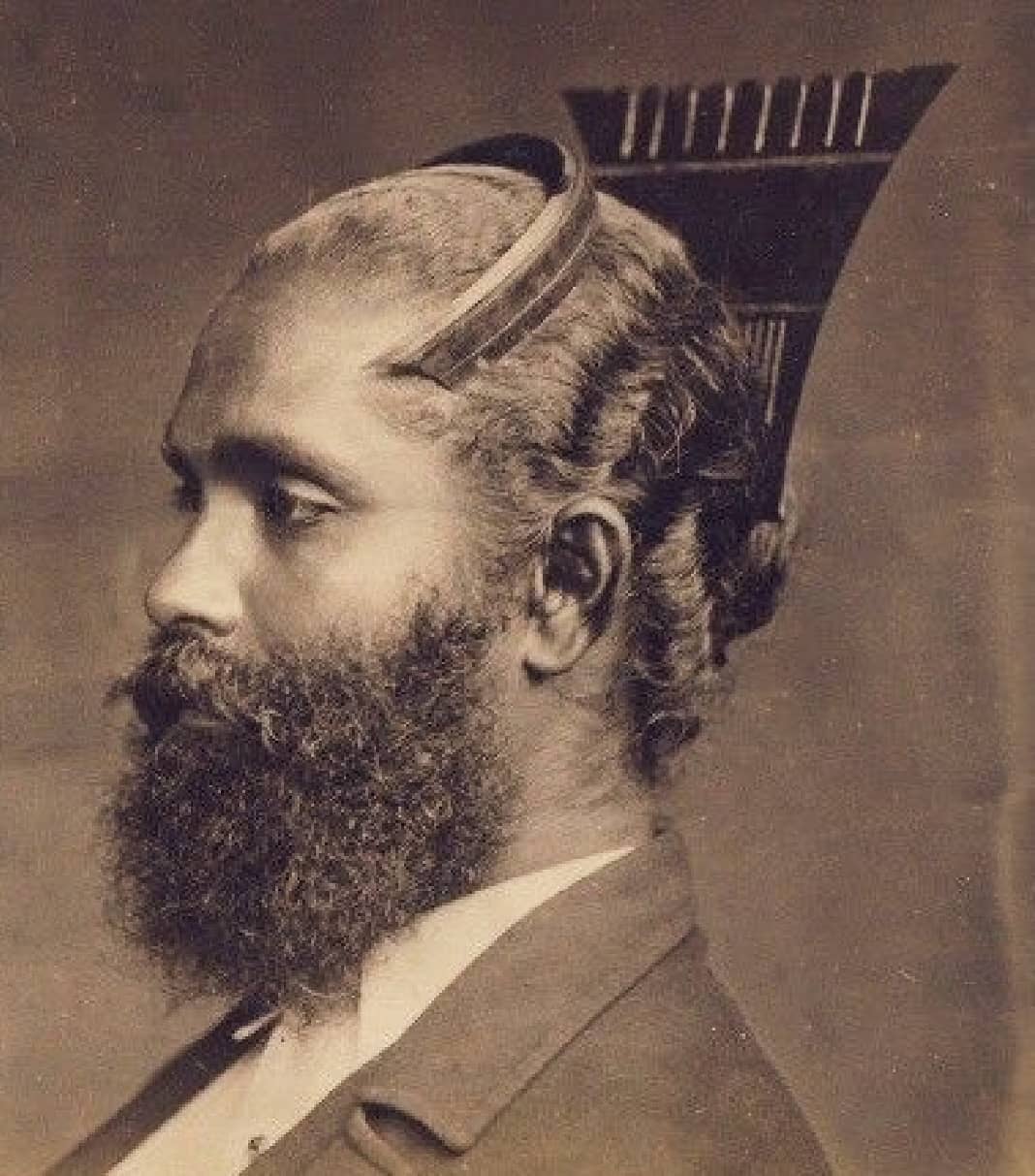 A portrait of a Sinhalese, an Indo-Aryan ethnic group of the island of Sri Lanka, gentleman taken around 1880, highlights another fascinating male hairstyle. Regarding the image, Ring expands, "Traditionally Sinhalese men wore their hair long and tied in a bun known as a "konde" however western influence led to the adoption of shorter cropped hairstyles. This gentleman has two different styled combs in his hair. These combs were usually made of horn or tortoiseshell and were often intricately patterned. They were a common feature of gentlemanly attire in 19th Century Kandyan society. According to one source I found, the combs indicated higher status signifying the fact that their family have never borne burdens on their heads."



Feature image: Nigerian photographer Johnson Donatus "J. D." 'Okhai Ojeikere (1930-2014) documented the array of unique hairstyles in Nigeria during the 1960s (via @in.hair.itance)