Interview: dream cake test kitchen's Hyun Jung Jun On Meditative Baking & Food Memories
Hailing from South Korea and presently based in Chicago, artist and self-taught chef Hyun Jung Jun launched her project dream cake test kitchen at the start of the pandemic last year, quickly amassing a burgeoning fan base when she begun sharing her mesmerising edible works of art on Instagram. Her culinary adventures see Jun experiment with unusual flavour combinations, from Earl Grey and black sesame, to lychee and sage, while masterfully constructing sumptuous cakes laden with buttercream frosting, fresh fruits, glistening jellies, torched meringue, gold-leaf and artfully placed aromatic florals and herbs – the final effect is something between a cake and an abstract sculpture. To learn more about dream cake test kitchen, Jun's diverse influences, and what she has planned next, Something Curated spoke with the chef.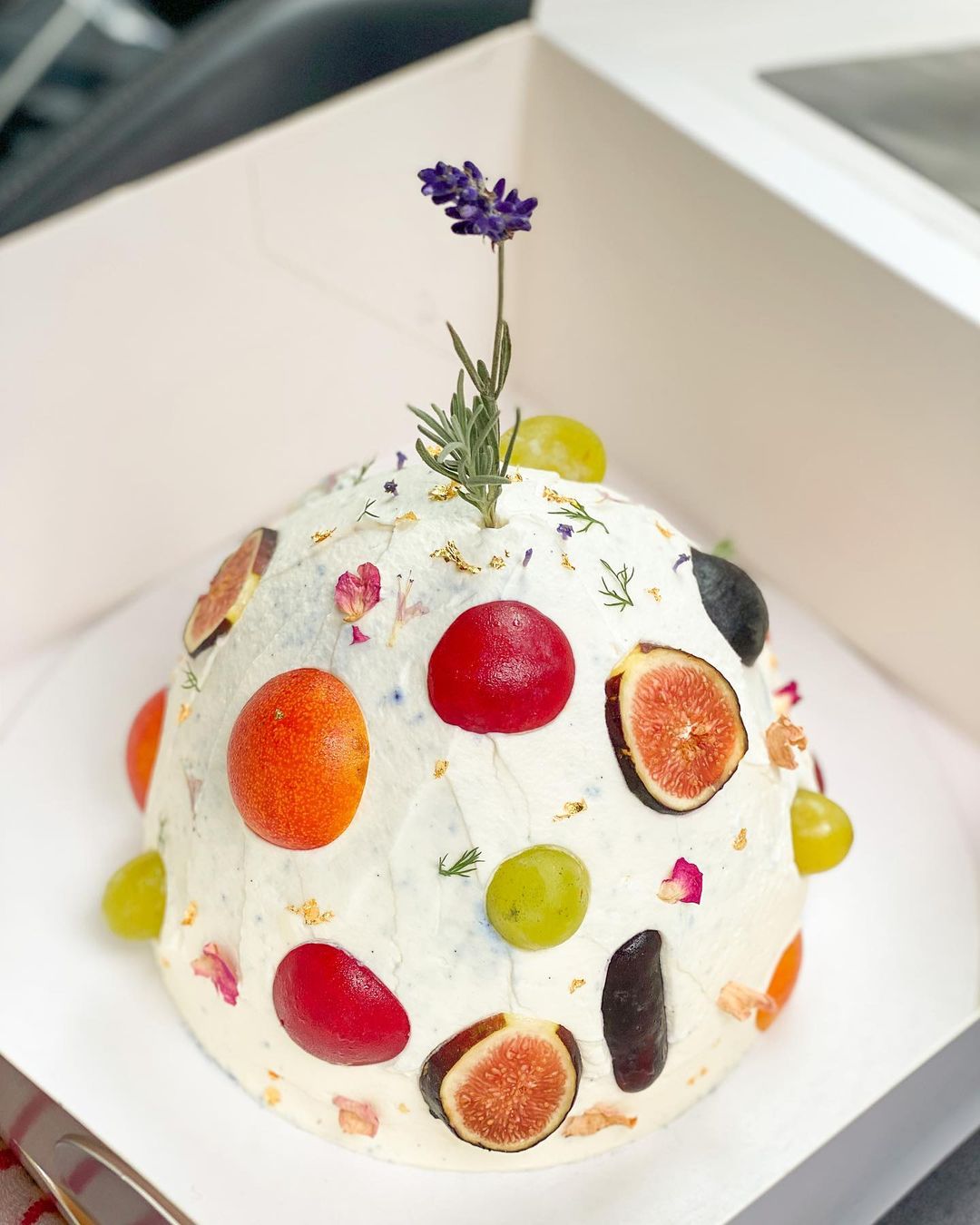 Something Curated: Can you tell us about your background; what first drew you to working with food?
Hyun Jung Jun: I grew up in Korea where food is implicated in a lot of cultural and social activities in everyday life. So growing up, I was naturally interested in food. During a family trip once when we were in the car my dad said, "Hyun Jung you come up with different food every 20 seconds." He wasn't joking. We even kept a restaurant review notebook in the early 2000s. I moved to the states for college and had to start cooking in my dorm room. Thankfully each room had its own kitchen so it was easy to start introducing cooking into my daily routine. I had to cook for survival but it was also a great chance to experiment and try new skills. I watched a ton of cooking shows and instructional videos for years.
I slowly started incorporating elements of cooking, food and culture into my art work. Over time, I realised the kitchen is actually a part of my art studio. Whenever I am in my kitchen it's a way for me to connect to my family, home, past, present and future. I like how all of these things can exist at the same time in one place. In my art practice, the theme of time is very present. I started thinking of edible ingredients as a material just like paint and fabric. There is something special about edible materials, as they are something everyone is familiar with. They are also temporary things that change shape, colour, and flavour as we use them. In many ways, there is less and less of a boundary between my art and food practices, and I enjoy that.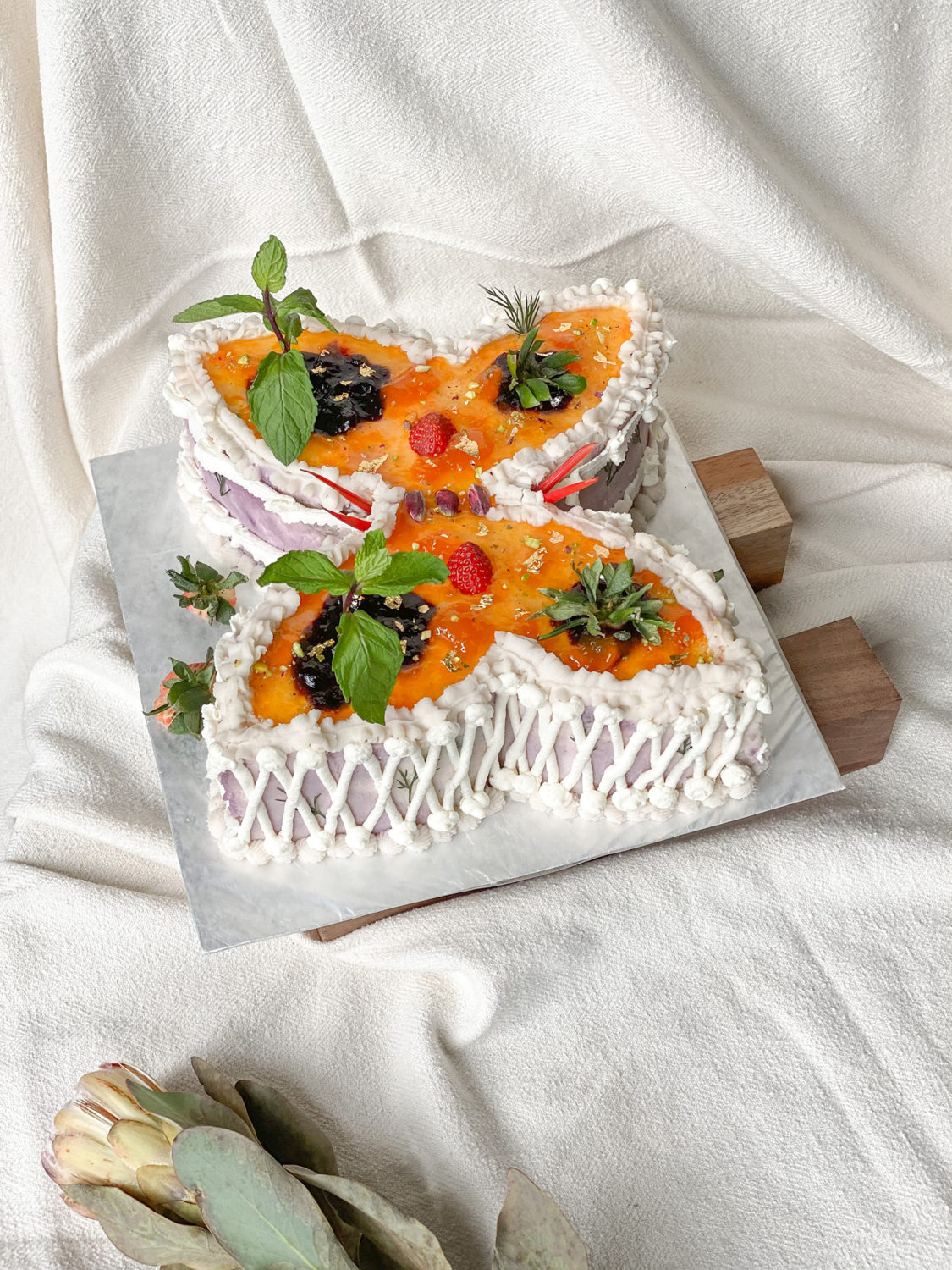 SC: How was dream cake test kitchen born, and how would you describe the project's ethos?
HJJ: The first cake I made was for my partner Cody Tumblin and our friend Jeff Robinson's birthday party. It was a carrot cake with raspberry frosting. I usually like to make food without using a particular recipe; I like to put a little bit of this and that together, following my instincts. But when I made this first cake, the process of baking seemed totally opposite from cooking and it was surprisingly enjoyable. I just had to follow instructions and that felt relaxing. If cooking were a sport, it would be like ice skating or skiing for me, whereas baking feels more like playing golf or meditating. Precision, focus, and the right amount of strength. I like that contrast. Not only do I enjoy baking because it challenges my sense of patience and teaches me new things, but also certain recipes and ingredients have a nostalgic impact that reminds me of scents from childhood. Sometimes before ski trips, my mom would bake us snacks and I can distinctly remember the aromas coming from the kitchen.
Anyway, when I began to first make cakes, I called them "friendship cakes." It was something I made to share, and it was a simple way for me to reach out to and connect with people. 6 to 8 slices was just the right amount to share. It was a great excuse to meet up with friends and share time together over something delicious. Not to mention, I was learning something new each time I made one. After the pandemic, I had much more time on my hands, and my baked creations needed an audience beyond the range of just friendship. dream cake test kitchen still shares that initial emotive impact of friendship, but explores a wide range of creative potential – secret parts of me that hope to see mountains, streams, plants, and birds – landscapes of joy. But also, underneath all that, it's a cake you will eat and soon it will be gone.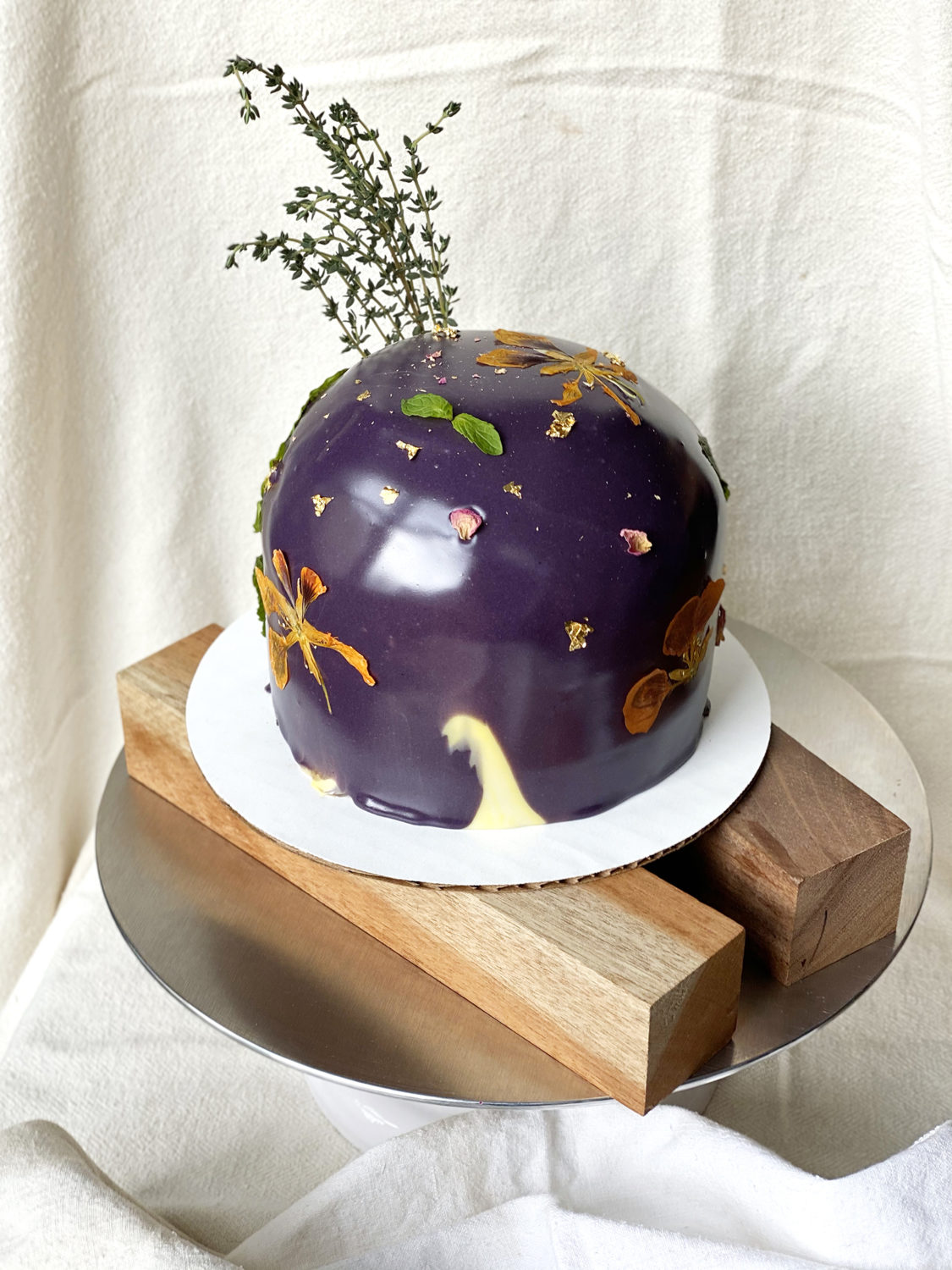 SC: Where do you look for inspiration?
HJJ: For inspiration, especially flavour wise, I love finding new ingredients at specialty grocery store and farmers markets. I can spend hours and hours just looking at products and produce, even if I am not getting anything. I love finding new things I haven't tried before. I also love incorporating Korean and Asian flavours into cakes as well as unexpected savoury flavours. For visual elements, I think of the mountains and landscapes of Korea often. Currently, my brother lives next to a national park on the western coast of South Korea. It's a beautiful place near the ocean, and he and my parents go there often to hike and wander around. During these trips, they are always sending me photos, and these cakes are a way I can reach out to them and dream about being there too. I miss hills and mountains with trees and different wild flowers. Even outside of that, I am inspired by many memories, fantasies, and even the magic cards my partner plays games with.
SC: What are you currently working on and how has the pandemic affected the way you operate?
HJJ: I am working on expanding my pastry skills, and I have plenty of time to do it. Also I am working on a series of zines that I plan on collaborating with different artists for each issue. I want dream cake test kitchen to be not only a place you can find cakes and pastries but also a platform to connect, share stories, and be part of some sort of shelter. I actually started dream cake test kitchen just after the pandemic began. I've been very grateful for the community of friends I have and honestly I think that plays a big role in sustaining the cake journey I have been on.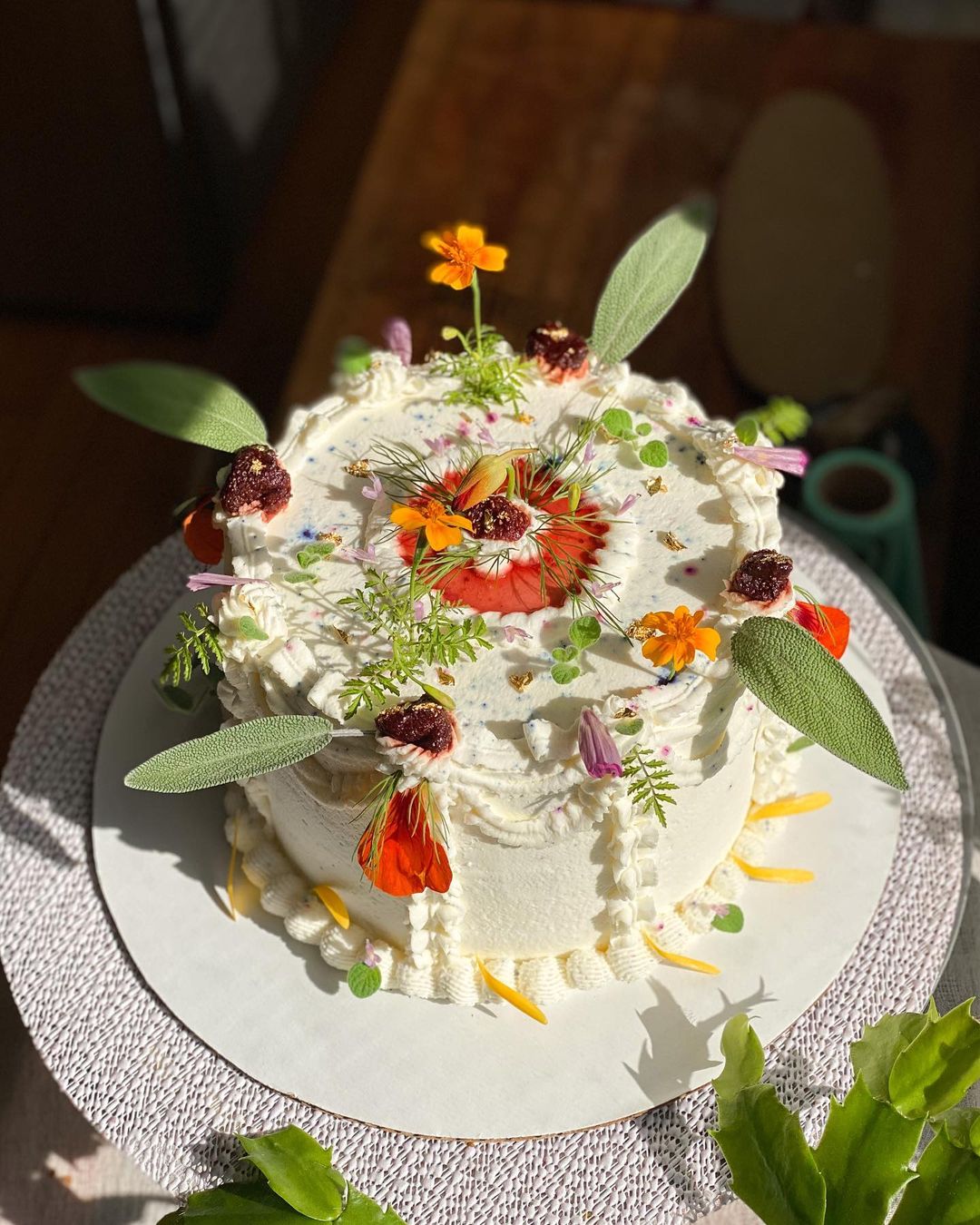 SC: Are there any ingredients or processes that you are particularly enjoying working with at present?
HJJ: Recently, I love using Chinese five spice, turmeric and black sesame. They bring out the savoury aspects of dessert in unexpected ways. Also black pepper, nutmeg and pistachio are staples of mine. Everyday herbs such as dill, basil, sage, mint and thyme are great ways to add ornamentation and texture while adding fragrance and flavour. Growing up, I rarely craved desserts outside of popsicles, so I think that is why I tend to search for savoury and warm flavours that change the experience of my cakes.
SC: What do you want to learn more about?
HJJ: First I would like to learn more about vegan cakes and desserts. We don't always have to have dairy in our diet and it's better for the environment. It's possible to create equally tasty desserts, I just need to figure out how to make them! I would also like to learn more about traditional desserts and treats from all around the world. By understanding different flavours, aromas, and textures, we can better understand other cultures and one another.



Feature image courtesy dream cake test kitchen