Fulani Chef Fatmata Binta Shares Her Ultimate Jollof Recipe Using Fonio
Chef Fatmata Binta, behind the dining project Fulani Kitchen, hails from Sierra Leone but is today based in Ghana. Through her compelling cooking, Binta combines her nomadic Fulani roots, classical training and love for rural life and farming. Her dishes and pop-up dinners pay homage to and celebrate her heritage, through the use of ancient grains, indigenous spices and regional West African ingredients. Sharing with Something Curated her take on a West African classic, the chef tells: "Jollof is a very popular dish eaten throughout West Africa. Nigeria, Ghana, Senegal, they all think their fonio is the best but literally everybody everywhere cooks it differently, changing spices, vegetables, etc. So can you! Classically it's made with rice. But these days that usually means imported rice from Vietnam. That's why we cook it with fonio, an ancient grain which is indigenous to West Africa. Fonio to us is a super grain. It played an essential part in keeping me and my family alive during the civil war in Sierra Leone. It's gluten free and highly nutritious. And last but not least, it grows much faster, is better equipped against diseases and drought and gives more nutrients back to the soil than staple crops like rice and corn. That means this tiny grain might very well be an answer to climate and food security challenges and a lifesaver again."



Fulani Kitchen's Fonio Jollof Recipe (Serves 6)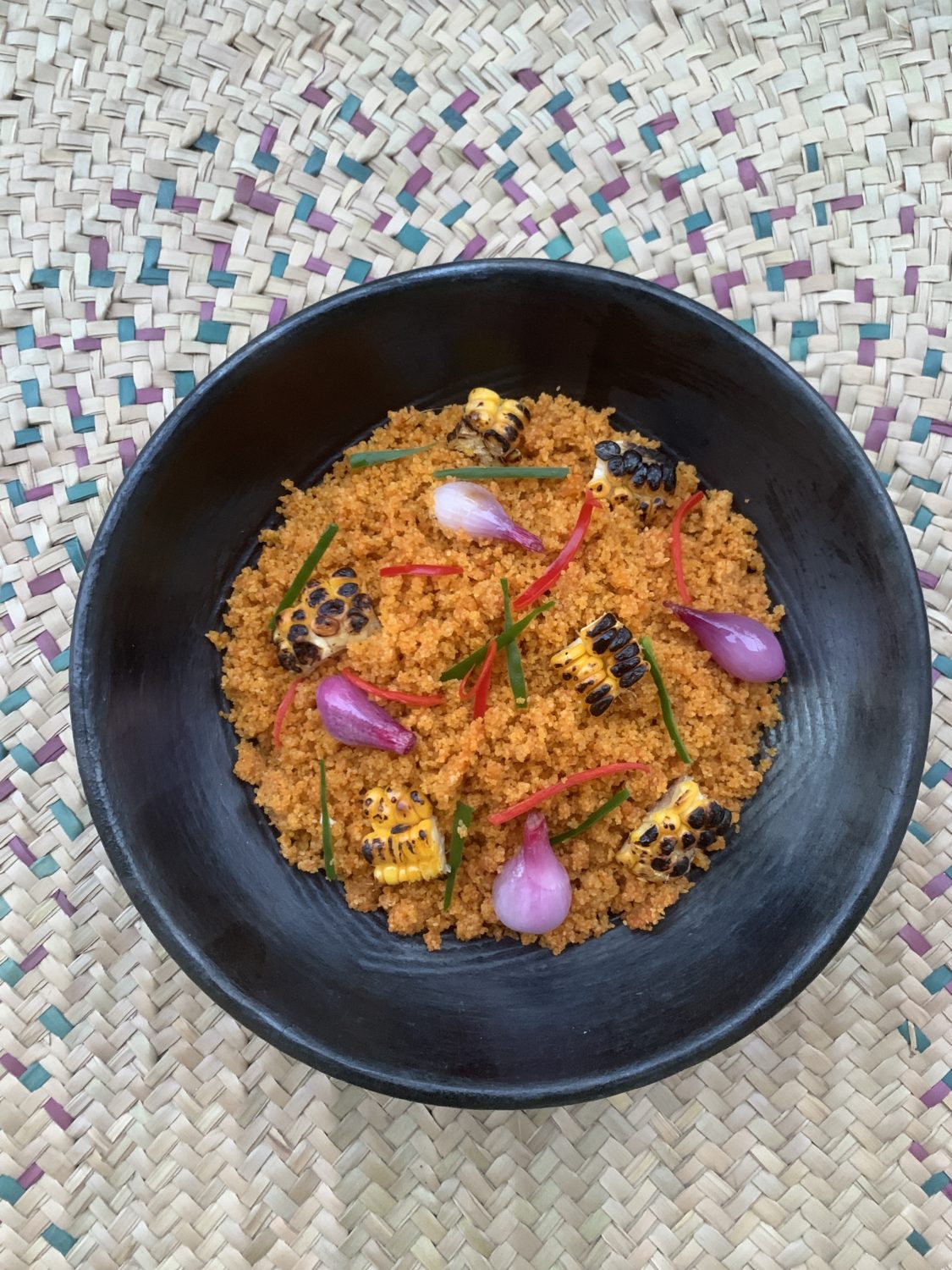 Ingredients:
Fonio (or when not available, rice) — 500g
Yellow Onions — ½kg
Oil — 1 litre
Fresh plum tomatoes — 500g
Habanero pepper or any spicy chilli — 1 (or preference)
Curry powder — 2 teaspoon
Garlic — 1 bulb
Fresh thyme leaves — 1 little hand
Chicken or vegetable stock — 1-2 cups
Mixed vegetables, finely chopped (carrot, scallions, capsicum) — 1 cup
Tomato paste — 200g
Bay leaf — 3 leaves      
Preparation:
Chop onions in slices. Heat up a frying pan with oil on medium heat and bake the onions for a long while on low heat until they caramelise. Add curry powder and let it simmer for 2 minutes.
Blend garlic, tomato and chilli together in a blender to a pulp. Add the pulp to the onion and curry mixture and cook on medium-low heat until it's thickened. (About 10 minutes)
Add tomato paste, bay leaf and salt to taste (you could add some allspice here if you like). And cook for 10 minutes on medium-low fire. Then split the sauce in half.
Add fonio to 1 half of the sauce, stir and simmer on a low heat and keep stirring for 3 minutes. Then add 1 cup / 2 cups (2 if the sauce is really thick) of stock and thyme leaves and simmer for 10 minutes again. (If you cook it with rice you might need more stock and may need to cook it until the rice is soft.)
Add the finely chopped mixed vegetables. Cook till vegetables are cooked through but still have a little bite. Serve the fonio with some of the extra sauce (the other half).
Top with some thinly cut scallions and some grilled capsicum if you like.



Feature image: Kontomire leaves / Baobab fruit (Courtesy Chef Binta)