Interview: Leilah Babirye Reimagines Uganda's History Through A Queer Lens
Leilah Babirye's powerful works are a testament to her intelligent approach to the transformation of found materials. Her oeuvre examines the legacies of British colonialism in Uganda and the traditional clan systems of the kingdom of Buganda, encompassing progressive ideas regarding alternative forms of kinship, community and LGBTQI activism. The artist fled Uganda in 2015 after being publicly outed in a local newspaper. In 2018, she was granted asylum in the United States with support from the African Services Committee and the New York City Anti-Violence Project. Central to Babirye's upcoming exhibition at Stephen Friedman Gallery, London, running from 4 June – 31 July 2021, is a new series of ceramic works depicting figures that are imposing in scale. Babirye creates the works by coiling and moulding the clay by hand, gradually building the shape and height of the sculpture. After the work is fired, Babirye begins in a painterly fashion to splatter, drip and splash the work with glazes using unorthodox methods. To learn more about her practice and the upcoming exhibition, Something Curated spoke with the artist.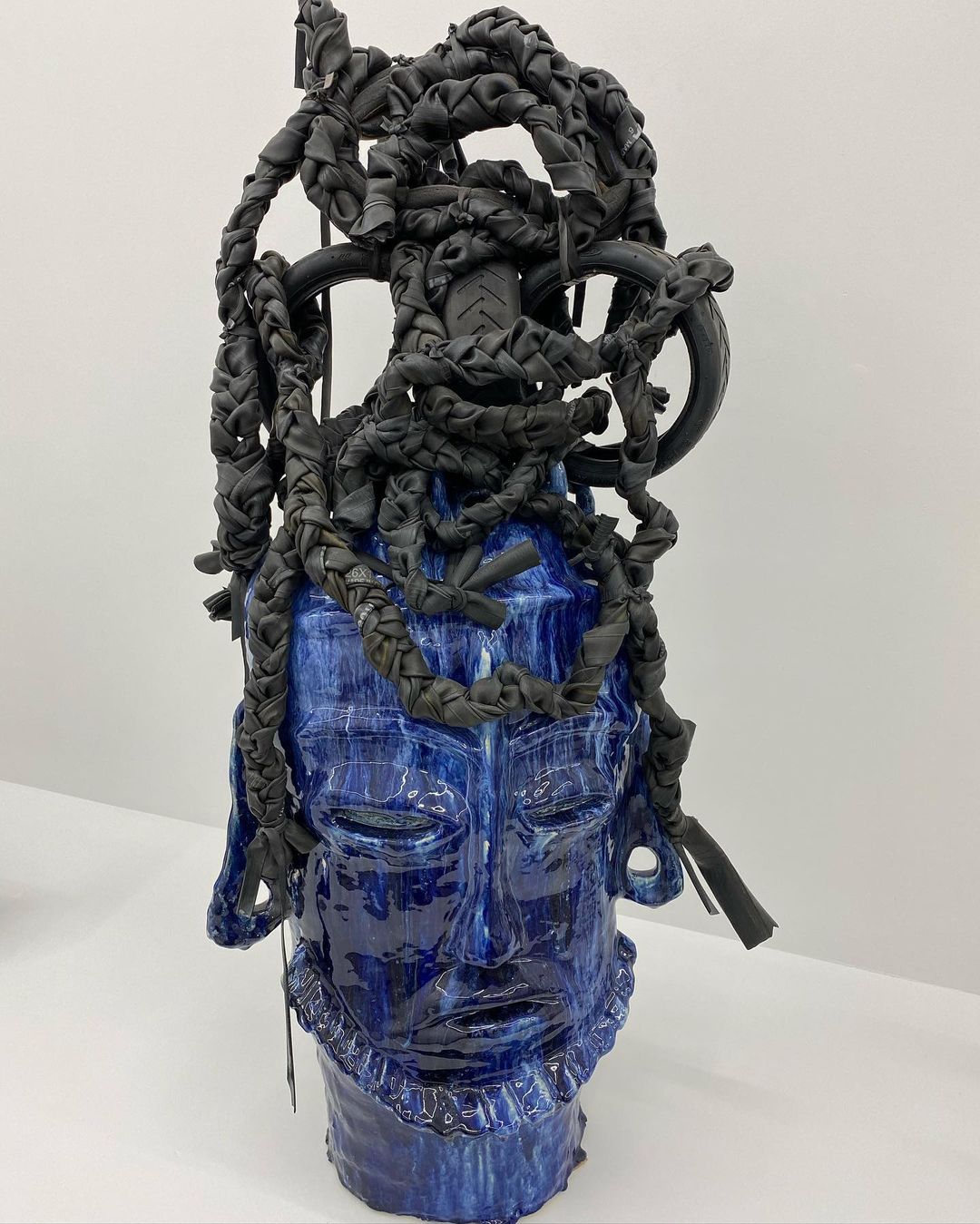 Something Curated: Could you give us some insight into your background; how did you become interested in art-making?
Leilah Babirye: I was born and raised in Uganda's capital city, Kampala, where I studied at Makerere University. I took art classes in high school, but I wasn't focused on art until my first day at university. I saw a woman—who later became by teacher—carving a giant piece of wood. It stuck in my mind and excited me, and I studied art because I wanted to carve in this way.
SC: What is the thinking behind the selection of works included in your upcoming exhibition at Stephen Friedman Gallery?
LB: The exhibition at Stephen Friedman Gallery is a continuation of the ideas that I've explored over the past two years including in my 2020 exhibition at Gordon Robichaux gallery in New York. The two exhibitions share the same title—Ebika Bya ba Kuchu mu Buganda (Kuchu Clans of Buganda)—and are my reimagination of the fifty-two clans of the Ugandan people as kuchu, or queer. I'm thinking about my history, the experiences I had in Uganda facing discrimination as a queer person and activist, Uganda's pre-colonial history, and how colonial rule in Uganda shaped discrimination against the LGBTI community. I'm trying to connect the dots from our history to where we are now, and I'm researching and learning about Uganda's history through my process.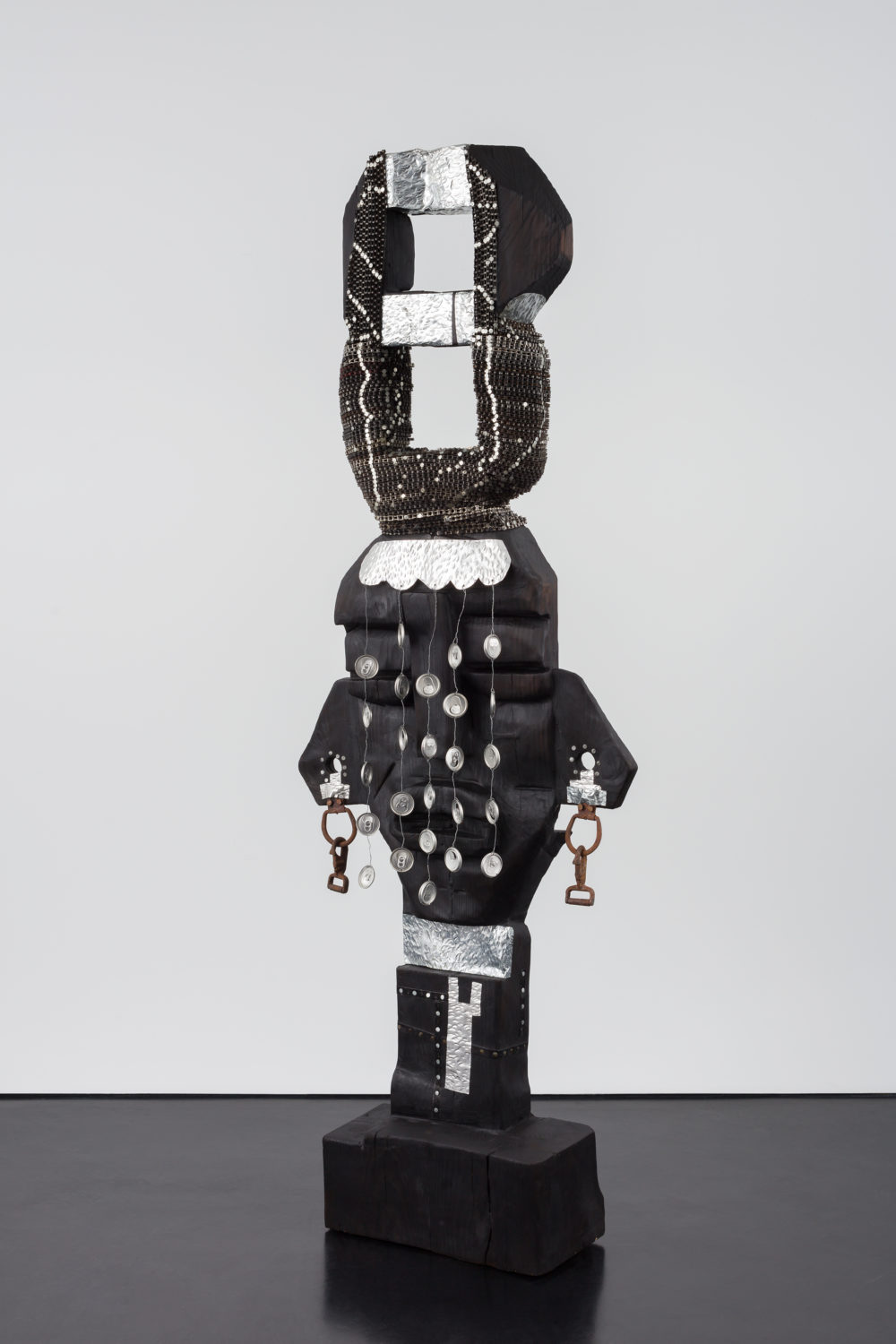 I'm also continuing to explore my material interests: carving and burning wood, glazed ceramics, found objects, and painting. In London, I'll show the largest ceramic that I've made, and a group of three large carved and burned wood sculptures that are approximately 2.75 meters each. I've also made twenty-four paintings of subjects that I imagine as kuchu (queer) Ugandans. I titled the series Endagamuntu (identity card) because in Uganda every child needs a photo for an identification card and no one specifies if they are queer or otherwise, so they are free of these labels.
SC: You work with a diverse selection of materials in your practice — what particularly draws you to the medium of clay?
LB: I studied ceramics in college but my training was basically functional pottery making pots and round forms. I hated it because I didn't see creativity in it. I started working with ceramics in New York where I had access to kilns to fire clay in different sizes, and I can experiment with glazes (which were only for professors at my university). I enjoy the glazing process because it always turns out different. I don't write down the formulas. And, it's been fun seeing my ceramics grow larger and larger.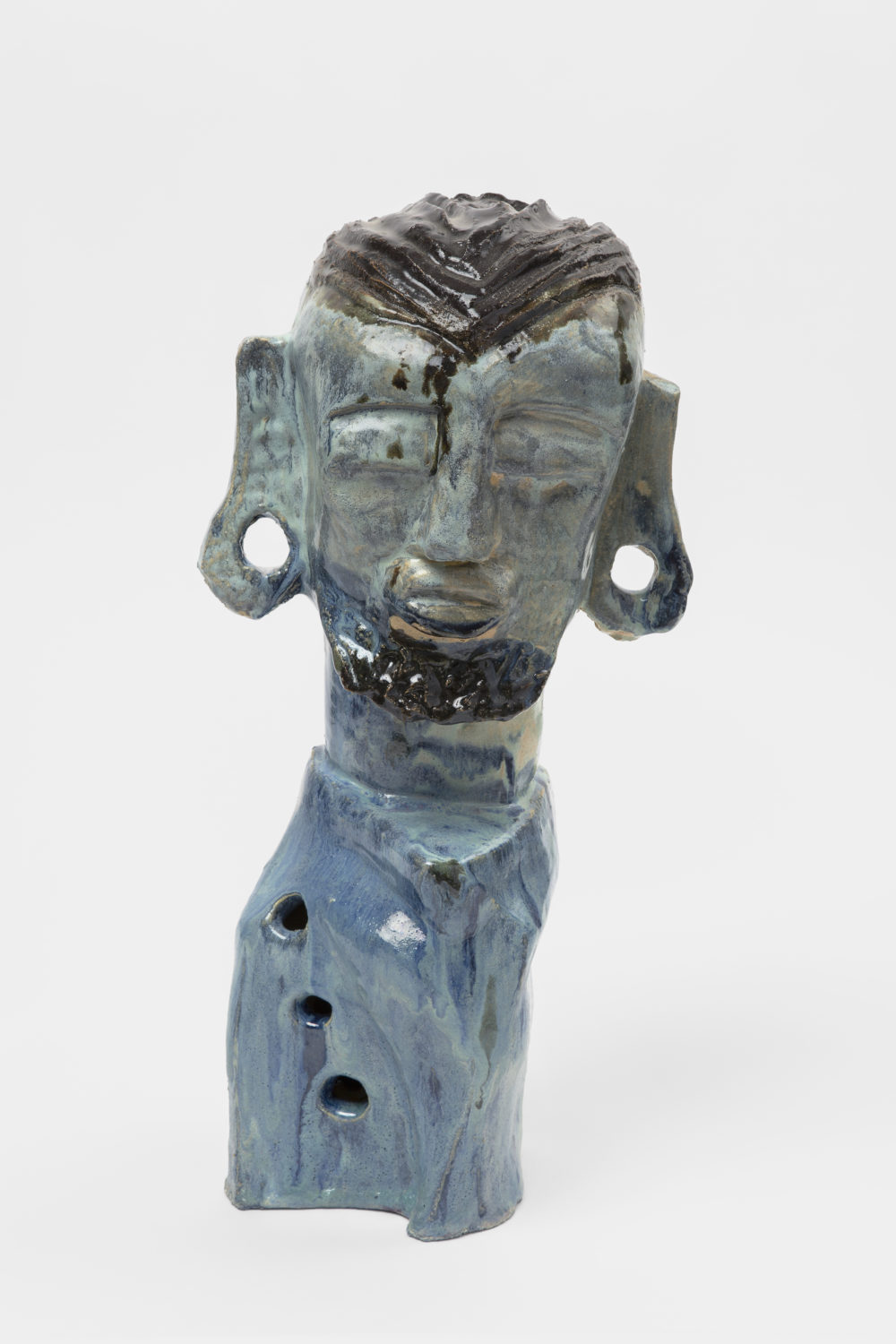 SC: Can you expand on your exploration of queerness in the context of Uganda and, more broadly, Africa?
LB: I continue to research and learn more about queer history and experience in Africa. I'm involved in LGBTI activism since my time living in Uganda, and I continue to participate in this activism and dialogue with the LGBTI communities in Africa. The continent is large with diverse cultures and traditions, but I think the LGBTI communities have many of the same problems throughout Africa, however the terms used or the language is different. In the past, I made works titled for a Nigerian prince (Yoruba), and I used Rwandese names, however for the past two years, my case study is focused on Uganda and Ugandan history.
SC: How has the pandemic affected your way of working?
LB: During the most severe and depressing time during the lockdown, the streets were empty, I couldn't travel to my studio, and the ceramic studio was also closed. I never stopped working. I continued to create art through the days and nights making drawings and paintings, and even creating clay sculptures of my kuchu queens in my apartment that I glazed and fired later once the ceramic studio reopened. I've been quite fortunate.



Feature image: Leilah Babirye, 'Senga Nanseera (Kindhearted Kuchu Aun tie)', 2020. © Leilah Babirye. Courtesy the artist; Stephen Friedman Gallery, London and Gordon Robichaux, New York. Photo by Gregory Carideo