Try Rambutan Founder Cynthia Shanmugalingam's Refreshing Raw Carrot Sambol
Celebrating her Sri Lankan heritage through sumptuous regional food, while not being afraid to reinvent and reimagine traditional dishes as she sees fit, Cynthia Shanmugalingam, behind London-based dining concept Rambutan, shares with Something Curated a favourite recipe of hers for Raw Carrot Sambol. The below are her words.

Fresh, light and bracingly citrusy, this is one of a whole subset of Sri Lankan sambols all made in basically the same way, whether it's green mango, cucumber or green papaya. Like a Sri Lankan cousin of a Thai som tam salad, we add finely sliced onion, fresh curry leaves, optionally, grated coconut, chilli flakes and sometimes dried fish or prawns for flavour. In my version, I've added a handful of white lentils, soaked for an hour, to give it a kind of clean, nutty flavour. I also add the zest of the lime to amp up the flavour (to try to recreate the power of super acidic little Sri Lankan limes). And I've included my Mum's invention which is to add some chopped coriander, because carrot and coriander taste so lovely together. This recipe is just a great, quick way to eat carrots with a simple grilled dish at an early summer BBQ; and it is the perfect accompaniment to rich, meaty dishes like mutton curry, grilled beef, or – my favourite – with fish dishes because it's so fresh.



RAW CARROT SAMBOL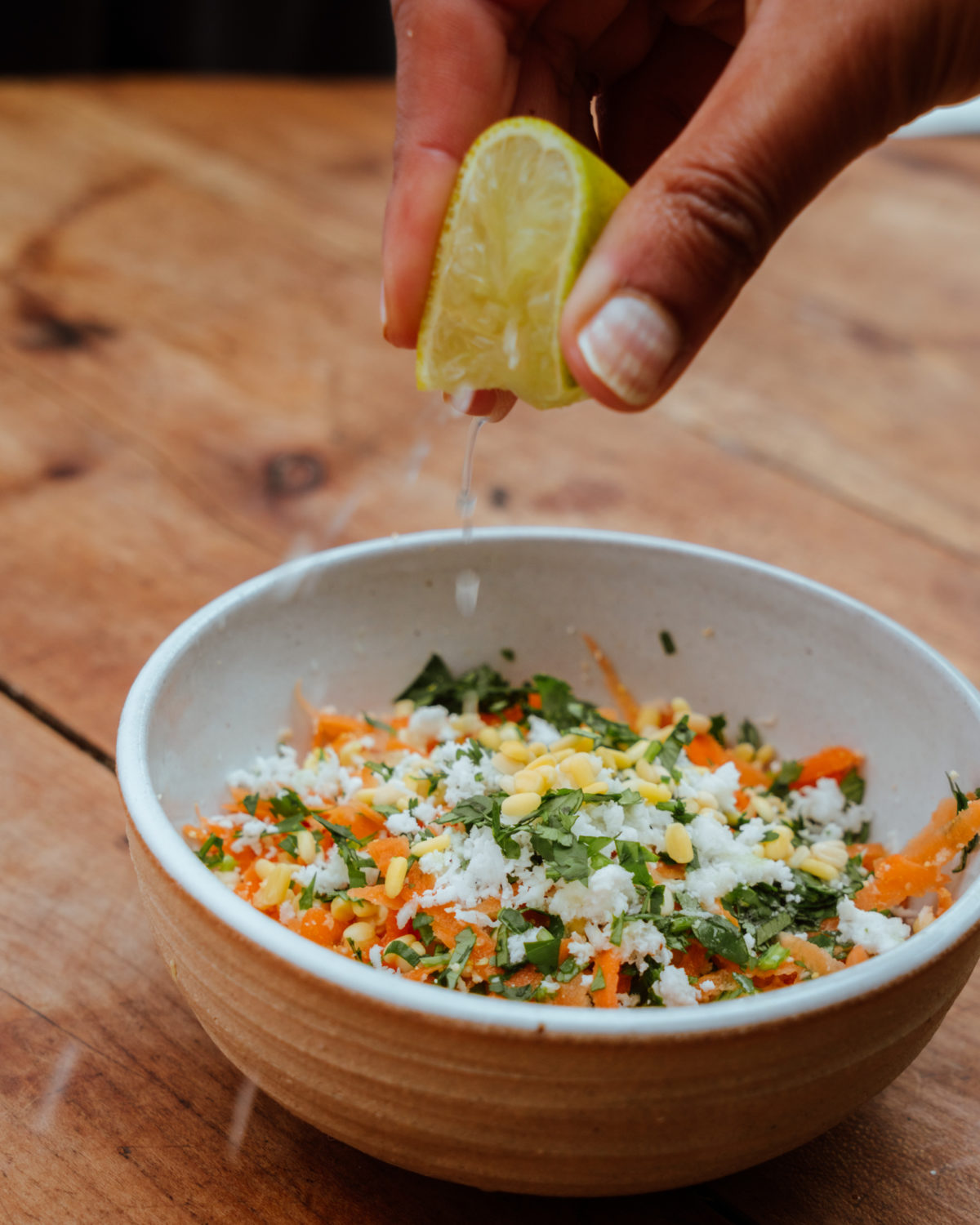 Ingredients:
2 carrots
1-2 small green chillies, sliced
½ small red onion or 1 single shallot, very finely sliced
salt as needed
10 fresh curry leaves, finely chopped
small handful of coriander leaves, roughly chopped
1 lime (zested and squeezed)


Optional:
Handful of split mung beans, soaked in water for 1 hour
1 tbsp freshly grated coconut


Instructions:
Grate the carrot into a bowl. Add green chillies, onion, salt, curry leaves and coriander leaves.
Add coconut and mung if using.
Mix well. Finish with all the lime juice and zest.



Feature images by Alex F Webb