Gardening As Art Practice
Plants are inexorably linked with life and politics, providing the basis of our nourishment, economies, medicine, and technologies. They play key roles in the storytelling of humankind, and are critical to our planet's survival. Perhaps unsurprisingly then, plants have found themselves repeatedly in art. The use of plants for ornamentation has a long and rich history; gardens have offered a means of aesthetic expression through art and nature, a site to display taste and style, as well as an individual or culture's philosophy, status, and, at times, national pride. Many artists famously cultivated their own gardens, from Claude Monet at Giverny, to Frida Kahlo at Casa Azul, serving as inspiration for their output. Conceptual artists like Agnes Denes went on to create seminal works using plantlife – for her Wheatfield, in what is now Battery Park City, New York, the artist planted and harvested a field of wheat on land worth $4.5 billion, highlighting a powerful paradox. Expanding on the use of plants as a medium, Something Curated highlights five contemporary artists creating work that embraces horticulture as art practice.



Linda Tegg, Grasslands Repair, 2018
Back in 2018, artist Linda Tegg worked with curators Mauro Baracco and Louise Wright to create a garden for Australia's Venice Architecture Biennale pavilion. Taking over the main space of the pavilion, only interrupted by snaking pathways that allow visitors to weave in among the dense thickets, the installation comprised more than 10,000 plants, including 65 different grassland species. The work, titled Grasslands Repair, calls for a reassessment of the value of Victoria's natural landscape. According to curators Baracco and Wright, of Baracco+Wright Architects, only one per cent of the grasslands that existed at the time of European settlement, in 1788, now remain.



Mary Mattingly, Swale, 2017-ongoing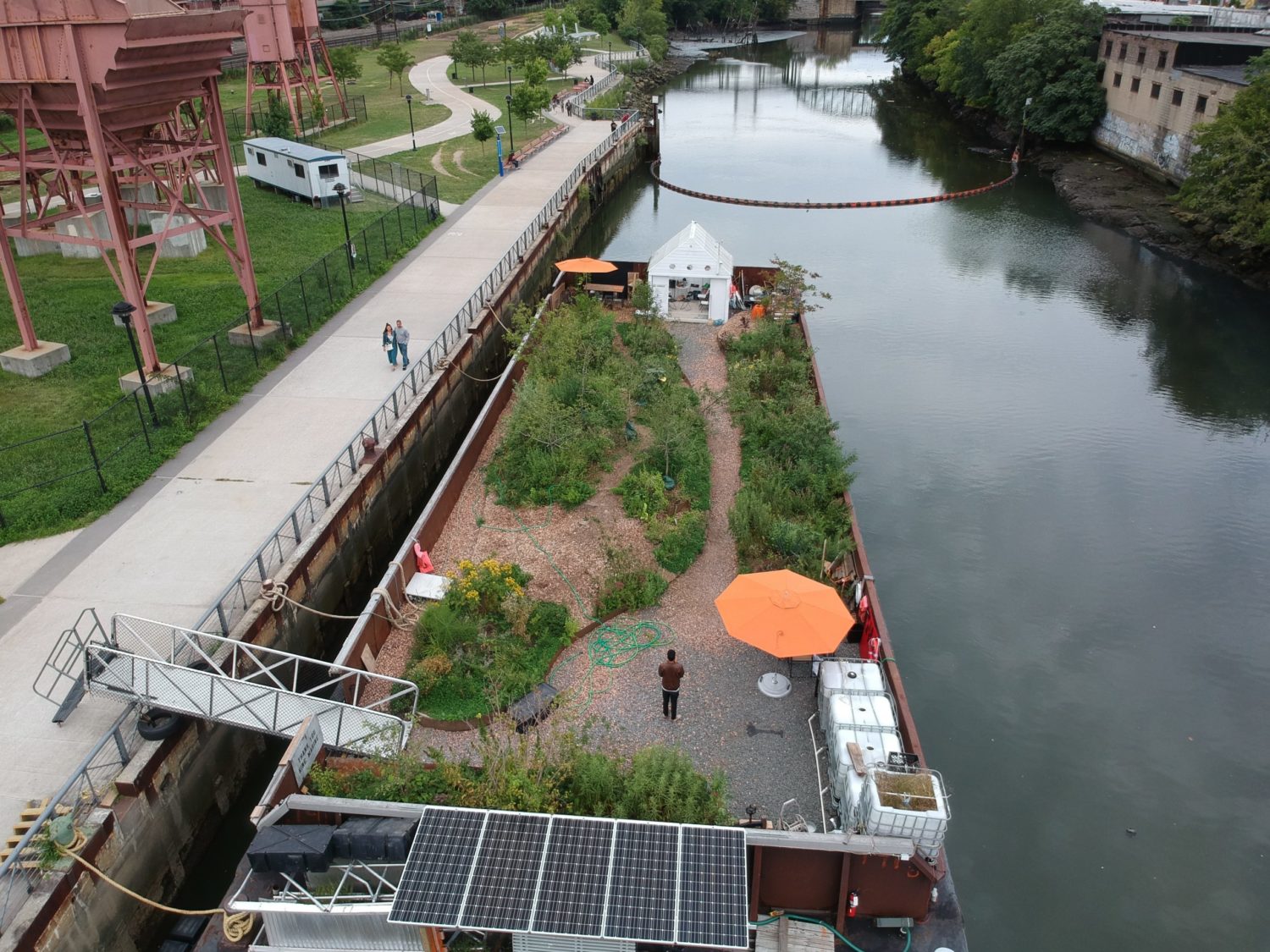 Swale, as described by artist Mary Mattingly as "a collaborative floating food project," is a forest on top of an 80-foot-by-30-foot barge, drifting along New York City's waterways, docking at various coastal points to let people aboard to harvest Swiss chard, low-bush blueberries, and other fresh produce. The reason it can't break ground on dry land, explains Mattingly, is a century-old ordinance forbidding picking or foraging for food on public land. Mattingly herself is working actively to change the rules, by meeting regularly with the Parks Department and other city organisations, lobbying for legal urban farming in parks and public spaces to combat food deserts.



Rashid Johnson, Antoine's Organ, 2016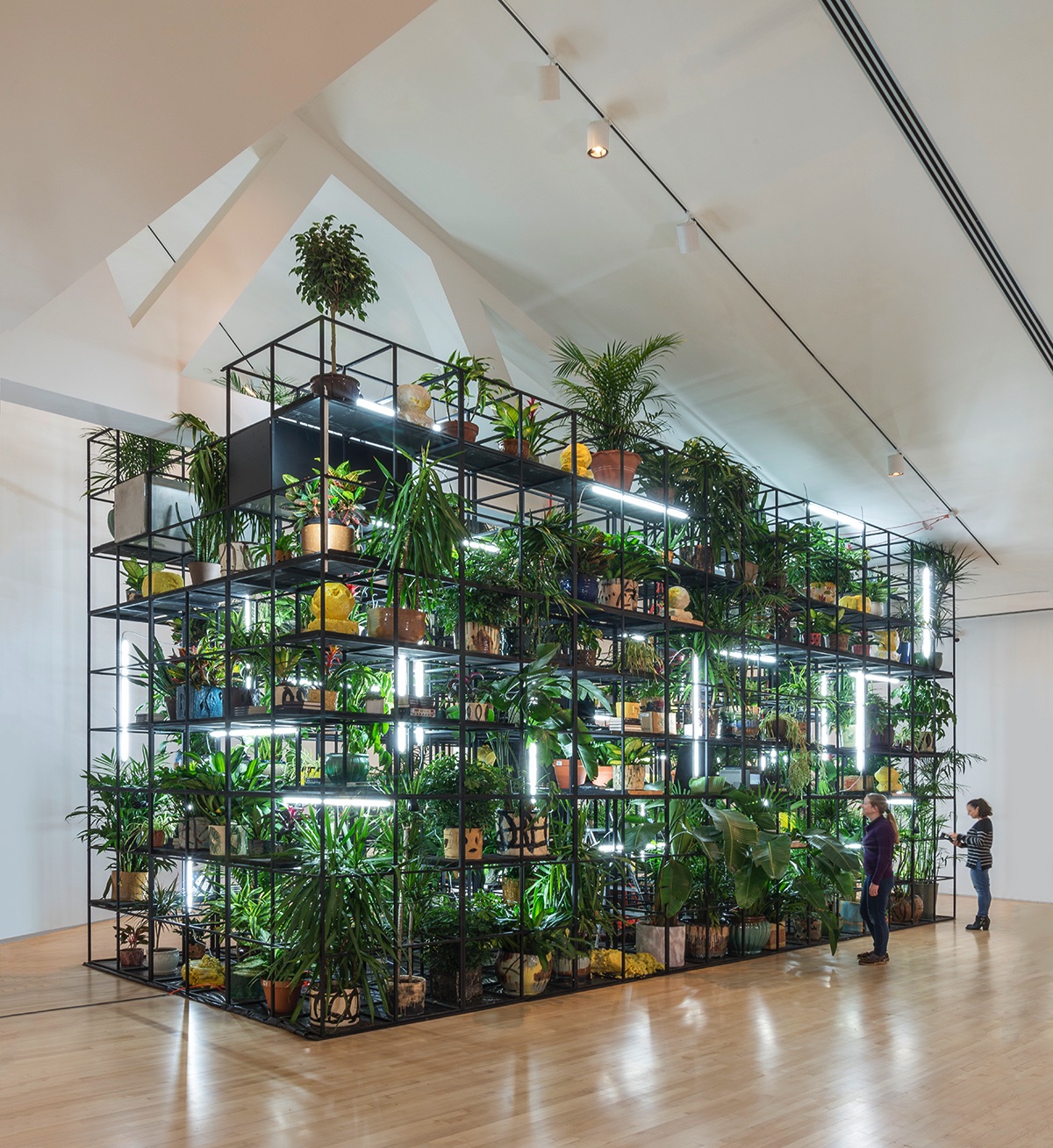 Rashid Johnson's installation Antoine's Organ, 2016, injects a sprawling, heterogeneous ecosystem into a rigid armature of black steel scaffolding. Urged on by the artificial glow of the installation's grow lights, a variety of tropical plants – from ferns to ficus – spring from ceramic vessels that have been hand-built and decorated by Johnson. Building upon these constraints as it subverts them, Johnson's latticed construction teems with a lively bricolage of lush foliage, shea butter busts, video monitors playing looped films, ornate rugs, music, carefully selected stacks of books, and a fully functioning piano. The soaring sculptural installation functions through organic accumulation, growth, and the delight of unexpected elements meeting.



Vetjylien N'gyrz, Breeder Jewel Pond I-IV, 2014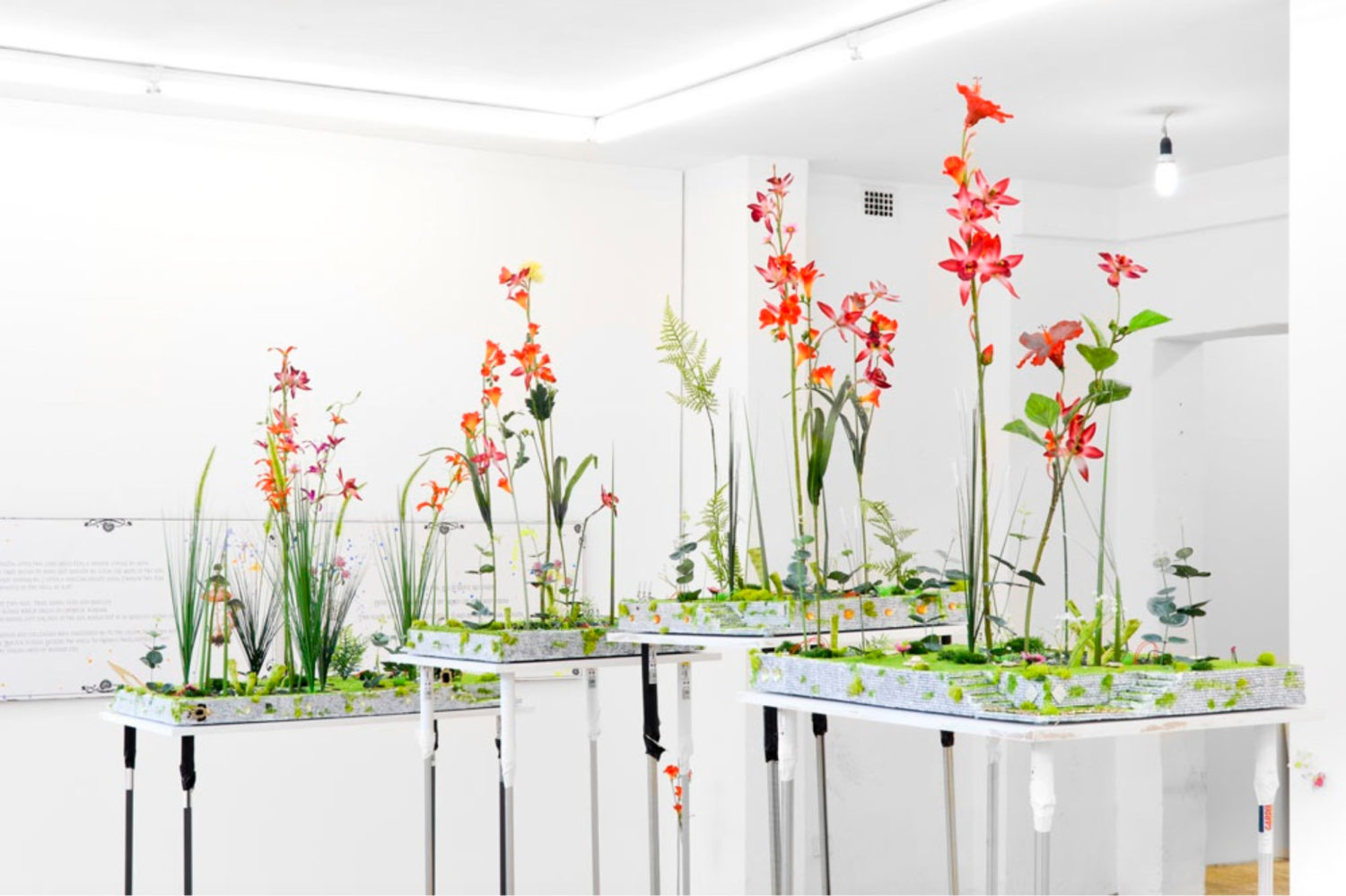 Introduced as a "Babylonian philosopher, alchemist, herbalist, botanist, toxicologist and pharmaceutical magician," cryptopolymath Vetjylien N'gyrz's moniker is in fact a portmanteau of the artists' Veit Laurent Kurz and Julien Nguyen. In 2014, for their exhibition The Flowers of Paranoia at Neue Alte Brücke, the artists fused a shared interest in mysticism, natural history and the peripheral social status of magic, to present a collaboratively written text piece and a grouping of sculptures. N'gyrz's hallucinations of "jewel-powered gardens" were visualised in miniature in the centre of the gallery space: four high-mounted landscapes made from terrain-prop brick and static grass, resembling a tabletop game or recreational scale model.



Doug Aitken, The Garden, 2017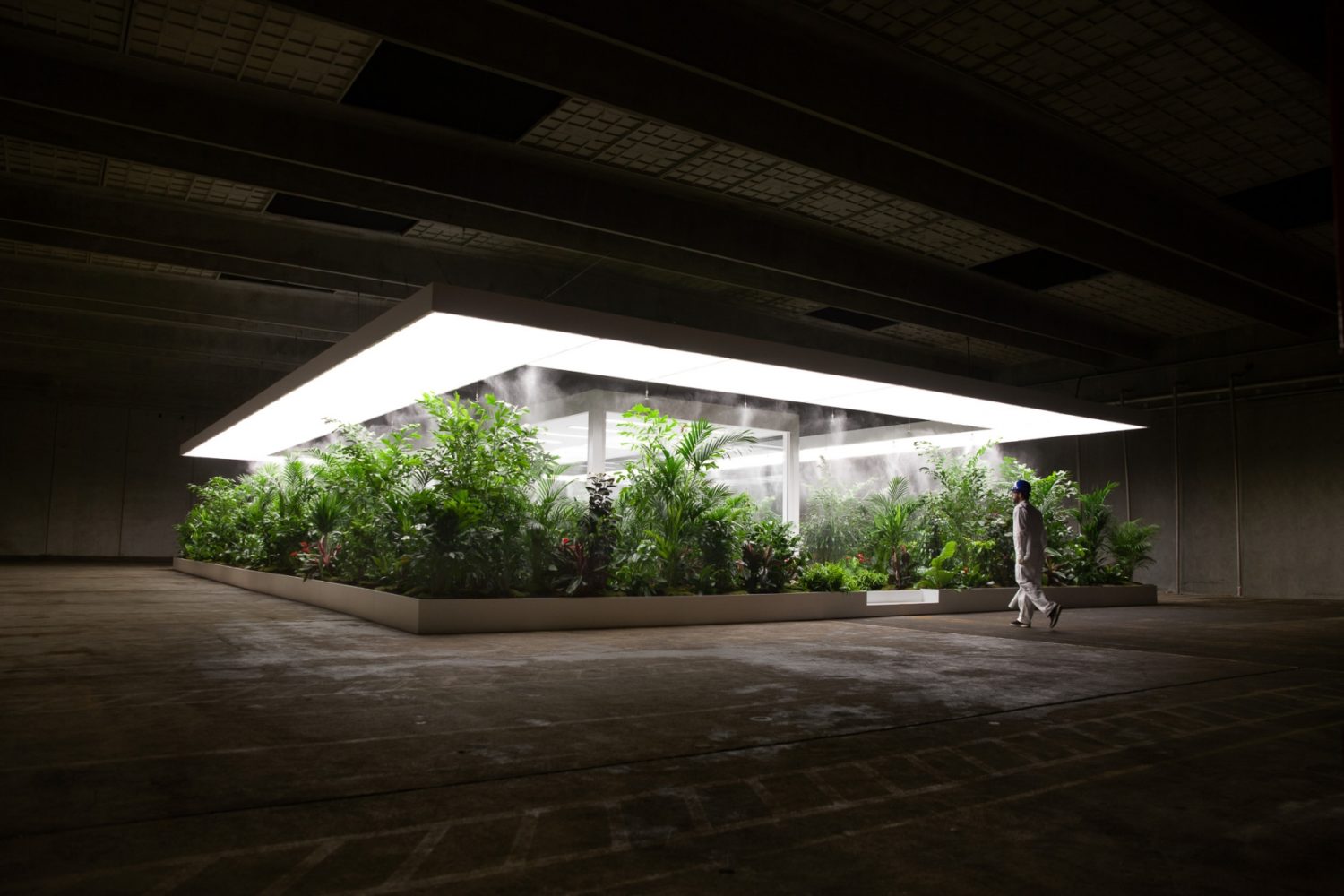 In his work, The Garden, 2017, Doug Aitken explores the dichotomy between the man-made and the natural. Inside an industrial warehouse nearby Copenhagen, viewers are greeted by a tropical garden surrounding a bulletproof glass room with modern furniture. Participants are invited to spend ten minutes in the cube with a baton, activating the installation. Once inside, they are free to liberate any emotions by banging, smashing, and breaking any object in sight. Their rage becomes the centrepiece of the installation, as the audience on the other side of the glass gathers to watch the destruction at play.



Feature image: Linda Tegg, Grasslands Repair, 2018. Photo: Rory Gardiner