The Democratic Republic of the Congo's capital was once a flourishing centre of film in Africa, if only for a brief time. Busy cinemas populated Kinshasa's most stylish districts and the city's residents had a taste for 1960s Spaghetti Westerns, a subgenre of Western films produced in Europe, spurring a fashion trend for cowboy hats and boots. But today, the experience of sitting in the dark and watching movies on the big screen is only a distant memory for most Kinshasans – even before the pandemic struck. In her documentary, La Belle at the Movies, director Cecilia Zoppelletto reflects on cinema's decline in the country, while exploring the powerful place that film once occupied in Congolese society. Following civil unrest and religious opposition to film exhibition, the only remaining film theatre closed down in 2004, leaving the city of 17 million without a single cinema for years, until very recently, owing to Congolese entrepreneur Steve Munga, founder of Cinema Cinékin.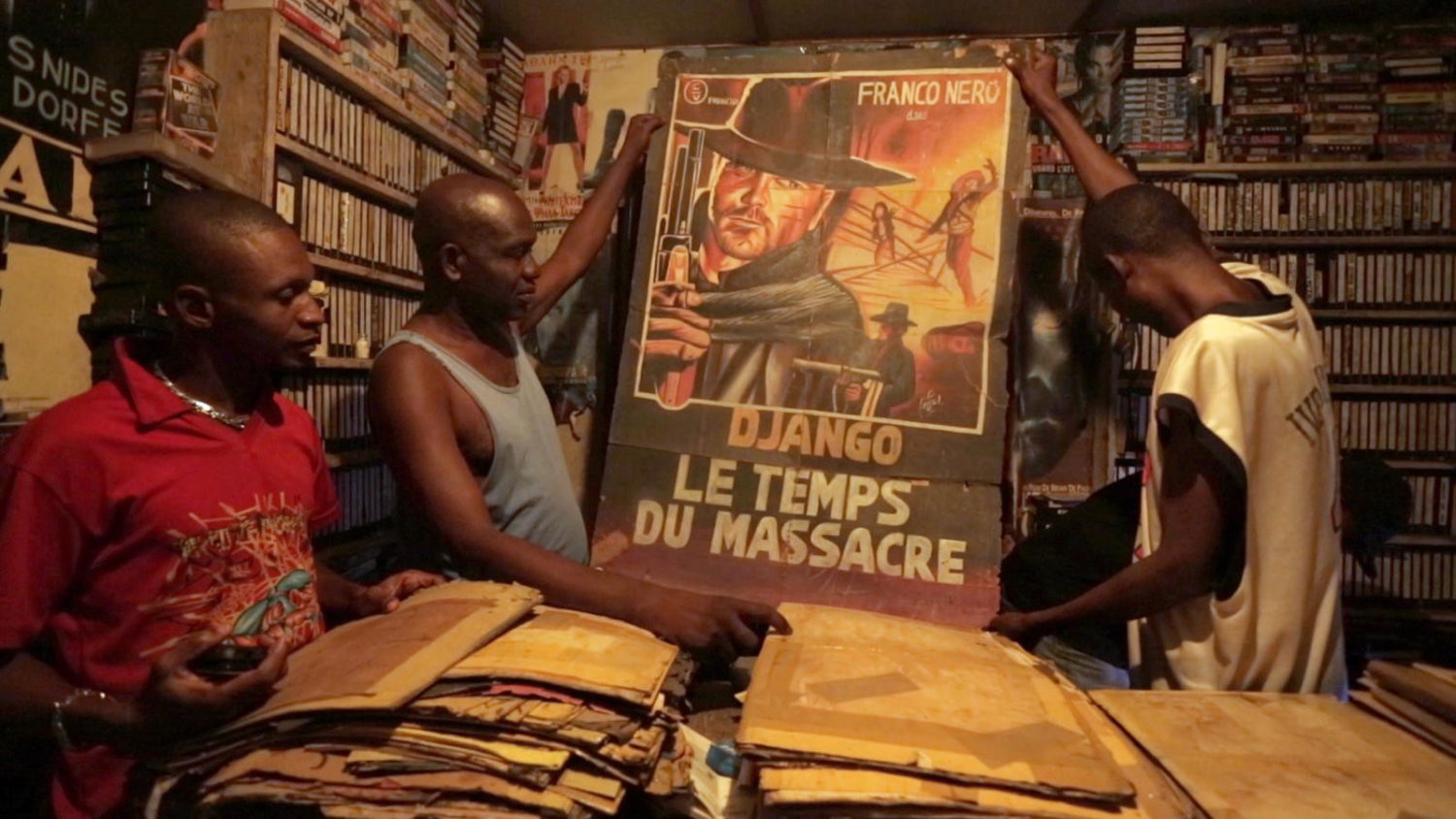 Among the nation's prevalent filmmakers, Mwezé Ngangura is perhaps the best known Congolese director, making his first short film Tamtam électronique (Electronic Tamtam) in 1973 and the first Congolese feature movie, La Vie est Belle in 1987. Ngangura was born in Bukavu, in what was then the Belgian Congo. After completing his studies in Literary Humanities, he won a grant to study filmmaking at the Institut des Arts et Métiers in Brussels. He graduated in 1975 and returned to the Congo – then Zaire – to teach film. For several years he made a number of documentary films for Congolese television, before returning to Brussels. Keen to retain his independence, he founded his own production company in 1985, Sol'Oeil Films, which enabled him to co-produce his first major feature, the story of a young man from rural Congo who decides to make a living from music. In 1996 he launched his second production company, Films Sud, with which he has since made four films.
Following independence in 1960, while foreign support has endorsed some directors to create movies, and the Congolese government has shown interest in assisting the development of a local film industry, almost all Congolese filmmakers live and work abroad today. As filmmaker Balufu Bakupa-Kanyinda explains in La Belle at the Movies, cinema was an important way to communicate stories to the rest of the world, reclaiming the image of the place. "Kinshasa is the most beautiful city in Africa," he says. "But if you are 8,000 miles away in New York or London or Paris you have no desire to come to Kinshasa because the media portray a certain image of Congo." As scholar Mumbua Kioko puts, "The Western media has been criticised for its persistence in rehashing negative images of Africa, especially images of war, poverty, and fly-ridden starving children. The notion that there is some political and economic gain for the West in keeping Africa poor is disturbing to many."


Chérie Rivers Ndaliko's book, Necessary Noise: Music, Film and Charitable Imperialism in the East of Congo, speaks to this problem while foregrounding local artistic production in the midst of a war-torn region. In an engaging ethnographic work, Ndaliko delivers a thought-provoking account of the practice of art as social engagement centred around Yole!Africa, a locally developed arts organisation in Goma, a town in the North Kivu province in the east of Congo. Ndaliko positions herself on the frontlines, reporting on the tensions that exist culturally and politically in Congo as the youth, survivors of the war-torn region, struggle to find their voices and identities through militant art, refusing to subscribe to the pressures of international NGOs and the State in determining their artistic product.
Yole!Africa founder Petna Ndaliko Katondolo, born in 1974 in Goma, is a filmmaker, activist, and educator living between his hometown and Chapel Hill, USA. On his 2019 film Matata, Ndaliko Katondolo writes: "Our history hinges on severed hands. And on photographs taken by missionaries who wanted to abolish slavery even as they believed we were inferior to them. Our history hinges on the world believing that we will forever be hopeless and helpless. That we embody suffering. What we embody, I believe, is elemental. It is water, earth, fire, air. Dance. It is pasts and futures. And it has power. So I rethink the clicks and flashes that have cast us in history. And I flirt with liberation from the colonial gaze."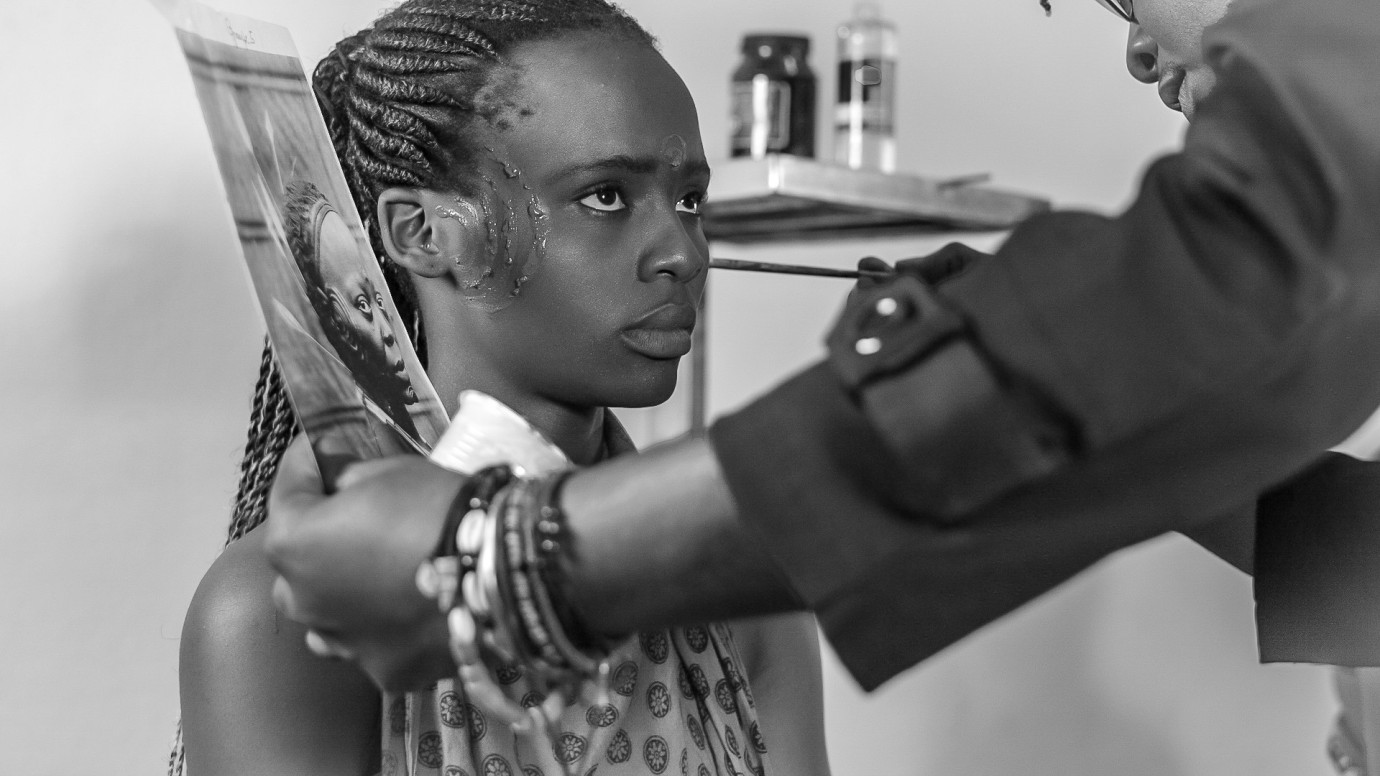 He continues, "Matata is told primarily through dance. Rhythm, colour, and movements, being more than just the film's subjects, lead it away from prescribed representations of Africa into a new future. A photo shoot of a young fashion model, Sarah, dressed as a replica of a photograph taken during King Léopold II's brutal colonial rule of Congo, takes an unexpected turn. It spirals into a series of dance-inspired dreamscapes, fading mind projections of historical fragments, and the external, awakening world. As she struggles to reclaim her identity, she encounters historic, contemporary, and futuristic characters who collectively help her piece together her place in Congo's past, present, and future."
At the Berlin Conference of 1885, Europe divided the African continent among itself. The Congo became the personal property of King Leopold II of Belgium. On June 30, 1960, a young nationalist named Patrice Lumumba became the first head of government in a new, so-called independent state. He was to remain in office for two months until he was abducted and killed with active support from the USA and Europe. People in positions of power wanted a puppet to replace Lumumba, and so Colonel Joseph Mobutu was lifted into office devoid of experience. The story of Patrice Lumumba is the story of one of the most important figures in Black African history in the 20th century. Haitian director Raoul Peck, who lived in the Congo as a teenager, has already made two influential films exploring Lumumba's life.
Announced at the beginning of 2021, American funded production company Congo Rising is preparing a new major film, Patrice Lumumba, further unpacking the Congolese leader's life and assassination. The film will be shot entirely on location in the areas in and around where Lumumba lived, where the true-life events took place, including the villages and cities of Onalua, Kisangani and Kinshasa. Congo Rising and partner production company Bimpa are also on a mission to rebuild the dormant Congo film industry. With this endeavour in mind, they have purchased state-of-the-art film equipment and acquired land to set up a film studio and university. As Variety reports, there are plans to bring international filmmakers to the Congo to teach film students, including speciality training in sound, animation and lighting.



Bibliography:

Colm McAuliffe, "The death of cinema in Congo: how churches killed off cowboy films," 2015, The Guardian
Emmanuel Gerard and Bruce Kuklick, Death in the Congo: Murdering Patrice Lumumba, 2015, Harvard University Press
Mumbua Kioko, "Chérie Rivers Ndaliko, Necessary Noise: Music, Film, and Charitable Imperialism in the East of Congo", 2018, Volume!, Open Edition Journals
Naman Ramachandran, "Congo Rising Sets Assassinated Leader Patrice Lumumba Film, Aims to Rebuild Congo Film Industry," 2021, Variety
Petna Ndaliko Katondolo, "Matata, Forum Expanded," 2020, Berlinale



Feature image: Poster for La Vie est Belle, 1987, directed by Mwezé Ngangura and Benoît Lamy