The Story Of Alexander Calder's Multi-Coloured Aeroplanes
American sculptor Alexander Calder (1898–1976) is perhaps best known for his innovative mobiles, kinetic sculptures powered by motors or air currents that embrace chance in their aesthetic. A close runner up in regards to their prominence are the artist's static "stabiles," monumental public sculptures made from welded metal. Born into a family of artists, Calder's work first gained attention in Paris in the 1920s and was soon championed by the Museum of Modern Art in New York, resulting in a retrospective exhibition in 1943. Although primarily known for his sculptures, Calder also created paintings and prints, miniatures, such as his famous Cirque Calder, alongside theatre sets, jewellery, tapestries, cutlery, rugs, posters and in the 70s, even aeroplanes.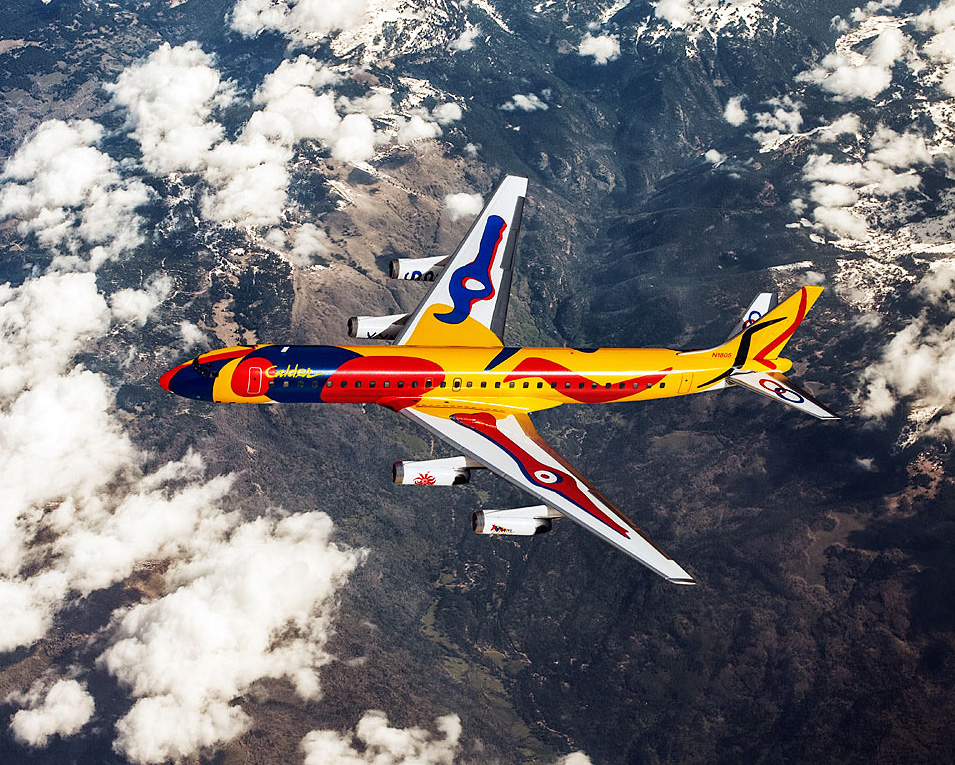 In 1973 Braniff International Airways commissioned Calder to paint a DC-8 jet that was scheduled to fly between North and South America. Braniff was an American airline that was in business from 1928 until 1982. Initially trained as an engineer, Calder was a fitting choice for such an undertaking. In preparation for the project, the artist created numerous fiberglass models, each painted with different colours and designs. Ultimately, aspects from multiple models were incorporated into the final painting on the plane, which bore Calder's signature rather than the Braniff logo. Five of these models were on view at the Solomon R. Guggenheim Museum in the summer of 1973; installation photographs show them hanging in the rotunda, suspended from wire attached to the building's dome.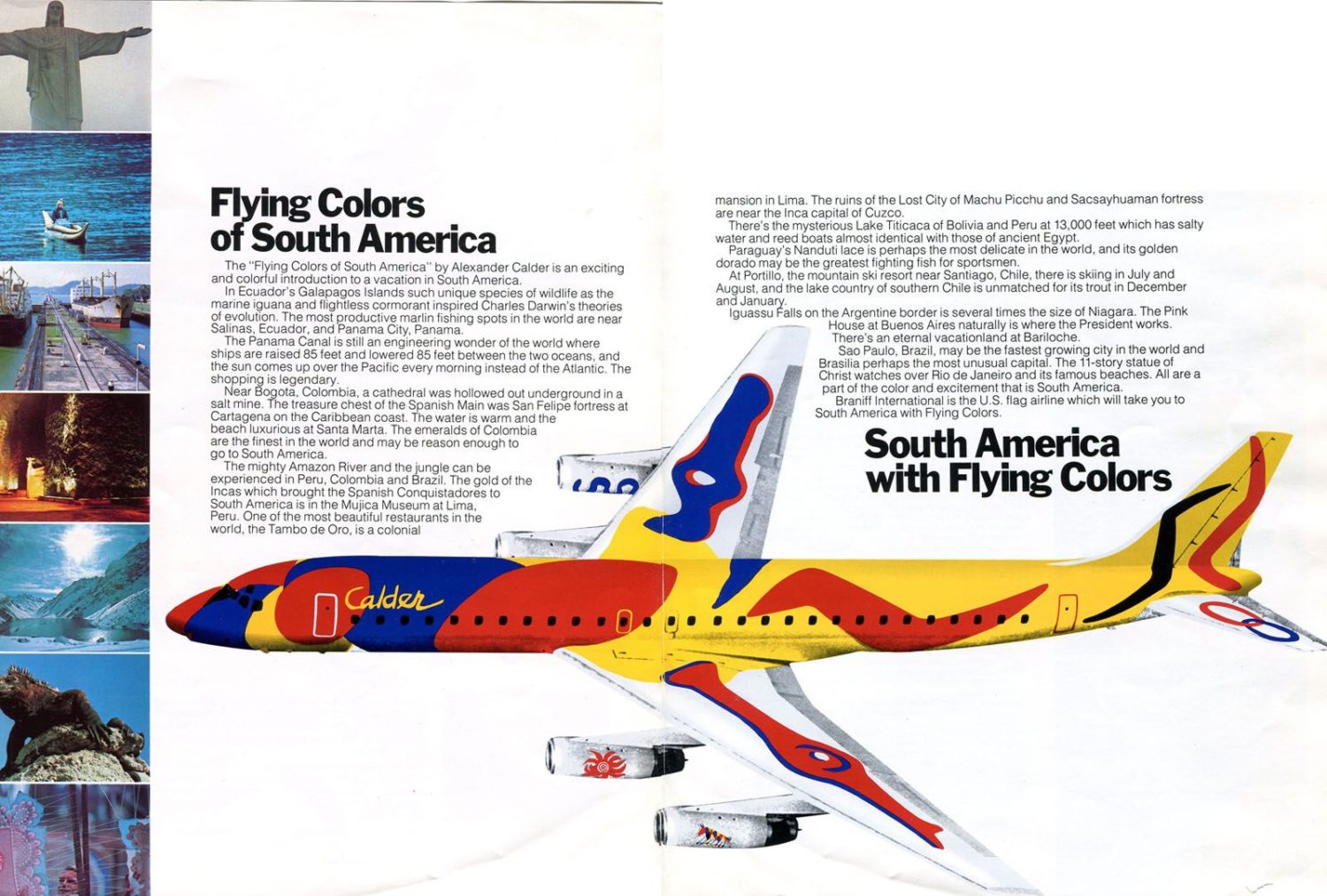 George Stanley Gordon, founder of the New York City advertising agency Gordon and Shortt, had been the first to approach Calder with the idea of painting a jet in 1972, but Calder responded that he did not paint toys. When Gordon told him it was a real, full-sized airliner he was proposing, the artist immediately gave his approval. Gordon felt that Braniff, known for melding the worlds of fashion and design with the world of aviation, would be the perfect company to carry out the idea. Braniff Chairman Harding Lawrence was highly receptive and a contract was drawn up in 1973 calling for the painting of one Douglas DC-8 jet liner, dubbed "Flying Colors," and 50 gouaches for a total price of $100,000.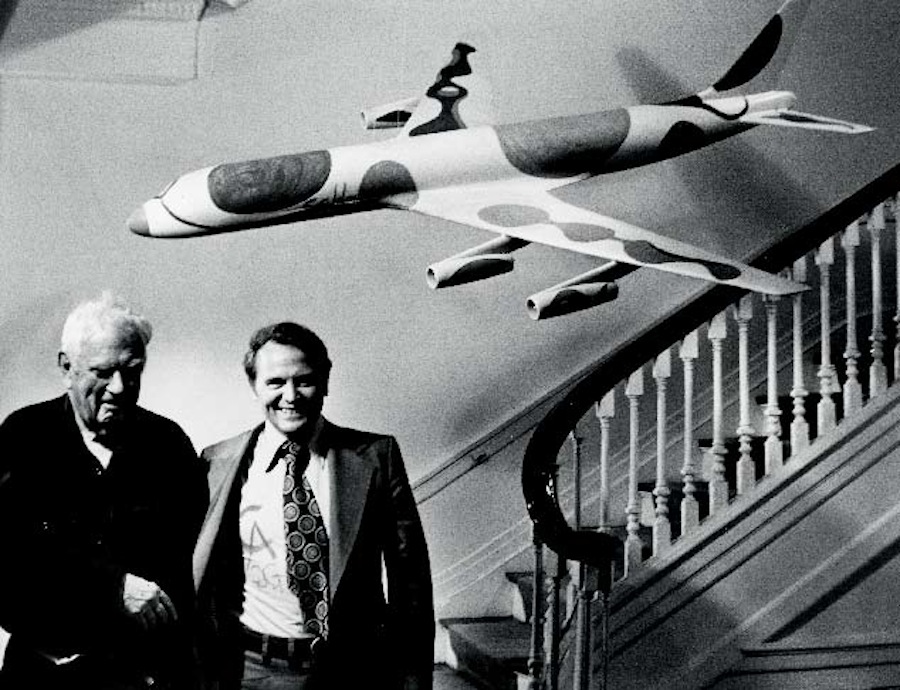 When Calder designed the scheme he wanted it to reflect the bright colours he had seen conspicuously during his travels around South America. Based on painted models of the DC-8 aeroplanes Calder provided Braniff with, a paint scheme was decided upon by the Dallas-based airline. In the end, the painted model closest to the final outcome was called "Humor." The most colourful of the six schemes Calder conceived, the design was transferred by their paint crew to the actual aircraft, although Calder personally added additional whimsical details of stylised fish and "beasties" to the engine nacelles, borrowed from other models. Lawrence expressed his desire that the jet's travel would allow "millions of people to see an original Calder" and provide for a "happy combination of international travel, business, and the arts."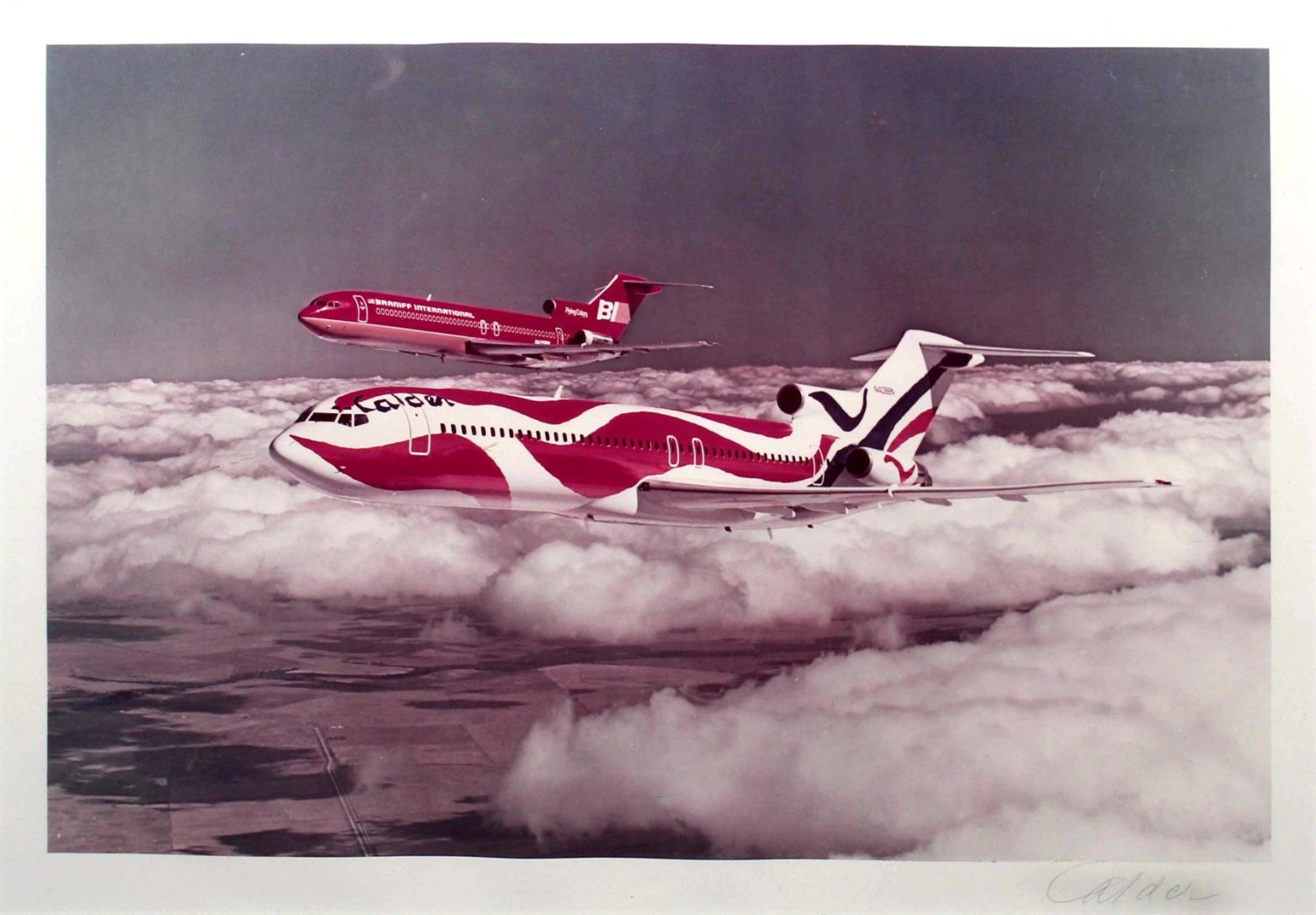 Following much interest in the adorned plane, from press and passengers alike, in 1975 Calder created a second design for Braniff, known as "Flying Colors of the United States," to celebrate the Bicentennial of the United States. This time, the aircraft, a Boeing 727-200, was swathed in vibrant lines of red and blue, with a white base, nodding to an American flag waving in the breeze. Pilots and engineers gave it the nickname "Sneaky Snake" owing to Calder painting a snake on the number one engine nacelle cover shortly before his death in 1976. In 1993, during the filming of Bad Boys, the aircraft was used as part of the movie set in Opa-locka, Florida and destroyed in a dramatic explosion during the final filming sequence.




Feature image: Braniff's "Flying Colors" designed by Alexander Calder in 1973