The Aesthete's Wish List: 5 Brilliant Cutlery Sets Almost Too Beautiful To Eat With
With a focus on unusual eating and serving utensils, this month Something Curated highlights five fascinating cutlery sets that oscillate between the realms of fine art and design – all currently available for purchase. These functional sculptures come courtesy a diverse roster of designers, artists and makers, from past and present, whom we take a closer look at.



Spoons by Gabi Veit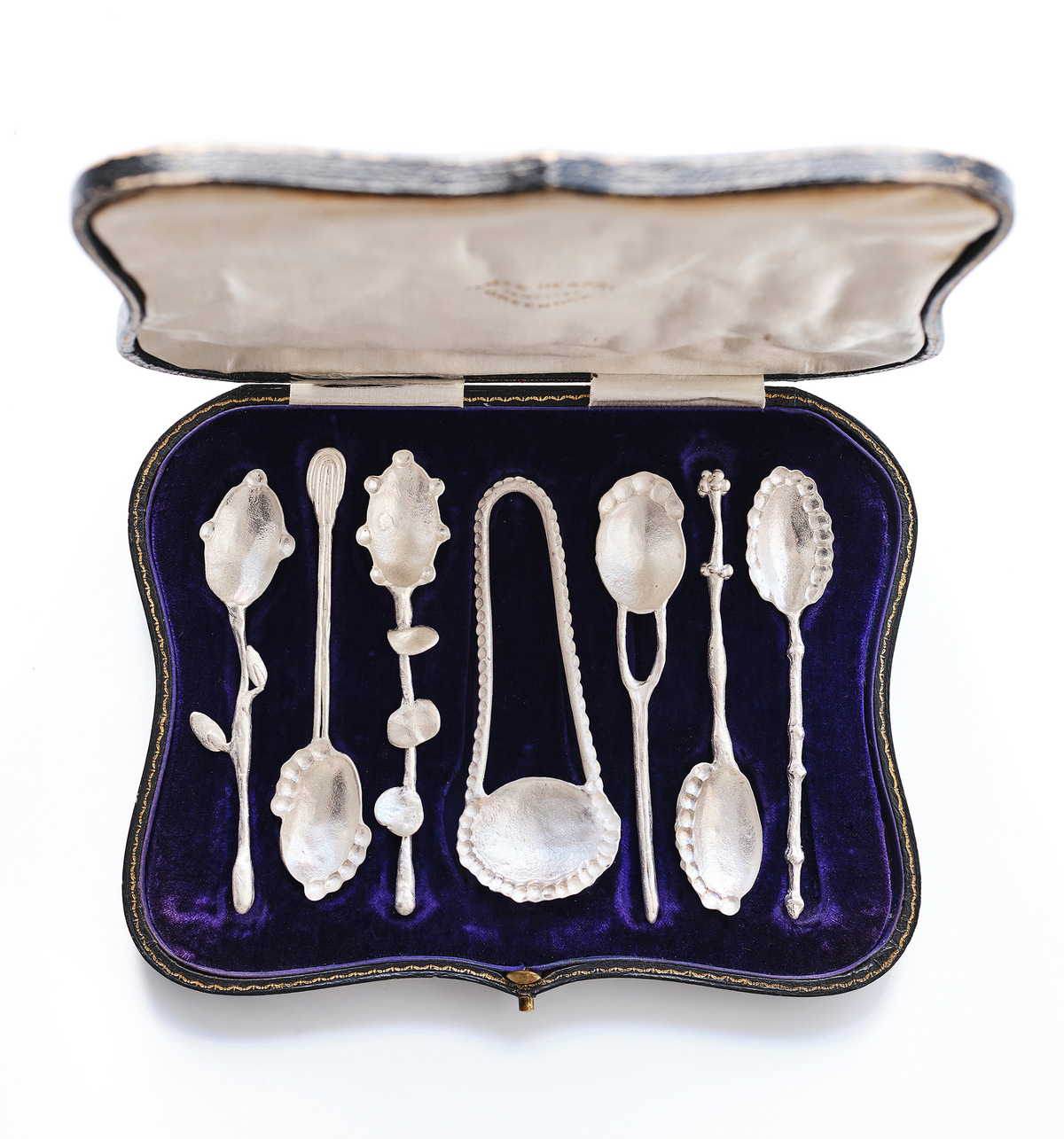 Having grown up in the Italian province of South Tyrol, Gabi Veit creates jewellery and objects that celebrate the striking shapes and outlines of her region's jagged landscape. Alongside her wearable pieces, for some time now, the artist has been passionately engaged with spoons. Her captivating items are composed of diverse variations of bowls and handles, cast in silver, surprising the beholder with their unusual shapes. These natural creations have unique forms, inspired by botanical life and marine elements, and are always part of a larger narrative being communicated by the artist. Available at Gentlewench.



Solo by Joanne Burke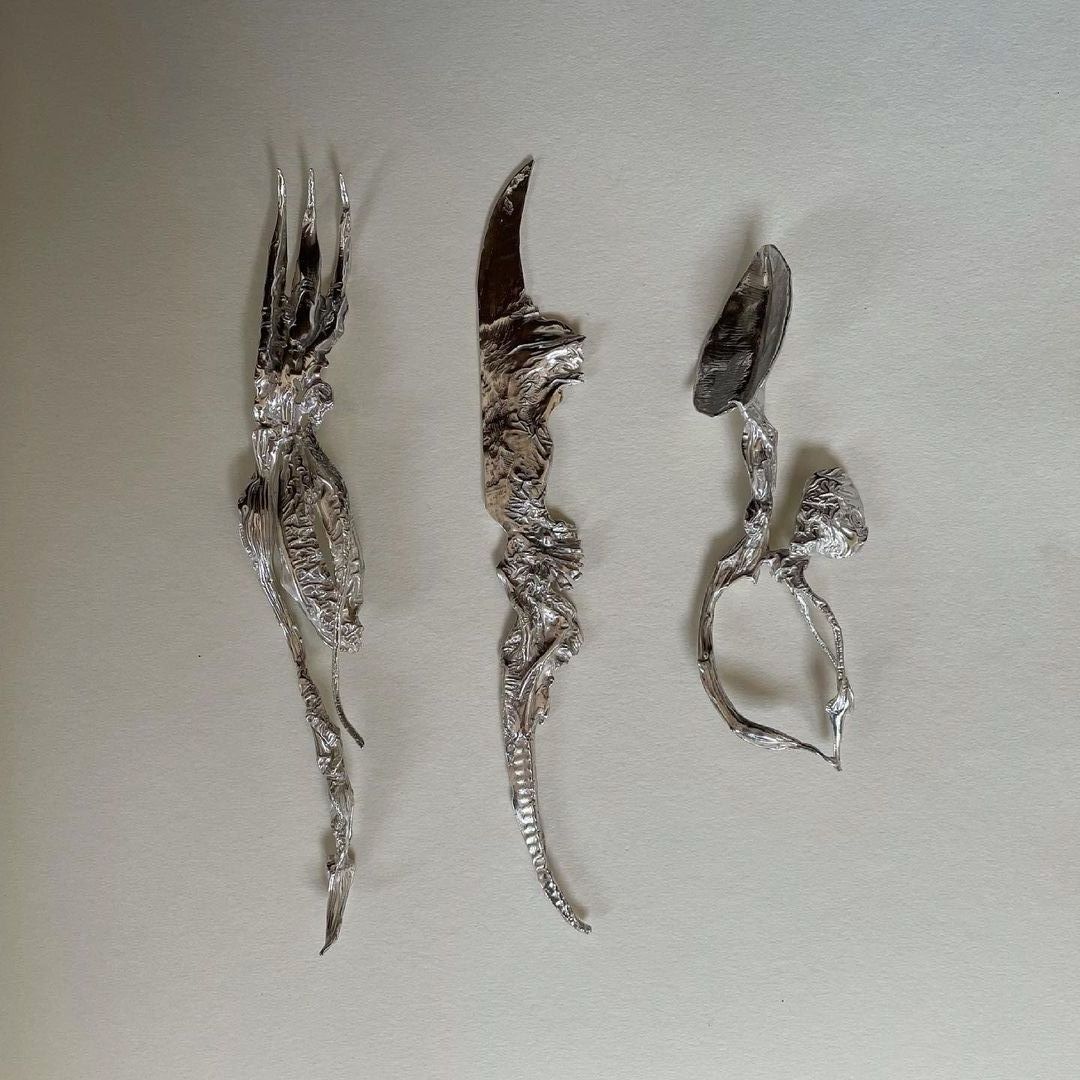 British-born, Italy-based jeweller Joanne Burke's eponymous label grew from a desire to create her own enchanting world. Having long been an avid collector of antique jewellery, she started making pieces for herself that were quickly in demand from friends and family. The artist's intricate pieces proudly bear the mark of their maker, often depicting mythical scenes and primordial symbols. This anthropomorphic sterling silver three-piece cutlery set for one person is hand sculpted, cast and finished in recycled sterling silver. Signed, the work is an edition of one. Enquire at Bruises Gallery.



Cutlery Set by Baciocchi Associati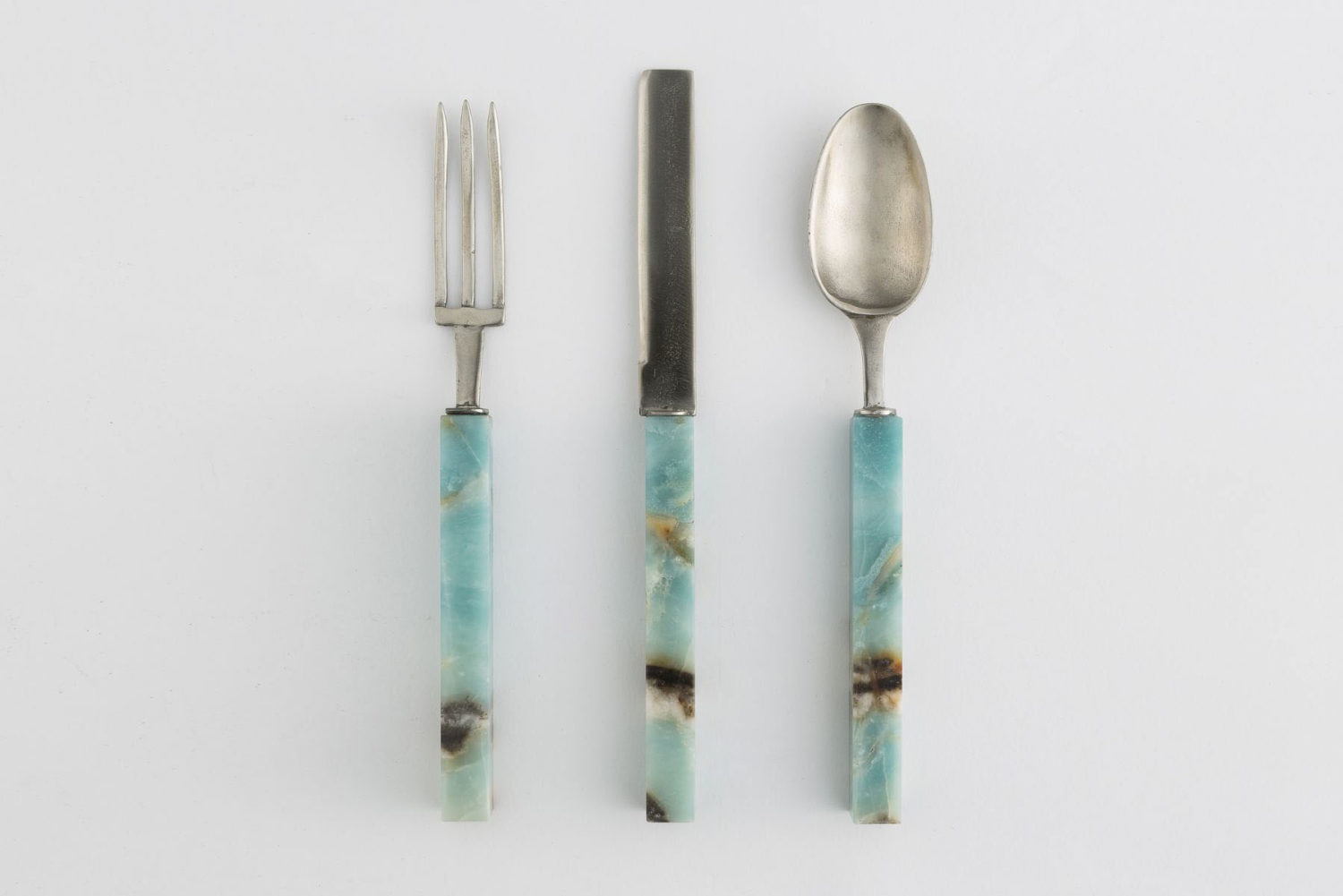 Baciocchi Associati is an architectural, interior and product design studio, founded by Italian architect Roberto Baciocchi. Between experimentation and continuous research, respect for tradition and reinterpretation of classic aesthetic standards, the studio carries out international projects while focusing on furniture and homeware design. The search for quality and personality is the founding value of each project. Comprising unique carved stone handles and handcrafted moulded elements, each of Baciocchi's utensils is a work of art. Enquire at Nilufar.



Flora Vulgaris by Roos Van de Velde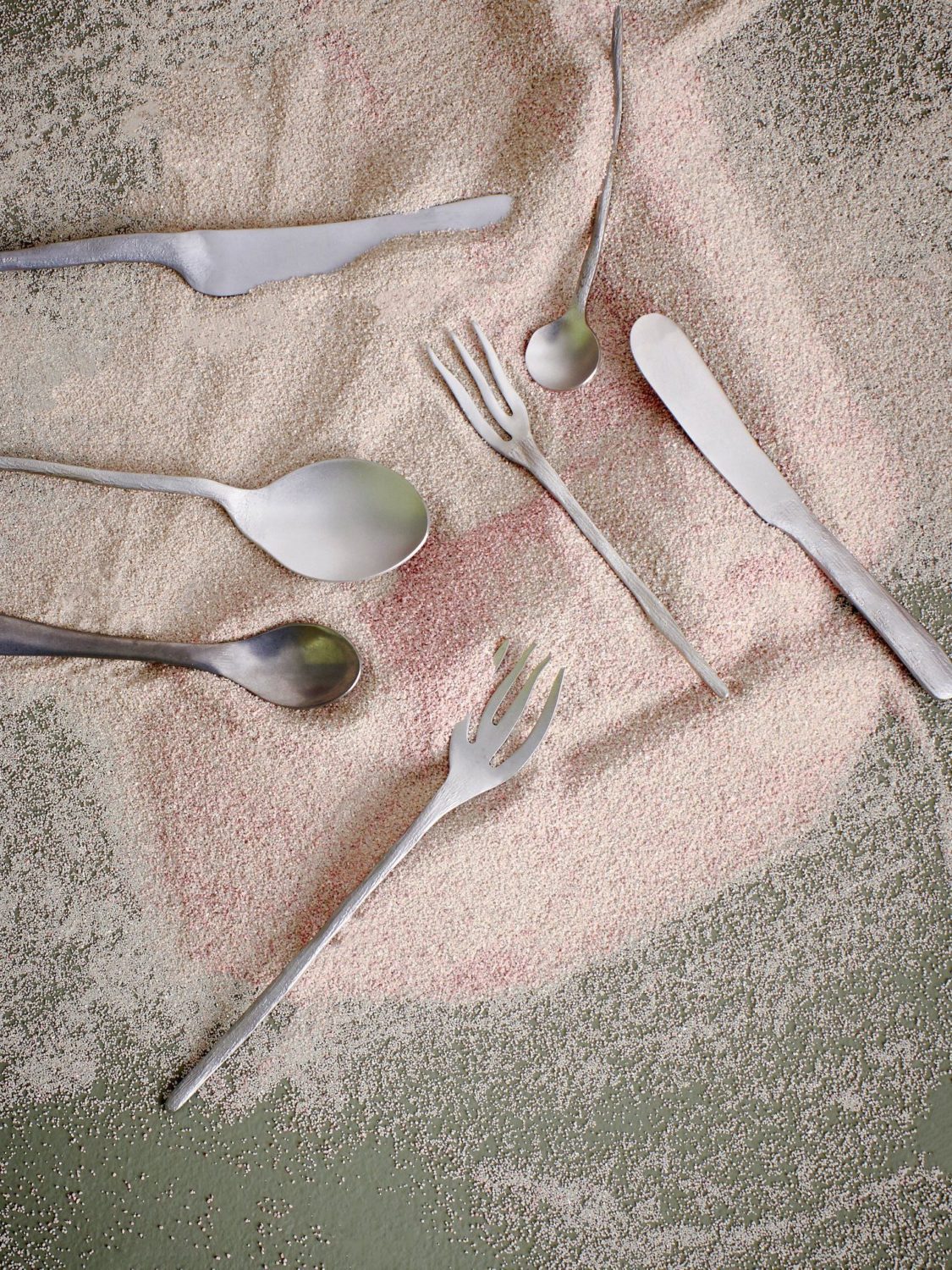 Like all of Flemish artist and ceramicist Roos Van de Velde's creations, her feather-light Flora Vulgaris collection for Serax is inevitably linked to nature. The name alludes to the "wild" and intuitive way in which the cutlery took shape. A series in the production of which the imperfection, the unfinished and the coincidence were not only allowed but desired, forks appear like splayed branches, spoons like fallen leaves and knives like razor clams. Available at Serax.



Mono Zeug by Michael Schneider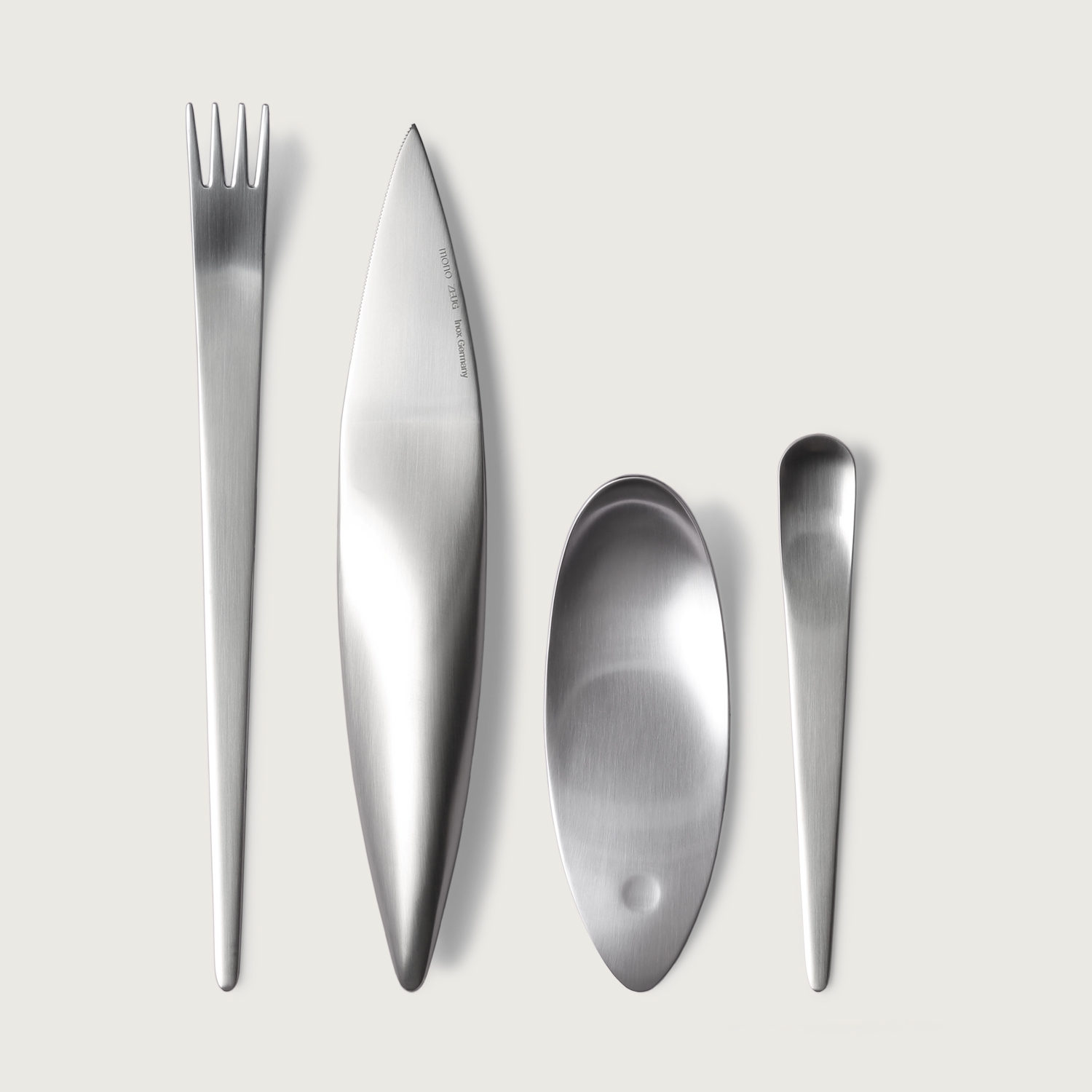 Mono Zeug was developed by designer Michael Schneider and was launched on the occasion of the 100th anniversary of the family business, Mono, in 1995. The inspiration for the shapes were the tools of prehistoric man. The knife was inspired by a hand axe, the thin fork is reminiscent of early spit tools and the spoon is evocative of a scooping hand. Thus, Mono Zeug does not only mark the anniversary of Mono, but also pays homage to the home of the flatware manufacturer: Mettmann, the place where the Neanderthal man was first found. Available at Mono.



Feature images via Joanne Burke and Baciocchi Associati