Meet The Vendors Behind The New SelgasCano Conceived Design District Canteen
Design District Canteen, Greenwich Peninsula's newest food and drink destination, brings a dynamic selection of independent food operators and culinary entrepreneurs to South East London. The airy food hall is centred around a striking transparent structure created by Spanish architects Jose Selgas and Lucia Cano, who memorably created the Serpentine Pavilion back in 2015. Stalls serving food from around the world surround a verdant tree canopy creating a convivial environment to eat and drink. The project aims to provide a platform for up-and-coming food operators to grow and develop. The six carefully chosen operators — Eat Lah, Ehla, Guasa, Sugo, Raastawala and Toasted — bring their own unique flair and provide daily sustenance to more than 10,000 students, residents, and Design District members as well as those visiting the world's busiest music venue.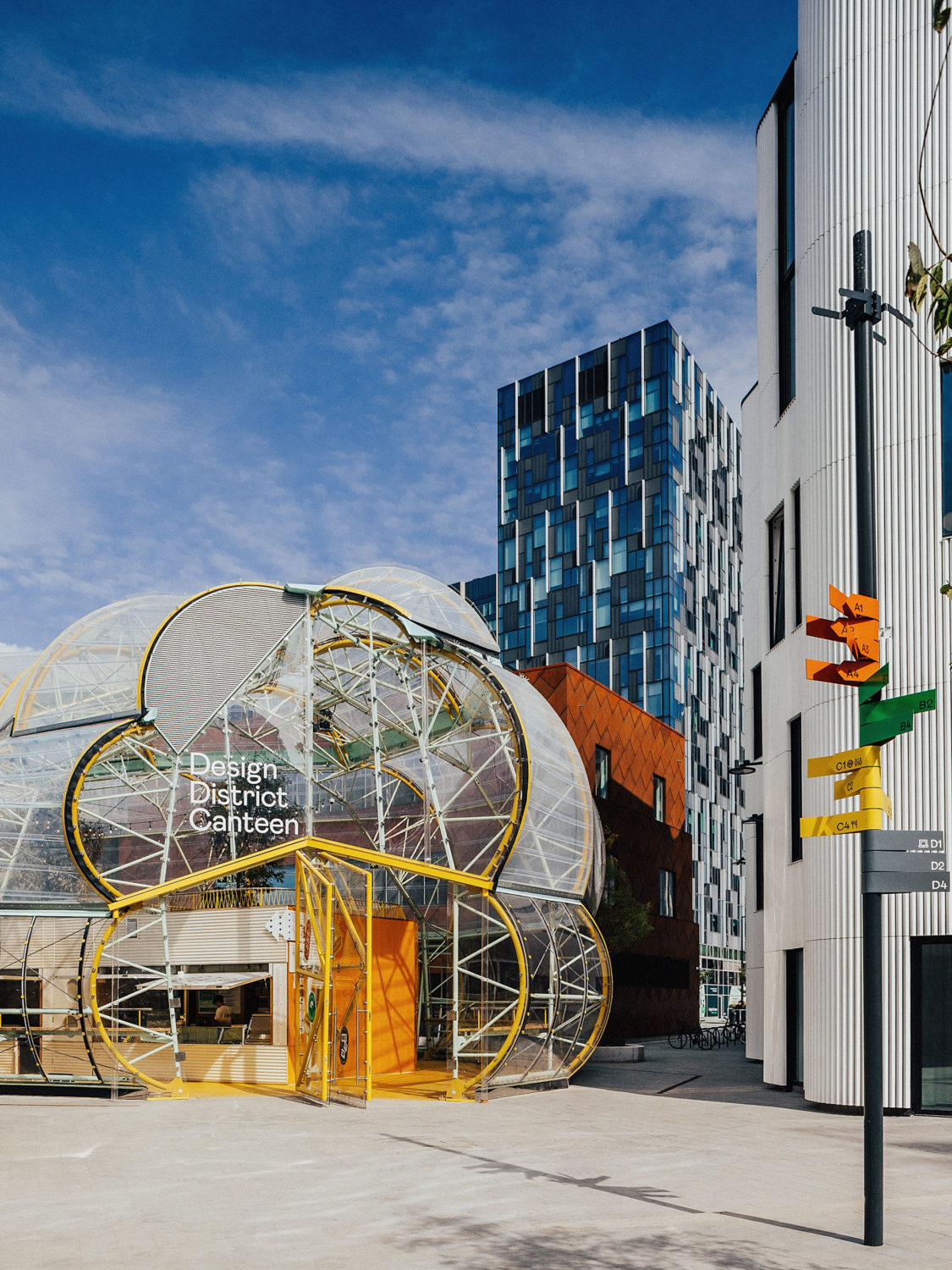 Among the vendors involved is David Gutierrez, behind Venezuelan concept Guasa. With existing sites in Mercato Metropolitano and Old Spitalfields Market, Gutierrez and his team are working to ensure that Arepas and Venezuelan food in general achieve the recognition deserved. Husband-and-wife duo Robert and Melanie founded Eat Lah in 2019 with the goal of bringing the flavours, colours and culture of Malaysia to the streets of London. Rinku Dutt's Raastawala specialises in North Indian street eats, specifically Kolkata, with dishes and cooking techniques inspired by where the founder's parents are from. Then there is Ehla, meaning "welcome" in Arabic and "come over" in Greek, which focuses on healthy, fresh and tasty Eastern Mediterranean food inspired by the region's countries such as Egypt, Palestine, Turkey and Israel. To learn more about the new Design District Canteen's food offering, Something Curated spoke with its talented operators.  



RAASTAWALA (RINKU DUTT)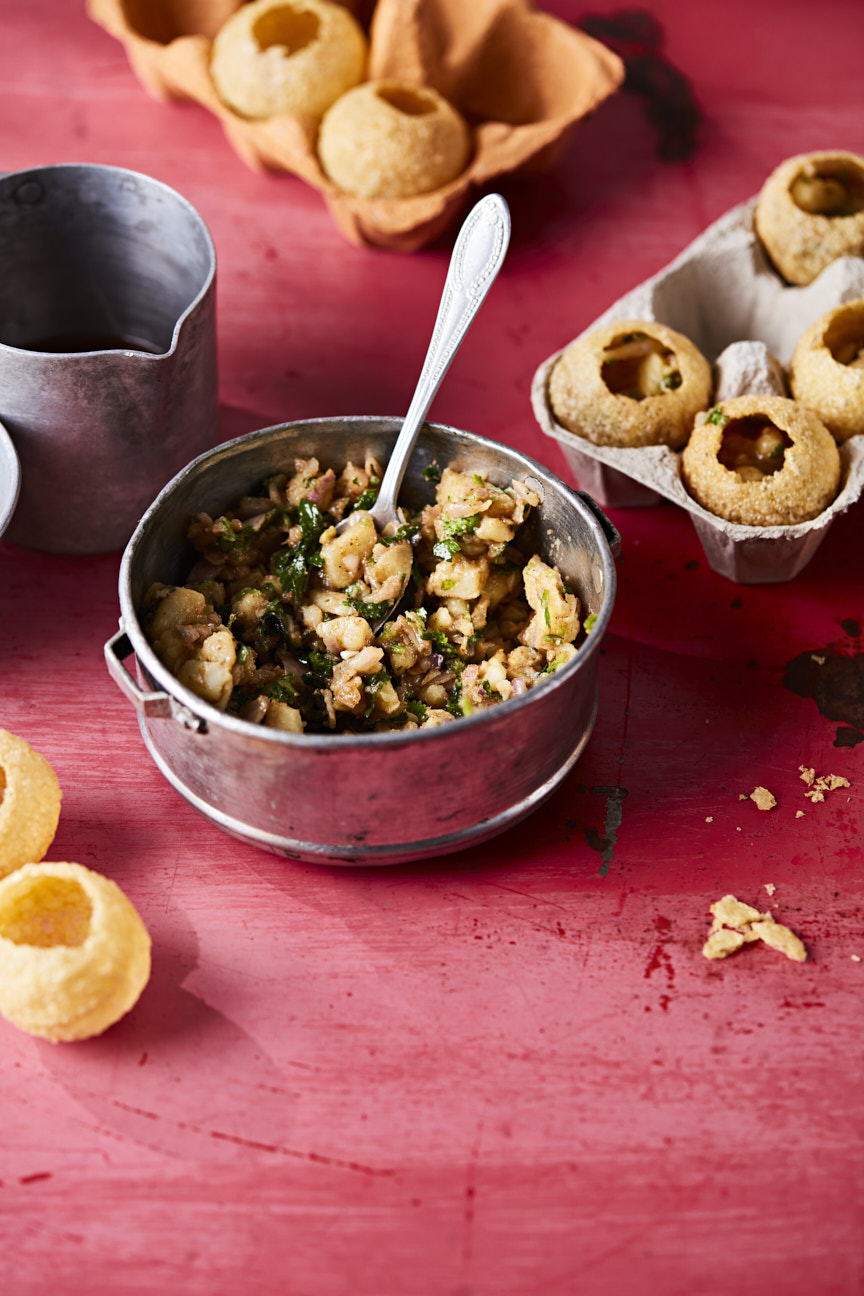 SC: Can you give us some insight into Kolkata's versatile street food culture, expanding on the Kati Roll's origins?
Rinku Dutt: Kolkata, also known as the City of Joy, in North East India, is celebrated for its rich cultural heritage, grand colonial architecture and unique character. The food cooked in this state is a culinary art that has evolved with time. The paddy cultivation and the variety of fish found in this region makes rice and fish curry Bengal's staple food and a family favourite in most households. Under the British Raj in the 1800's, Kolkata was a trading post for the East India Company during which time the city saw a huge influx of communities and their accompanying cultures around the mid-eighteenth century settle. This, along with the influences of neighbouring small cities, imparted the character that we see today in the street food of Kolkata. The textures and flavours of the food caters to a wide range of taste buds. The street food scene in Kolkata is huge, and is almost a way of life for most of the population.
The Kati Roll is one street food dish that originated in Kolkata in a cafe called Nizam's. Traditionally it was a small flat bread with an egg cooked on it with a few pieces of tender grilled meat, onions and a sauce, served in a scrap of white paper. One story about the origin of the Kati Roll is that it was a tummy filler for workmen on their way home from their shift, while others say that the birth of the rolls during the colonial period in India occurred as the Englishmen did not want to use their hands when eating a Kebab. As a result, the Nizam ordered the kebab to be wrapped by a Naan (flatbread) before being served and the Kati Roll was born. The simplicity of the dish, which also has layers of flavour, makes it very appealing to a foodie, hence a firm favourite amongst India's array of street food dishes.
SC: What inspired you to include chaat dishes on your new menu?
RD: Chaat dishes take up a big part of the street food scene in India. They are often quick snacks that people will eat in between their meals, or as a starter to a bigger meal. We wanted to include chaats on our menu for our customers to have the opportunity to try these unique dishes and to experience what we make such a fuss about in our culture. The new dishes on our menu can be found in kerbside restaurants in Kolkata called Dhaba's, or on the corner of the street with a street vendor set up with his stand. Since these can't be found in the UK, we thought it would be great to offer them at Raastawala.



GUASA (DAVID GUTIERREZ)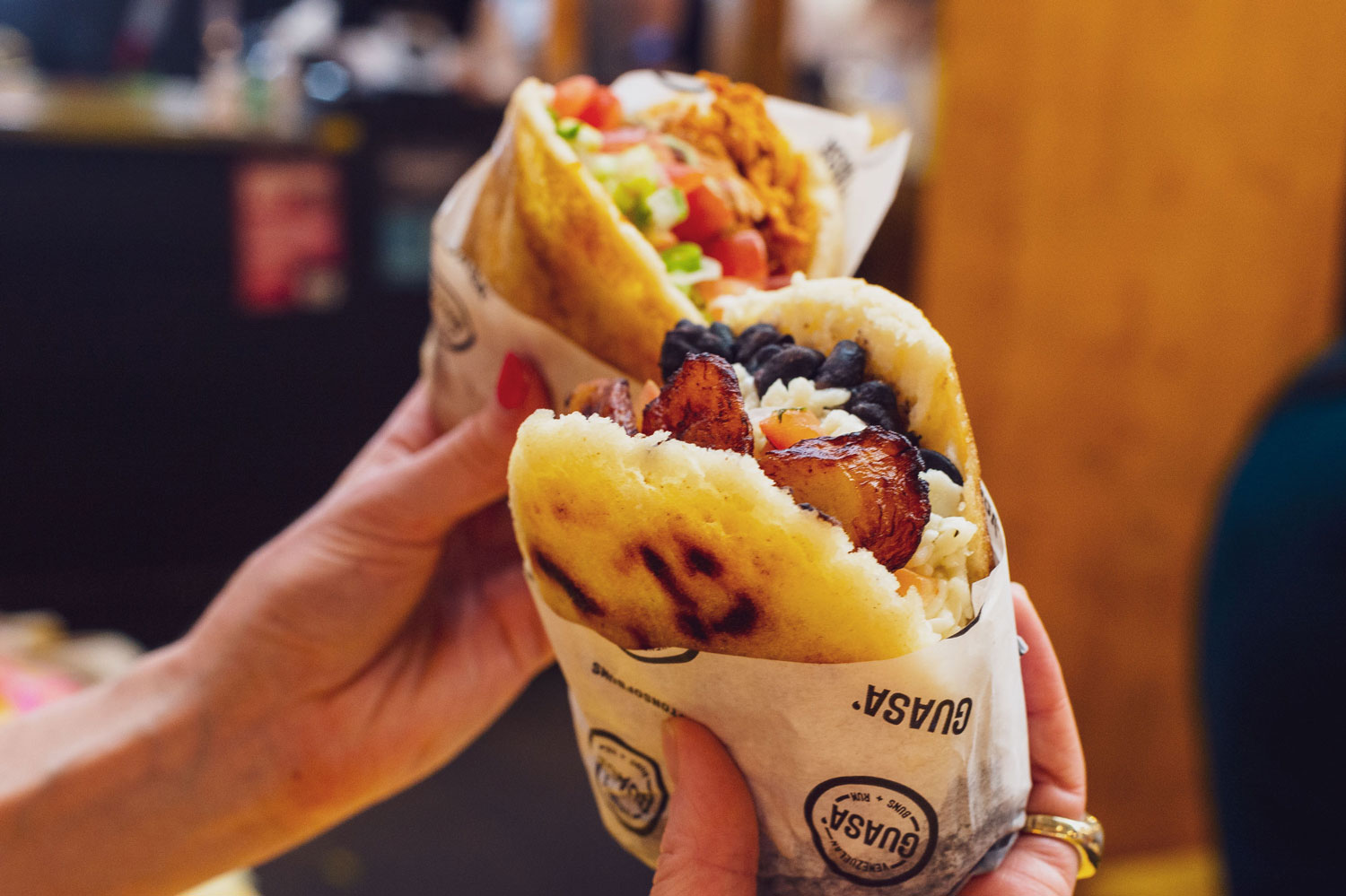 SC: What are some of the key flavours and ingredients at the heart of Venezuelan cooking?
David Gutierrez: In Venezuela we love using fresh vegetables such as onions, bell peppers, garlic, tomatoes and coriander leaves. Similarly, avocados are used regularly, and is the base to our Guasacaca, a well known sauce in our country. We love meat, and shredded beef tends to be the first choice for Venezuelans as it is part of our national dish. One of the most exciting and exotic ingredients we have is plantain, which is similar to a banana but less sweet, so is the perfect ingredient for both sweet or savoury dishes. At Guasa we offer a sweet fried version of plantain, which combined with various fillings creates the most incredible explosion of flavours.
SC: Can you introduce us to Arepas — how are you serving your rendition of the dish at Guasa?
DG: Arepas are one of the staple foods of Venezuela, a delicious, handmade, artisan, premium bun made up of a white corn base (so naturally gluten-free), traditionally grilled and stuffed with any vegan, veggie or meat fillings. We love Arepas in Venezuela and would like everyone to fall in love with them too. We use them as a base to get creative and fill them with amazing flavourful combinations. With Guasa, these last years we have been able to bring Arepas to spectacular locations across London and the UK and we can't wait to continue our journey.



EHLA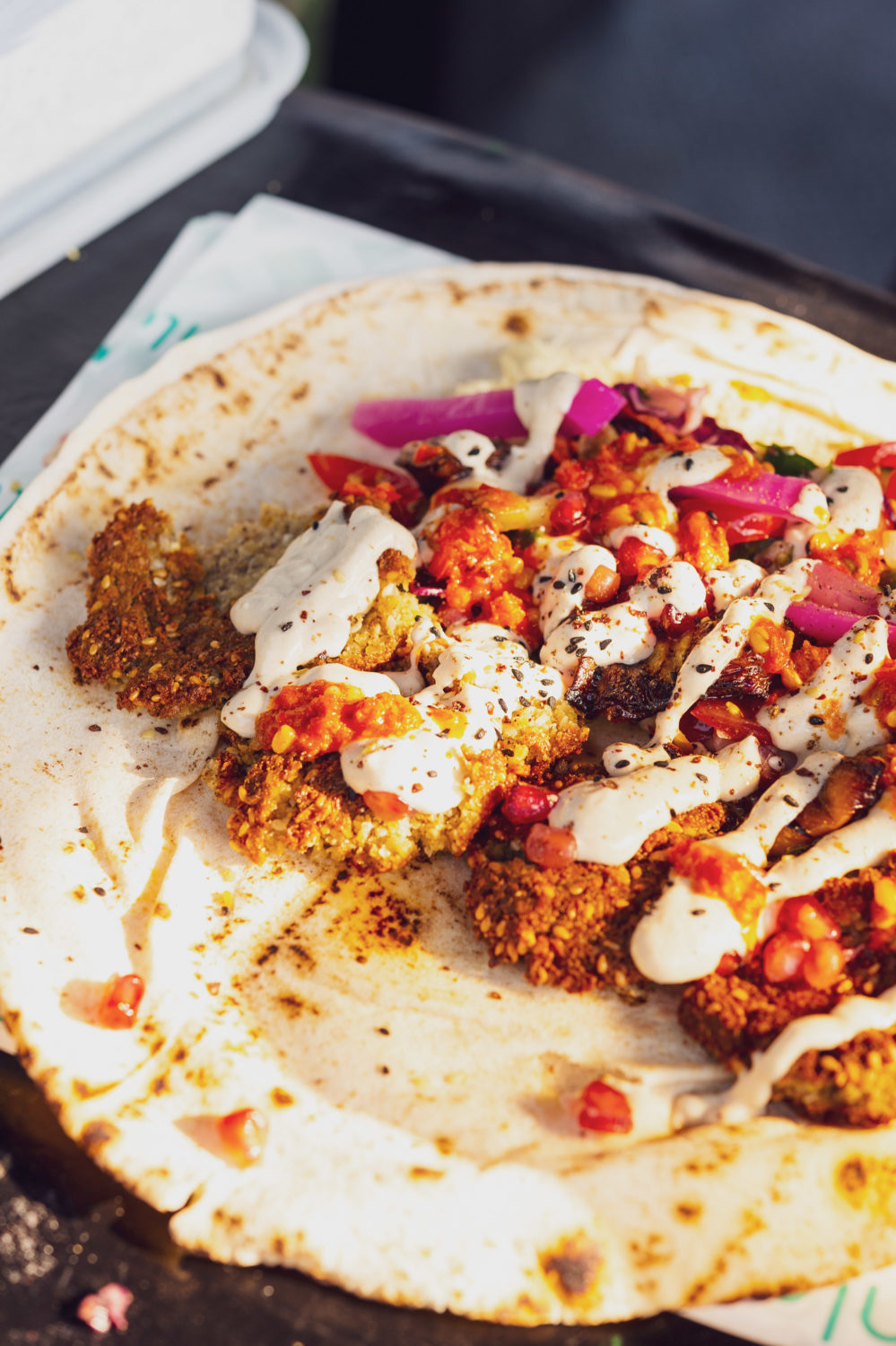 Something Curated: Can you give us some insight into your background and how Ehla was born?
Ehla: Ehla began in 2018, after realising our shared passion for fresh and vibrant Eastern Mediterranean food. Our journey has been shared with our loyal customers across some incredible London markets and festivals and now, with a permanent site in such a creative space, we are excited to be able to share more of the incredible dishes these countries have to offer, which is not just our typical street food menu.

SC: Tell us about your pastry offering, including spanakopita and tahini pie — what has influenced your take on these dishes?
E: Our menu at Canteen now includes pastries, such as our "Spanakopita" Spinach and Feta Pie, which we are told is the best outside of Greece; baked daily from scratch, using fresh ingredients at the Design District production unit. With our ever-evolving ideas we are soon going to be serving some exciting new pastries made up of unique flavour combinations. Tahini is one of the core ingredients that is used every day in Eastern Mediterranean cooking, so we've been busy experimenting and recipe developing with tahini to showcase this delicious ingredient. We are influenced and inspired by the bakeries in Cyprus, which are open 24/7 and have an endless variety of freshly baked goods on offer. London needs this!



Feature image: Photo: Steven Joyce / Courtesy Raastawala