Interview: Tschabalala Self On Her First Live Work To Be Presented At Performa
Working seamlessly across a range of mediums Tschabalala Self's paintings, collages, sculptures, sound works, and installations, are constructed from a family of fantastic players; bold, funny, highly stylised individuals populate her world, some stepping directly off the streets of Harlem where Self grew up, others inspired by other artist's works and cultural references, the rest developed more abstractedly from imagination. Commissioned by Performa, Self is set to present her first live performance, an intimate play about a couple, from 22-24 October 2021 at Jackie Robinson Park in Harlem. Taking place on a stage designed by Self, four actors will perform scenes of dialogue written by the artist, utilising humour and sincerity in a text that ranges from literal to nonsensical, to explore domesticity and gender. Alongside the sculpture-esque stage, Self has designed shoes and jackets in close collaboration with UGG, utilising rich textures such as leather, suede, and fur. To learn more about the anticipated performance work, Something Curated spoke with Self.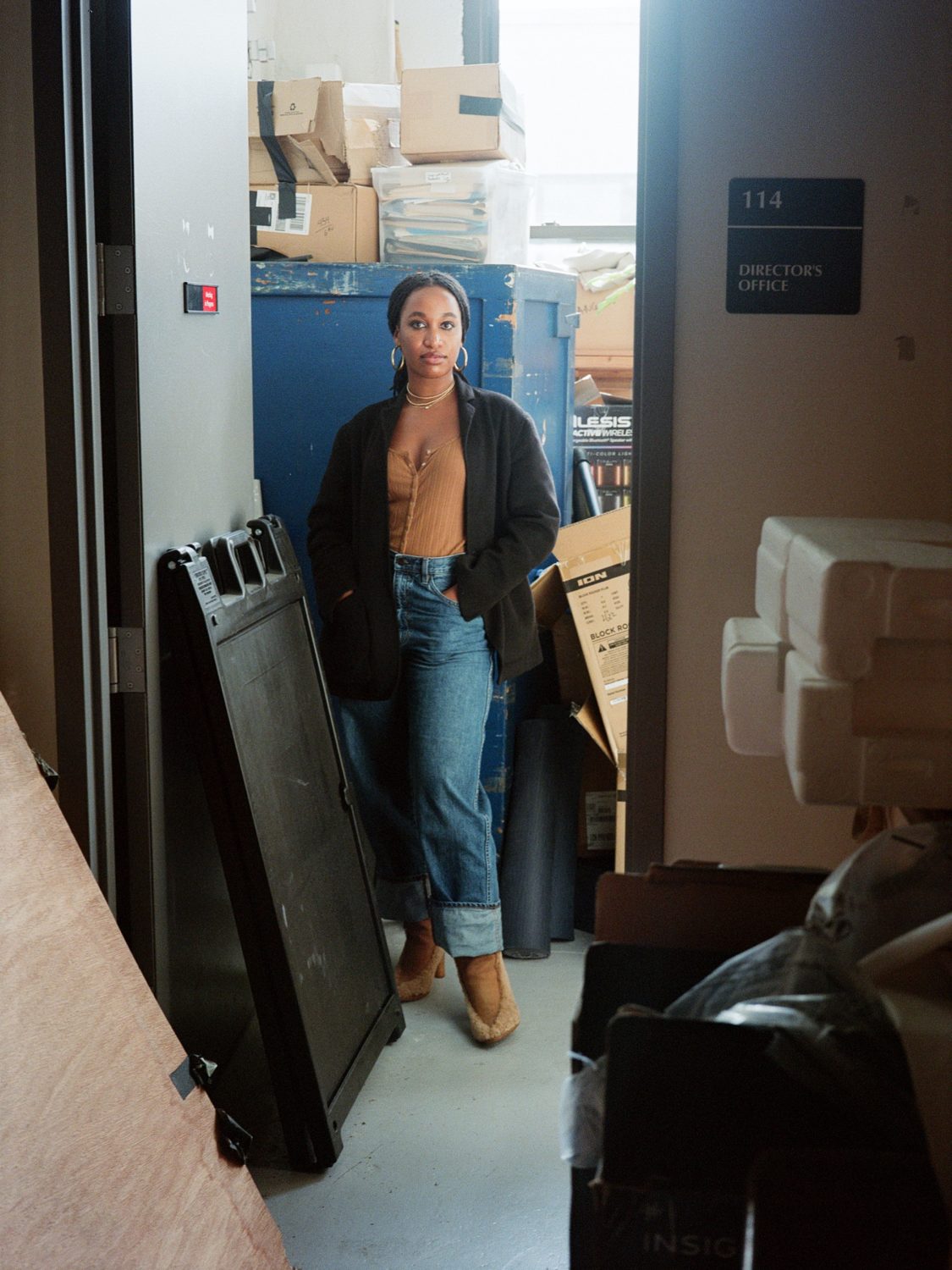 Something Curated: Can you tell us more about the first live performance you have planned for Performa this year?
Tschabalala Self: The live performance planned for Performa is going to be an experimental play that centres around a core piece of dialogue. The play, visually, is meant to bring to life a lot of the aesthetics generally associated with my painting practice. In trying to actualise that, I've constructed all the elements for the stage and worked diligently with lighting directors to create an atmosphere that's reminiscent of painting. I've built the furniture that will be used as props on stage and also designed all the clothing for the actors. The play itself is in three acts and there is a chorus that punctuates and highlights different aspects of this central piece of dialogue. The entire production will last for around 45 minutes to an hour.
SC: Could you expand on the sculptural stage?
TS: The stage itself is made up of several different modular pieces that come together to create this backdrop. It's comparable to a collage – a three-dimensional collage. Aside from that, there are the props themselves, the furniture, which you can think of as sculpture, or perhaps a more appropriate term would be functional art objects because they have a utilitarian purpose.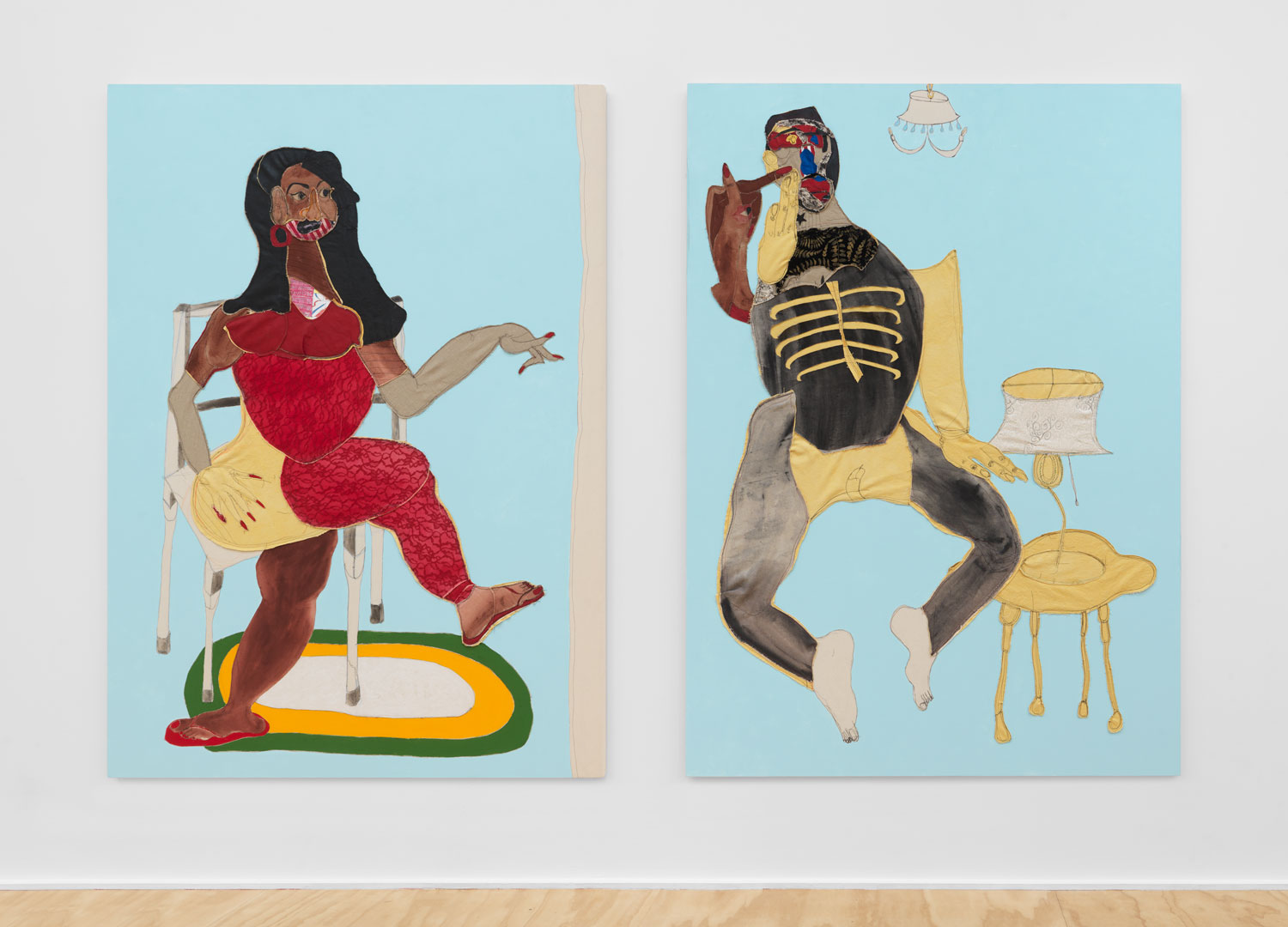 SC: What drew you to presenting the work at the amphitheatre bandstand of Jackie Robinson Park in Central Harlem?
TS: I decided to use the amphitheatre because I was looking for a location in Harlem and this is a space that occurred to me – I spent a lot of time in Jackie Robinson Park as a child. The park is called Jackie Robinson Park because there are lots of baseball fields; I used to play Little League so I'm very familiar with the park. It's also really close to my family home. And also, it's a bandstand, a theatre, so knowing I wanted to do this play this just made sense given the structure already existed to support this kind of production.
SC: How have you thought about working with music – I understand there's going to be a Boney M. cover band?
TS: I chose the Boney M. band because I really wanted disco to be an aspect of this production, mainly because I feel disco is a form of music that is generally liked and somewhat unifying – it is a kind of music that's there for people to have fun, for moments of carefree escapism. But because of the repetition and the charismatic nature of the music, you are able to sometimes insert more subversive or political ideas into the lyrics of the songs. Boney M. stood out to me as interesting figures – this Afro-German pop band. I felt that alone was an interesting narrative and it was this that initially drew me to them. As I listened to more of their songs, I realised that the way in which their songs were structured and written mirrored the way in which I had approached writing the dialogue of the play. A heavy focus on repetition and double entendre. Also, a lot of themes that came up in the music reflected the content in the play. So after doing more research, they seemed like a natural choice for the musical element. For the actual production, there will be a cover band that will be reciting the chosen songs.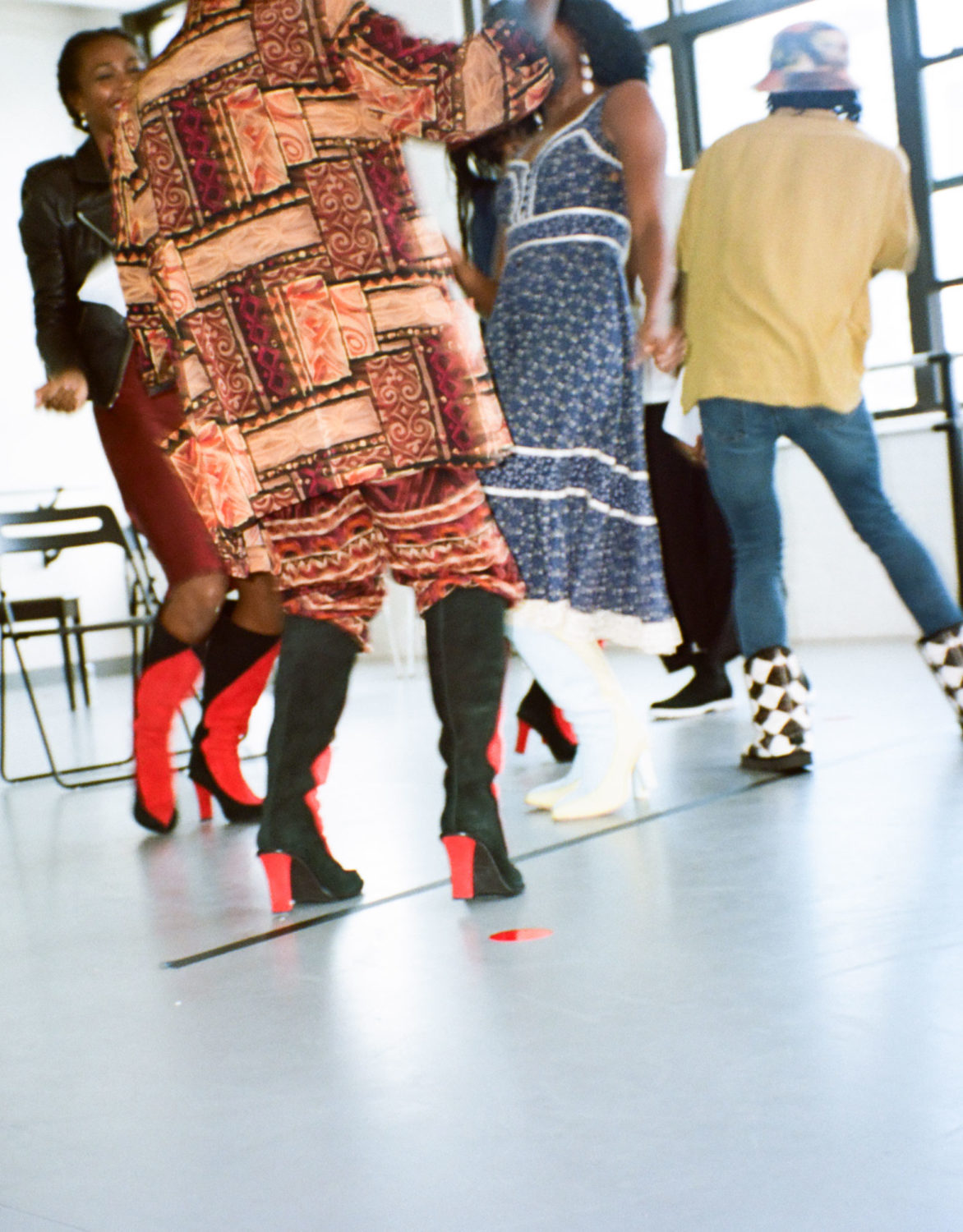 SC: How's this past year been for you – how has the pandemic impacted your work or way of operating?
TS: I spent a lot of this year working alone, probably more than I would of normally. I've been travelling less and seeing the people I would have ordinarily seen often, less often. I've had more time to reflect and also less apprehension when thinking about trying different things. I realised the world itself is very much out of the ordinary at this moment so there is no reason to feel any sense of apprehension about trying something new.



Feature image: Tschabalala Self at Joffrey Ballet School in LIC. Photo by Christian DeFonte. Courtesy of the artist, Pilar Corrias, London and Galerie Eva Presenhuber, Zurich / New York