Interview: Julia Crabtree & William Evans' Curious Sculptures Reflect The Precarity Of Our Times
One of Europe's foremost sculpture galleries, the Henry Moore Institute presents Slip, artist duo Julia Crabtree and William Evans' largest solo show to date, open now and running until 16 January 2022. Slip spans the Institute's main galleries and includes work from the last five years alongside new sculptures made especially for the exhibition. Working collaboratively, Crabtree and Evans are known for their process-driven practice. They incorporate a breadth of conventional and non-traditional materials and modes of making, from casting, glass-blowing and video-making to printing on carpet. Overlapping process and concept, the artists initiate series of contained experiments with materials and everyday objects. In a new body of ceramic works, a number of mass manufactured objects designed to support the body are appropriated and manipulated across an intricate sculptural enquiry. To learn more about the artists and their new exhibition at the Henry Moore Institute, Something Curated spoke with Crabtree and Evans.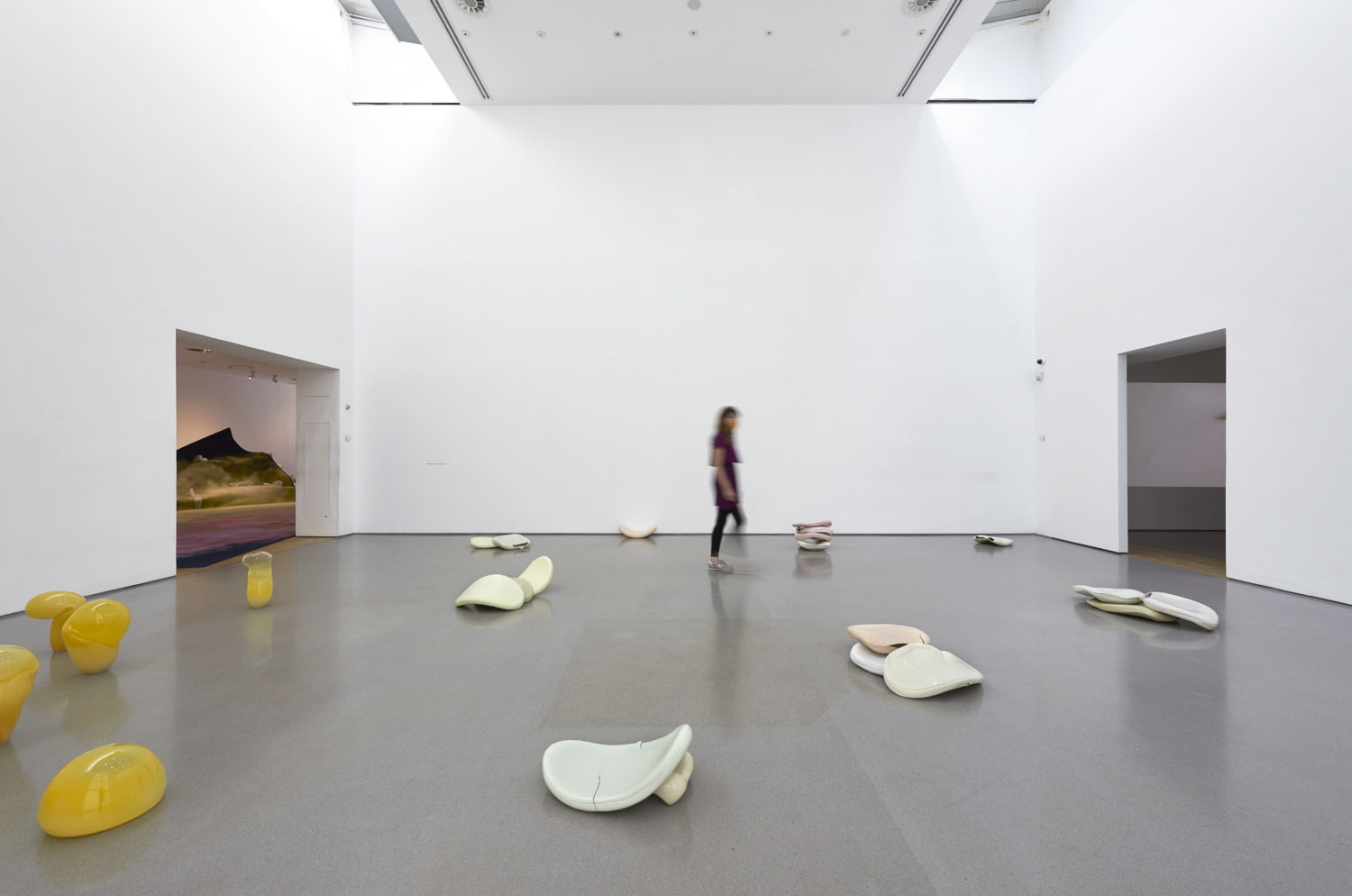 Something Curated: Can you give us some insight into your collaborative relationship?
Julia Crabtree + William Evans: We've been collaborating since we met at university studying for our BAs in Fine Art. We are excited about how collaboration can shift the making process – it allows us to work at a scale beyond what we could do individually, and provides an opportunity to think outwardly. Collaboration requires an openness to ideas and a relinquishing of control – an approach that we have developed over the years with a range of artists, makers and writers.
SC: What is the thinking behind the works presented in your new exhibition, Slip, at the Henry Moore Institute?
JC + WE: The exhibition has allowed us to re-visit existing works in parallel to developing new pieces. As part of our ongoing practice we explore a range of materials and processes. Our work is rooted in sculpture, considering the physicality and material reality of things and the way this formal art frame might enable us to think through complex ideas and materiality. Working across a range of materials and processes allows for slippages and mistranslations, while exploring the haptic and tactile enables us to reflect on embodiment and consider the entanglement of bodies – human, animal, machines, fungi etc. Exhibitions are an opportunity to bring together the different objects we have made through material experimentations and expanded collaborations and consider how, through their placement, display and installation they might start to reveal or develop relationships and interdependencies.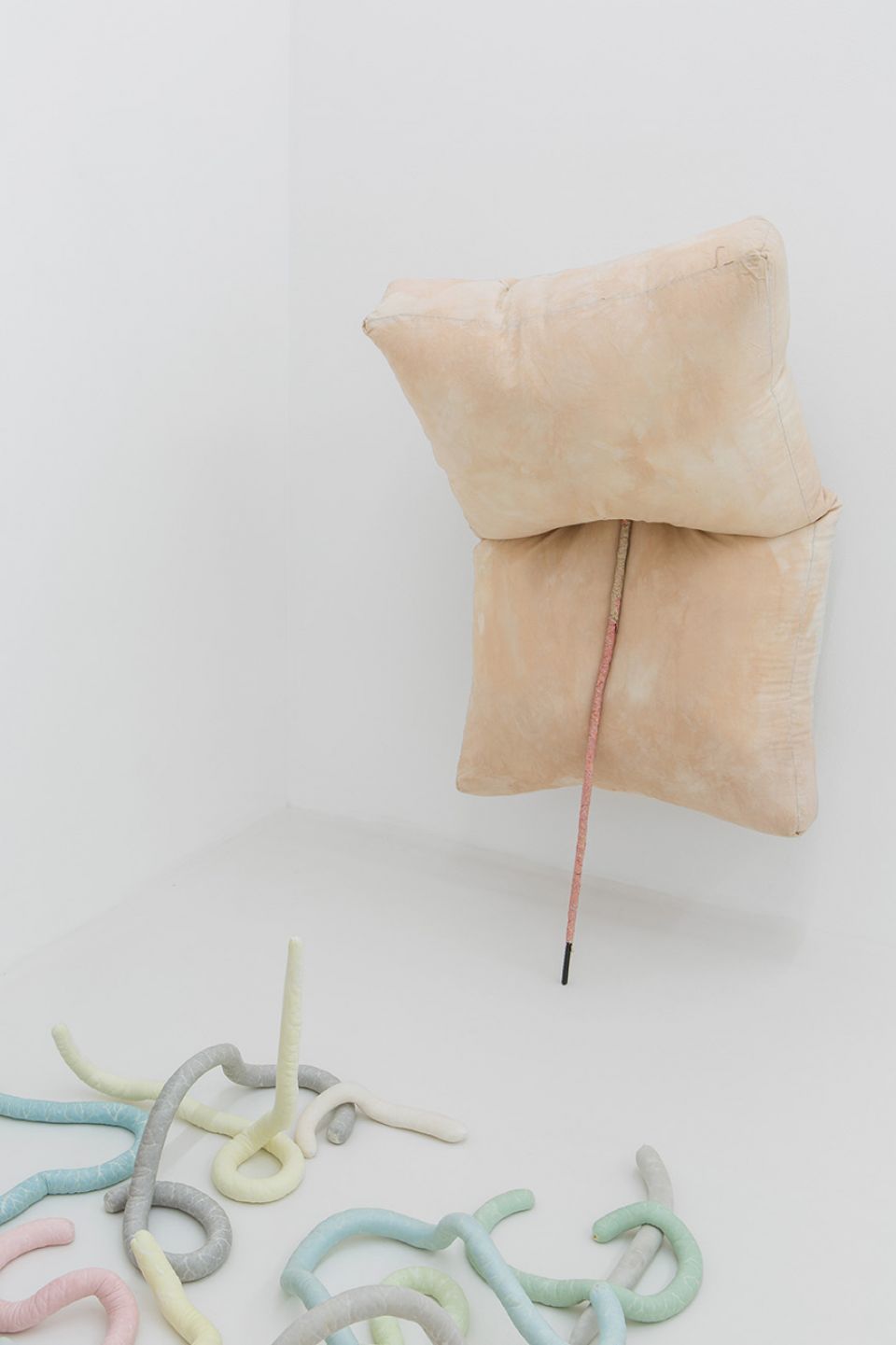 SC: Could you expand on your fascinating use of materials — from casting, glass-blowing and video-making to printing on carpet?
JC + WE: We're interested in exploring different material processes – how objects might form through relinquishing control to material properties and external forces (such as gravity) and how these practices might enable us to think through embodiment, vulnerability and precarity – the conditions of living today. Pores, 2021 is a series of thin ceramic shells developed through experimentations with slip casting. We were drawn to the process for several reasons: firstly, to think through the materiality of clay, and secondly, because slip casting as a process is tied to the industrialisation of ceramics. We were excited by the material relationship that underpins it: liquid clay (slip) is poured into plaster moulds – the porosity of the plaster encourages the clay to form a skin/shell which remains in the mould once the slip is poured back out. We were drawn to how this process embodies ideas of contact, exchange and intimacy. Recordings of the slip casting process were used as foley sounds for the video work Crutch, 2017-21, which can be heard intermittently throughout the three gallery spaces – so even when not physically touching, in some way the works are entangling and affecting one another.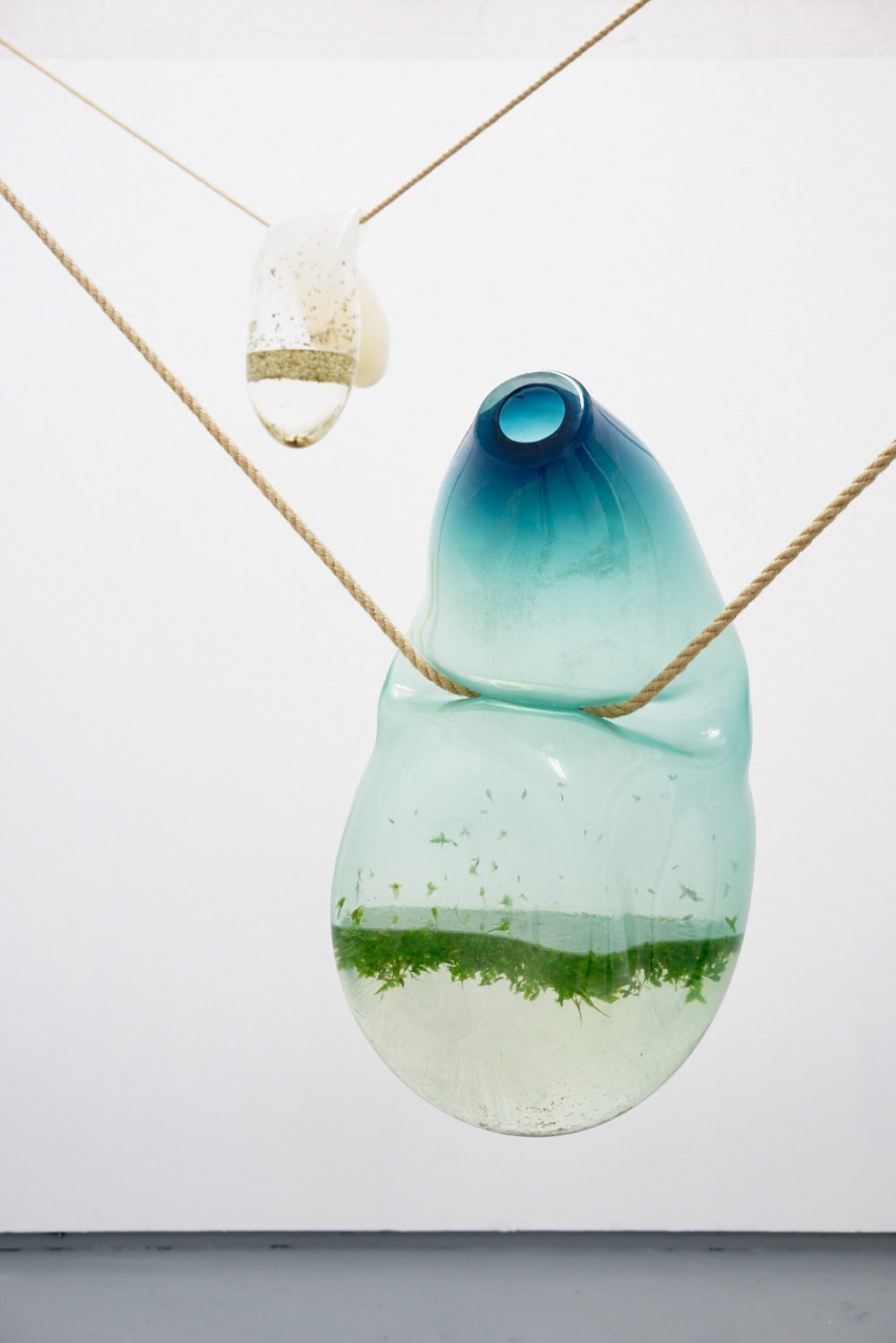 We were lucky to work with an incredible glass blower in Sunderland who creates the space to enable works to form through processes and actions. When we began working with him we were interested in creating forms that spoke of the materiality of the process – that implied a fluidity and were partly formed by gravity and interactions/contact with different supporting and structural materials like rebar. Working with image making and video making has allowed us to not only consider screen space – the way the lens and screen facilitates a distancing from the subject  – but also haptic forms of viewing, as with the carpet in Gullet, 2016-21, which literally becomes the site of the viewer.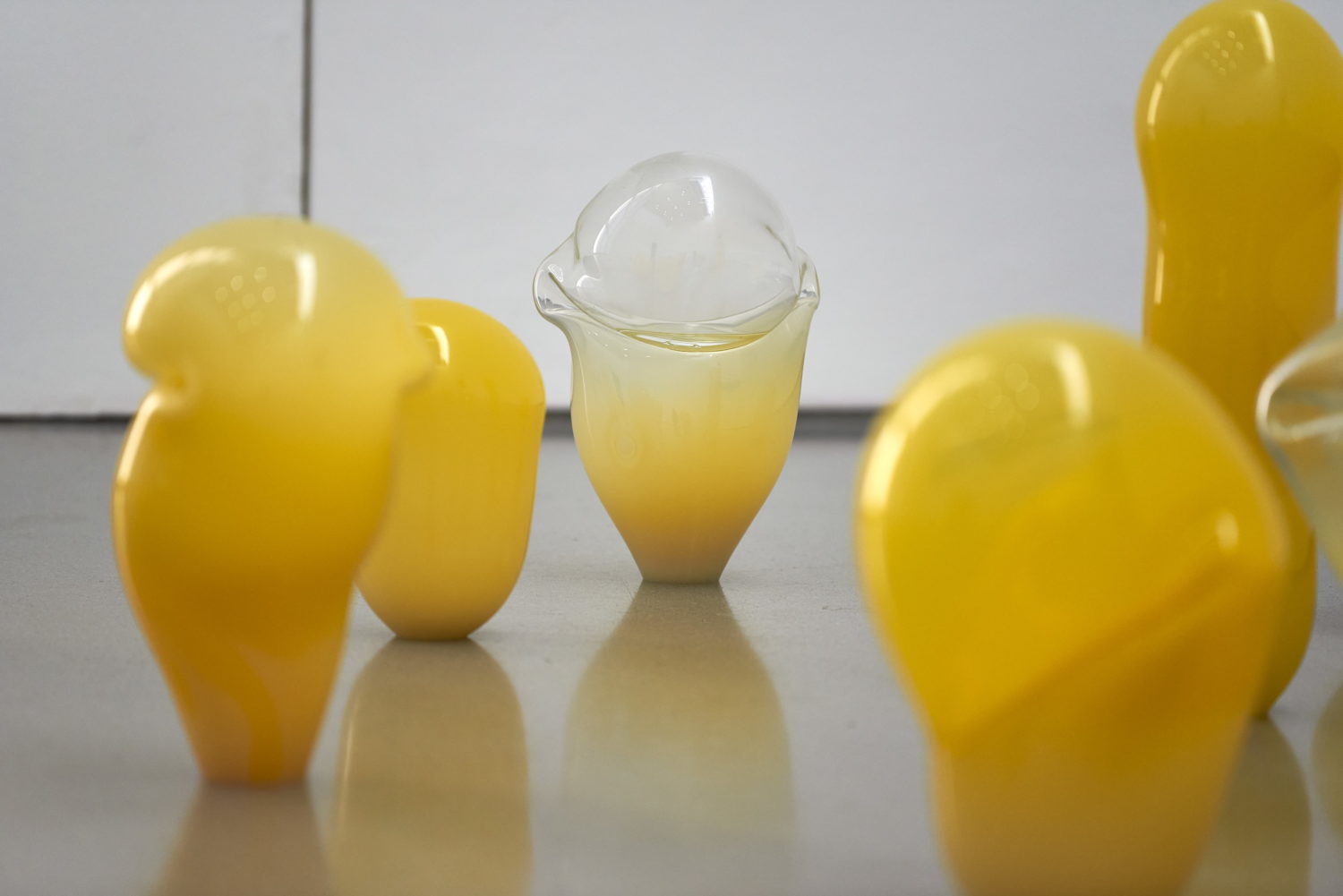 SC: How have you considered the Henry Moore Institute as a site of display?
JC + WE: What struck us first about the spaces in the Henry Moore Institute was the height of the second gallery: your eyes are drawn up through its space – you quickly take it all in despite its scale. It has very much been designed with monumental sculptures in mind – the floor-to-ceiling glass doors at the back facilitate the direct delivery of giant objects. We were interested in undermining this monumentality, to create discreet, fragile works that fill the space from the ground – bringing the eye and hopefully the body lower. With the installation of Gullet, 2016–21 in the first gallery, we were interested in inviting the viewers to walk on the carpet as soon as they enter the exhibition, so that they are immediately situated within and on the work. There isn't an option for the viewer to walk around it or for the carpet to become a plinth or a stage separating the viewer and the objects.
The Institute's façade – a solid, imposing, monolithic, granite entrance – struck us as an interesting space to site a work that could reflect how architecture and materials have historically and culturally been used to signify wealth, power and status. We noticed that between the solid granite blocks seeds occasionally managed to take hold, and so as part of the exhibition we asked that the façade not be weeded.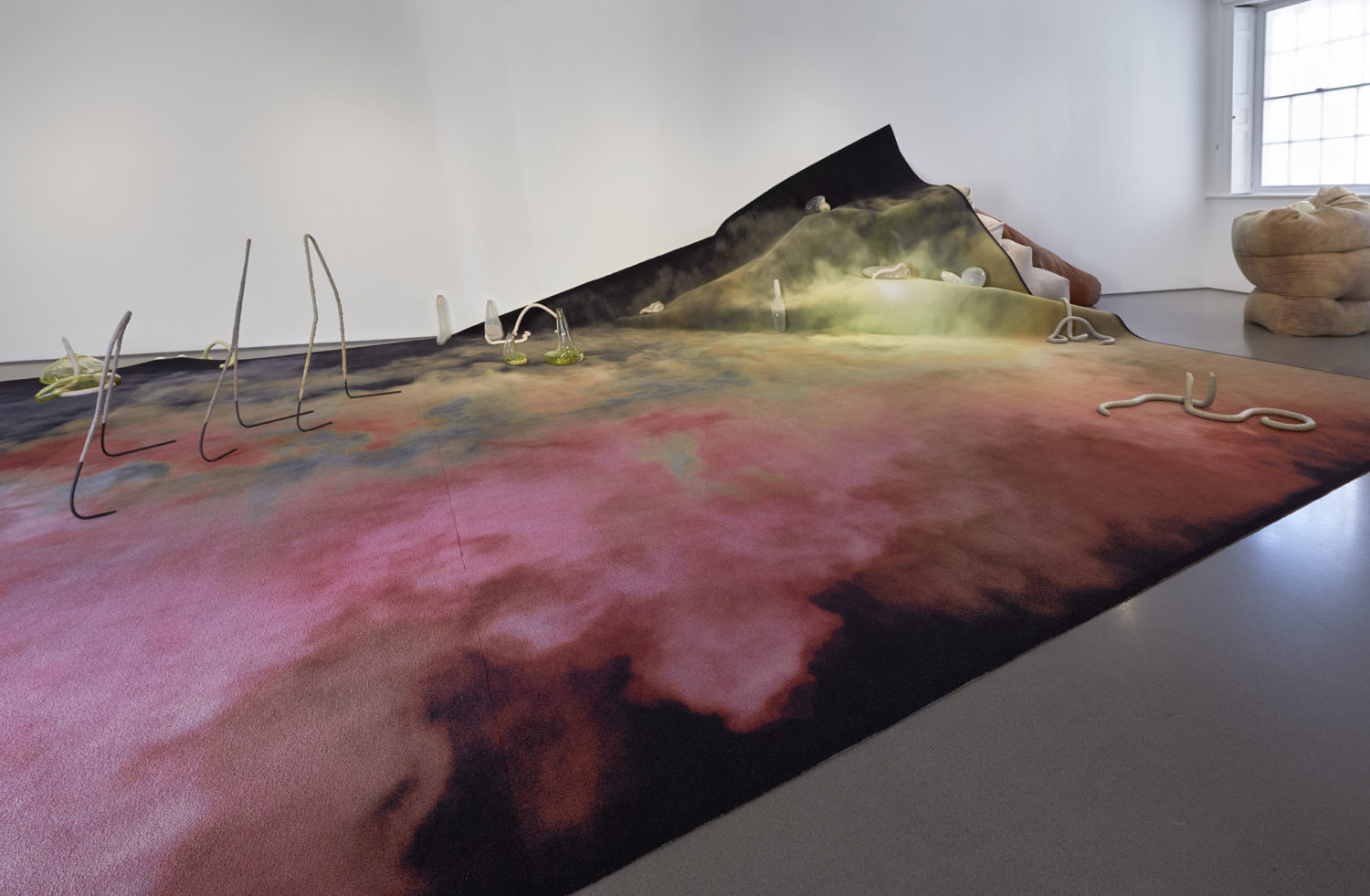 SC: What do you want to learn more about?
JC + WE: We're always keen to learn about new materials and processes and benefit from long gestation periods. There are many more areas of research we want to undertake with clay and glazes as well as expanding our research to consider the kiln as a tool for other materials and what happens to different materials as they're put under the stress of high temperatures. We've used rebar a lot, it has interesting roots in sculpture as well as talking about structures, supports and internal frames. Going forward we've been thinking about other ways of working with metal and are keen to explore metal casting. We are currently working with writer Alice Hattrick on a garden commission for FlatTime House and as part of this we've been thinking through the potential of natural processes that take place over extended periods of time to be utilised in sculpture.



Feature image: Julia Crabtree and William Evans, Slip, 2021. Installation view at Henry Moore Institute. Photo: John McKenzie