The Botswana-Based Collective That Challenged Apartheid Through Theatre, Posters & Poetry
The Medu Art Ensemble was a collective of cultural activists operating out of Gaborone, Botswana during the apex of the anti-apartheid resistance movement during the late twentieth century. The collective first came together in 1977 as a group of Black South African artists mutually invested in regional liberation struggles and resistance to South Africa's apartheid policy of racial segregation from 1948 to 1994. Medu's members, or "cultural workers" as they preferred to be called, eventually organised and relocated to Gaborone, Botswana in 1978. They felt that the term "cultural workers" was far more fitting to their mission rather than referring to themselves as artists because such a pursuit may have been deemed elitist.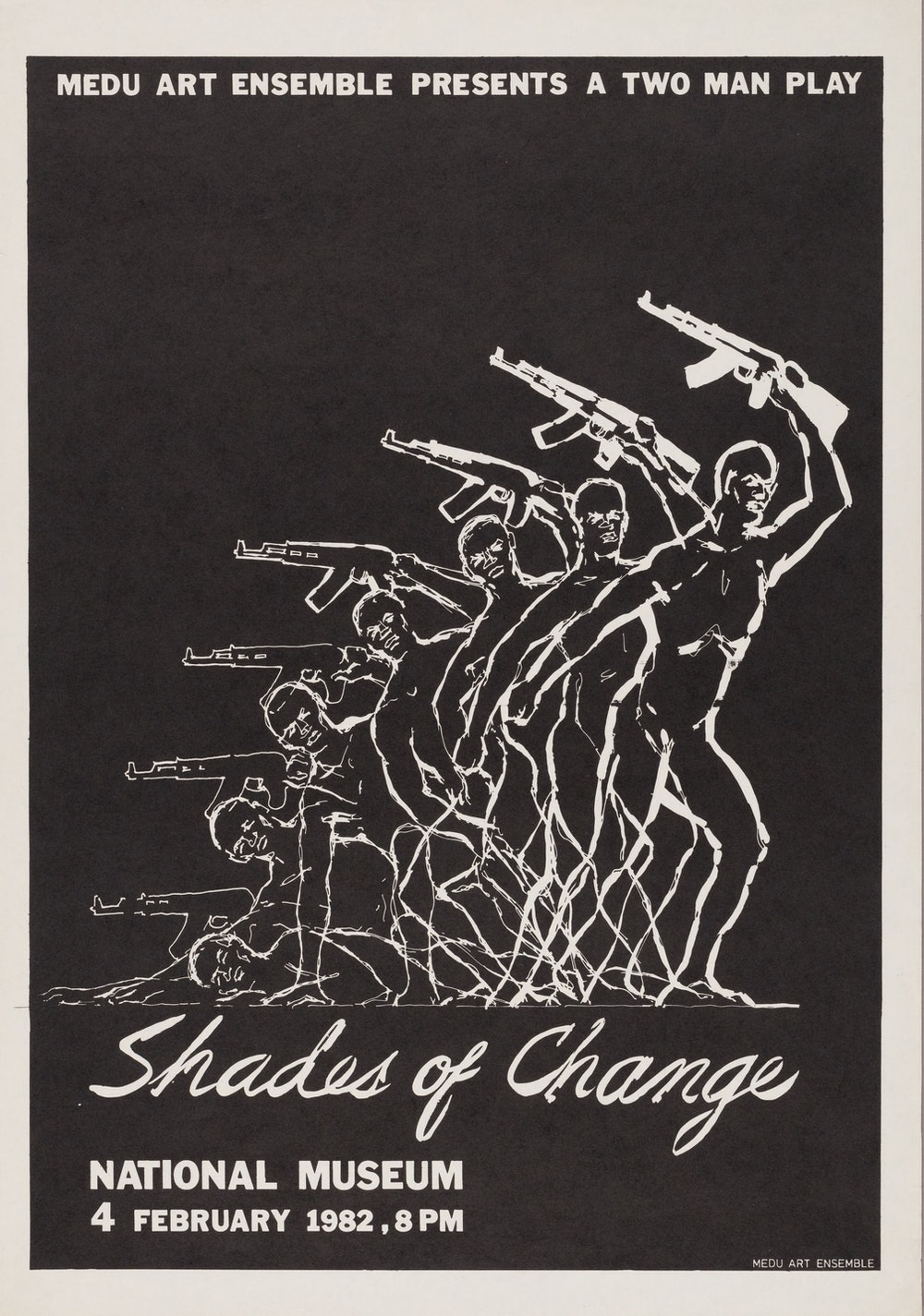 With the support of the African National Congress in Gaborone, Medu officially registered as a cultural organisation with the Botswanan government. Medu means "roots" in the Northern Sotho language, and so describes the collective's underground operations in defiance of the apartheid government's ban on oppositional political parties and organisations. The collective's cultural work was rhizomatic in nature, stretching across seven semi-autonomous units: film, graphics, music, photography, poetry, publishing and research, and theatre. In Gaborone, Medu organised concerts, plays, conducted art and creative writing workshops, produced films, organised public health campaigns, and mounted exhibitions among other activities.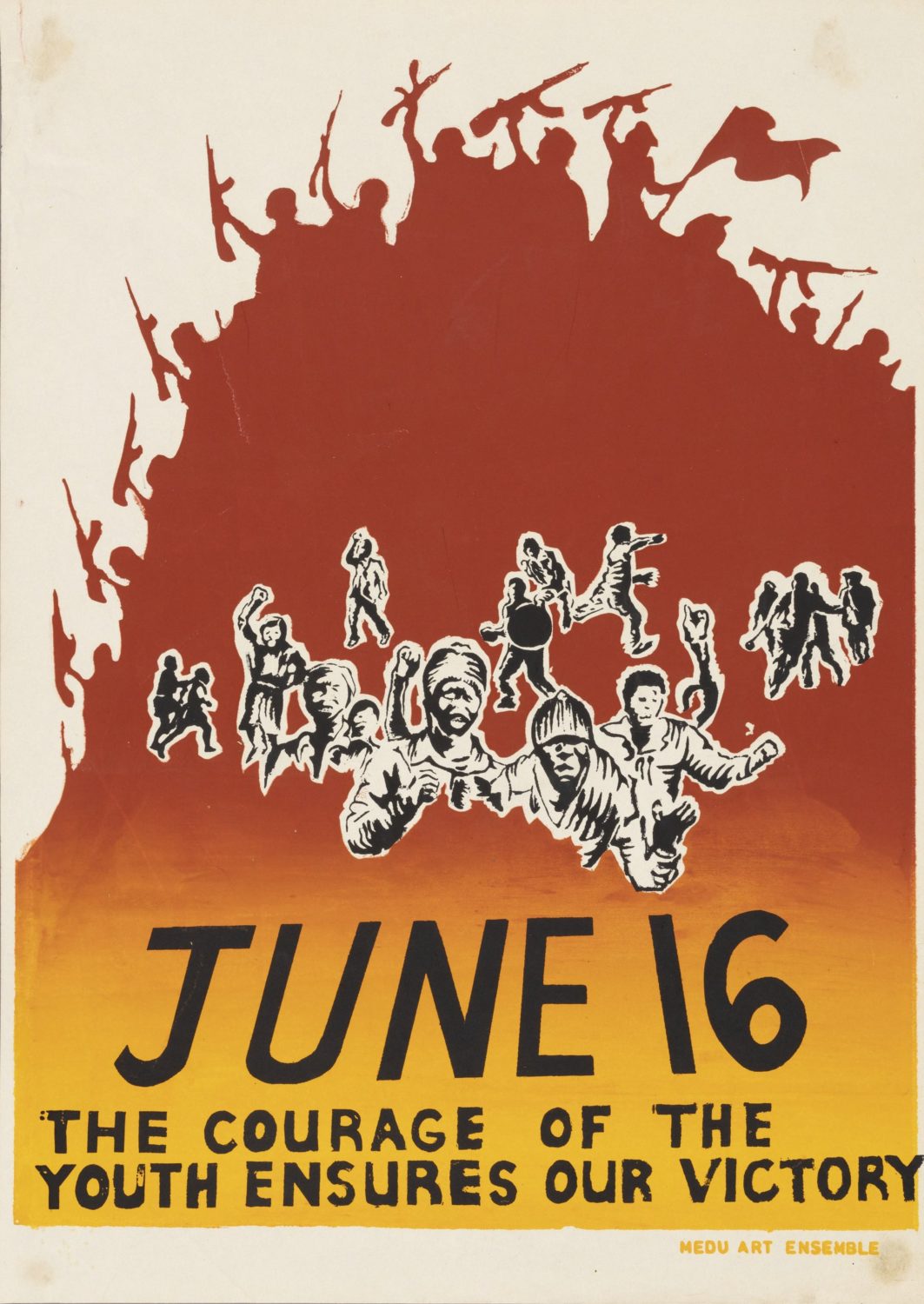 The collective also produced agitational newsletters and political posters, both of which sought to simultaneously bolster regional solidarity, critique the injustices of the apartheid state, and promote Black consciousness. The iconography found across the collective's posters shares an international socialist and revolutionary lexicon of broken chains, clenched fists, upraised arms, and heroic depictions of activists and freedom fighters. This symbolism originated in World War I–era labour and anti-oppression movements across the world and was expressed in the work of Soviet and antifascist poster makers, Mexican muralists and print workshop members, and participants in the Harlem Renaissance – all of whom Medu graphic artists acknowledged as sources of inspiration.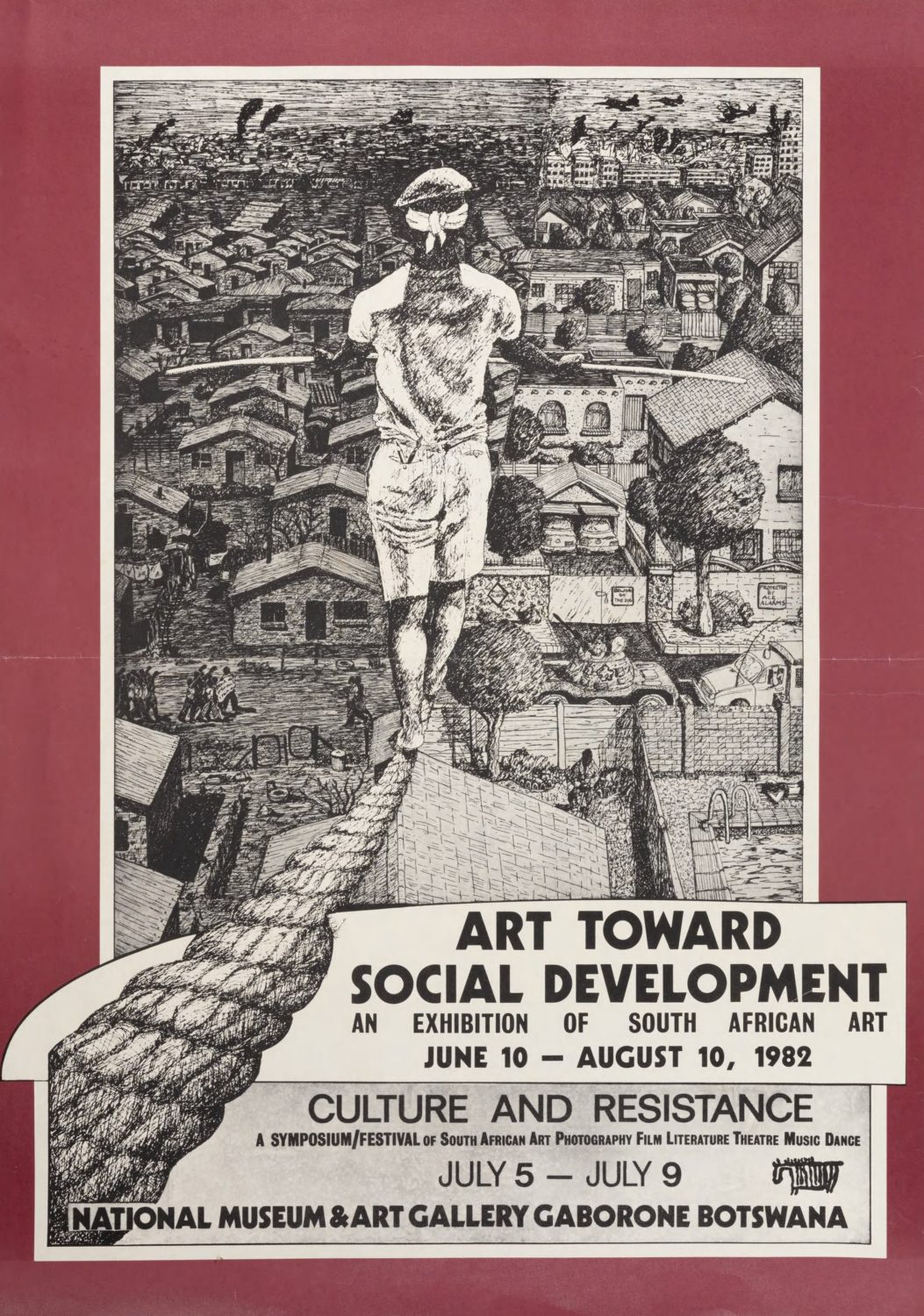 The posters were often folded inside of newsletters and clandestinely smuggled into South Africa where they were posted in public spaces before being torn down by state police or censors. One of Medu's flagship events was the 1982 Culture and Resistance Festival and Symposium, which brought thousands of activists, cultural workers, and ordinary people together, from across Africa, the Americas, and Europe, for a week of concerts, exhibitions, talks, workshops and other forms of radical cultural programming. This massive undertaking brought greater attention to Medu's activism, heightening in particular the apartheid government's scrutiny of the collective's work.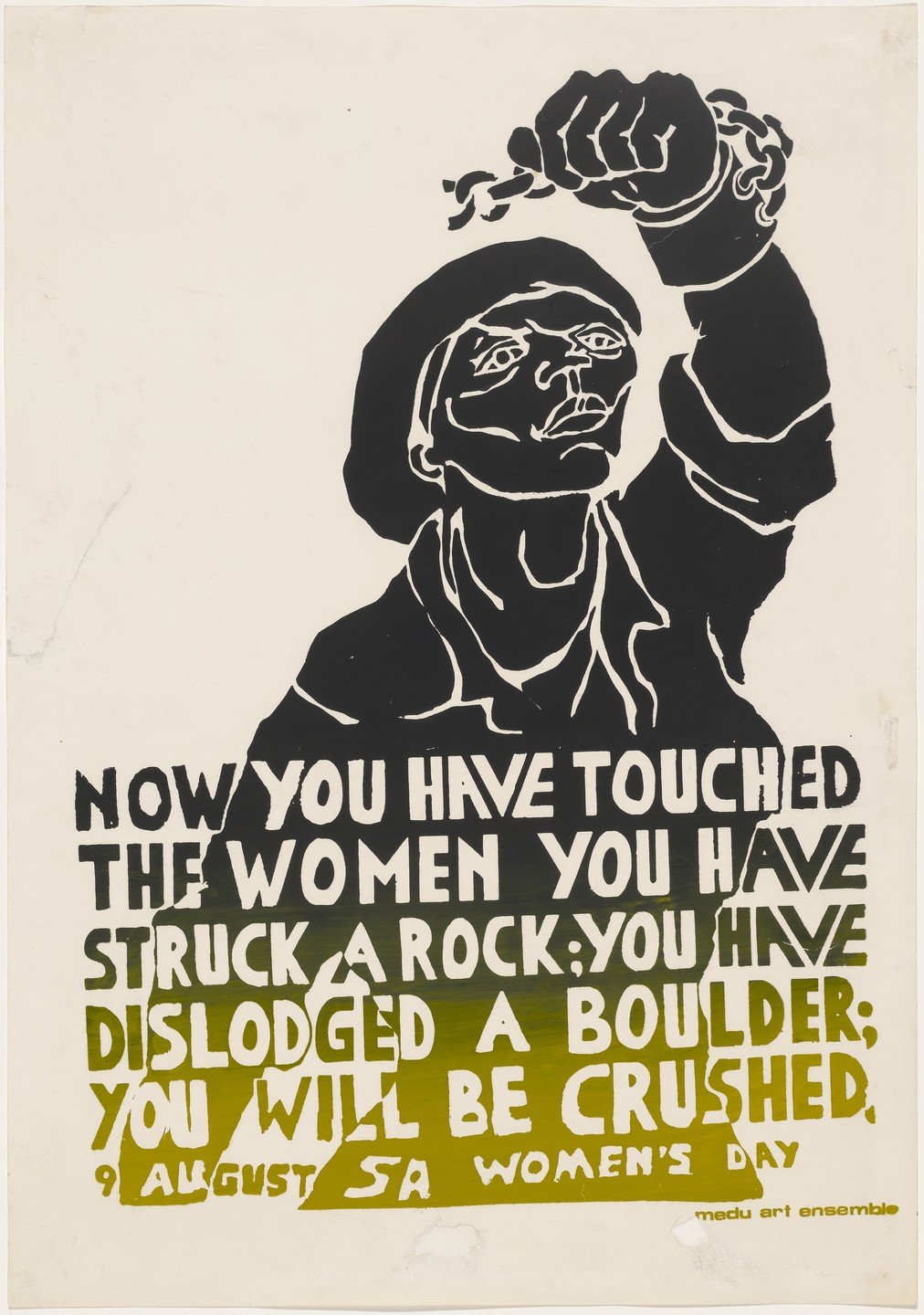 Medu comprised more than sixty visual artists, performers, and writers who, despite their different backgrounds and ideological positions, were collectively invested in regional liberation and resistance to apartheid rule. Although most members were South African, many hailed from Botswana, Canada, Cuba, Sweden, and the United States of America. Members of the collective included Gwen Ansell, Theresa Devant, Sergio-Albio González, Jonas Gwangwa, Basil Jones, Michael Kahn, Heinz Klugg, Keorapetse Kgositsile, Adrian Kohler, Mandla Langa, Hugh Masekela, Gordon Metz, Thamsanqa Mnyele, Judy Seidman, Mongane Wally Serote, Pethu Serote, and Tim Williams, among many others.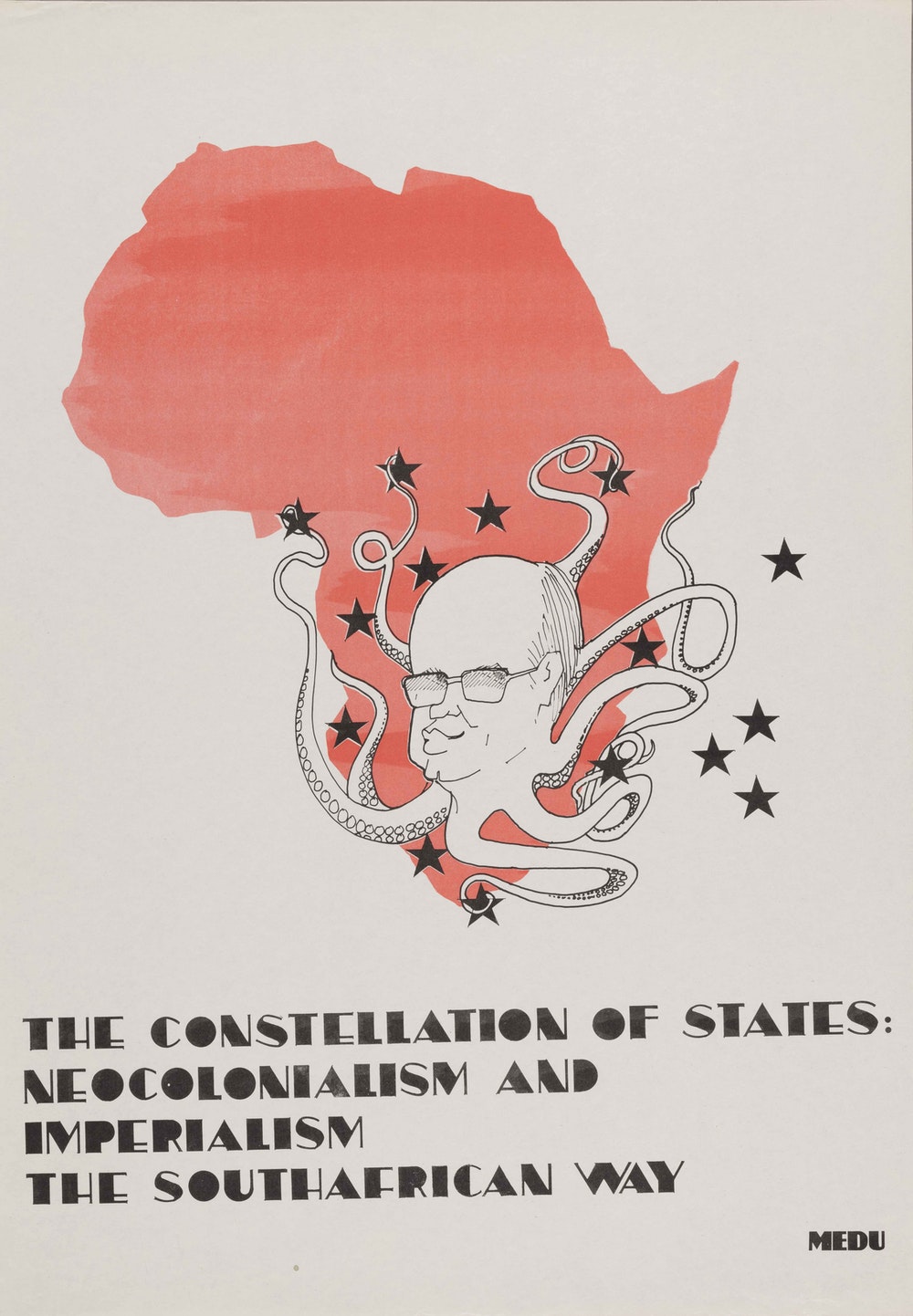 The collective originally consisted of just Black South Africans as its founding members were very much inspired by the Black Consciousness Movement which held the belief, among others, that White sympathisers were, "more of a hindrance than a help to their cause." This position of belief changed and was adapted to fit the ideal of a future South Africa that would be home to all peoples regardless of race, and White supporters were allowed to join – ultimately aiding the cause and bringing in international funding for the Ensemble. Medu disbanded in 1985, following the South African Defence Force's murderous Raid on Gaborone, which resulted in the death of twelve people, including Medu members Mike Hamlyn, Thamsanga Mnyele, George Phahle, and Lindi Phahle.



Feature image: Medu Art Ensemble (Judy A. Seidman), …and the people vote for Nelson Mandela, 1981. © Medu Art Ensemble