Interview: South African Artist Athi-Patra Ruga On The Queer Avatars That Populate His Story-World
For over a decade, South African artist Athi-Patra Ruga has used his own body in travesti – a theatrical term referring to the portrayal of a character in an opera, play, or ballet by a performer of the opposite sex – to create queer avatars that parody and critique the status quo, expanding how a queer Black imaginary is figured within contemporary South Africa and diasporically. Ruga transforms contemporary myth-making into a tool of queer statecraft through his on-going exploration of Azania. Based on the ancient name used to refer to portions of pre-colonial Africa, including present-day South Africa, "Azania" was repurposed by the anti-apartheid movement as a rallying cry for freedom. Yet, if Azania points back to a time prior to colonialism, it also forwards to a future beyond the paradigm of the modern nation-state. In a similar fashion, Ruga creates his figures through amalgamating historical research, contemporary and modern popular culture, literary fantasy, and the artist's own lived experience in ways that blur the divide between the real and the imaginary. Open now and running until 18 December 2021, Eva Presenhuber, New York, present Act One …In Travesti ., an exhibition of new and recent works by Ruga. To learn more, Something Curated spoke with the artist.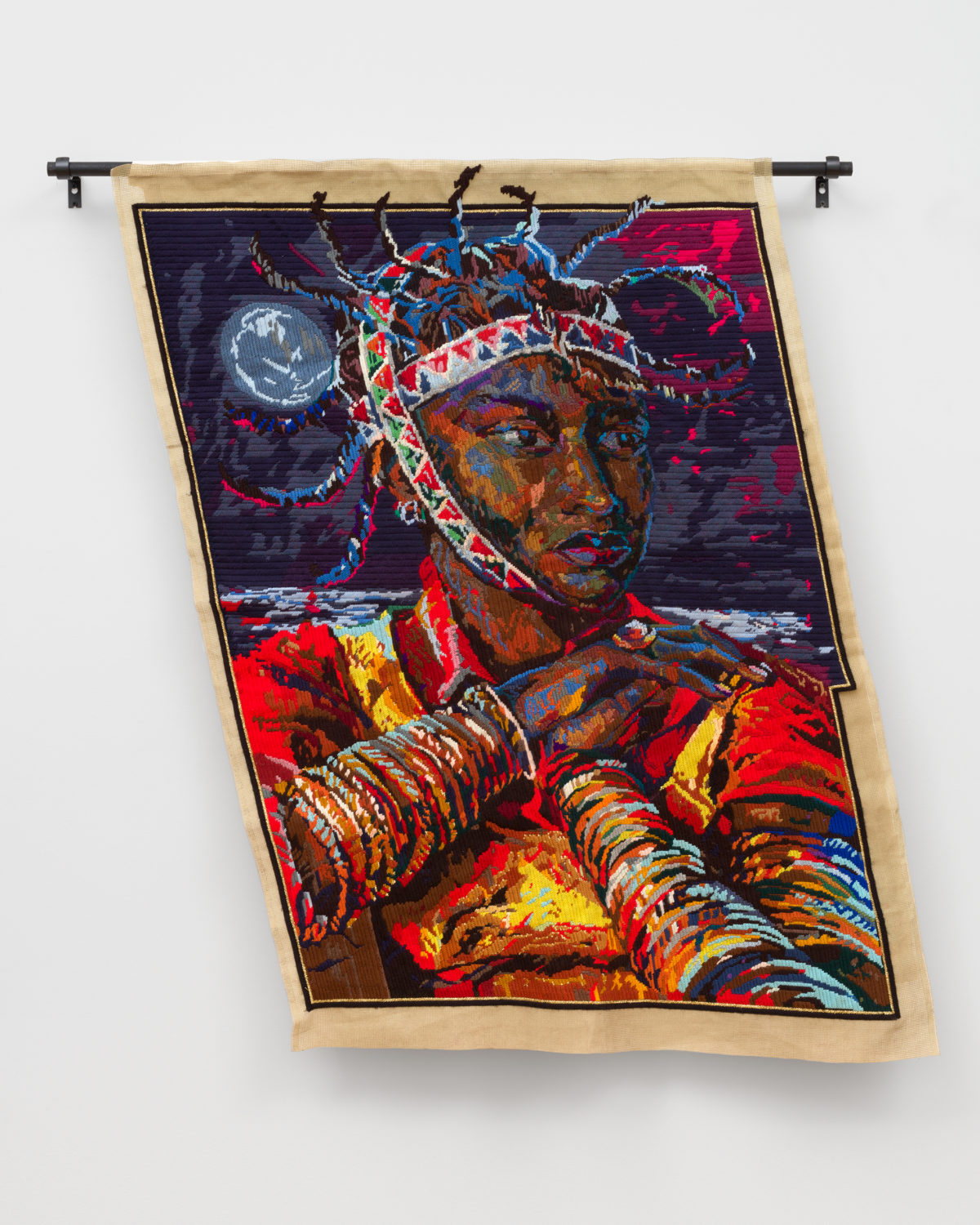 Something Curated: Can you give us some insight into your background and how you first became interested in art-making?
Athi-Patra Ruga: I was born a decade before The First Parliament of democratic South Africa to a family who placed much importance on the expression of culture. My father was a journalist and boxing agent and my mother was a senior midwife and activist. Together they used to do radio plays at my dad's work, the Transkei Broadcasting Corporation. Art has always been there for us, as we were exposed to Resistance Art in the form of Gibson Kente's social-realist plays. Our town, East London [South Africa, not England] had one art museum, Ann Bryant, which then exposed me to the visual arts – they had everything from ethnographic booty to Kathe Kollwitz to Irma Stern and George Pemba. It was my parents who saw that I was artistic, they put me into piano classes, vocal eisteddfods, and later in 10th grade, I got enrolled into Belgravia Arts Center that had an integrated course in painting and design theory. It is also at this time that I got introduced to the petit point, I would pick it up again in the mid-noughties as studio practice.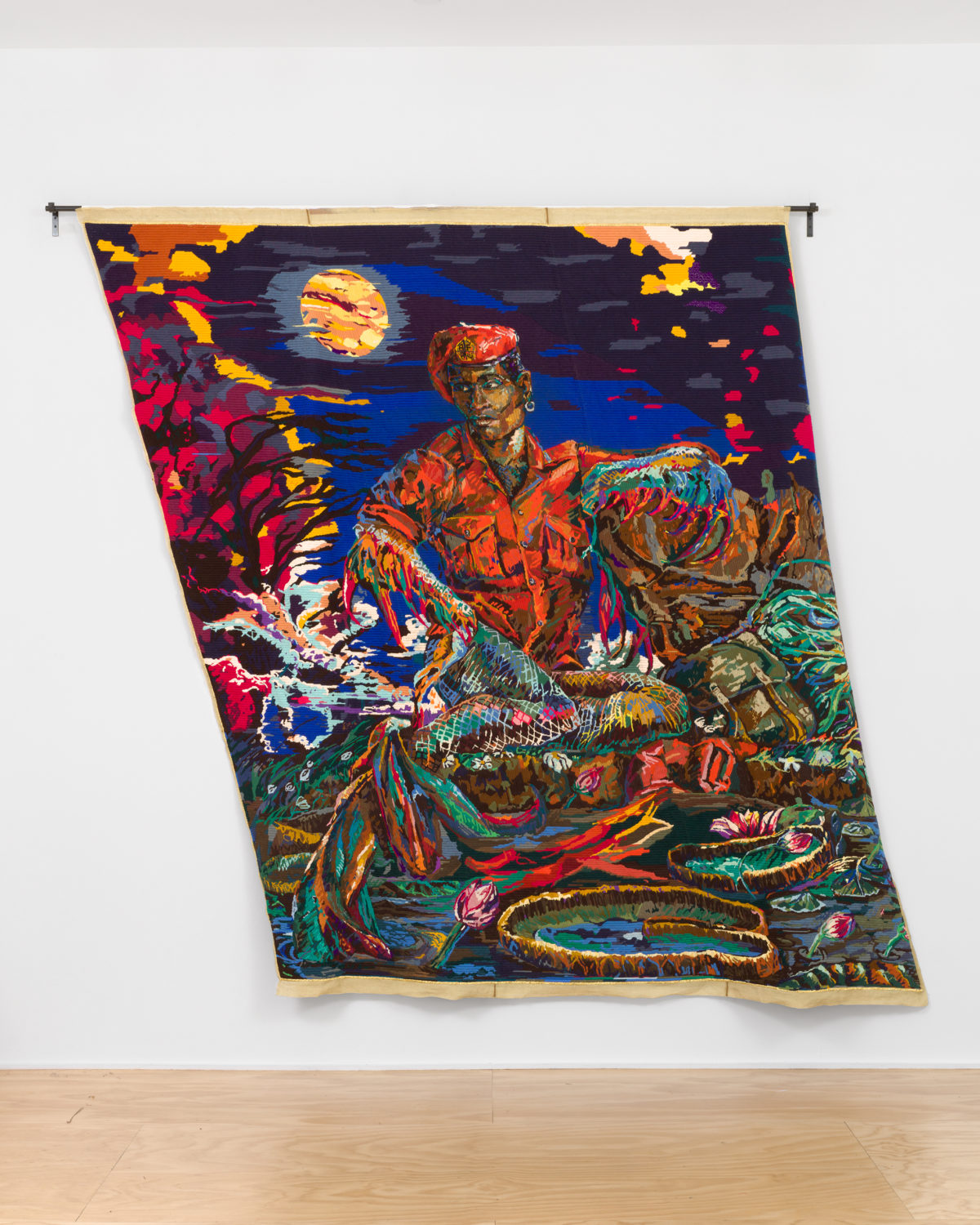 SC: What is the thinking behind the selection of works included in your upcoming exhibition at Eva Presenhuber?
APR: Act One …In Travesti . serves to introduce you to the further development of a story-world and avatars that I have been developing in a transmedia project entitled The Lunar Songbook. On one level I seek to introduce the audience to this metaverse, a way of proposing "time" through celestial and ethereal motifs and through the figurative tradition, specifically portraiture, carried through the medium of petit point. On the other, it is a series of travesti. I started making the show in 2019 and with the hard lockdown, I had myself to draw, paint and embroider and as a result the protagonist of The Lunar Songbook is performed by me across media. This felt like a theatrical travesti which points at crossdressing and masquerade and this is evident in the scale and compositions, gesture, and costuming.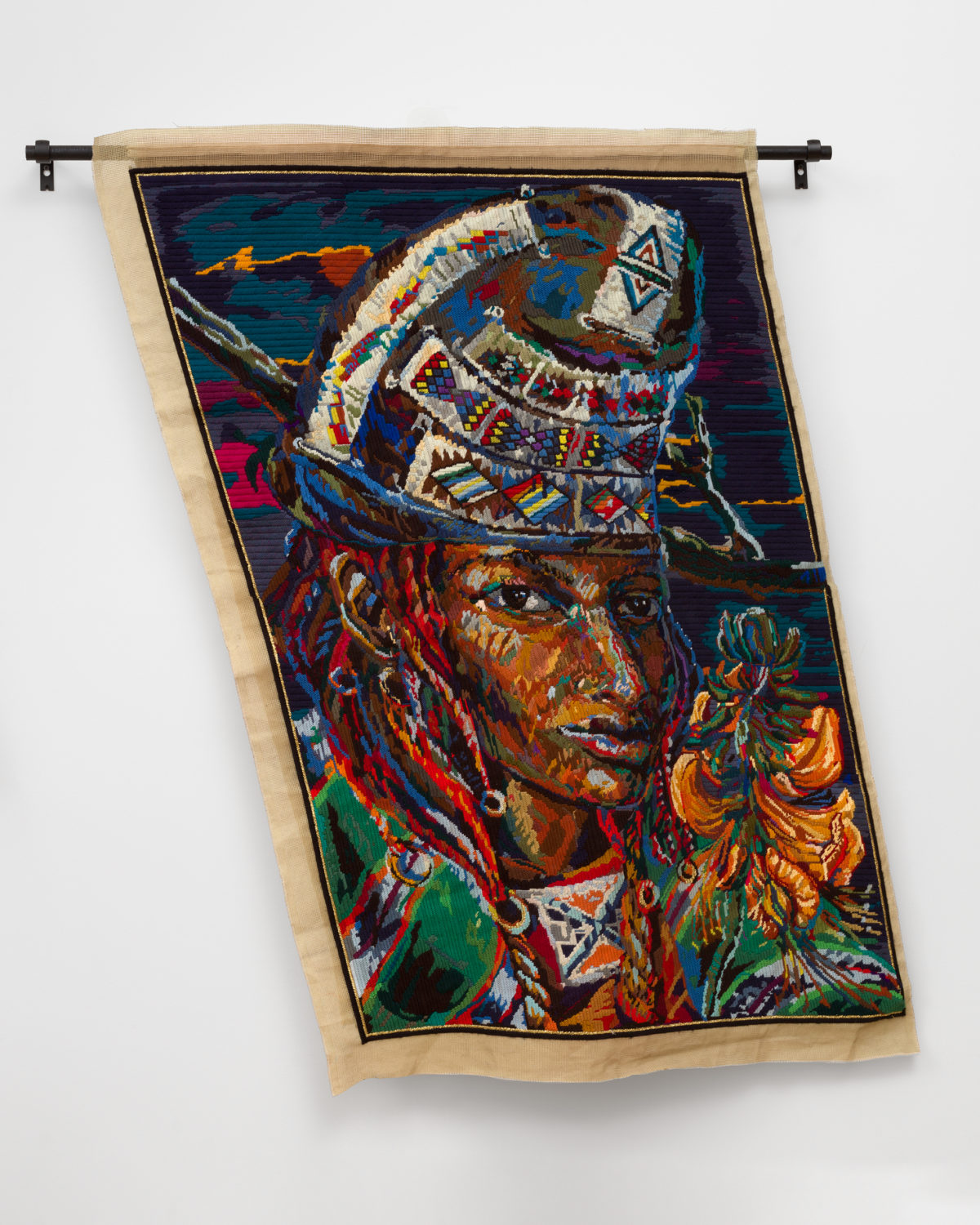 SC: Tell us more about Azania and the concept's influence on your new works.
APR: It's become important for me to state just how much of an impact on my life the time leading up to The New South Africa is. Azania is the name I grew up being identified with, a post-apartheid, decolonial, and equal South Africa. It always felt like it was this nation-state-in-waiting, that it offered the older generation a positive focus. As time went by, we started witnessing democracy in action, I suppose, and the adverse realities of neocolonialism partnered with much corruption. Since 2010, I have been working with a counter narrative that borrows the name Azania for my story-world as a way of setting expectations that reality and nationalism betrays. It is not utopia – as to me the thought of utopia immediately is followed by the thought of exile. One can be in exile in their bodies and their native country. The Azania is then populated and decorated by my avatars who feel this way.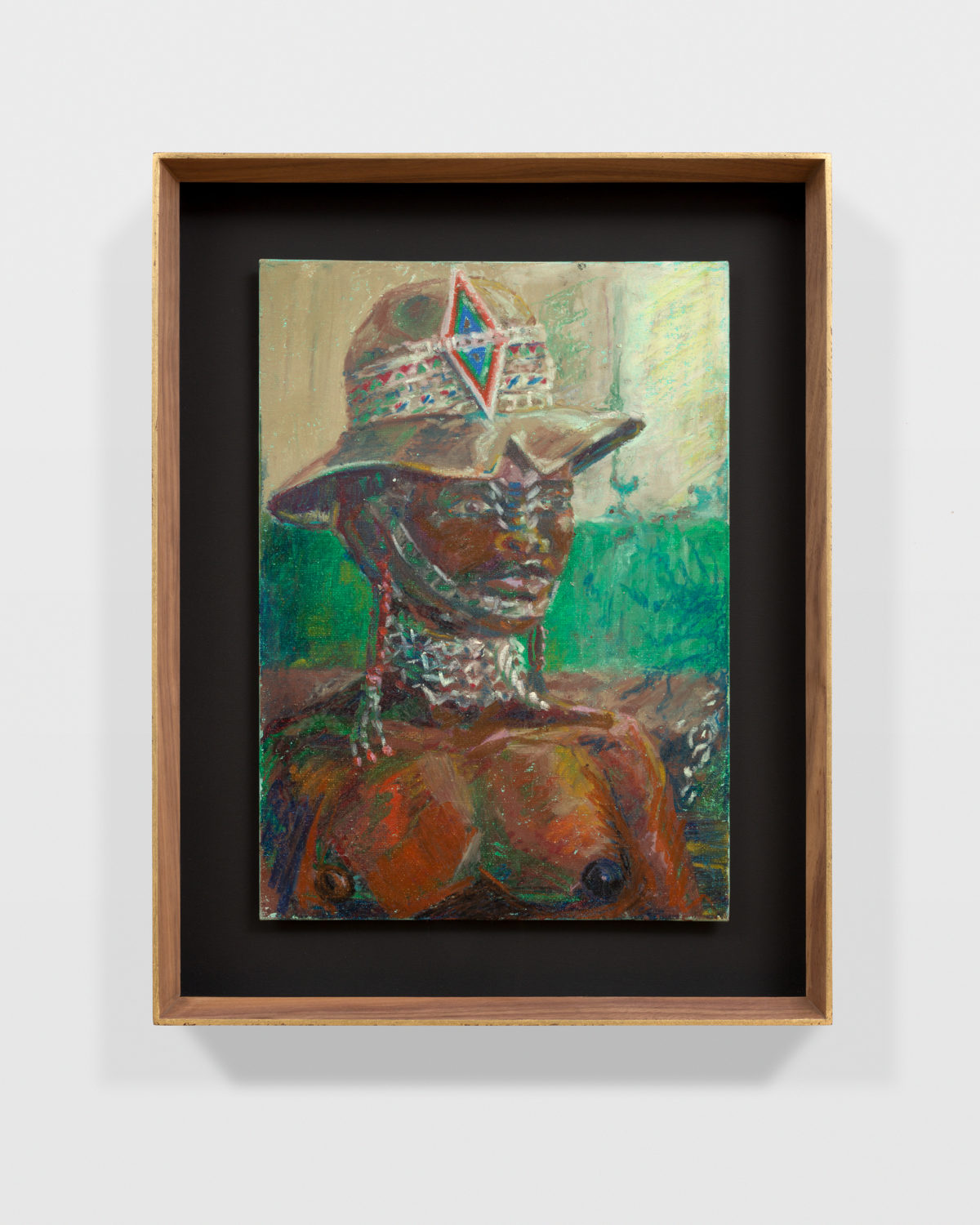 SC: What attracts you to tapestries as a medium?
APR: My first memories are that of my mother and her friends in craft circles executing "umrhaso," traditional embroidery that was based on beadwork and applique. I was taught petit point in highschool Home Economics in the late '90s and I would pick it up again in 2004 when I started doing "craft meditations" in downtown Johannesburg with my club-kid mates from college. We were fascinated by maybe disrupting the spiritual separation in being boxed to media. The gendered view of thread-based work was another box I wanted to engage with critically while making. I'm glad you've asked me this question as the answer is in the definition of what a tapestry is and how I delight in disrupting it in my practice. Tapestry historically has had a utilitarian function, like for example covering large areas against the elements. They are usually woven in a loom, for example The Lady with the Unicorn. Petit point is in the tradition of embroidery and tends to lend itself to storytelling modes for example the Bayeaux tapestry. Our petit point works are relatively large and through the scale we claim tapestry. As a Ruskinian of sorts, I am interested in the regenerative power of our studio circle, which I have been leading for the last 12 years with my skill passed down from me to my studio head Mrs. Joseline Mare to four members of the studio circle. This adds a lot to my life as a master craftsman and storyteller.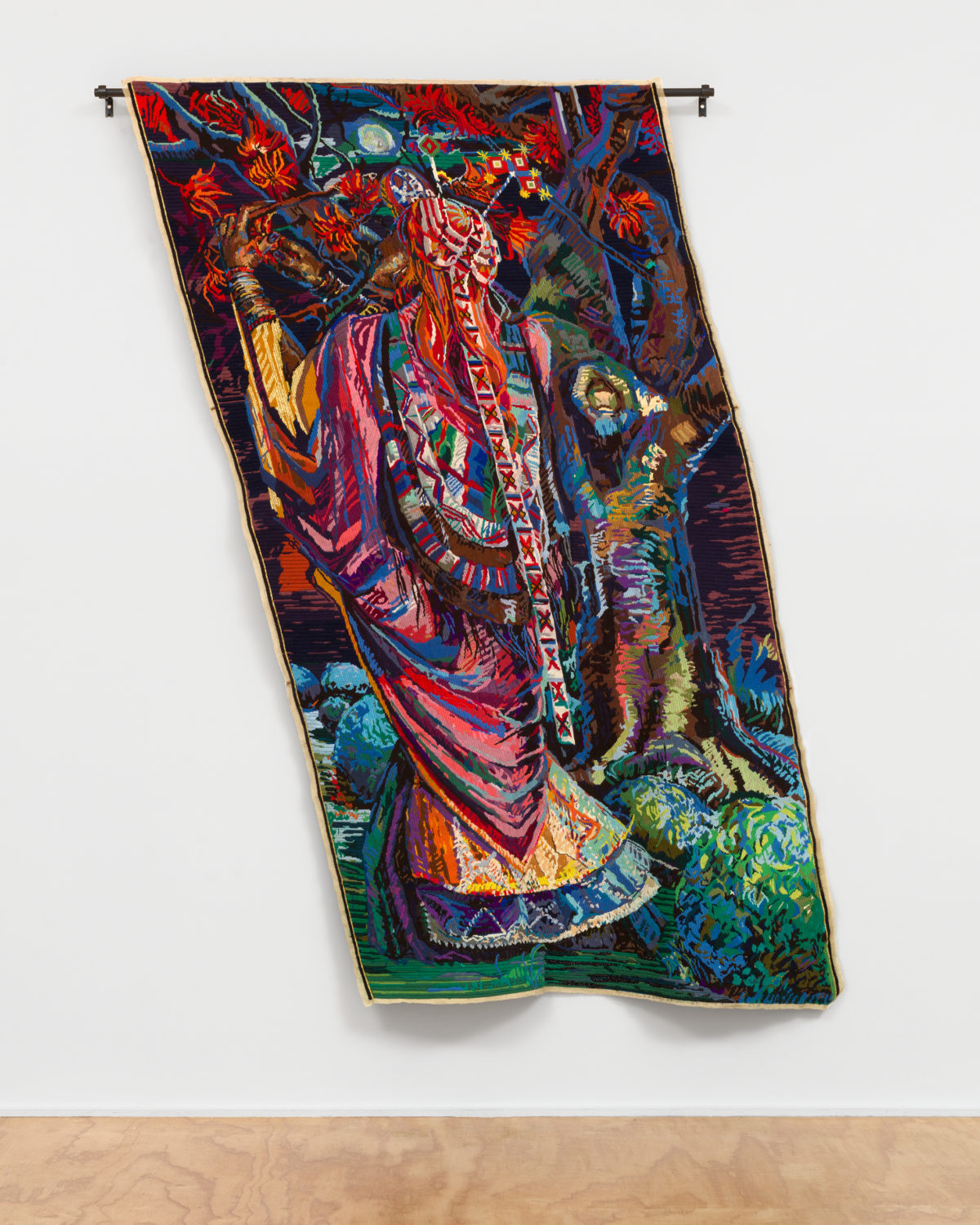 SC: Could you expand on the figures you depict — who or what influences their forms?
APR: Nomalizo Khwezi is the main protagonist of the series and this exhibition. She/they was born in 1994 and their lifespan is in parallel with that of post-94. Her imagination compliments her prodigy which plays out in the works in this show. As you walk into the space you see her in her youth. Mother's Wife shares this room with them, she suggests a same gender parentage for Nomalizo and a closeness to this figure, she appears in three tapestries on the show. Mayibuye Khwezi (he/they) is Nomalizo's child, a member of a rogue army and is my first masc-presenting character in all my practice and because of that an entry point into rites that make a man both in Xhosa culture and also the South African liberation movements. There are suggestions of what will be an important character in the next chapters, that of Clytemnestra Brink Iovely influenced by the Oresteia trilogy.
SC: What are you currently reading?
APR: The Kebra Nagast; Perhaps by Joshua McNall; and The Lovedale Heirloom Collection, curated by V.O.W – it is a box set of books spanning the past 115 years of Xhosa literature for the benefit of the 200 years Lovedale Press in Alice, South Africa.



Feature image: Athi-Patra Ruga, Act One: Scene 4… the Mantel of Sacrifice, 2021. © Athi-Patra Ruga Courtesy the artist and Galerie Eva Presenhuber, Zurich / New York. Photo: Lance Brewer