Hailing from Jackson, Mississippi, multimedia artist Michael Booker's latest series of portraits depict partially shielded bodies, intercepted by swathes of colour and lush organic forms. Joining geometric patterns with figuration, Booker's large-scale works are rich in dynamism and detail. Exploring drawing practice itself as a healing mechanism, Booker's new exhibition, Veil at Morton Fine Art in Washington D.C, open now and running until 4 December 2021, documents the emotional terrains crossed by the artist amidst the pandemic and concurrent instances of social injustice. The exhibition's title gestures towards the strategies of emotional self-protection harnessed by the artist during periods of vulnerability and contemplation, barriers made visible in the layered effects captured by the drawings themselves. To learn more about Booker's practice and the new exhibition, Something Curated spoke with the artist.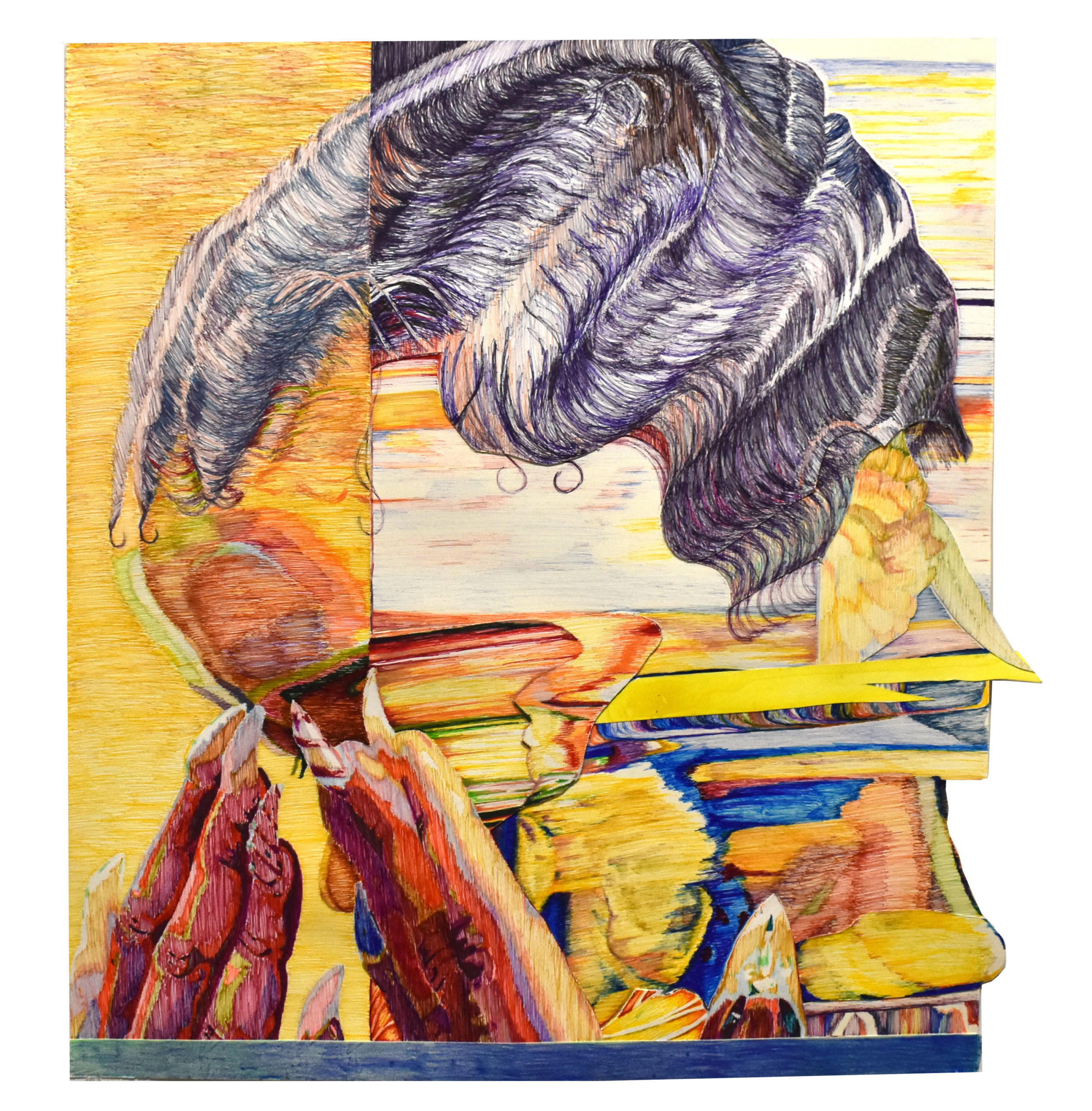 Something Curated: Can you give us some insight into your background and how you first became interested in art-making?
Michael Booker: Since I was a kid, I had always been interested in art-making. When I was growing up, my sister experimented with various creative outlets, and I think some of that curiosity rubbed off on me. Back then I was always sketching, but I didn't develop a serious artistic practice until I was much older. I pursued and received my BFA thanks to the support of a professor who helped me see a possibility of a career in art, even though at the time I still didn't completely believe it myself. I applied to grad school for only two reasons: to find a way to get out of Mississippi and to continue trying to figure out what I wanted to do with my life. I looked at graduate school as postponing the "what comes next." Fortunately for me, while pursuing my MFA, I was able to find my full passion and finally gained confidence in the idea that I could make some kind of future for myself in art.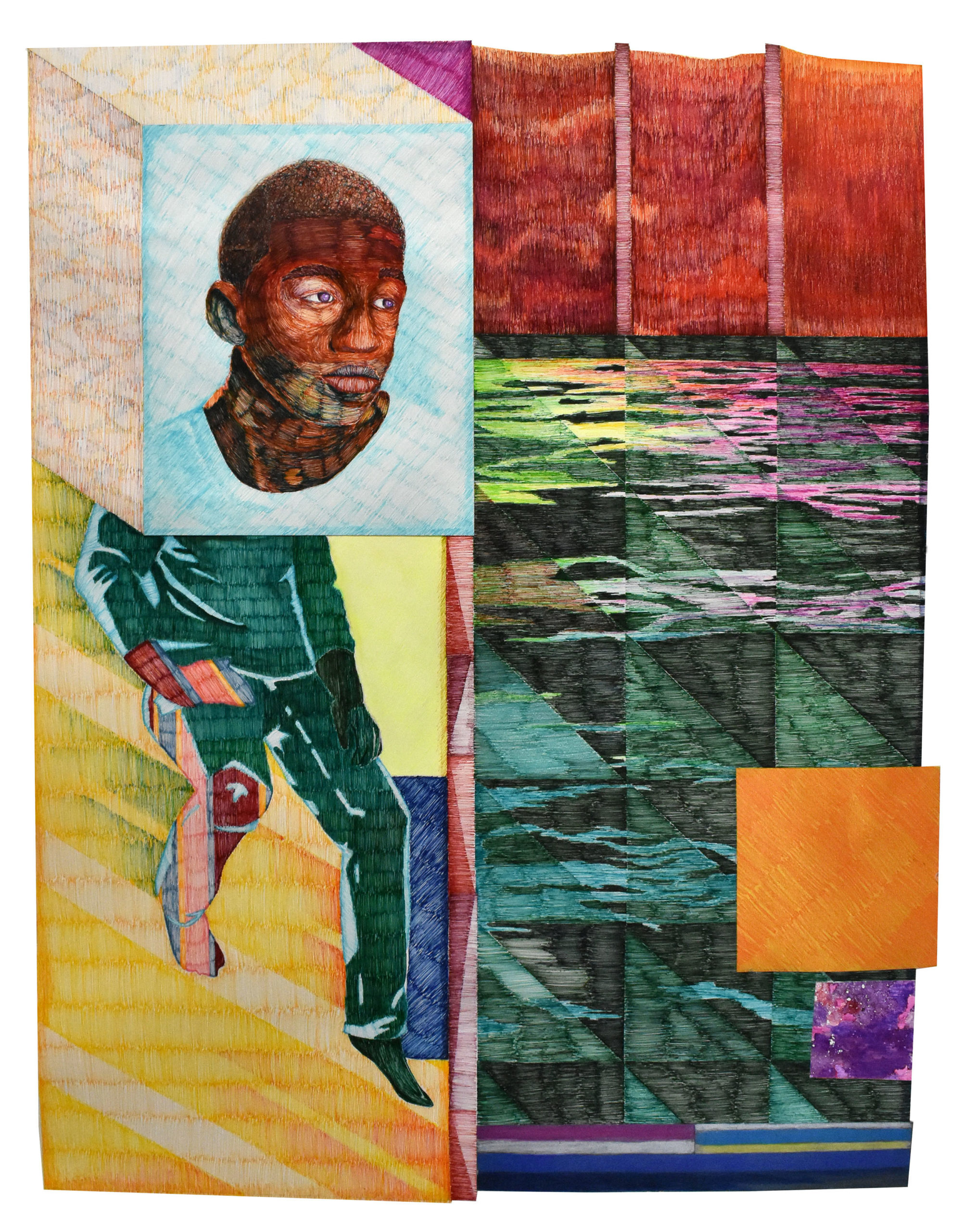 SC: What is the thinking behind the selection of works included in your new exhibition at Morton Fine Art?
MB: In my show, Veil, I wanted to explore my personal emotional response to the effects of the pandemic and the social and political landscape that took root over the past 12 to 18 months. It was a very tumultuous time—I could not foresee the effects it would ultimately have on me. Amidst it all, I felt myself trying to protect my peace by guarding my emotions and hiding away any vulnerabilities that I may have felt. I turned to making these drawings as a form of a cathartic release, and to put a visual representation to the indescribable feelings that were eating away at me.
SC: You work with a very precise palette in your drawings — how do you think about using colour?
MB: I like to think about the energy contained in certain colour palettes, and conceptualise my use of them in a cinematic manner. I establish one colour as the main character, with every other colour operating as a supporting role. In Retrograde, I was determined to make a "yellow" piece. For me, yellow has been the most difficult colour to work with, as it can be overpowered by other colours so easily. Yellow, in all its excitement, has some amount of uncertainty in it. I wanted to point to a certain confusion resulting from a rush of so many things happening at the same time, and yellow felt like the perfect colour for evoking that indeterminacy.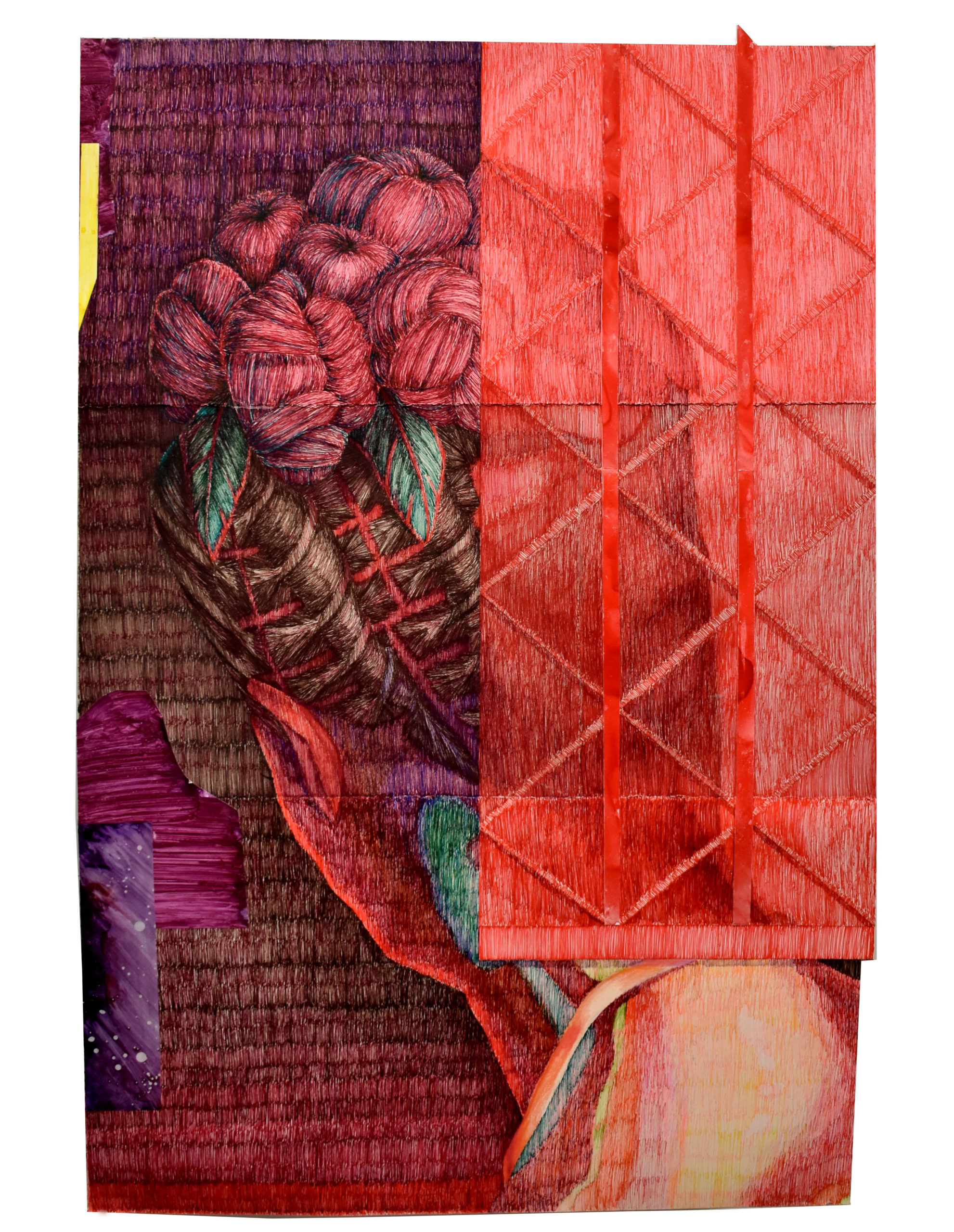 SC: Could you expand on the figures you depict — who or what influences their forms?
MB: Some of the figures are people I know. My sister is in two of them, and some artist friends are in a few others. There's a still from a TV show in one, and some of the figures are unknown amalgamations from reference pictures I source. I used my own body in just one piece. Regardless of the person depicted, I saw their stories as a parallel to my own feelings, and positioned them as conduits for my own self-expression. I see all of my subjects as embodying myself in one way or another.
For example, in I Need a Forest Fire, I wanted to show a longing for a dramatic change that felt necessary in order to heal—a purification ritual to cleanse and start anew. A friend of mine was going through a tough time himself, dealing with his own issues. I felt he was looking for the same kind of change that I needed. I used a picture of him to show that these feelings are not only something I was experiencing, but can be universal. There was a certain energy in his expression that encapsulated the tone I wanted to convey for the piece, and for the whole show.
Also, for every figure in the show, except for the figure in Everything's Fine, I wanted to create some kind of barrier of entry to prevent the viewer from fully accessing the piece. I thought about the figures as trying to protect their vulnerabilities, so they were drawn out of focus, with their heads turned away or partially obscured. The figure in Everything's Fine is the only one that directly engages with the viewer. His gaze locks onto the viewer, as if he is finally ready to let you in and drop his guard down.
SC: What do you want to learn more about?
MB: I'm still in awe of how much of an impact colour can have. I love learning about tropical birds and watching nature documentaries. I want to go back to my childhood and learn about how roller coasters are made all over again, as my original dream job was to build them. Who are my ancestors and how far back can I trace them? What are more of the stories that have been lost over time from the Underground Railroad; and how were quilts used to hide messages? How will this pandemic, combined with the battle of public consciousness for social justice and equality, be looked back on in 100 years?  The way we look back on different events in history, such as the Great Depression, the Berlin Wall, or even how the Egyptian pyramids were built… will 2020-2021 (or whenever this period ends) be a period in time that gets a chapter in an 8th grade Social Studies textbook 100 years from now? Who will write that story? These are the things I want to learn about.



Feature image: Michael Booker, Everything's Fine, 2021. Courtesy of the artist and Morton Fine Art