Interview: Artist Kenturah Davis On Liminal Space, Language & Her Time At Palm Heights
By Something Curated
Based between Los Angeles and Accra, multidisciplinary artist Kenturah Davis has opted for a quick change of scene. Following the bustle of this year's Art Basel Miami, Davis finds herself resident at the sumptuous Grand Cayman estate and cultural centre, Palm Heights, following the likes of Kelsey Lu, Sable Elyse Smith, Telfar Clemens, and more. The artist's work oscillates between various facets of portraiture and design. Using text as a point of departure, she explores the fundamental role that language has in shaping how we understand ourselves and the world around us. This manifests in a variety of forms including drawings, textiles, sculpture and performances. Davis earned her MFA in painting from Yale and has exhibited her work across Africa, Asia, Australia and Europe. Her pieces are in the collections of the Blanton Museum of Art in Austin, the Rubell Family Collection, and the Hammer Museum, among others. To learn more about Davis' fascinating practice and her time at Palm Heights, Something Curated spoke with the artist.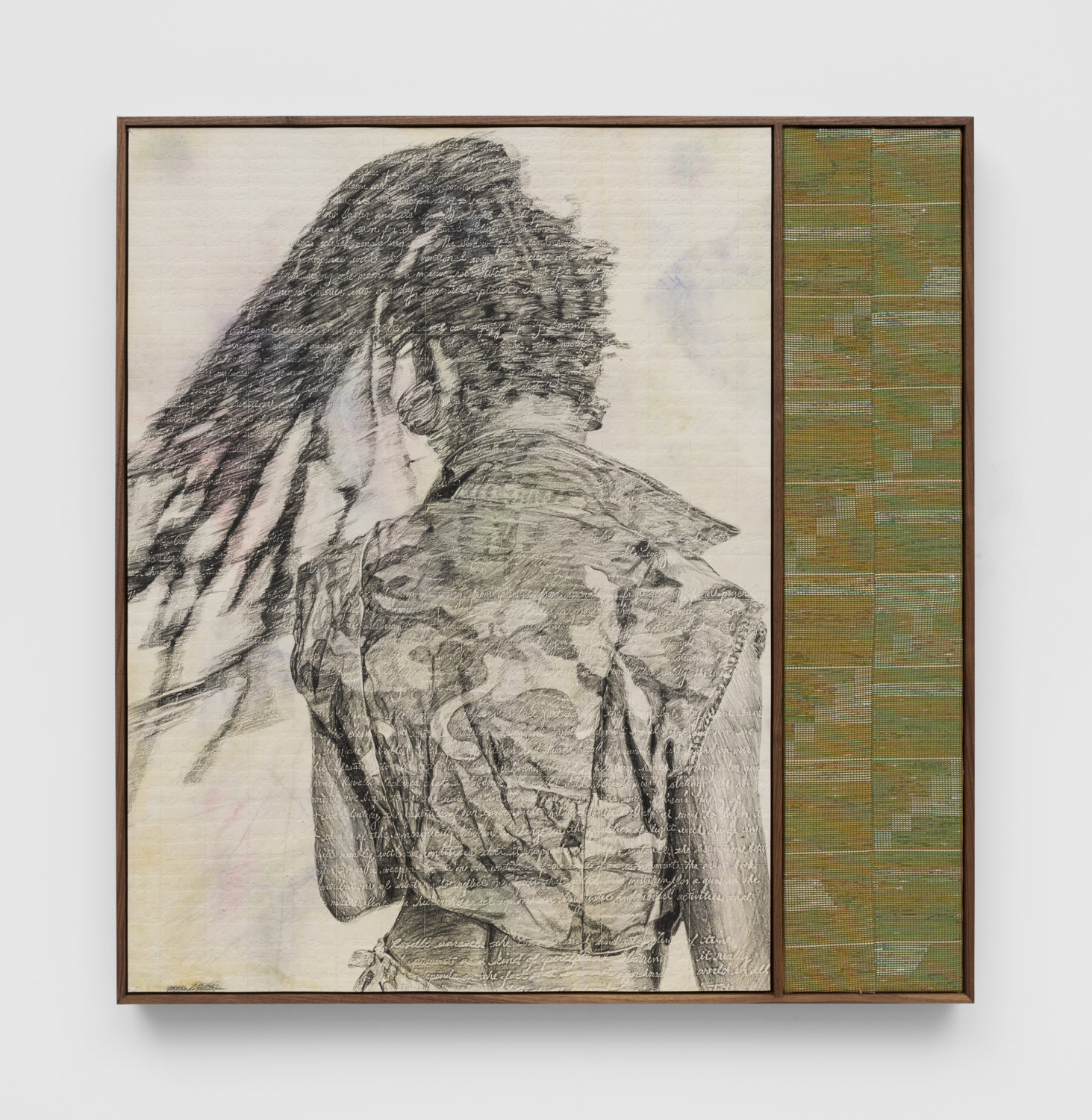 Something Curated: Can you give us some insight into your background and how you first became interested in art-making?
Kenturah Davis: I was born and raised in Los Angeles. My dad was a set/scenic painter for film and my mom made quilts. Creativity was encouraged as I was also naturally inclined to make things. We didn't go to museums a ton, but when we did it was memorable. We would go to the Getty Museum, and I'd fixate on their extensive collection of illuminated manuscripts. I also recall seeing the hieroglyphs of ancient Egyptian artefacts, elsewhere. I was fascinated by those kinds of integrations between text and images. Oddly enough my dad had a side-hustle as a graphic designer, so I was also learning principles about typography, formatting and logo design on the earliest versions of Photoshop and QuarkXPress.
SC: Could you expand on your exploration of language — in particular, its role in shaping our understanding of the world and ourselves?
KD: I grew up in a particular kind of Black church that emphasised that who we are is inseparable from the words we use; language was understood as a potent tool capable of bridging the practical with the intangible, building worlds and calling things into existence. From there I also had an interest in anthropology, which really illuminated how complex the development of language is across time and cultures. It's so easy to take for granted how our sense of hierarchy is structured in our systems of communication. If you change a language you change the social dynamics of the community that it belongs to.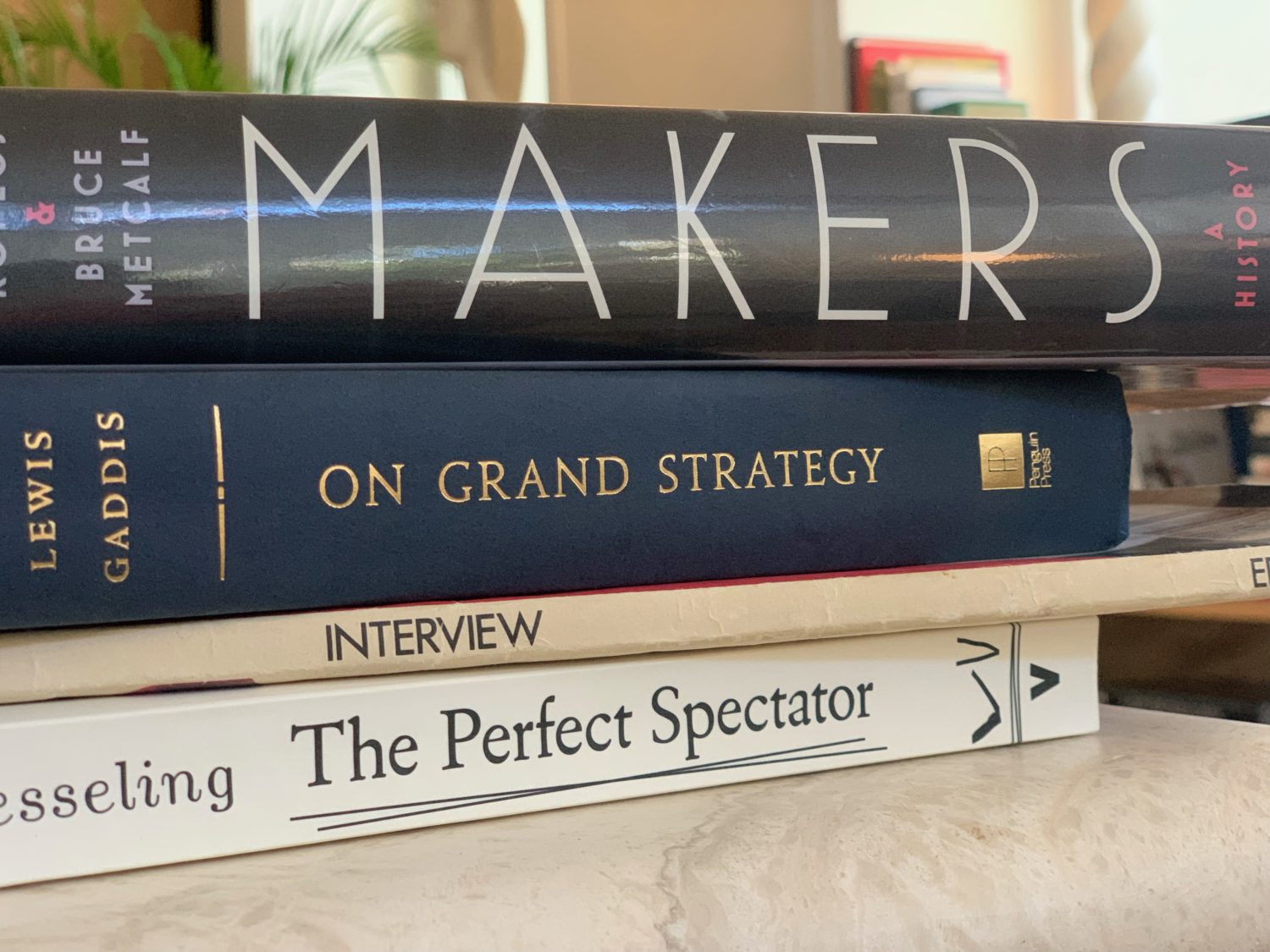 SC: What are you working on at present and can you share anything you've got planned during the Palm Heights residency?
KD: I came to Palm Heights with a curiosity about the library. My time here is short, so it's really about perusing the variety of texts that have accumulated here and letting them inform the next body of work. I've assembled a few stacks of books so that the titles create a poetic phrase. Lately, I've been experimenting with a weaving process, whereby I write phrases out on paper with different colour pens, then process them into thread and weave them into a cloth. The word 'text' comes from a Latin word for 'woven', so these works are quite literally an embodiment of a 'textile'. So some of my findings in these archives could make their way there.
Equally important is the specificity of this site: staying on the beach where the horizon is so present all the time is very impactful. The experiential aspect of my time here has a lot of potential for influencing my own writing. For example, I'm thinking a lot about floating and liminal space. I always feel like it's hard to find language that sufficiently articulates being suspended in this kind of landscape, beneath the stretch of the sky above and the mysteries of everything happening under water. Working through these ideas is always so generative for me because I can embrace the blurry edges that separate what I know from what I don't know.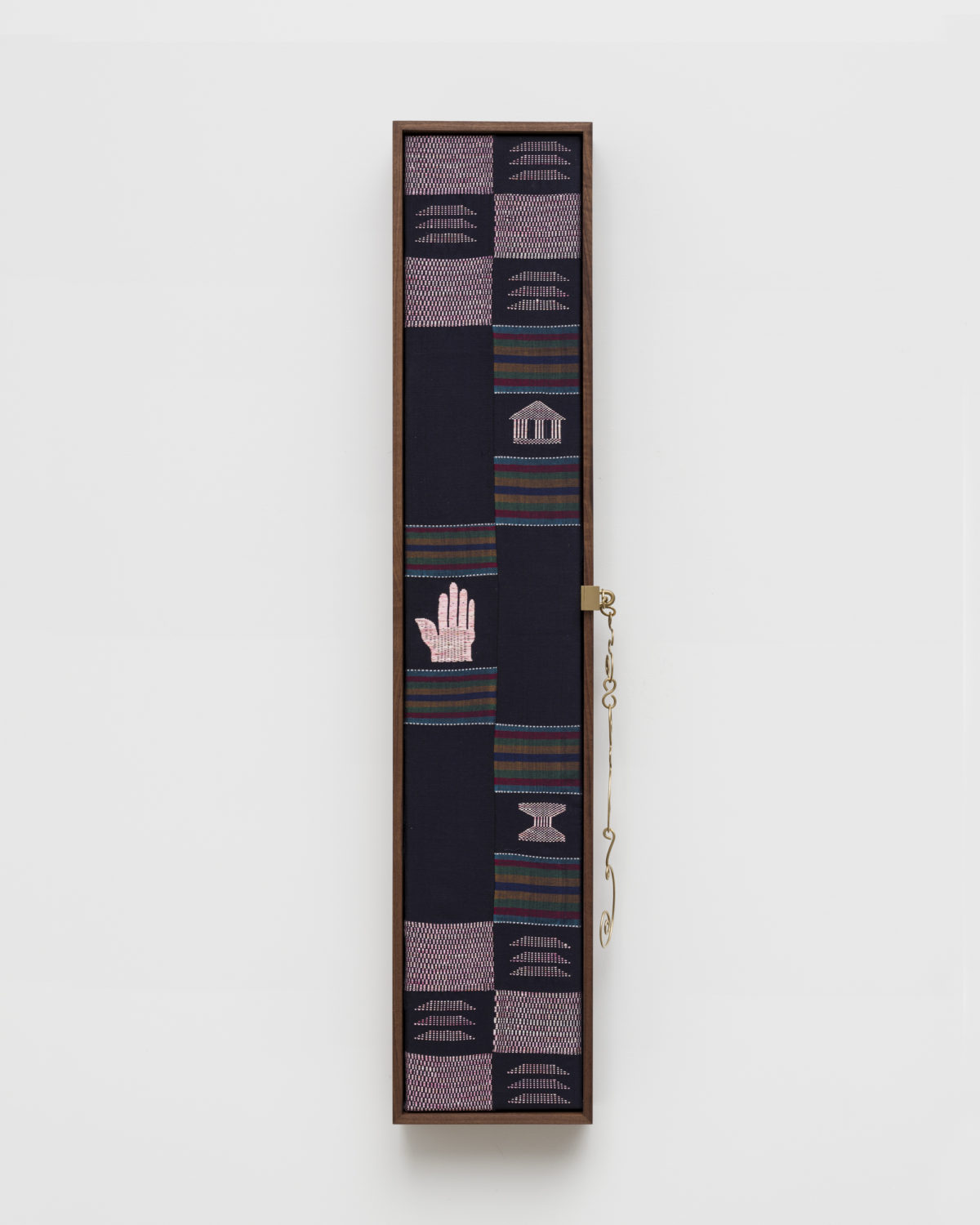 SC: Your practice embraces diverse materials and processes, from drawing and textiles, to sculpture and performance — how do you approach choosing your medium?
KD: I mostly make works on paper because I'm interested in writing as a technology; so making text drawings and paper thread weavings makes a lot of sense for me. Other mediums emerge out of ideas around language, as well. For example, I was thinking about how binary oppositions, like hot/cold, high/low, fast/slow, disguise the subtleties of our experiences in the world. So I started making objects that could be large and small at the same time: slender and discreet wooden sculptures that can expand outward, like an accordion folded fan, for instance. I also love working with books as a kind of object, that is both small and mobile, but its contents are often dense and immersive with information. So some of the largest works I've made can exist as a monumental, multi-panel wall drawing, but can also contract into a relatively small stack of pages to make a portable book.
SC: Who or what influences the forms of the figures you depict in your drawings?
KD: The ideas I'm thinking about in language tend to influence the ways the figure appears in my work. I can't necessarily explain the roots of my interest in portraiture, but as my work has matured, it is deeply connected to philosophies about how we embody ideas in language. There's a book by poet/scholar Fred Moten, with this phenomenal phrase, "blur in the interest of precision". The poetics of this phrase points to how evasive the nuances of our lived experience are in the face of rigid categories of language. I've been making figures that are intentionally blurry and in a state of motion. They are rendered by handwriting, stamping, or embossing other poetic phrases onto paper. There's a sense of duration in each image, so the figure is not static but rather appears in a dynamic state of change.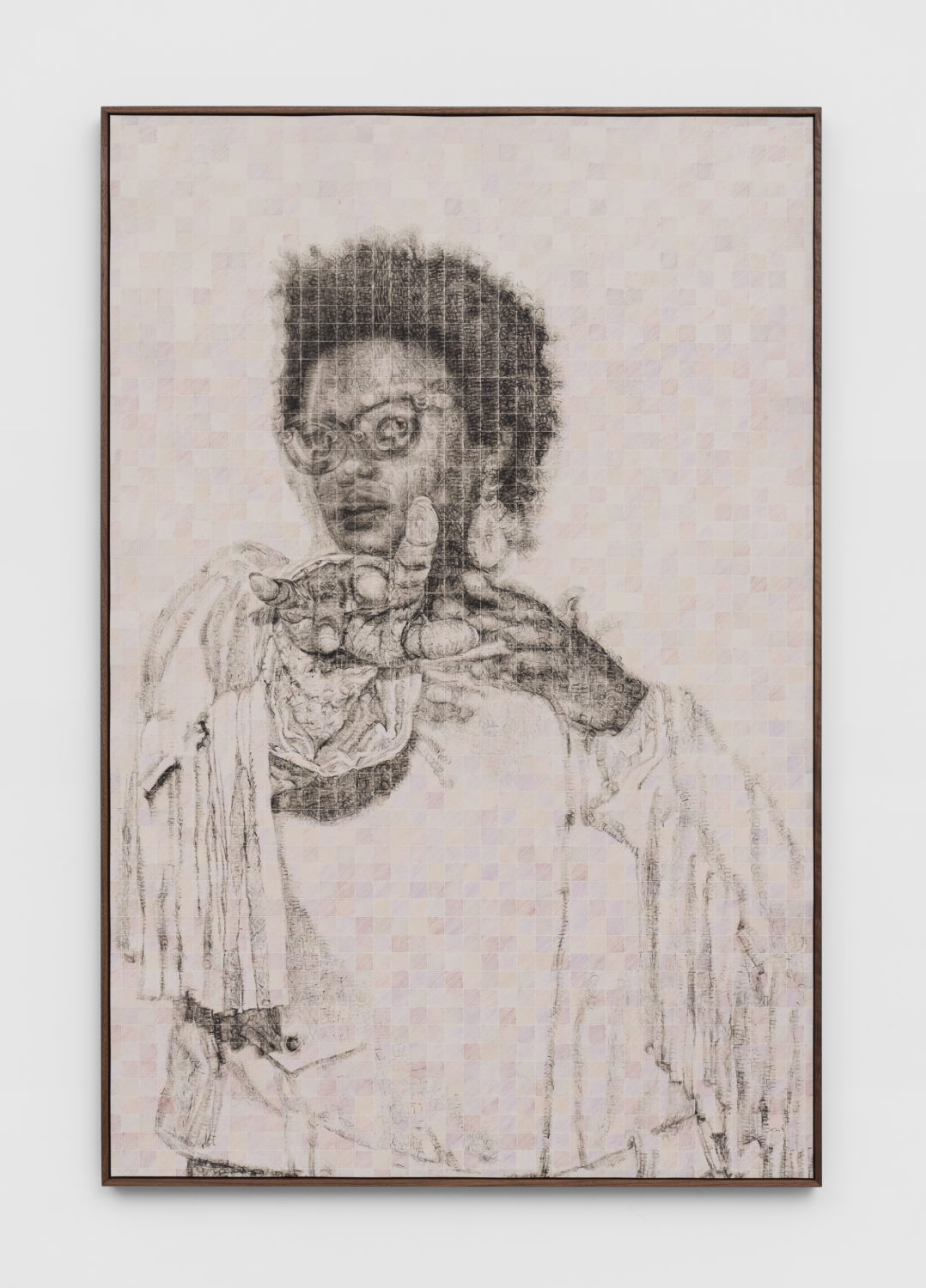 SC: What are you currently reading?
KD: I'm looking at a lot of scientific texts, especially ones written by physicists about how we perceive and understand our sensory experiences. I recently finished a fascinating book about the physics of time, by Carlo Rovelli. I'm also working through Karen Barad's book, Meeting the Universe Halfway. I simultaneously like thinking about imagined worlds, so I brought a book with me called, The Killing Moon, by sci-if writer, NK Jemisin. Upon arriving here, however, I grabbed a little book on the history of the Cayman Islands. After finishing that I started on Edouard Glissant's collection of essays, Caribbean Discourse, which also came out of the library. It just seems the most apropos book to frame and understand my experience here. 



Feature image: Kenturah Davis, planar vessel I, 2021. Courtesy the artist.