Interview: Mexico City Based Artist Duo ASMA On Posthuman Futures & Embracing In-Betweenness
Mexico City based artist duo ASMA, comprising Ecuador born Matias Armendaris and Mexico native Hanya Beliá, develops work produced wholly through active collaboration. In their collective process, they explore the act of interaction and how things in contact start affecting each other. Paintings emerge through careful layers of soft silicone, hinting at the suppleness of flesh through the veil of a synthetic skin, bruised or blushing with an internal glow. Sculptures of cast bronze filigree tracing torsos and ripening fruit, at once fragile and rigid, form hybrids between nature and device. Open now and running until 19 February 2022 at Deli Gallery, New York, ASMA present the exhibition Vain Kisses to the Source. The works in this show open the possibility of existing between dualities or states of difference, through both conceptual and material means. To learn more about their collaborative practice and the new exhibition, Something Curated spoke with Armendaris and Beliá.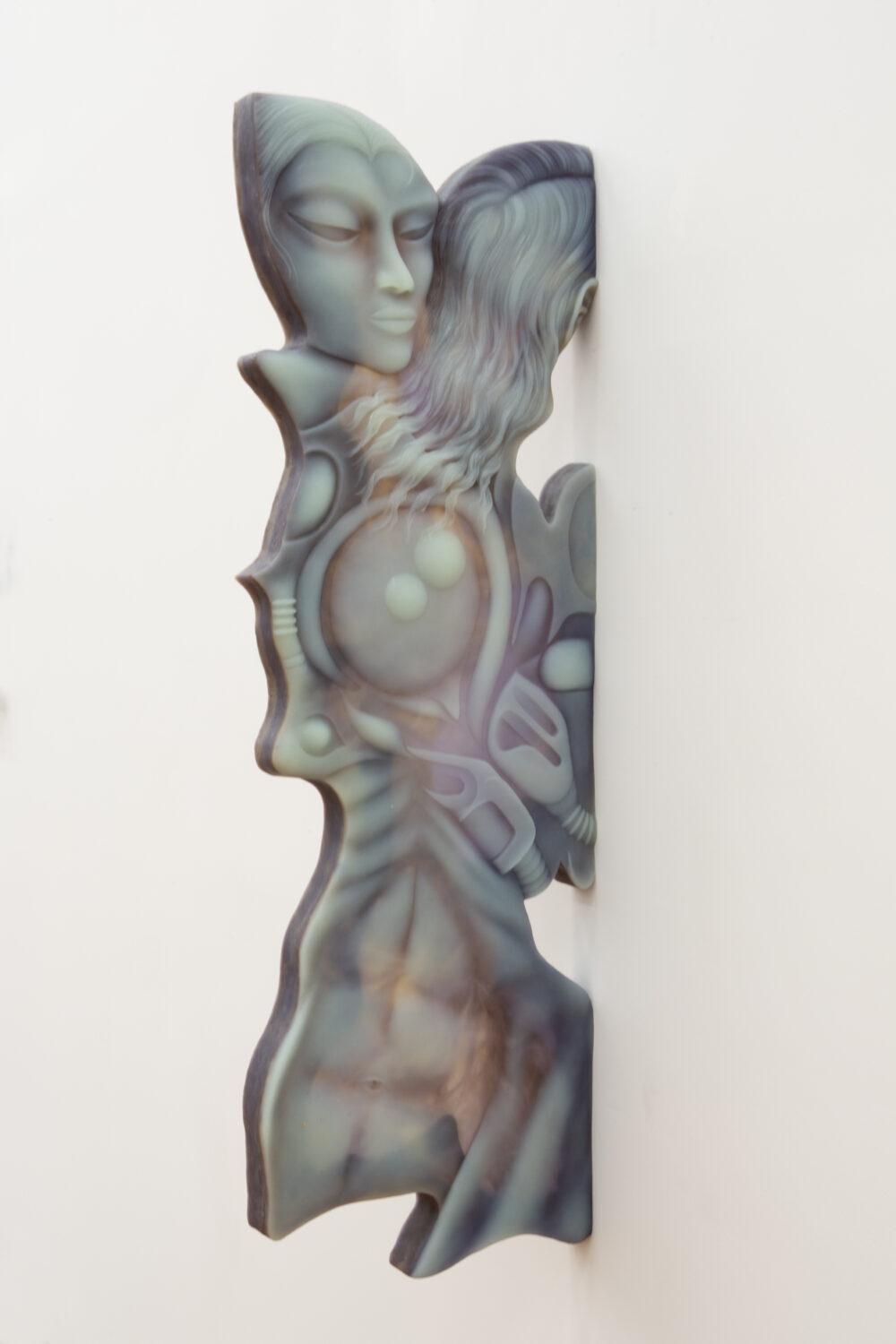 Something Curated: Can you tell us about your respective backgrounds; when did you first become interested in art-making?
Matias Armendaris + Hanya Beliá: We both come from different backgrounds regarding our own previous artistic practices. Hanya had more contact with theatre, literature, photography and music while Matias grew up around drawing, printmaking and gaming. One of us is more painterly by nature, observing forms, silhouettes, colour and composition while the other is more linear, finding symbology and graphic components in the work due to their drawing and printmaking background. We first became interested in art-making in different ways but we both had influence from our family environment and the creativity of our parents.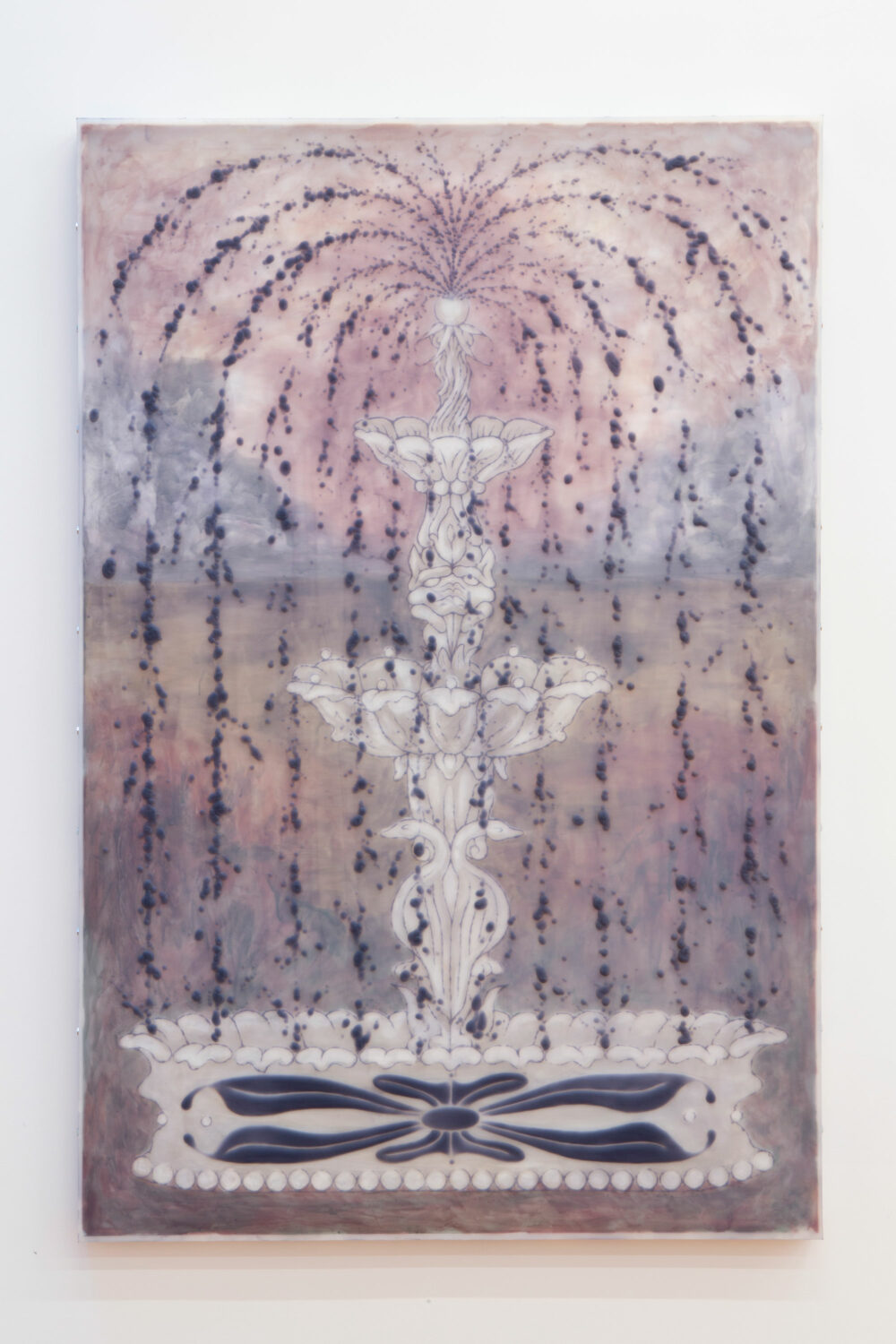 SC: How did your collaborative relationship come about?
MA + HB: We first met casually through a friend in Mexico City and started hanging out; we eventually started sharing our studio space, which led to a casual collaboration that grew with time. At the beginning of 2018, during the last semester of the MFA at the School of the Art Institute of Chicago, we decided to start a new collaborative identity. This decision led to a new shared conceptual and formal direction that evolved slowly into its own idiosyncratic aesthetic and investigation.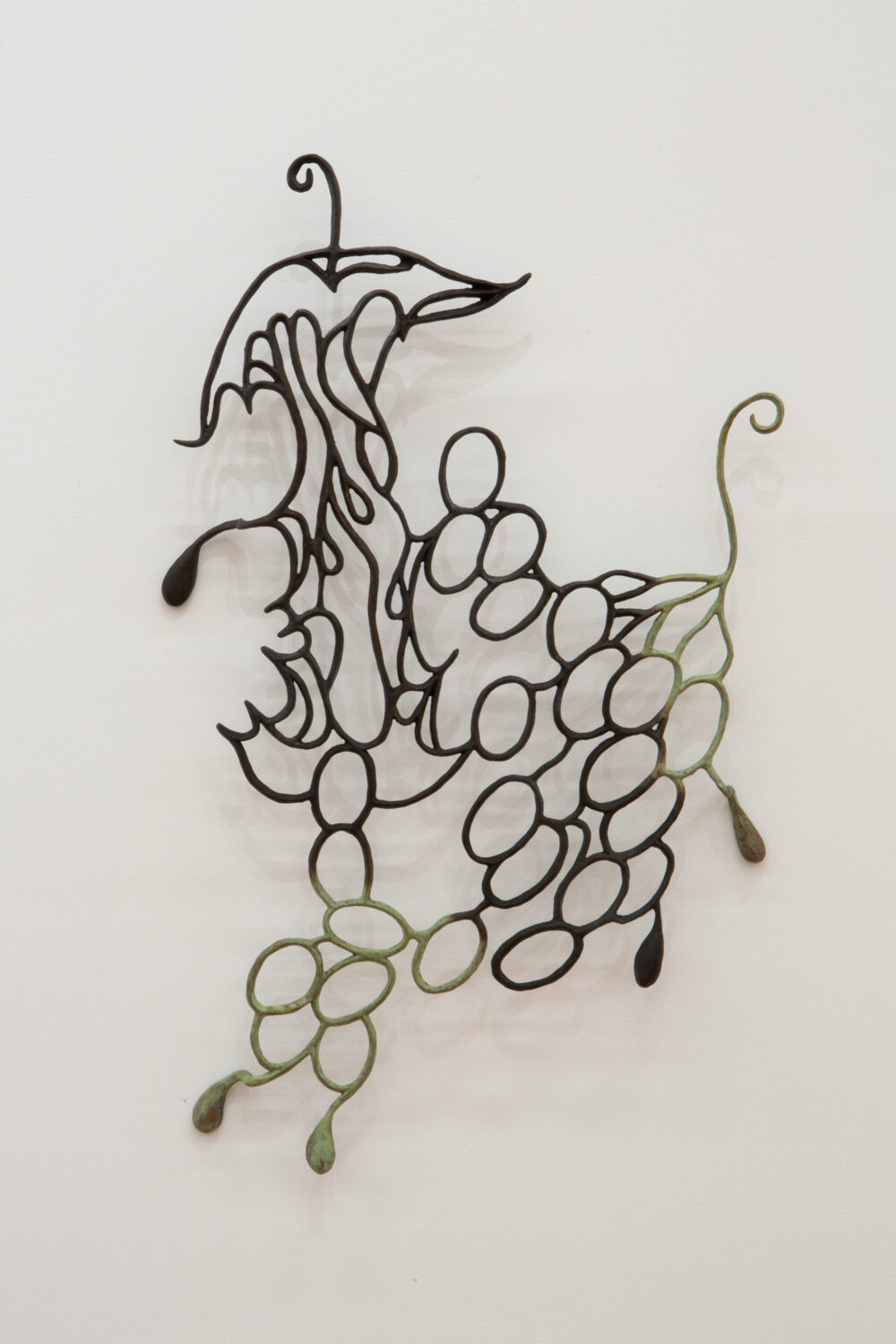 SC: Could you give us some insight into the subjects and ideas you broach through your work?
MA + HB: We are drawn to narrative processes that can contain many abstract subjects in a non-impositive way and can feel allegorical instead of didactic. We like to explore a posthuman version of the future through an affective lens that brings forward echoes of a distant past. This crossover of temporalities translates in a formal way as a constant play with materials that integrate artisanal craft techniques with synthetic and industrial processes. We think about the unconscious and the interrelation between imagination and the real, and how this often is a tool to cope and at the same time transform the world around us. The characters in our narratives are usually encountered with states of becoming, transformation and embrace a sense of ambiguity and in-betweenness. More recently we have been revisiting old myths and re-signifying symbols and old archetypes, bringing them into a contemporary context in order to open their possible readings.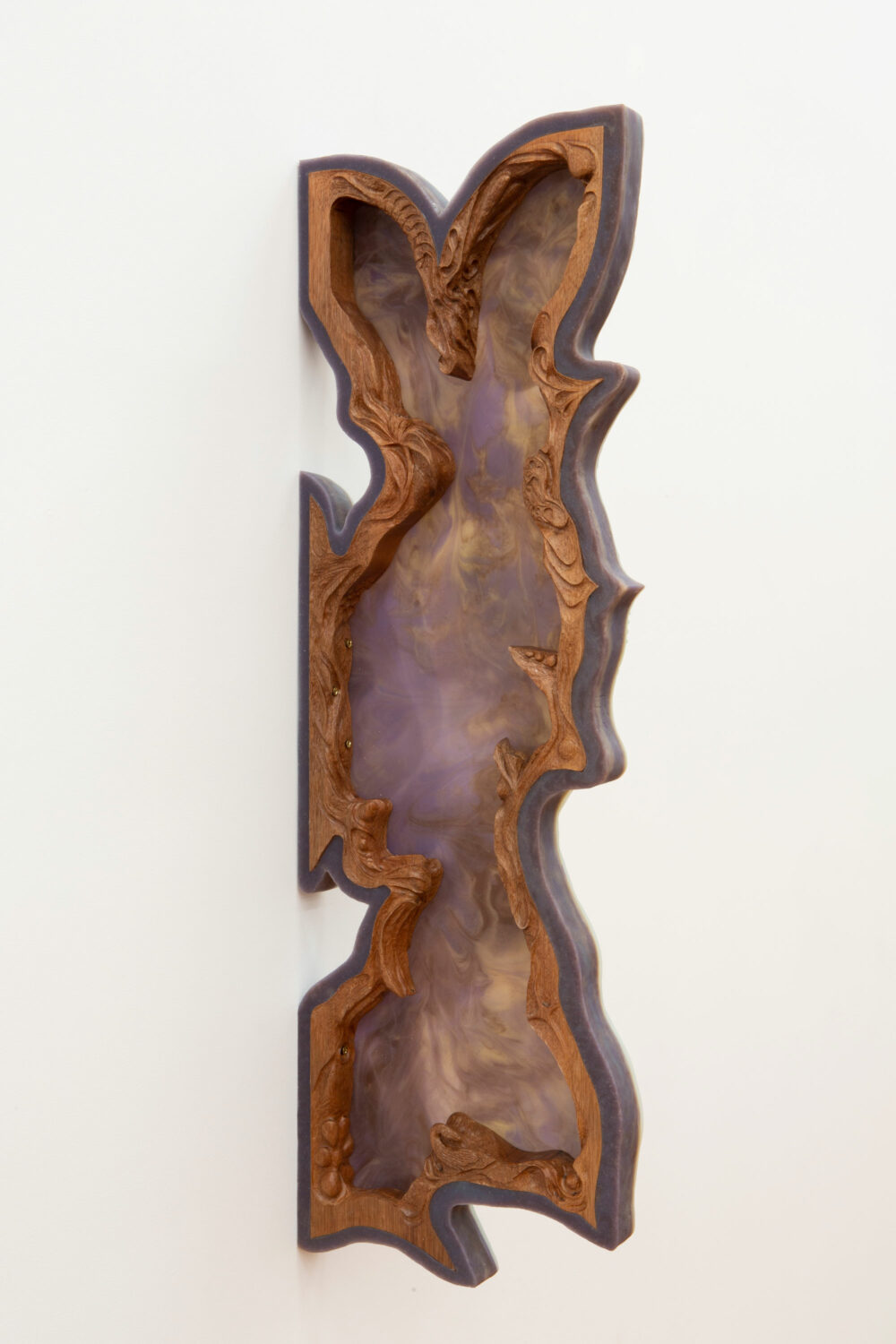 SC: What is the thinking behind the selection of pieces included in your new exhibition at Deli Gallery?
MA + HB: Our show at Deli Gallery started with our interest in expanding a particular way of painting we discovered earlier last year as a crossover of our sculptural and painterly processes. We focused on bringing a new angle to the original myth of Narcissus and we decided to focus on painting as a way to make an emphasis on images and looking. We used an allegorical language in the paintings, allowing these synthetic materials with industrial features to hold a sort of ancient quality. While reading about mirrors and reflections, we stumbled upon a revisitation of the myth of Narcissus within speculative materialism philosophy that was interested in the relationship between the inner and the outer world and how this defines their interdependency. How does looking outside also mean to look inside? In this reinterpretation of Narcissus, its self-contemplation into the fountain becomes a recognition of being part of the world by acknowledging the world is looking back. When Narcissus becomes a flower after dying maybe it is finally exposing its inner form.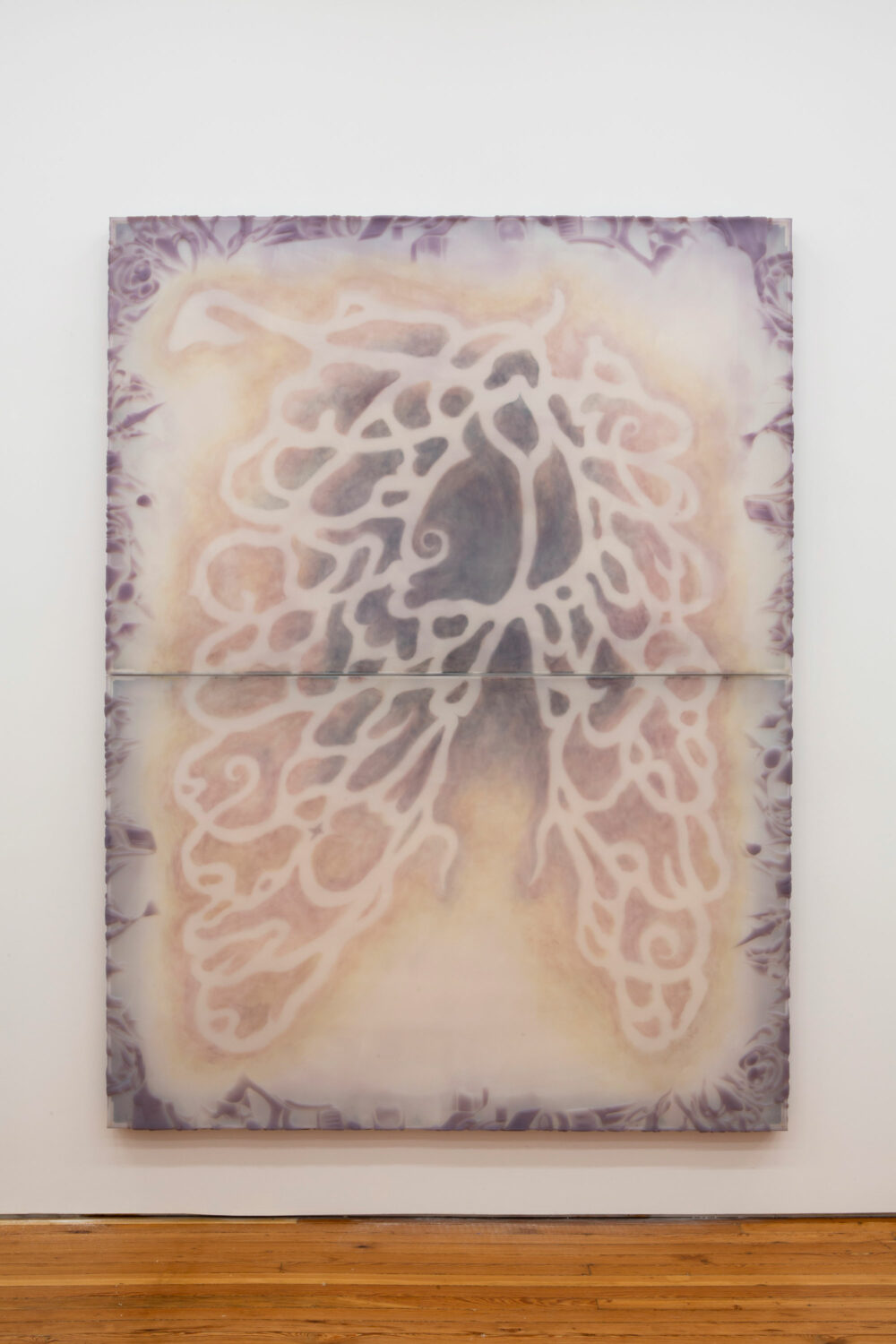 SC: How do you approach using and combining materials?
MA + HB: We think a lot about what feeling we want to convey with the material choices in the work. We try to expand our material vocabulary with each project we undertake but we often go back to try new ways of exploring materials we have previously used. We like strangeness and unfamiliarity in objects so we try to use materials to bring some of this forward in our work but we also are drawn to beauty and craft processes so we allow ourselves to experiment, make mistakes and hopefully find something new to employ.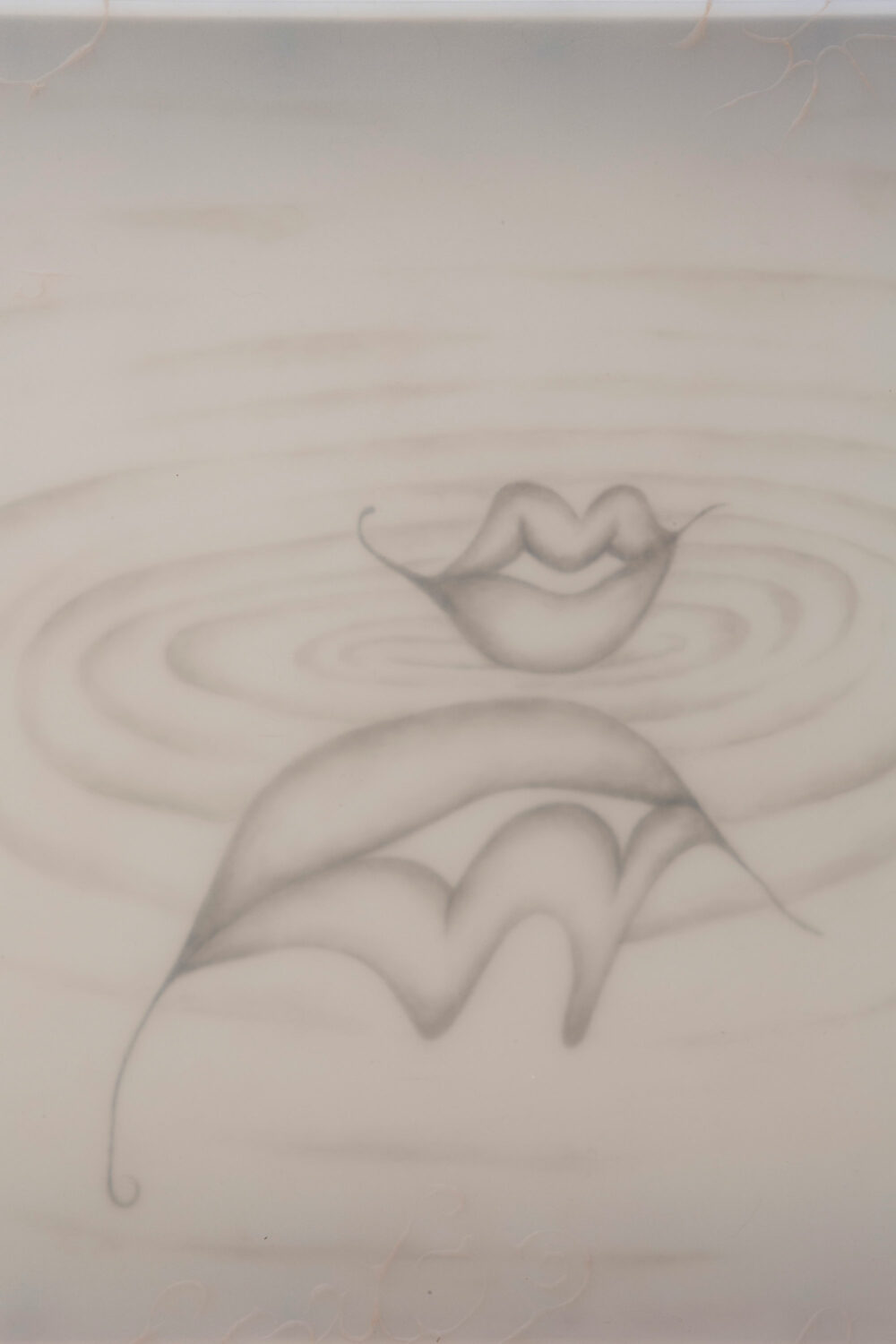 SC: What are some of your favourite cultural spaces in Mexico City?
MA + HB: Templo Mayor, Franz Mayer, Sala de Arte Público Siqueiros, and Antiguo Colegio de San Ildefonso are some of the cultural spaces we think are worth visiting in the city, especially downtown where we spend most of our time.



ASMA, Vain Kisses to the Source runs at Deli Gallery, New York until 19 February 2022.



Feature image: ASMA, Twin Stars, 2021. Courtesy the artists and Deli Gallery, New York.