10 Greek Street's Cameron Emirali Shares The Recipe For His Refreshing Watermelon Salad
Cameron Emirali is the Executive Chef and Co-Founder of London staple, 10 Greek Street, a contemporary restaurant and wine bar in the heart of Soho. The eatery has established a reputation for offering fresh, seasonal dishes that celebrate exceptional ingredients alongside a thoughtfully compiled wine list. Hailing from New Zealand, Emirali gained experience at The Zetter Townhouse and Le Pont de la Tour in London, before spending six years as Head Chef of the Wapping Project, where he honed his signature style. At 10 Greek Street, the chef seamlessly oscillates between Anglo, Mediterranean and Middle Eastern influences, taking inspiration from his frequent travels. Among his go-to ingredients is the thirst-quenching watermelon, when in season. The fruits are believed to have originated in the Kalahari Desert of Africa, with the first recorded watermelon harvest having occurred nearly 5000 years ago in Egypt.

In dry and warm climates, there are few things more valuable than water, and a food that is 92 per cent water is naturally a terrific resource. Watermelons came from Africa to southwest Asia and by the 10th century, the fruit found its way to China, which is today the world's largest producer of watermelons. They gradually began to appear in Europe towards the end of the Roman Empire; and by the 16th century, watermelons were widely grown in the Americas. As trade between civilisations became more common, various desired traits were cultivated in the fruit, creating the sweet, red flesh we are familiar with today. As the days are slowly getting warmer, chef Emirali shares with Something Curated the wonderfully simple recipe for his beautiful and refreshing Mediterranean inspired watermelon salad. The below are his words.



Watermelon Salad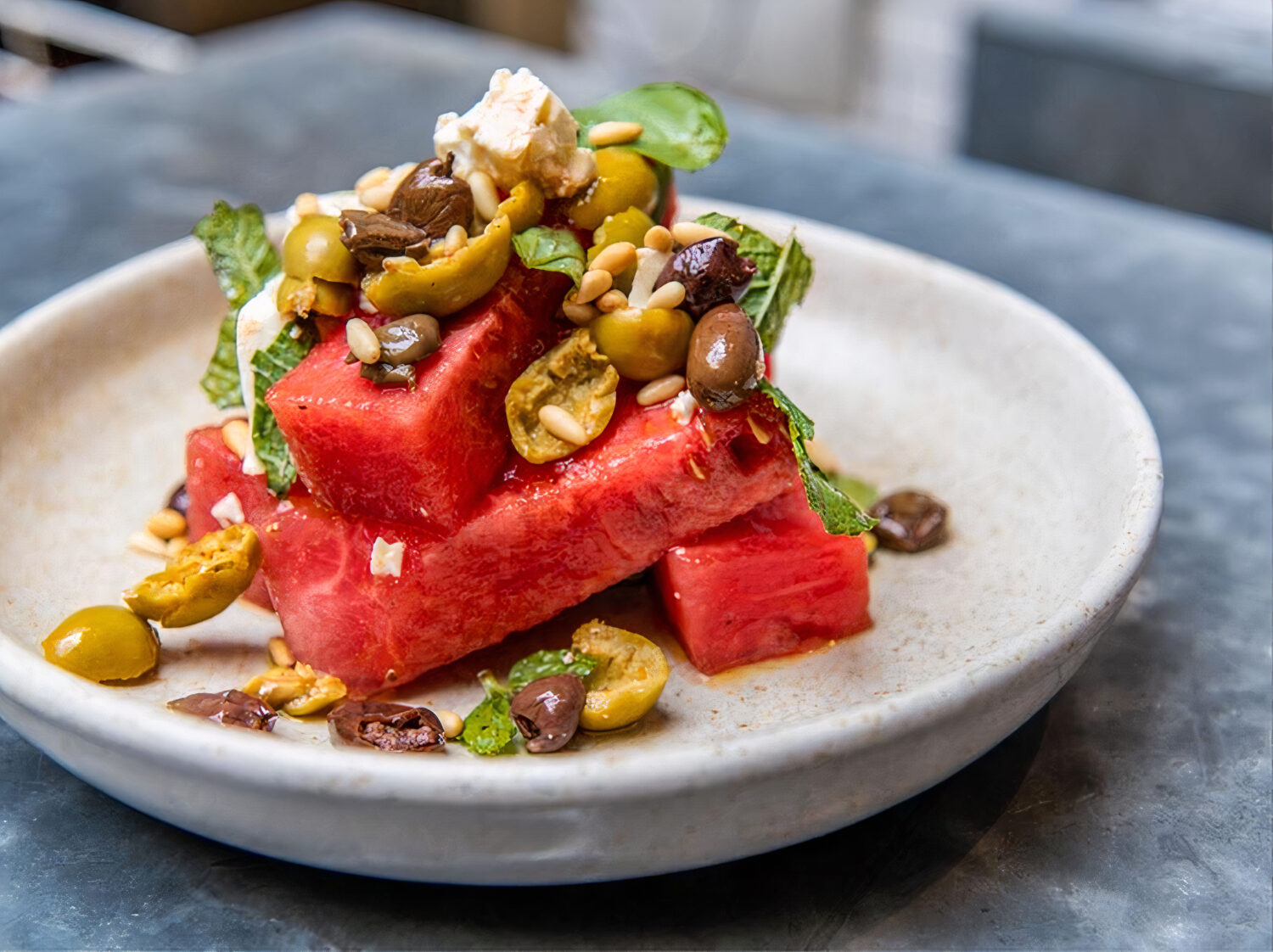 Feeds about 4


Ingredients:

500g watermelon 
100g feta 
20g finely slice red onion
60g pitted good quality olives (I like Arbequina)
20g toasted pine nuts
1 cup full of washed and picked fresh mint & basil 
10ml good quality sherry vinegar 
30ml good quality olive oil 
Salt and pepper to taste 


Method:

1. Cut the watermelon into roughly 4cm by 2cm cubes.
2. Gently break the feta up and put all the ingredients into a mixing bowl. Gently dress.
3. Plate it up onto a serving platter and finish with freshly torn mint, basil and toasted pine nuts.



Feature image: Watermelon Salad / Photo: Nic Crilly-Hargrave