Koya Chef-Founder Shuko Oda Shares The Recipe For Her Nourishing Kenchinjiru Udon
Udon is a thick noodle made from wheat flour, widely used in Japanese cuisine. The precise origin of udon remains somewhat of a mystery though there are several theories, the oldest of which suggests that the robust noodle came from China in the 700s. It first became popular with the Japanese population during the Edo era in the 1600s. Today, the ultimate comfort food for many, there are a variety of ways it is prepared and served. Its simplest form is in a hot soup as kake udon with a mild broth called kakejiru made from dashi, soy sauce, and mirin, usually topped with thinly chopped spring onion. London dining institution Koya opened in Soho back in 2010, specialising in freshly made udon noodles and dashi served in a paired back interior. 12 years on, continuing to broaden perceptions of Japanese cuisine in London, Koya is now serving Head Chef Shuko Oda's creations at three locations across the city. To celebrate the imminent launch of Koya & Ko., Koya's first ever chef collaboration series at its location in Broadway Market, Oda shares with Something Curated the recipe for her delicious Kenchinjiru Udon. She tells SC: "There seems to be a version of "hearty root vegetables in broth" in every culture, and when your heart is set on eating it, there's really nothing else that can replace it."


Kenchinjiru Udon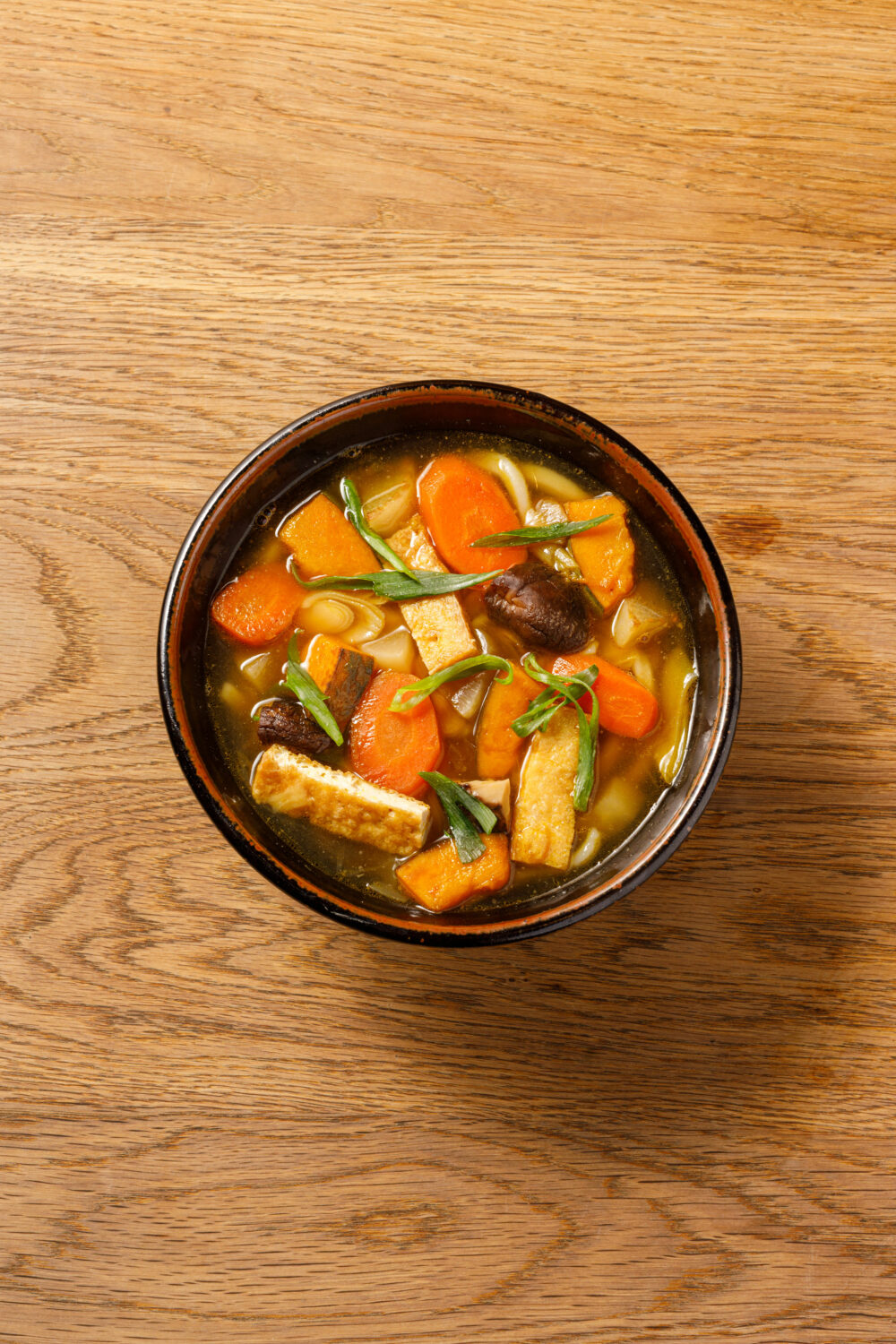 Serves 2

Ingredients:
1 Omiyage box (vegan) *Koya's fresh Japanese udon and dashi are now accessible to homes nationwide, via Koya Mail
2 dried shiitake mushrooms        
1 tablespoon of roasted sesame oil
½ carrot 
50g daikon
120g kabocha (squash)
1 sheet (40g) of fried tofu (usu-age) *This can be bought from most Japanese or Chinese supermarkets
½ leek
½ tablespoon of soy sauce
½ tablespoon of sake 
Spring onion (optional)

Method:
Soak the dried shiitake mushrooms in 200ml of water overnight. When you are ready to cook, take the shiitake out, cut them into quarters and keep both the shiitake water and shiitake for later.
In the meantime, peel and dice the carrot, daikon, kabocha and leek into bite-sized pieces.
Place the fried tofu in a colander and pour over boiling water from the kettle to drain the excess oil before slicing it into 1 cm strips.
In a medium saucepan, heat up the roasted sesame oil and fry the carrots, daikon and kabocha for 5 minutes. Then add the fried tofu, shiitake and leek and fry it for another 5 minutes. This is a good moment to start cooking the udon.
You will need to cook the udon in three stages: boil them, cool them and then warm them when ready to eat. For 2 servings, bring 3-4 litres of (unsalted) water to the boil, in your largest pot. If you cook the udon in too little water, they will end up too salty. Once your water is boiling rapidly, grab the noodles, shake them to separate them. Put them in the water and set your timer to 15 minutes.
If it looks as though it might bubble over you can add a dash of cold water to keep it at a steady rolling boil, stirring occasionally. In the meantime set a full kettle on to boil, you will use this to warm the udon at the end.
Once your 15 minute timer is up, drain the udon using a colander. Fill your pot back up with cold water, return the udon to it, and then leave them in the pot under running cold water until thoroughly chilled.
To finish off your vegetables, add the dashi, water from shiitake, soy sauce and sake and simmer until the vegetables are tender.
Portion up the udon in your serving bowls and pour over boiling water from the kettle. Leave them to warm for 1 minute, then drain each bowl individually.
Once the udon have been cooked as per the instructions, pour the dashi and vegetables over. You can garnish with spring onion if you like.
Itadakimasu!



Feature image: Kenchinjiru Udon. Photo: Anton Rodriguez