Interview: Ceramic Artist Dina Nur Satti On Ritual Objects & Making Furniture At Palm Heights
Born in Chad to a Sudanese father and Somali mother, Brooklyn-based ceramic artist Dina Nur Satti had somewhat of a nomadic upbringing owing to her father's work with the United Nations. Moving to Belgium, then Paris, then Kenya, before settling down to study in New York, Satti holds a bachelor's degree in International & Intercultural Studies with a focus on the cultures of Africa and the Middle East. Her pursuit of ceramics was born out of her studies in African art and pre-colonial African societies, and an interest in learning how ritual objects and spatial design elevate experiences. She often travels throughout Africa from Morocco to Ethiopia to meet with communities upholding ancient methods of craft, and to research the use of objects in ceremonial traditions. Most recently, Satti joined the growing roster of artists to participate in the creative residency programme at Palm Heights in Grand Cayman, delving into her burgeoning interest in furniture making. To learn more about the fascinating artist, Something Curated spoke with Satti.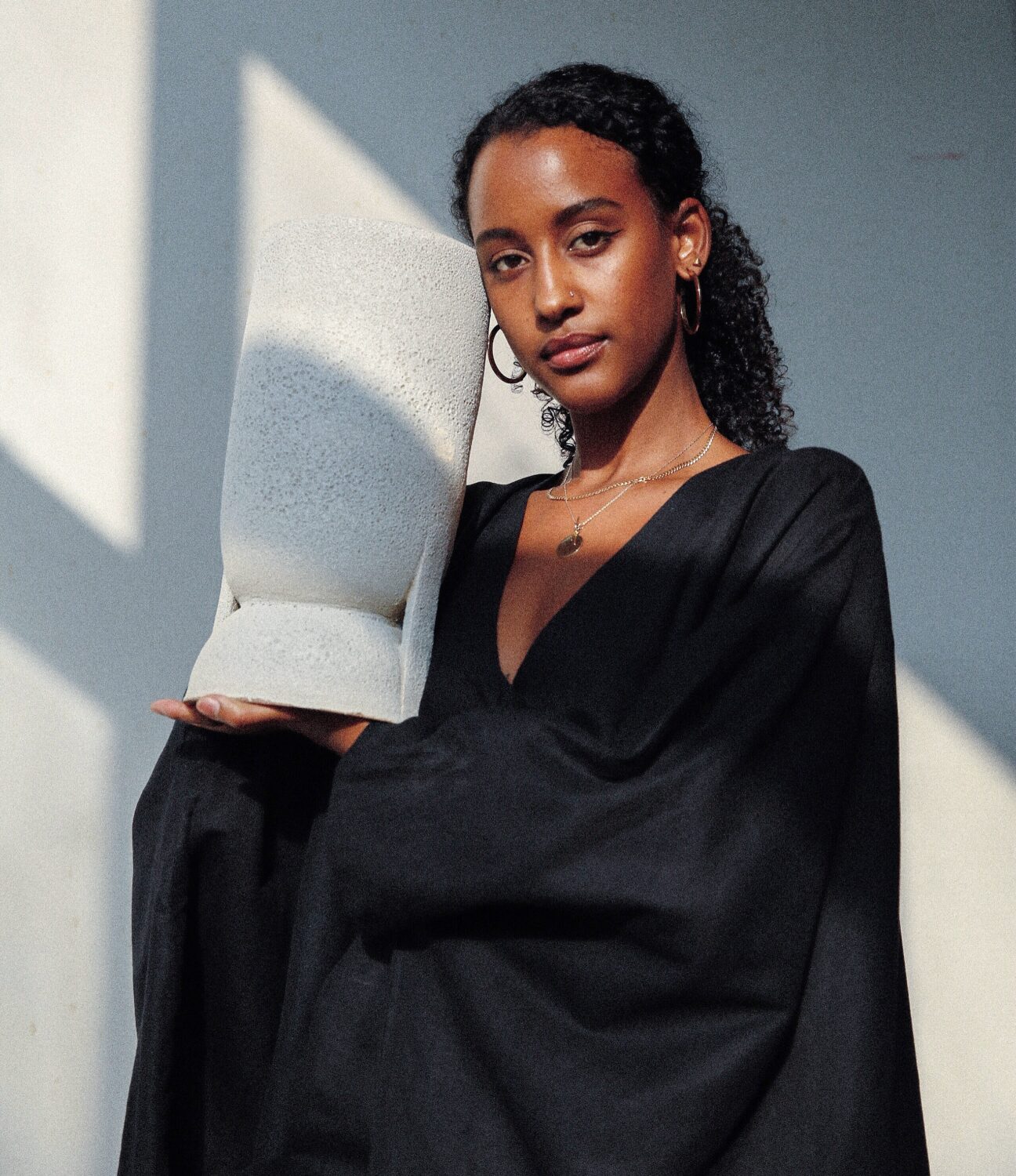 Something Curated: You were raised in France and Kenya, with Sudanese and Somali heritage; how has this melting pot of cultural influences impacted your creative practice?
Dina Nur Satti: Growing up in an East African home and visiting my father's family in Sudan every summer gave me a really strong connection to our heritage. My father worked in cultural preservation for several years, so his work took him across East and Central Africa and I often accompanied him on trips as a teenager, which fostered a deep reverence for and interest in learning about pre-colonial societies and traditions.
When I pursued my degree in Intercultural Studies at university, I started to become fascinated by the similarities in cosmologies and world views of indigenous societies. I particularly became fascinated by rituals and ceremonies as a means to strengthen a community's sense of identity and create spaces for connection and care. I often say that the majority of my work exists in the space of research and learning, and the objects I create are the physical manifestations of that process.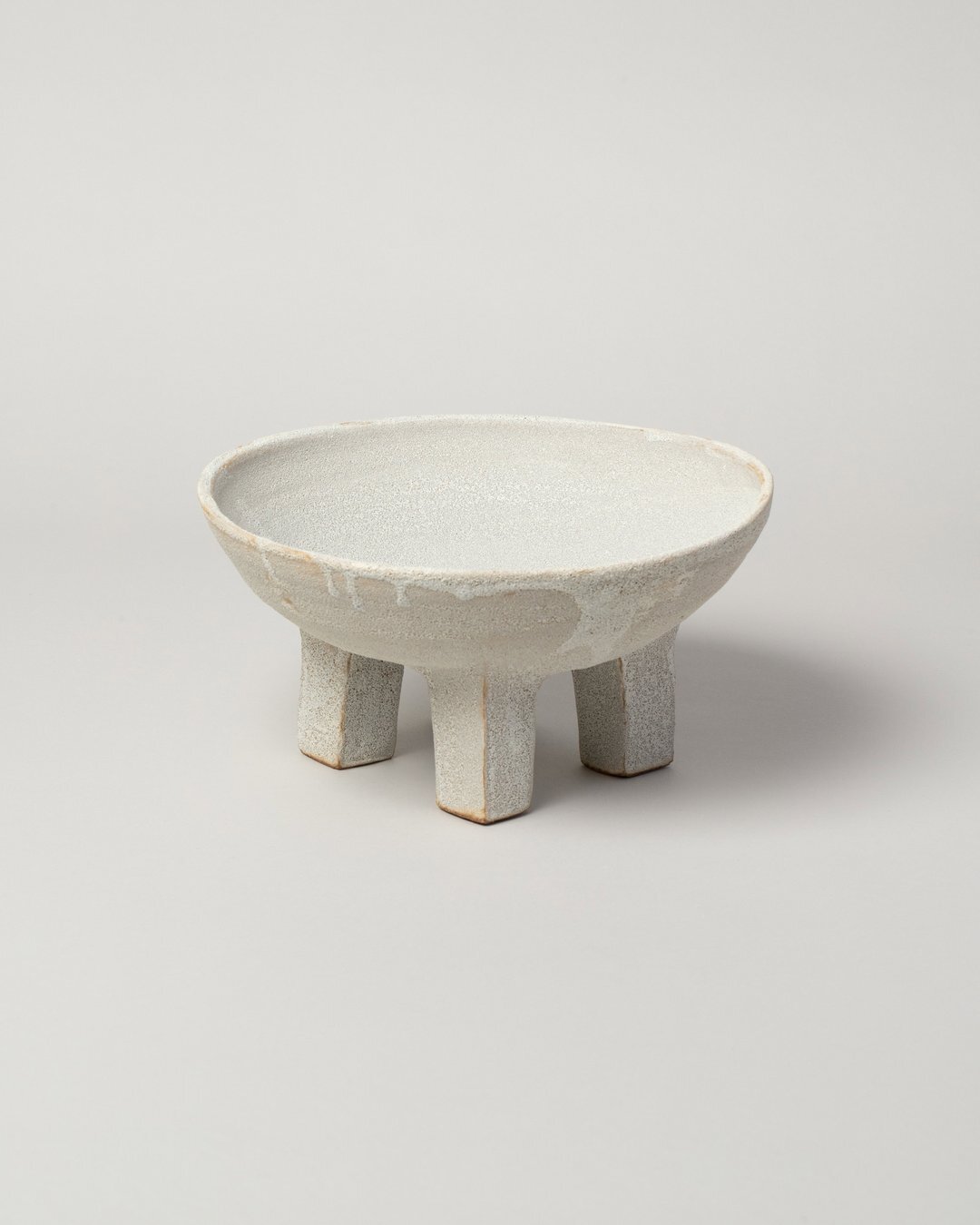 SC: What first drew you to the medium of ceramics?
DNS: My connection to ceramics happened quite unexpectedly. I was exploring a variety of creative classes while working full time at a foundation, and I remember very quickly connecting to clay and knowing it was what I wanted to pursue. I was mesmerised by the connection my artist friends had with their medium and I knew for a long time that I wanted to find a medium to which I could connect in a similar way. I don't think I was conscious at the time of how much of a good fit ceramics is. Being one of the most ancient crafts in human history, it's a perfect complement to my interest in ancient cultures.
SC: Where do you look to for inspiration?
DNS: I find that my inspiration journey is non-linear. The evolution of my ceramic practice is intertwined with my passion for research into cultures, as a result, I find myself in a perpetual state of research and discovery. So much of the design process happens subconsciously, so I'll often finish a piece and then understand what part of my research inspired it. When designing I also sometimes identify a feeling that I want to infuse into a piece, which will also guide my process.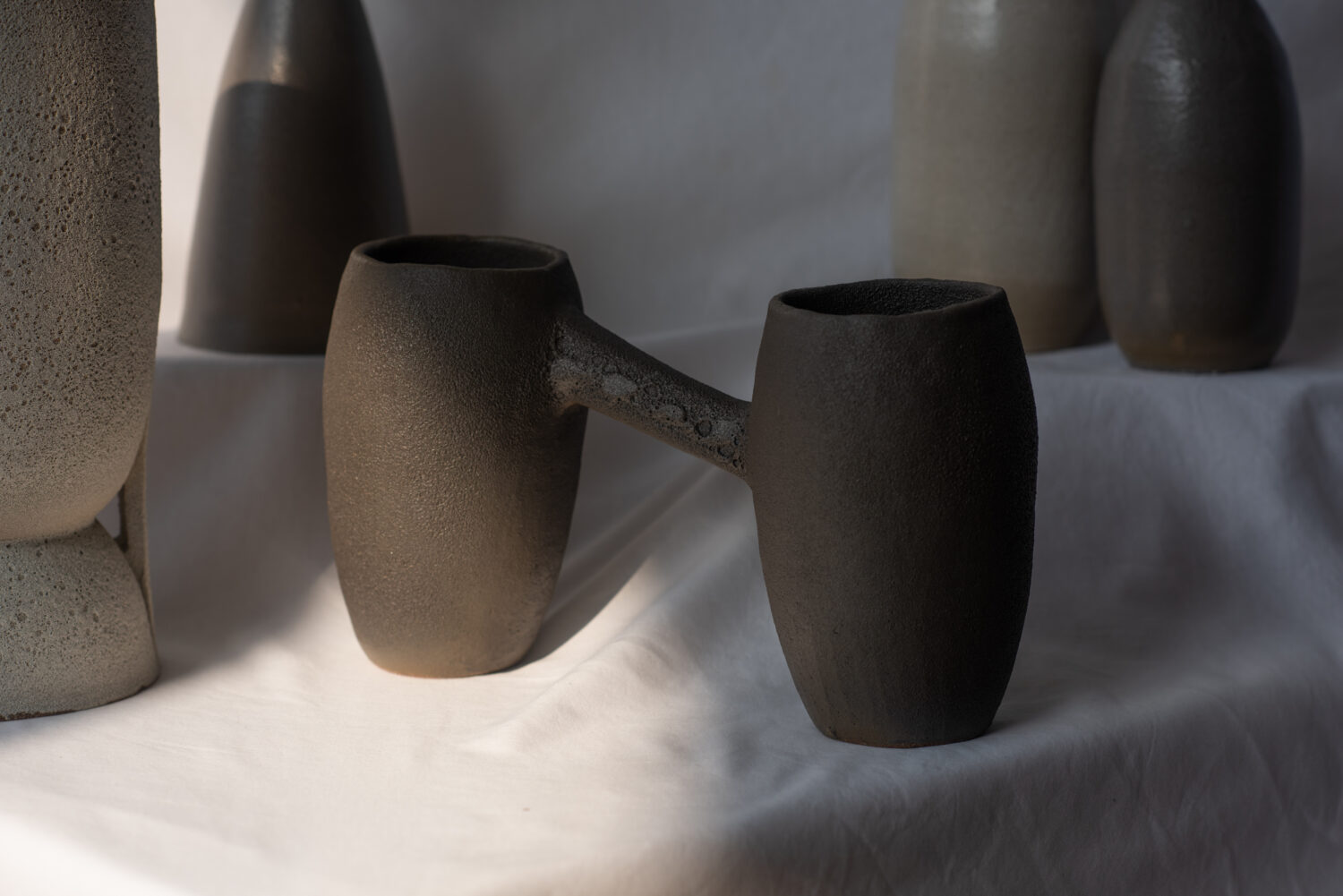 SC: You recently participated in the artist residency programme at Palm Heights in Grand Cayman — how was that experience?
DNS: Palm Heights was such a blissful experience! It's so rare to be in a space where you feel that the people behind it deeply believe in the importance of supporting artists. Also being in such a stunning natural environment and surrounded by impeccable design and books really helped in my creative exploration. As an artist and entrepreneur, you rarely find uninterrupted, dedicated time to experience the necessary state of rest required to connect to your inner creative voice and experiment with new materials. I set aside my usual medium of clay for this residency and challenged myself to work with materials that could easily be found locally. Having certain limitations set for me forced me to explore designing in a different way. I don't think I would have come up with the unique table design had I been at my studio in New York.
SC: Could you expand on your exploration of furniture making during your time there?
DNS: There are so many gorgeous side tables at Palm Heights and being surrounded by them sparked some inspiration to play around with design ideas. A lot of my designs have curves because of the coiling technique I use with clay. Because I was working with plasterboard and paper clay, angles were naturally easier to work with than curves. I was initially thinking about cutting shapes on the table top to allow a lamp cord to be hidden inside of the table instead of hanging off the side. This was an idea that came to me while studying the lamps and tables at Palm Heights. After playing around with cut out shapes, I settled on working with a design motif I have sketched for years but never applied to a piece.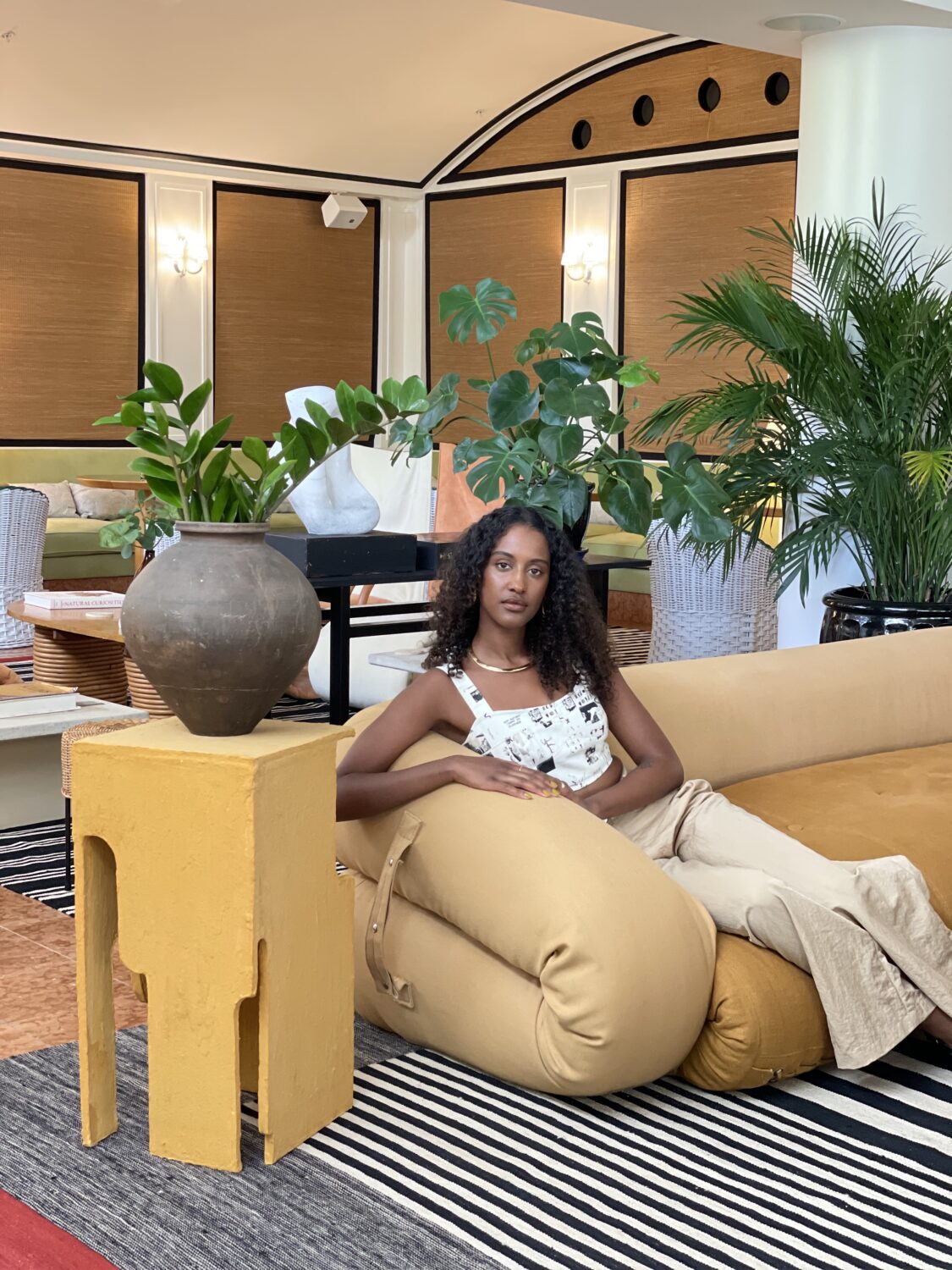 When I put the pieces together, they created this trompe l'oeil effect that I absolutely love, and every angle of the table feels like a completely different table. One of my favourite moments when working with the paper clay that is naturally white was sourcing charcoal and turmeric from Palm Heights' main restaurant, Tillie's, which I used to achieve the yellow and bluish-grey colours of the tables. As I said, design is subconscious because it wasn't until they were done that I realised they matched one of the hotel's lounge colour schemes perfectly.
SC: And what can we look forward to from you next?
DNS: I'm showing some pieces at a group show this summer curated by Eny Lee Parker, also a past Palm Heights artist in residence. I'm also continuing my exploration of designing and making furniture this year and planning to launch a new collection, which is always very exciting.



Feature image courtesy Dina Nur Satti