What Makes The Perfect Tortilla Española
The tortilla, one of Spain's most iconic dishes, is eaten across the country for breakfast, lunch and dinner. Evolving from its dryer ancestor to a version with a melt in the middle centre, this popular style of tortilla is the variety you will find on the menu at the newly launched London restaurant Broken Eggs. Helmed by sibling duo Gabriel Larraz and Marat Verdu, the new delivery-only eatery is serving up a range of delectable flavour combinations, each one made to order and with great care using organic eggs and Agria potatoes. Expanding on his search for a taste of home, Larraz tells: "I grew up eating tortillas at my grandmother's house but also at bars with my friends, so I have a lot of memories associated with the dish. With Broken Eggs, I saw an opportunity to create something personal and unique but importantly something truly and authentically Spanish." Offering detailed insight into what makes the perfect soft centred tortilla, Larraz shares with Something Curated his go-to recipe for the Spanish classic.



CLASSIC TORTILLA TO SHARE (SERVES 2-3 PEOPLE)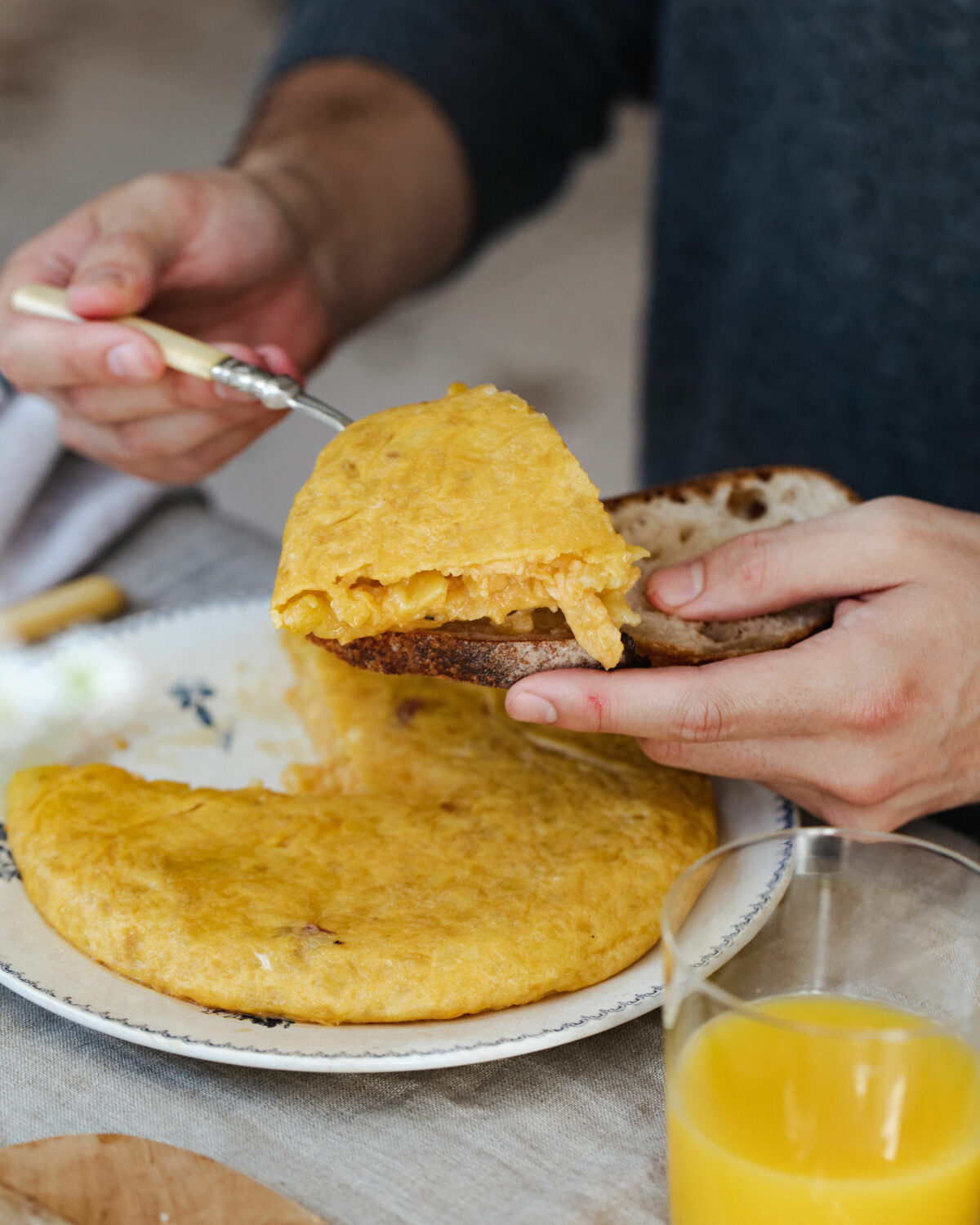 INGREDIENTS:
6 organic free-range eggs 
500g of good quality chipping potato (we use Agria potatoes, but any good chipping potato will do)
Olive oil
Salt


METHOD:
1. The first step is to prepare the potatoes for cooking. Wash the potatoes thoroughly and peel them using a potato peeler. Then cut the potatoes in 3-4mm thick cubes and keep them in cold water. 
2. To cook the potatoes, heat up olive oil in a large pan. There should be enough olive oil to cover the potatoes, so don't be afraid to use a good amount and don't worry, you can re-use the oil after you are done! When the olive oil has reached a good temperature (around 130 degrees) put the heat on medium-low and add the potatoes. 
3. Cook the potatoes slowly for around 25/30mins or until they are soft. Then, remove most of the oil from the pan and pan fry the potatoes for around 5 minutes. By doing this, the goal is to have some softer potatoes and some crispier potatoes which will create different textures in the tortilla.
4. Strain the potatoes to remove the excess oil and let them cool for 5 minutes.
5. In a large mixing bowl, add the potatoes and the eggs and mix together until combined. Let this potato and egg mix sit for 15 minutes.
6. After the mixture has rested, salt to taste. It's very important to season the mixture properly.
7. To finish the tortilla, heat up a non-stick pan (we use a 22cm diameter pan) with a drizzle of olive oil on high heat. Turn the heat down and add the mixture to the pan. Cook for one and a half minutes and flip the tortilla, using a plate to help. Cook the other side for another one and a half minutes before serving on a plate. To check the cooking point, the tortilla should feel like a medium rare stake – that is if you like tortillas like we do, with a runny inside! If you prefer a more thoroughly cooked tortilla, increase the cooking to two and a half minutes on each side or until the tortilla feels like a well done steak.



Feature image by Joe W Howard