Interview: Artist & Master Jeweller Wallace Chan On 'TOTEM' At Fondaco Marcello, Venice
Hong-Kong based artist Wallace Chan's material-focused practice fluidly oscillates between jewellery and sculpture. He began as a gemstone carver in 1973 and gained worldwide recognition for his innovation of materials and techniques – from The Wallace Cut, an illusionary three-dimensional carving technique conceived in 1987 to the mastery of titanium, and more recently, The Wallace Chan Porcelain, a material five times stronger than steel. In 2021, Chan's first foray into large-scale sculpture saw him realise the show TITANS. Open now and running until 23 October 2022 at Fondaco Marcello in Venice, Chan's latest sculptural exhibition, titled TOTEM, explores the philosophical aspects of the artist's Buddhist faith, including his reverence for the natural world and the intrinsic qualities of the materials he employs. Alongside a film work, the exhibition comprises an ambitious installation composed of multiple unassembled parts of Chan's sculpture, A Dialogue Between Materials and Time, Titans XIV, positioned across the exhibition space. By displacing the sculpture's fragmented pieces of iron beam and meticulously modelled titanium heads across the floor, viewers are invited to approach the elements up close and from differing viewpoints, fostering unexpected perspectives. To learn more about the new show and the brilliant artist behind it, Something Curated spoke with Wallace Chan.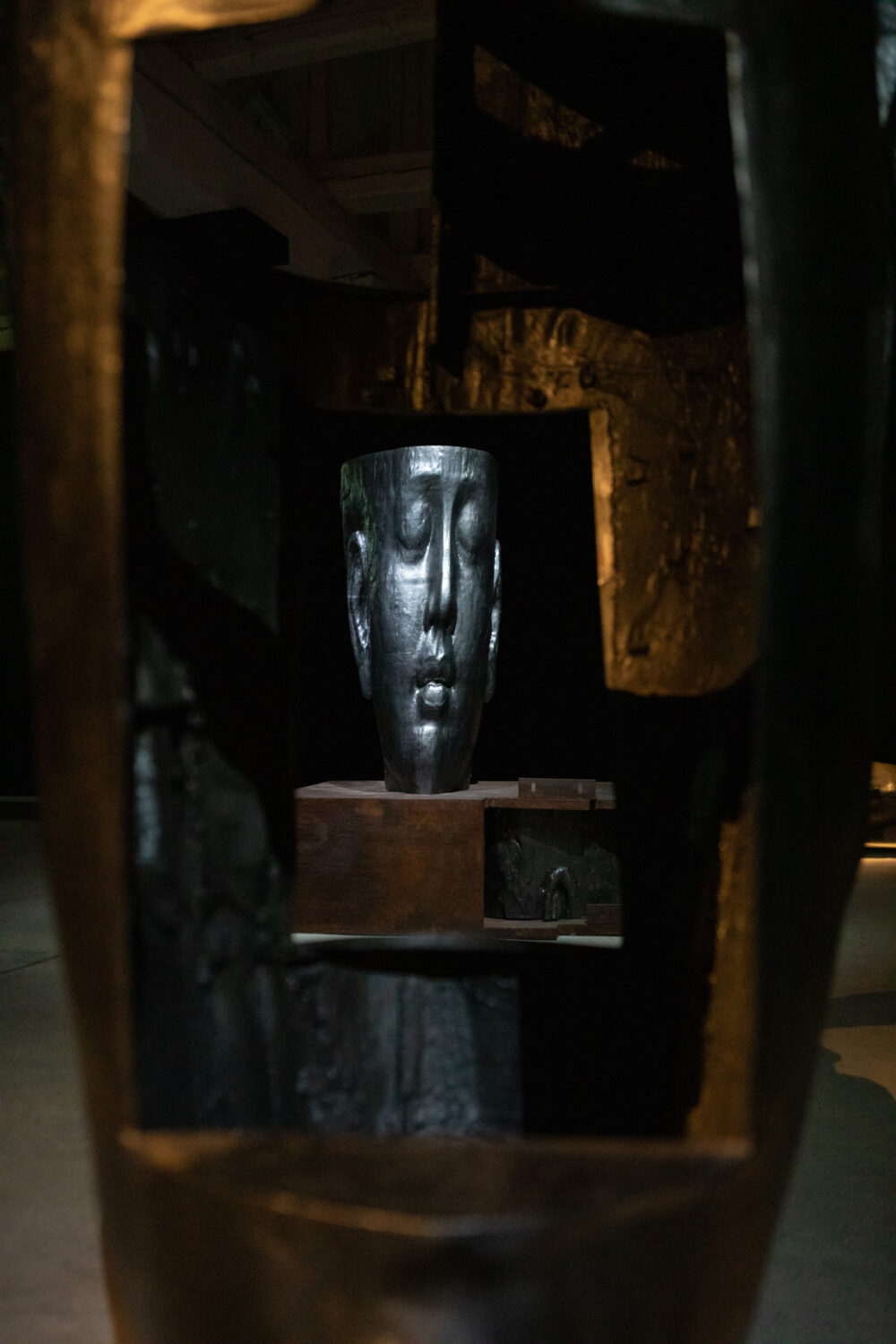 Something Curated: What is the thinking behind your new installation presented at Fondaco Marcello?
Wallace Chan: The work on exhibit is my 10-metre sculpture, which I showed in Shanghai last year, now unassembled in Fondaco Marcello. Curator James Putnam and I decided to leave it unassembled, so as to address the idea of fragmented reality and uncertainty, which has been a big theme in our lives, at least in the past two years.
SC: What interests you in utilising titanium and can you tell us about your experience working with the material to create these pieces?
WC: I read about titanium in a newspaper article back in the early 2000s. It was an article about the pacemaker, a medical device for the heart. I was immediately intrigued. At that time, I was looking for a metal that could realise my visions in jewellery, a metal that could be turned into a light but strong structure for my stones. When I saw that titanium was not only light and strong but also bio-friendly and colourful, I knew that it would be the perfect metal. It took me eight years to "tame" titanium because it is stubborn and rigid. It comes with a melting point of 1700°C and has a strong memory. One can imagine how difficult it is to find a material that can withstand the heat and become its mould, let alone carving on it and inspiring natural colour gradients on it.
The complex, difficult, and time-consuming process explains why titanium is rarely used in art. It is a popular metal for the science, aerospace, and medical sectors, but its potential has yet to be fully explored. Every artist has their own ideal for art. My whole life, I have only ever wanted to create works that are meant to stand the test of time. This idea is reflected in the materials I use. Titanium, to me, is a natural choice. For me, it is a material that is closest to eternity. I don't follow specific rules when it comes to the creative process. If I have to hammer or carve on a piece of titanium to get the lines, forms, and shapes in my mind, I'll just do it. If I have to assemble a large-scale titanium sculpture like setting a piece of jewellery, so be it. As mentioned, titanium is rigid. Even at its melting point, it is reluctant to move. But with my sculptures, I strive to convey a sense of fluidity and rhythm with titanium, creating the illusion that shaping the metal is as easy as twisting or folding a piece of fabric.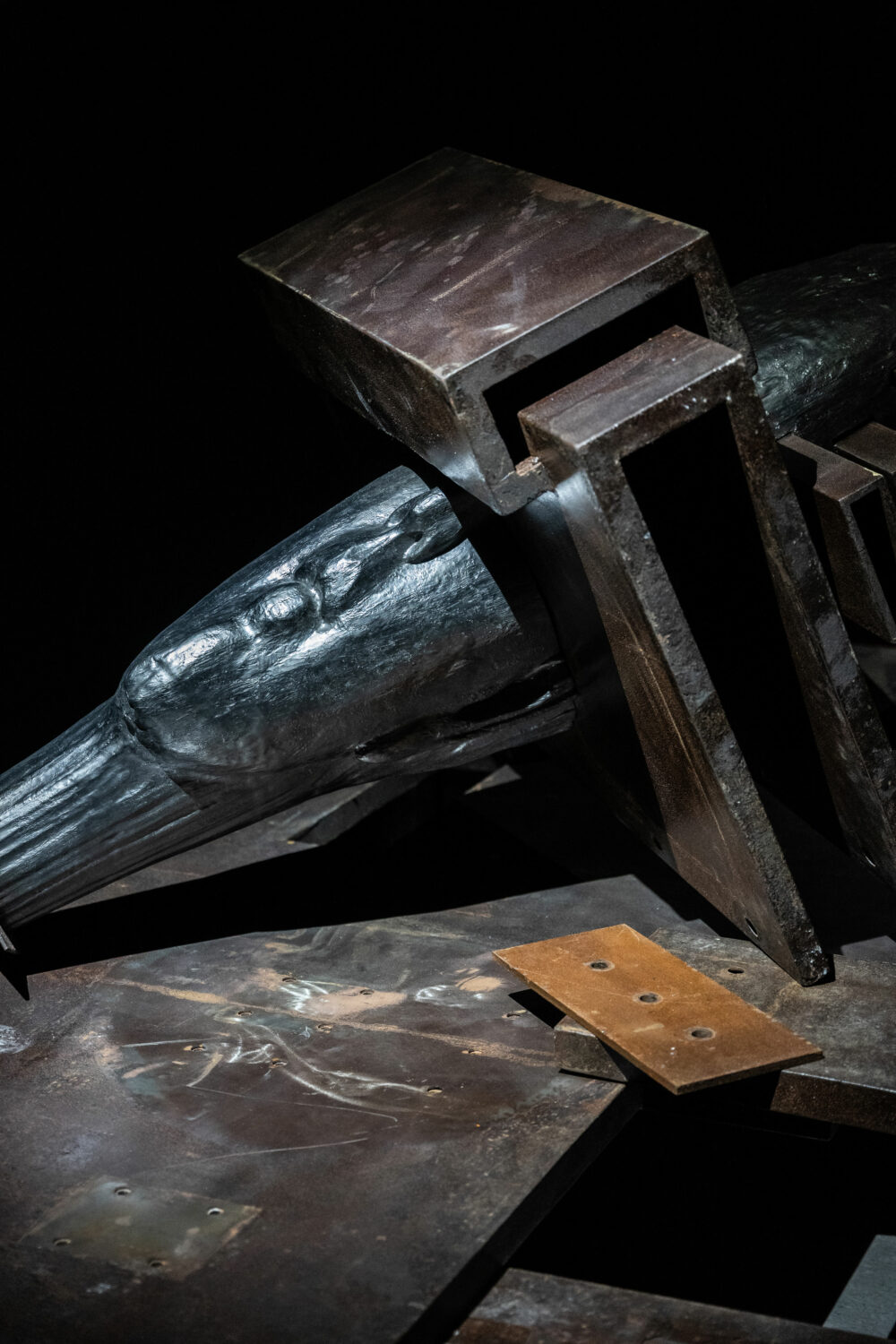 SC: Could you expand on the idea of the unassembled in this work — what does this format of display mean to you?
WC: By showing the sculpture unassembled, we have "opened up" the sculpture, so the viewers become part of it when they walk into the exhibition. If you think of the parts as the flesh and bones, then when we walk through the exhibition, we become the blood and energy circulating inside the body. There is not a designated path, so the viewers are free to choose their own. I am all about traveling freely between art forms, so having a sculpture on exhibit unassembled can also be considered my attempt to defy the definition of sculpture as an art form – it is now also a site-specific installation. Sculpture often gives a sense of stability, certainty and weight – but change is the only constant in life, and if a sculpture is to reflect the essence (or the dialogue) of time and materials, it has to have that element of change in it too.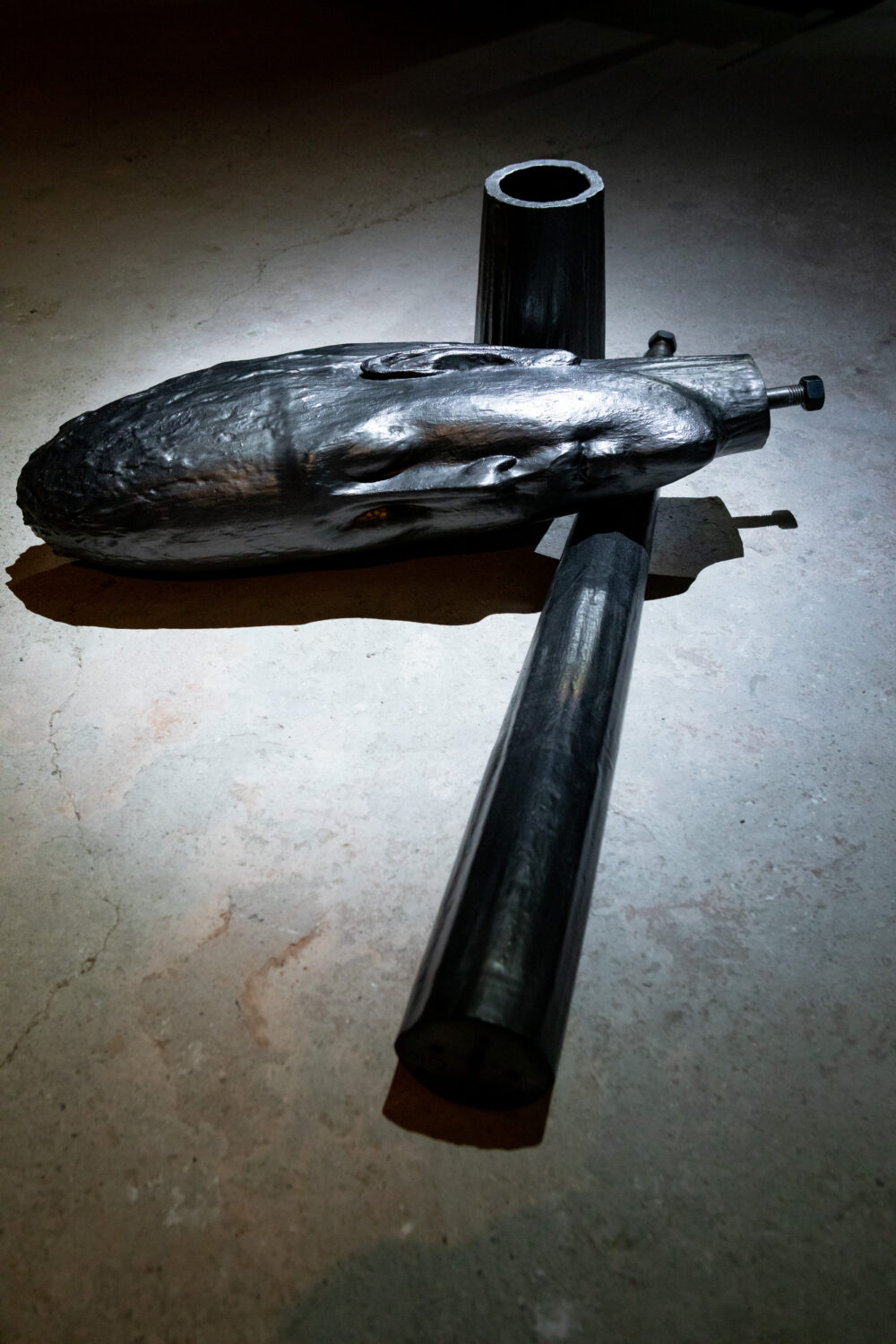 SC: And how was your experience working with curator James Putnam?
WC: I am humbled by James' presence. We worked together on our first exhibition, TITANS, which was held in 2021, during the pandemic. We spent a lot of time on Zoom and didn't get to meet before arriving in Venice for the installation of the sculptures. We decided to return to Venice this year with TOTEM. James has curated over 80 exhibitions in his life. He is also an expert in ancient art; and one of the first curators to juxtapose ancient art and contemporary art. I have learnt a lot from him and am looking forward to learning a lot more.



Wallace Chan: TOTEM runs at Fondaco Marcello, Venice until 23 October 2022.



Feature image: Wallace Chan at TOTEM, Fondaco Marcello, 2022. © Massimo Pistore