Interview: Iraqi Artist Hayv Kahraman On Claiming Agency, Painting & Probiotics
Baghdad-born Los Angeles-based Hayv Kahraman's multifaceted practice explores gender and body politics, migrant consciousness, and the marginal spaces of diasporic life, drawing from her personal history as an Iraqi émigré first to Europe and then the United States. Kahraman's canvases feature female figures that she describes as extensions of her own body; however, these women are not meant to exist as self-portraits. Rather, Kahraman views the figures as embodiments of a collective experience and reflections of the brown body indoctrinated into whiteness, representative of her effort to challenge the colonial legacy and dismantle European ideals. On display from tomorrow, 12 October 2022, Pilar Corrias will present a selection of recent and never-before-seen paintings and drawings by Kahraman at Frieze London. Several works on show have been painted with the lilac dye from torshi – a staple Middle Eastern dish of fermented vegetables said to improve the balance of bacteria in the gut, and in turn boost brain health. To learn more about the upcoming presentation and Kahraman's fascinating practice, Something Curated spoke with the artist.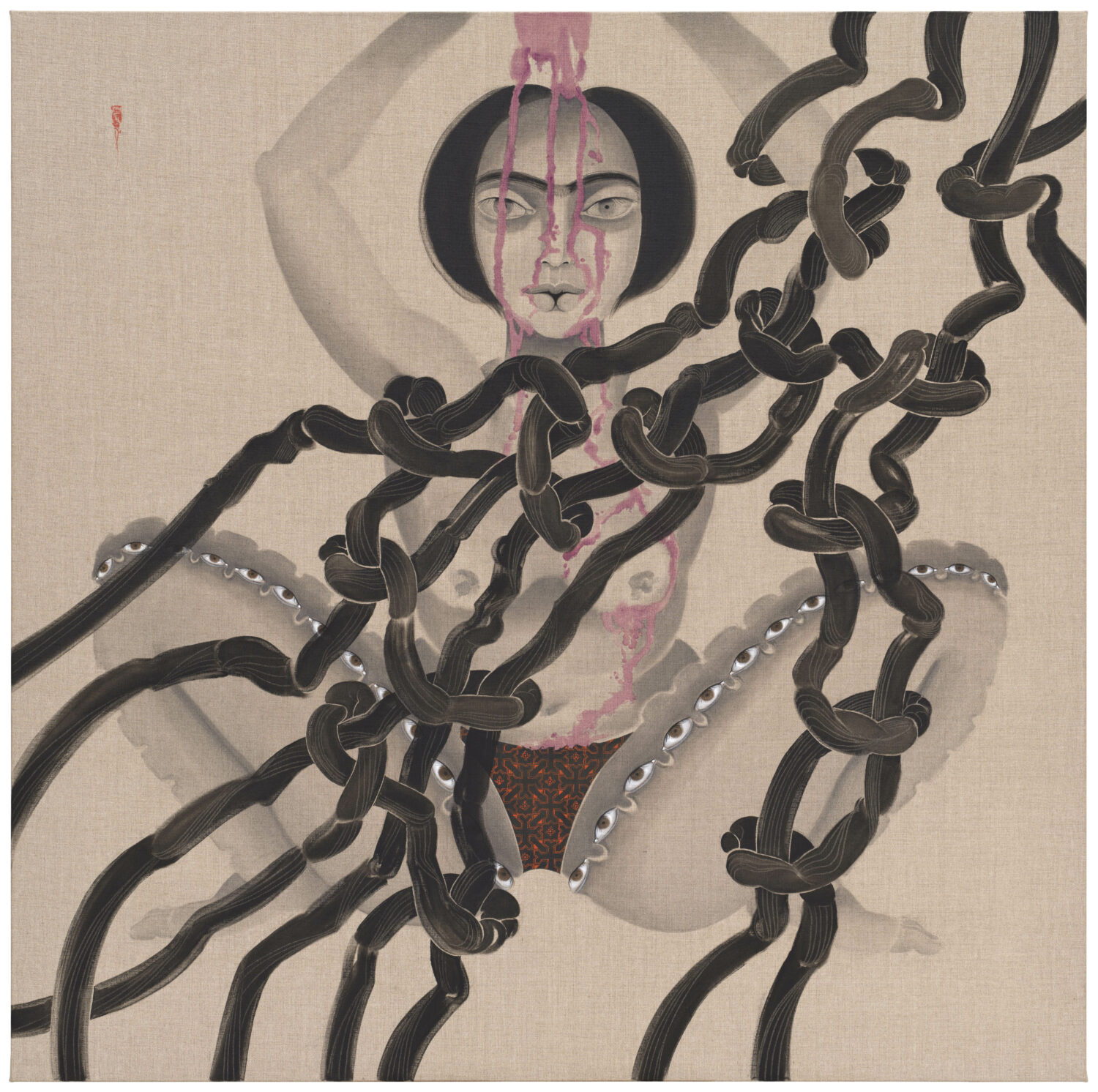 Something Curated: Can you give us some insight into your background and journey to art-making?
Hayv Kahraman: I'm an autodidact so I fell into art-making by chance. Thinking through making, whether it be painting or anything else, has a reparative function for me. Starting in Baghdad at a very young age I've always felt the necessity to make art throughout my life. It became an outlet and a tangible and embodied way to question things around me.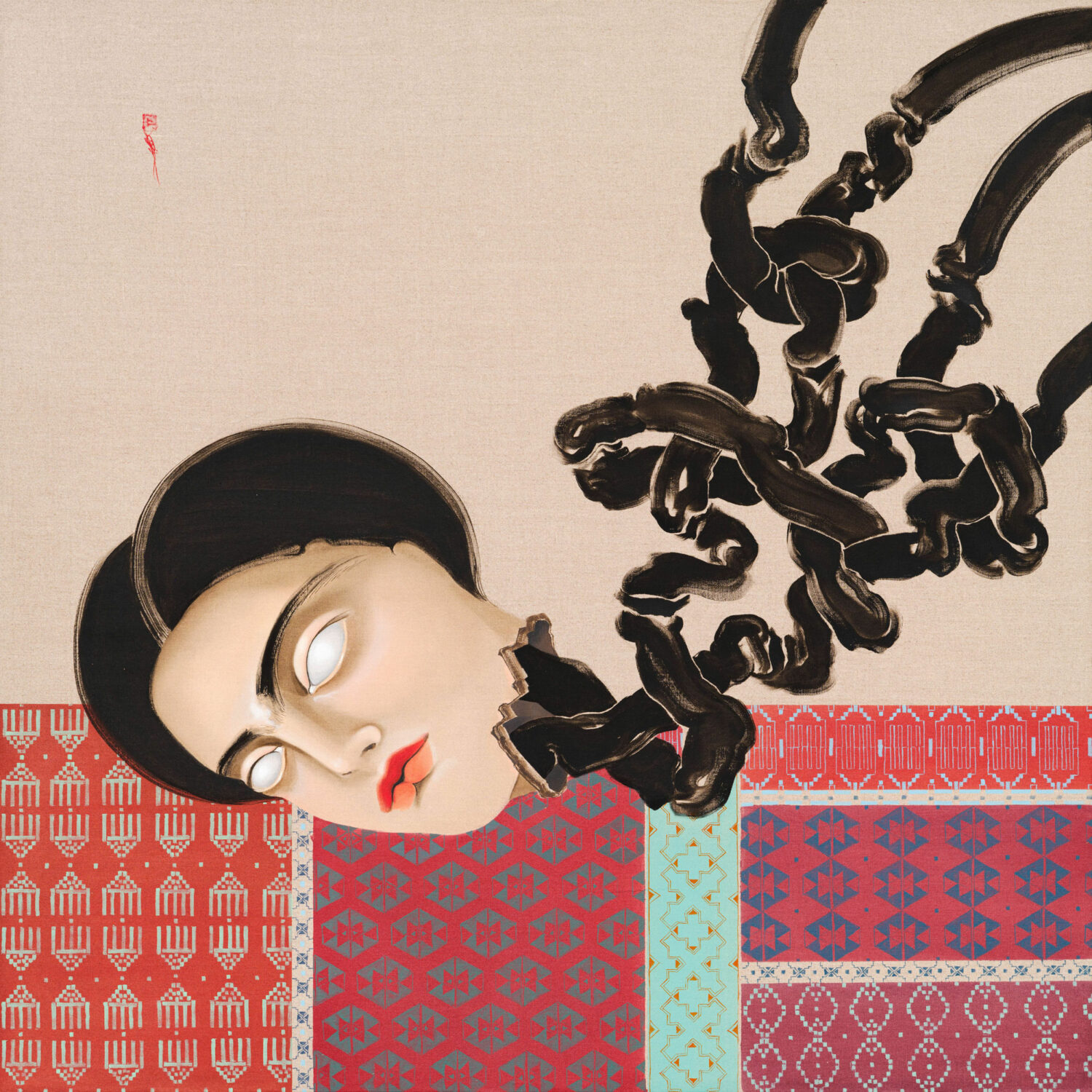 SC: Could you expand on the compelling figures you depict in your works — what influences their forms and the contorted positions you portray them in?
HK: The figures for me are representations of marginalised and Othered people. The de-humanised, the dispossessed, the migrant and anyone who is considered non-normative or deviates from what colonial and imperial powers deem to be lesser than. It's important for me to try and pave the way for agency in this figure and to have them reclaim the stage. The colour schemes and many elements of the figure are based on a myriad of things, including the illustrated manuscripts from the Baghdad school of miniature paintings, however there is also a European aesthetic that I choose to subversively embed in this figure as a decoy to hopefully hook the gaze of my audience. Examples include hand gestures, specifically that of Raphaello that I choose to mimic, and the contra posto – an element I use quite often. This weaves into my practise because I was a product of European assimilation, finding domicile in Sweden in the early 90's. The tension of becoming what your master demands you to become, and questions of invisibility and hyper-visibility are inherent in my personal history and my work.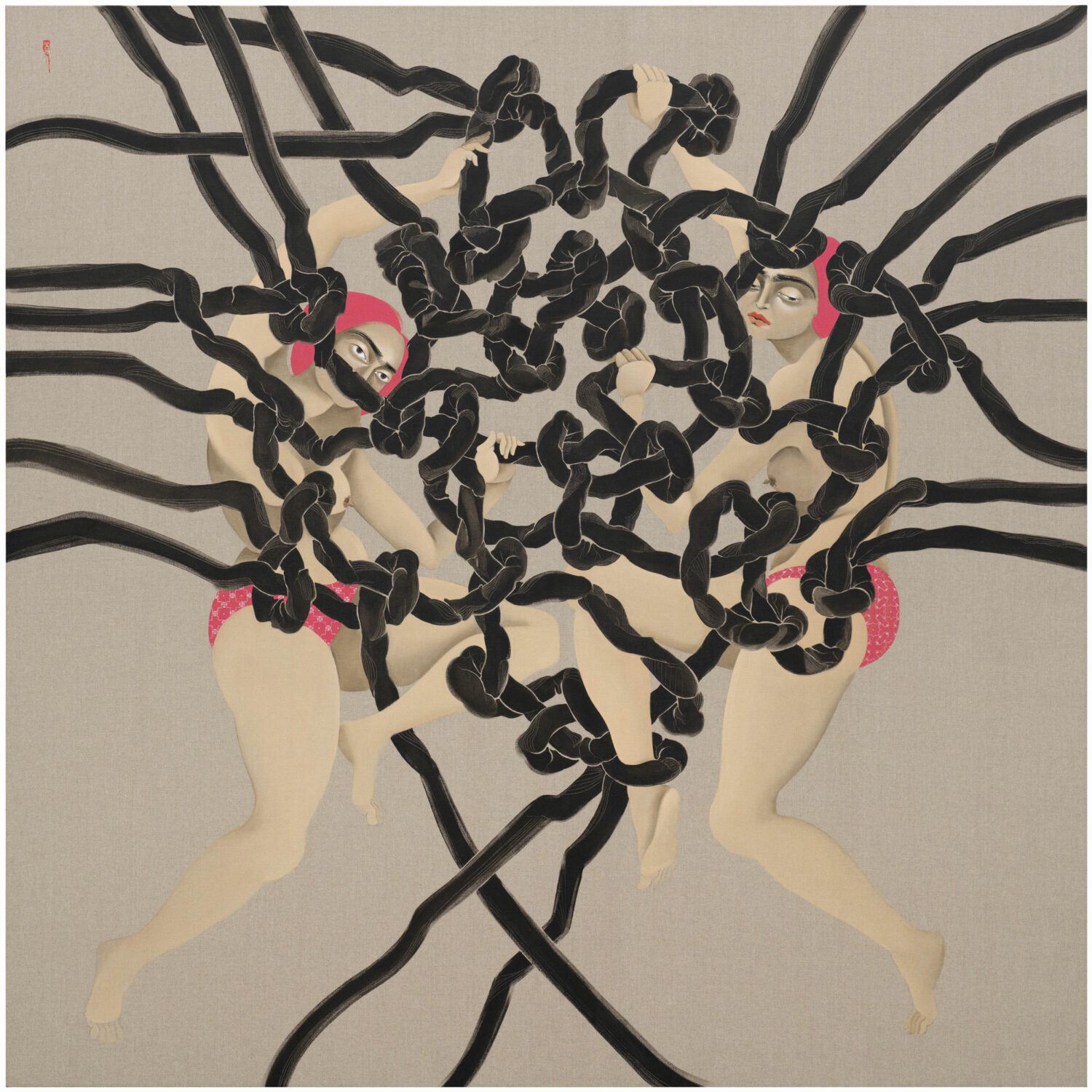 SC: What is the thinking behind the selection of works included in your upcoming presentation at Frieze London with Pilar Corrias?
HK: One of my main concerns throughout my oeuvre is thinking about difference. How is it perceived, projected, and embodied and can we learn to approach difference via a more generative approach? In these works I found an ally with the microbiome, the gut. Germs, bacteria and viruses etc. are societally deemed as invasive and 'dirty' things that we need to expel from our bodies and our environment. We have all heard that our gut is our second brain, this comes from the fact that we harbour millions of bacteria in our gut that effect our mental health, one of them for example produces serotonin; the hormone that makes us 'happy'. The bacteria sends serotonin from the gut via the vegus nerve to our brain. There is a beautiful correlation here between 'Otherness' and the microbes.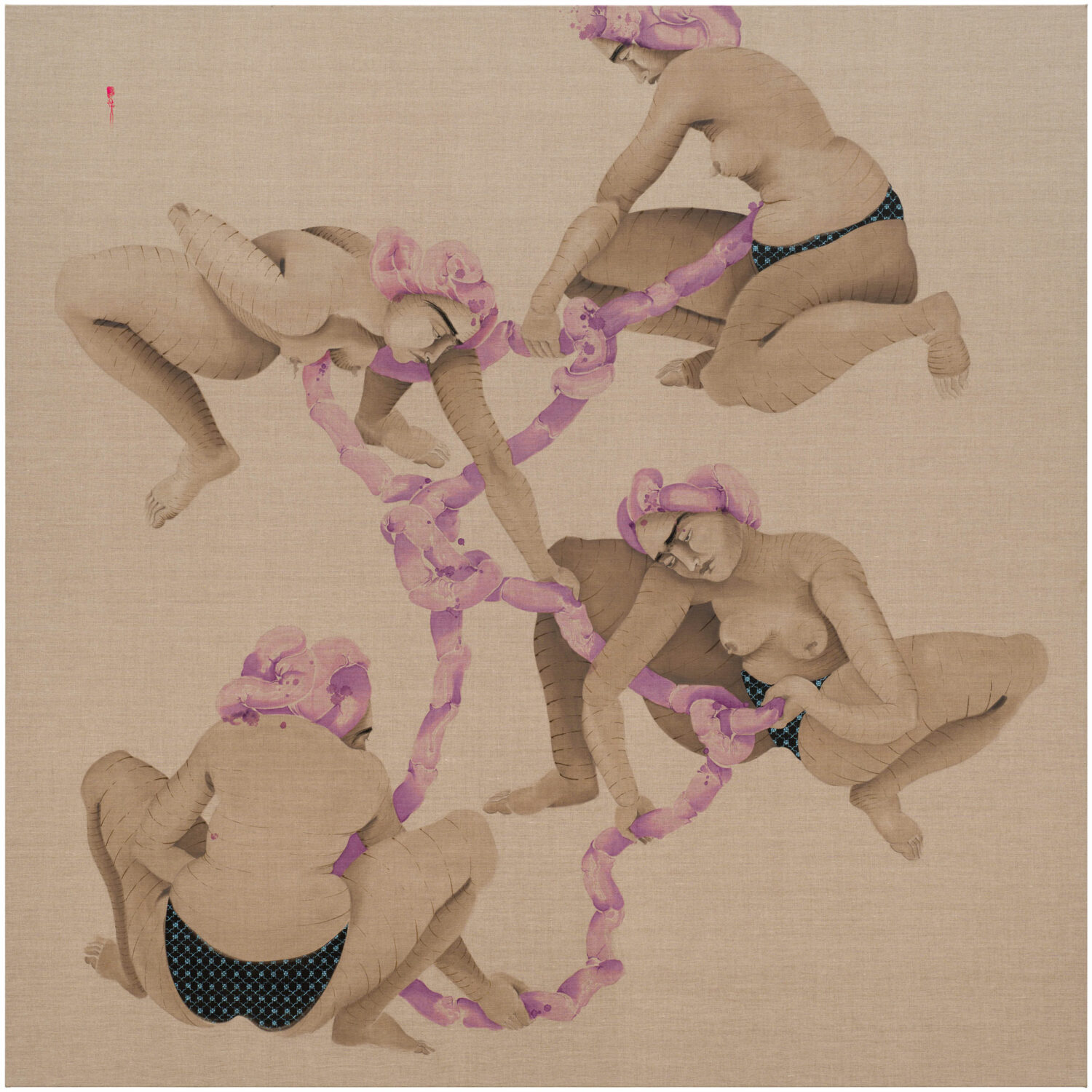 The idea of what makes us human in the enlightenment sense of the word becomes untenable, so I started making these entanglements that look like intestines, cords and hair or even neurotransmitters that interact with the figures. I found myself knotting the cords and then freeing them, trying to find connections between them. The core question is, can we see difference as collaboration instead of invasiveness? Can we live with this contamination and if so, can we perhaps heal by working with the messiness and these entanglements? I have created works in which I worked with microbes by painting with torshi, a fermented beet pickle made in the Middle East. We know that fermented foods increase the diversity of microorganisms in our gut, that in turn actually produce various neurotransmitters enabling us to feel things. I usually make several batches of torshi and start painting with it in an effort to collaborate with the bacteria.
SC: You work with a very particular palette — how do you approach using colour?
HK: I used to make small scale colour sketches for each painting but now I do everything on Photoshop, It's faster that way. I tend to veer towards subdued colours with perhaps one or two colours having a high chroma.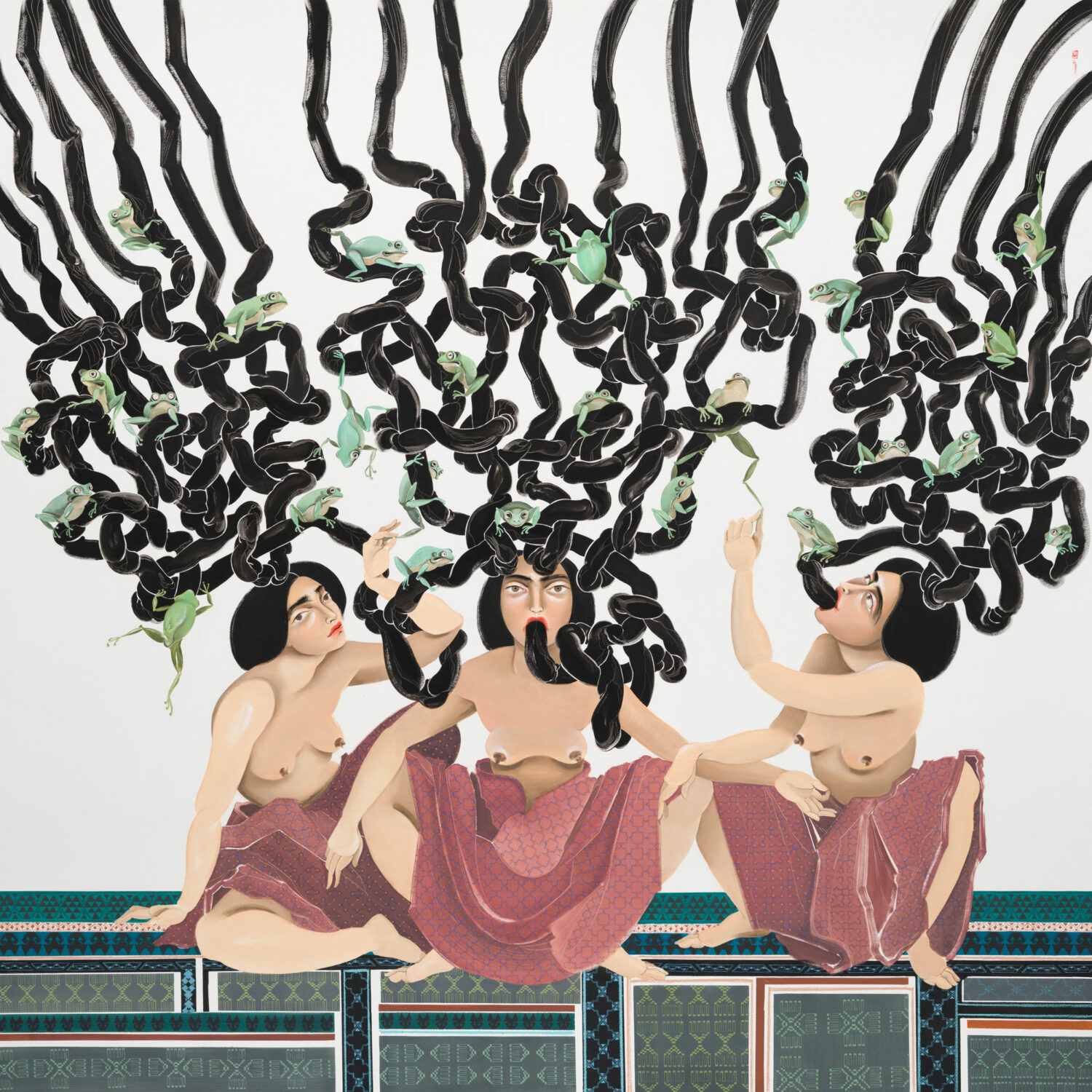 SC: What interests you in utilising handmade flax fabric as a surface to paint on?
HK: I was interested in seeing if there has been some sort of microbial interference with my linen or rather the production of it, and that's how I learnt about flax. The plant is grown to a certain height, then cut and laid on the soil for a few weeks. During this process, bacteria makes its way into the plant and separates the fibers from the stalk. This process in which a bacteria aides us in harvesting flax fibers is called retting. The fibers are then spun into thread and woven into linen. I decided to make my own substrate using these flax fibers, partly because I love the haptic quality of the material; but I'm also interested in finding ways to problematise linen. This process became a way to dismantle and reconstruct linen using my own process – an attempt to unlearn and re learn.
SC: And what are you currently reading?
HK: I'm reading a short book titled Colonial Botany and I just received Rosi Braidotti's new publication titled Posthuman Feminism in the mail that I'm excited about! 



Feature image: Hayv Kahraman, Brain Frog, 2022. Courtesy the artist and Pilar Corrias