Try Making Hoppers Founder Karan Gokani's Delicious Tamarind Prawn Curry At Home
With three outposts across London, the much-loved Hoppers offers up a mouth-watering selection of Sri Lankan and South Indian inspired dishes on their menus, from speciality hoppers served with chutneys and kari, and bone marrow rotis, to various sumptuous rice and lentil based favourites like idlis, dosas and vadas, alongside seafood aplenty. To celebrate the launch of Hoppers first cookbook, Karan Gokani, Co-Founder and Creative Director of the JKS backed concept, shares with Something Curated the recipe for his signature prawn curry. The below are his words.


TAMARIND PRAWN CURRY

This Tamil-style prawn curry originating from south India has been a favourite at Hoppers for years. I think the gorgeous tamarind complements the prawns perfectly and they really are a match made in heaven. I've tweaked our restaurant recipe a little to create more of a special occasion curry here that will take centre stage on your table. Cooking the prawns in their shells serves two purposes. It keeps the meat moist and juicy, shielding it from overcooking, while the heads also add a huge boost of depth and flavour to the curry. As with meat on the bone, I always cook fish and prawns with their bones and shell in at home as they 'self-stock' while cooking. At the restaurant we peel the prawns to make the dish easier to eat.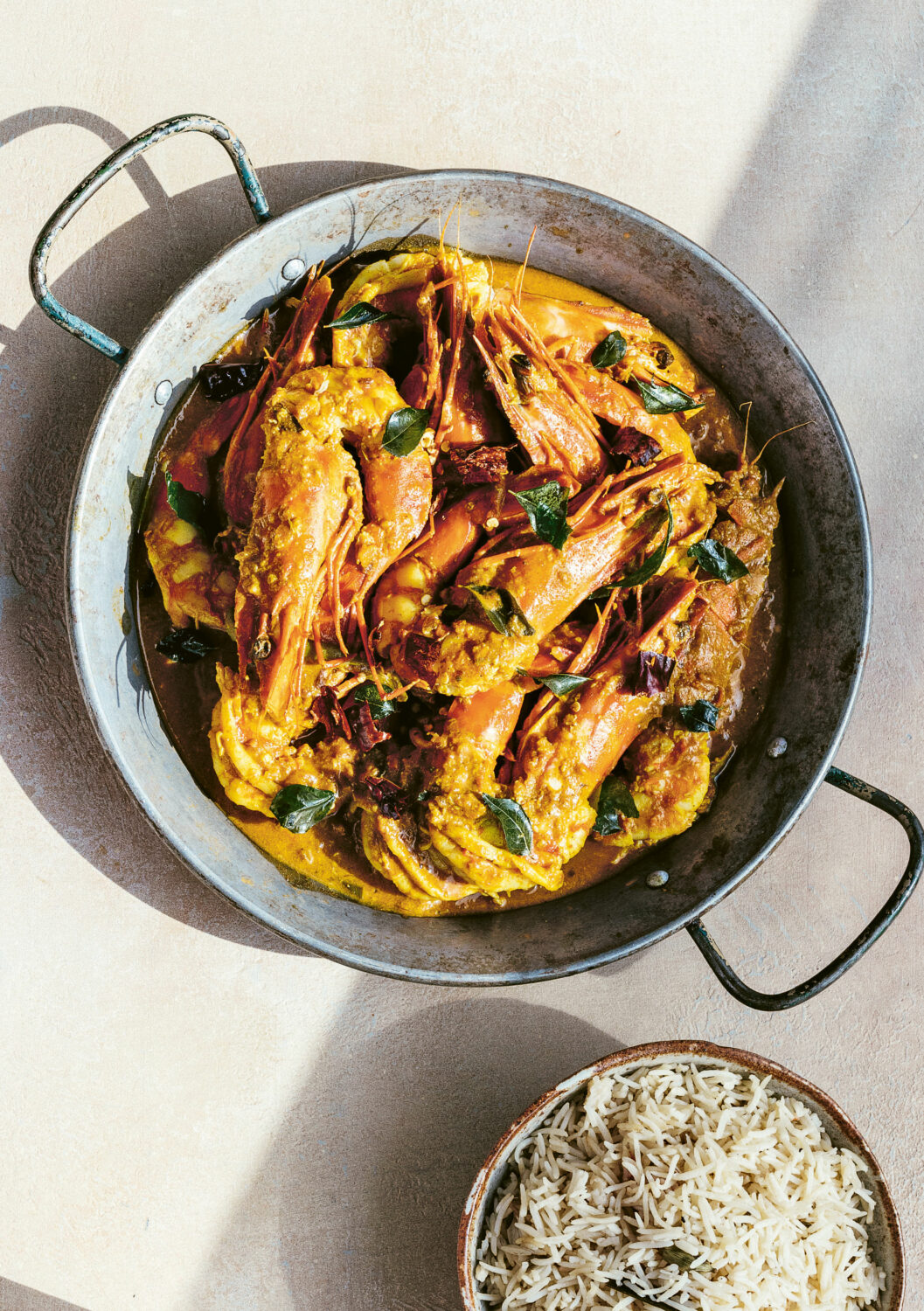 SERVES 4
10 large tiger prawns (jumbo shrimp), head and shell on (approx. 350–400g/12–14oz)
½ tsp ground turmeric
1 tsp salt
2 tbsp coconut oil
¼ tsp fenugreek seeds
8–10 curry leaves
2.5cm (1in) cinnamon stick
8 Thai shallots, finely chopped
2 tsp minced garlic
1½ tbsp Unroasted Curry Powder (further instructions below)
1½ tsp Kashmiri chilli powder
1 tsp ground coriander
100g (3½oz) ripe tomatoes (approx. 1 medium tomato), finely diced
150ml (5fl oz) coconut milk
4 tbsp tamarind paste
1 tsp sugar, plus extra to taste
1 green chilli, halved lengthways (optional)
chilli and curry leaf garnish to serve
1. Remove the middle shells from the prawns (jumbo shrimp), leaving the heads and tails attached. Place the shells in a small saucepan, cover with water and bring to a gentle simmer for 15 minutes. Remove the shells but keep the cooking water and set aside.
2. Remove the vein that runs down the back of the prawn, either by butterflying or sliding a toothpick underneath the vein and gently pulling it out. Toss the prawns with the ground turmeric and ½ tsp salt, cover and refrigerate for 30 minutes.
3. Heat the coconut oil in a saucepan. Add the fenugreek seeds, curry leaves and cinnamon stick. After 30 seconds, add the shallots and garlic, and sauté over a medium heat until the shallots turn translucent and soften. Add all the dried spices and sauté for a minute, until the raw smell disappears and they become fragrant. Sprinkle a little water into the pan if the spices begin to stick.
4. Stir in the tomato and cook until it breaks down into a pulp, stirring regularly. Once all the liquid has reduced, add 250ml (9fl oz) of the reserved hot prawn stock to the pan and cook until it has reduced by half. Now add the coconut milk and bring the sauce to a very gentle simmer. Stir through the tamarind, sugar and remaining salt.
5. When ready to serve, add the marinated prawns and continue to simmer for 6-8 minutes until they are cooked through, adding a little more stock if the sauce is too thick. Stir through the green chilli, if using, for the final minute of cooking. Adjust the seasoning to your liking with more salt or sugar. Sprinkle over some fried curry leaves and dried chillies before serving.


UNROASTED CURRY POWDER
This recipe is also known as thuna paha in Sinhalese, which literally translates as 'three and five', as there are usually eight ingredients in it. I have, however, seen recipes that have more or fewer than eight ingredients, but we've picked eight of the most vital ones to include in our recipe.
MAKES ABOUT 350G (12OZ)
150g (5½oz) coriander seeds
75g (2½oz) cumin seeds
40g (1½oz) fennel seeds
15g (½oz) fenugreek seeds
10g (¼oz) mustard seeds
25g (1oz) green cardamom seeds
5g ( oz) cloves
50g (1¾oz) cinnamon sticks or broken pieces
1. Preheat the oven to 70°C (160°F). Spread all the ingredients on a large baking sheet and place in the oven for 1 hour, shaking the tray every 20 minutes.
2. Leave to cool completely and grind to a fine powder in a blender or spice grinder. Pass through a strainer and grind any remaining large pieces. Transfer to an airtight container and store in the fridge for up to 1 month.


NOTE
The first step of drying the ingredients isn't to roast them, but simply to dry them. Removing any residual moisture from them will intensify the flavour of the ground powder and ensures it lasts a lot longer. If you live in a hot climate you could sun-dry the spices by placing them on a large tray covered by muslin (cheesecloth), for a couple of hours in the scorching afternoon sun.
Fresh curry leaves or drumstick leaves – great over everything from curries to barbecued dishes to stir-fries. Drumstick leaves are meant to have a 'cooling' property, so they are commonly sprinkled over dishes such as crab curry or prawns as those tend to be 'heat creating' in nature.
Julienned ginger and green chillies, halved lengthways – great over curries if you want an added kick of fresh spice.


Hoppers: The Cookbook is available to order now.



Feature image by Ryan Wijayaratne