Born in Singapore to Malaysian parents, chef Abby Lee Xin Pei grew up watching her grandmother cooking Asam Pedas, a classic Malaysian stew dish translated literally as "sour spicy," and eating coconut pancakes and wonton noodles from the local street stalls in her parents' hometowns of Taiping and Cebu. The chef earned her diploma at Le Corden Bleu, where she honed her cooking skills before moving to Italy at the end of 2018 to cook at the Michelin-starred Pashà Ristorante, near the city of Bari. Following the launch of her mouth-watering concept Mambow in Shoreditch, which opened in 2020 and was sadly shuttered during lockdown, the chef has returned, this time to South London with Mambow in Peckham. Located at 133a Rye Lane, the eatery shines a light on the beauty and complexity of Malaysian cuisine with a regularly changing menu, including warming Laksa, flavourful Nasi Lemak, seafood, and plenty of plant-based options. To experience a taste of Mambow at home, Xin Pei shares with Something Curated her recipe for a sumptuous Gulai Nangka, or in English, jackfruit curry. The below are her words.



Gulai Nangka (Jackfruit Curry)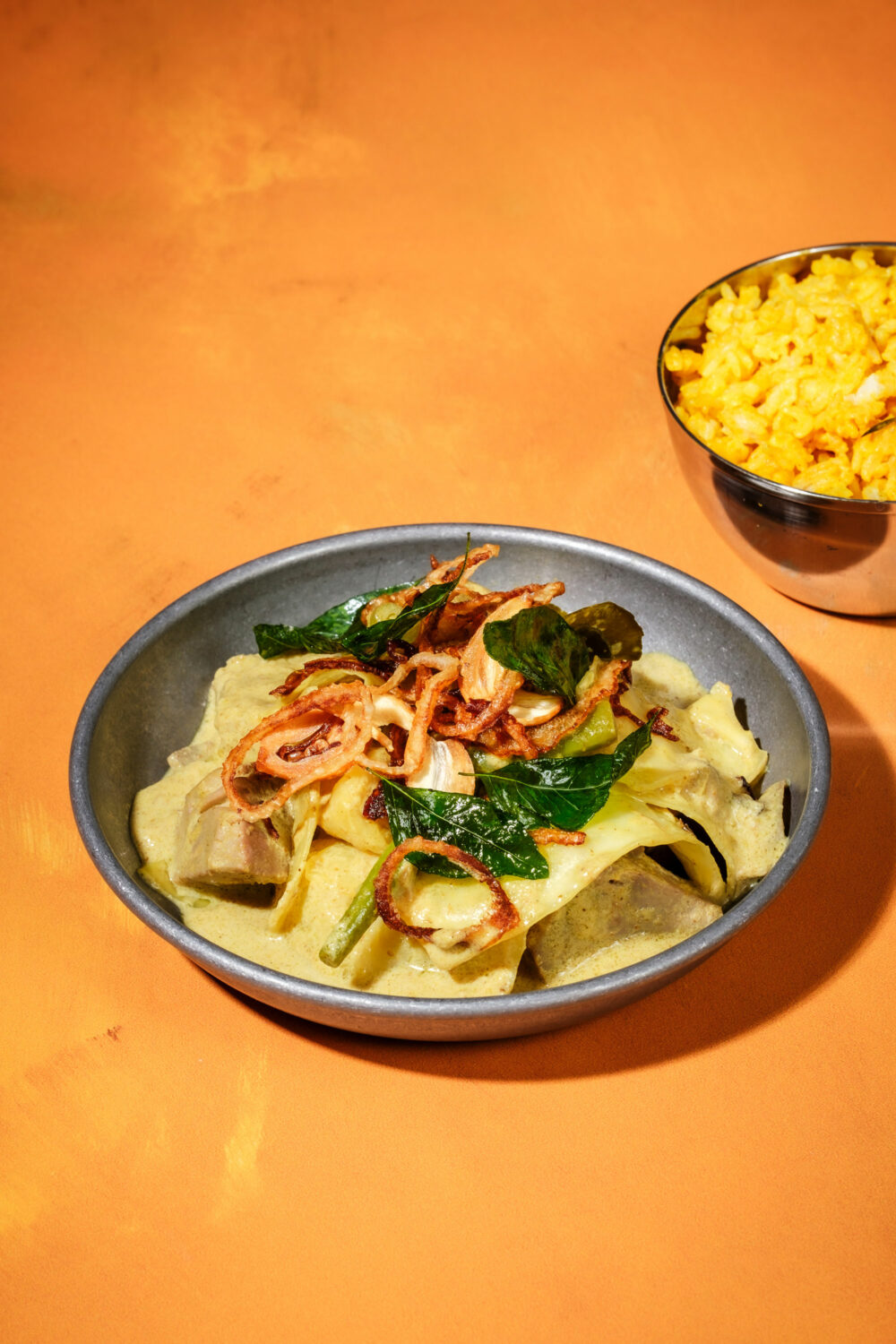 Ingredients
Serves 4
480g canned young green jackfruit
120g Gulai paste*
10g curry powder*
6 pcs kaffir lime leaf
280g coconut milk (Aroy-D is our favourite brand)
4g Gula Melaka (or another type of palm sugar)
280g water
1 Asam Gelugor (or 1 tsp tamarind concentrate to taste – Vietnamese or Thai brand preferably)
145g white cabbage – cut into big chunks
40g green beans – ends off and cut into two
fine sea salt to taste
100ml rapeseed or vegetable oil
Gulai Paste
20g soybean paste or white miso paste
65g shallots
10g garlic
15g ginger
5g red birds eye chilli
Curry Powder
½ tsp ground turmeric
½ tbsp ground cumin
½ tsp ground fennel
½ tbsp ground coriander

Method
Chop the ingredients for the Gulai Paste roughly and put into a food processor, blend till smooth.
Mix the ingredients for the curry powder, and it's ready to go.
Heat a medium saucepan with vegetable oil to a medium high heat. Add the Gulai Paste and Curry Powder, stir well and fry the paste until it is fragrant, for about 5 minutes.
Drain and add your jackfruit pieces to the pan. Coat each piece well with the paste. Add water to the pan so the jackfruit is nearly covered. At this point, add your seasonings – Gula Melaka, Asam Gelugor, salt. Let this simmer for 45 minutes.
Towards the last 10 minutes of cooking time, you can then add kaffir lime leaf, white cabbage, green beans, and coconut milk. Do not overboil the coconut milk.
Taste at the end and decide if you need to add more sugar, salt or tamarind.



Feature image: Gulai Nangka (Jackfruit Curry). Photo: Mambow