5 Extraordinary Fireplaces Blurring The Lines Between Art & Design
Occupying a liminal space between fine art and the everyday, functional art refers to aesthetic objects that serve utilitarian purposes. The fireplace has long proven itself to be a fruitful site for this type of exploration, with eminent artists and designers having tested and reimagined what an operative fireplace can look like for centuries. Throughout art history, the fireplace has also appeared as a motif in diverse forms, from etchings and paintings to sculptural installations, typically signifying the domestic. Sparking surprise and inspiration, Something Curated takes a closer look at five magnificent examples of fireplaces that blur the lines between art and design.



Baboon (Baviaan), François-Xavier & Claude Lalanne, 1973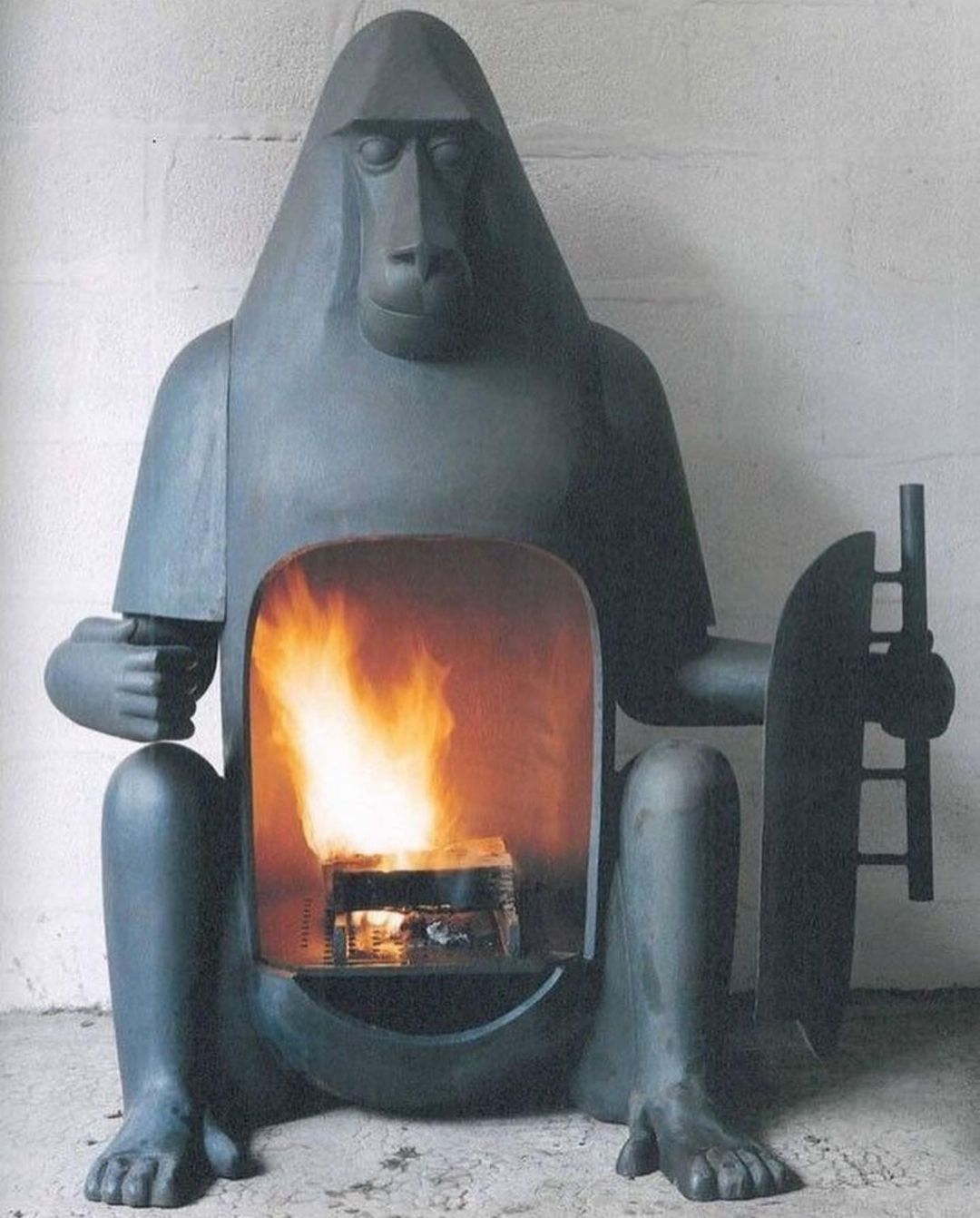 The work of Claude and François-Xavier Lalanne, who are collectively referred to as Les Lalanne, eschews categorisation, at once surrealist, classical, contemporary, fine art, decorative art and functional design. After the space-age monochrome modernism of the 1960s, the 1970s heralded a refreshed taste for nature and the organic in design, exemplified by the works of this imaginative duo. Les Lalanne were one of the most dynamic art couples of the 20th century. Courted by Surrealists and celebrities alike, their distinctive blend of fine and decorative arts, based on naturalistic forms – embodied by this spectacular Baboon wood burner – has made their work highly prized by contemporary collectors today.



Fireplace at Gertrude Vanderbilt Whitney's studio, New York, Robert Winthrop Chanler, 1918-1923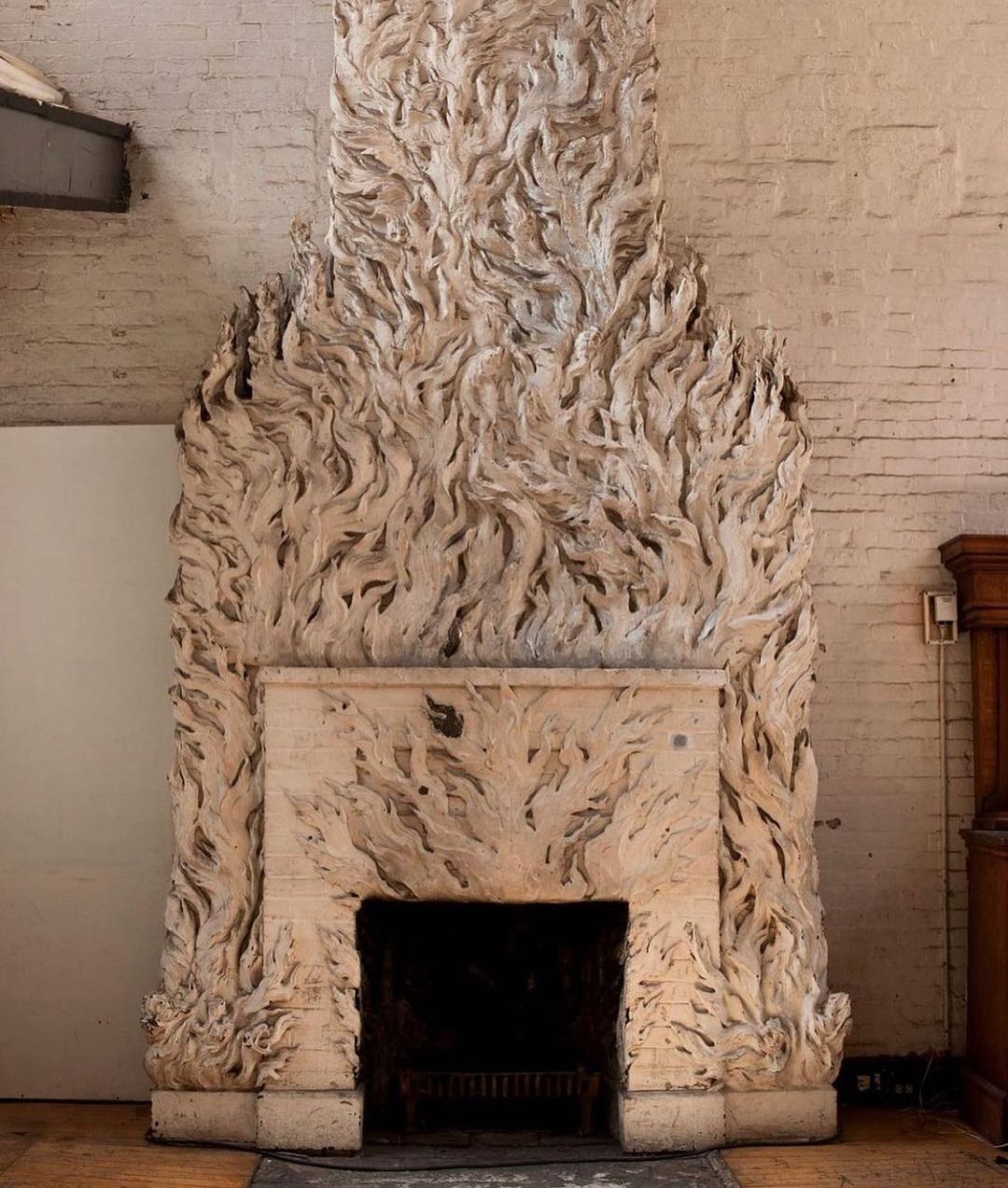 Robert Winthrop Chanler was well known within the burgeoning New York City art scene bolstered by Gertrude Vanderbilt Whitney in the 1920s and 30s. When Whitney commissioned Chanler to design the interior of her private studio, he created a monumental, three-dimensional fireplace that displays his evolution as a technical and stylistic innovator. Climbing a twenty-foot wall with expressive force, the Whitney fireplace is a brilliant counterpoint to his more prevalent work in murals, stained glass and painted screens. Installed over an existing brick fireplace with moulded flames in bronze and plaster decorated with layers of metal leaf and glazes, now obscured by layers of paint, the fireplace conveys an exuberant sense of dynamism.



Mae West Room, Salvador Dalí, 1975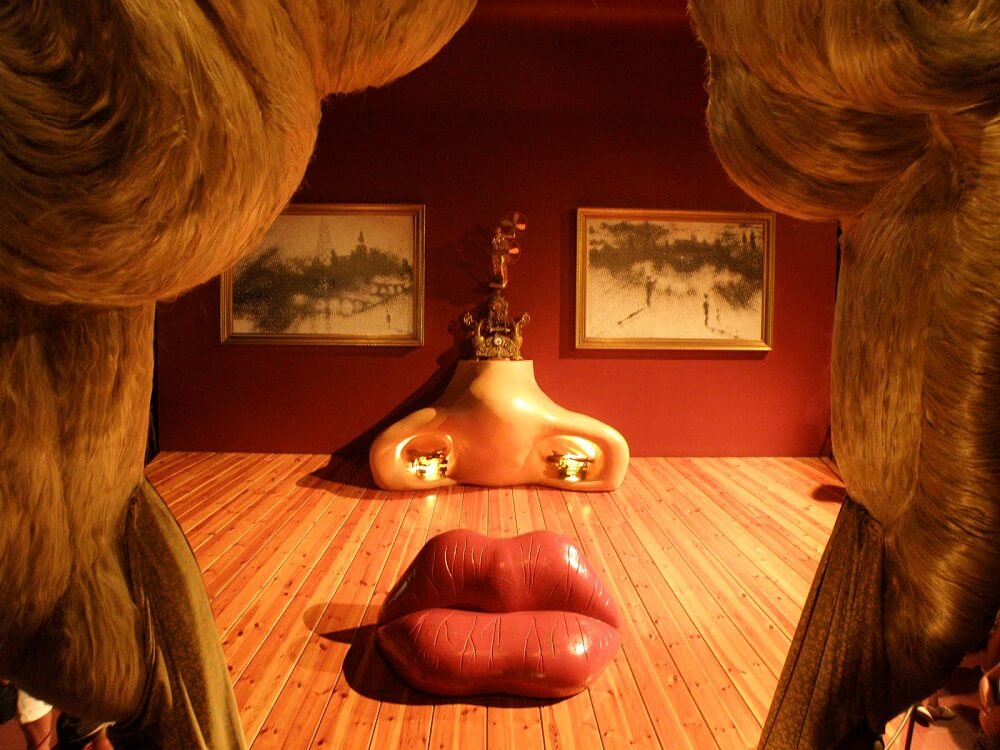 Salvador Dalí was long fascinated by the beauty of 1920s Hollywood film star, Mae West. In 1934, Dalí created a work utilising a newspaper photograph of West, in which he transformed her face into an apartment. In this architectural scene, West's facial features become furniture and ornamental motifs, forming a surrealist depiction of a living room. Several years later, Dalí used this collage as a reference for the artist's Mae West Room, further developing the concept with Catalan architect and designer Òscar Tusquets into a three-dimensional space. Alongside the room's immediately recognisable lips sofa, West's nose is formed by a very unusual fireplace, with the inside of each nostril warmly glowing.



Fireplace at Villa della Torre Allegrini, Fumane, Giulio Romano & Michele Sanmicheli, 1562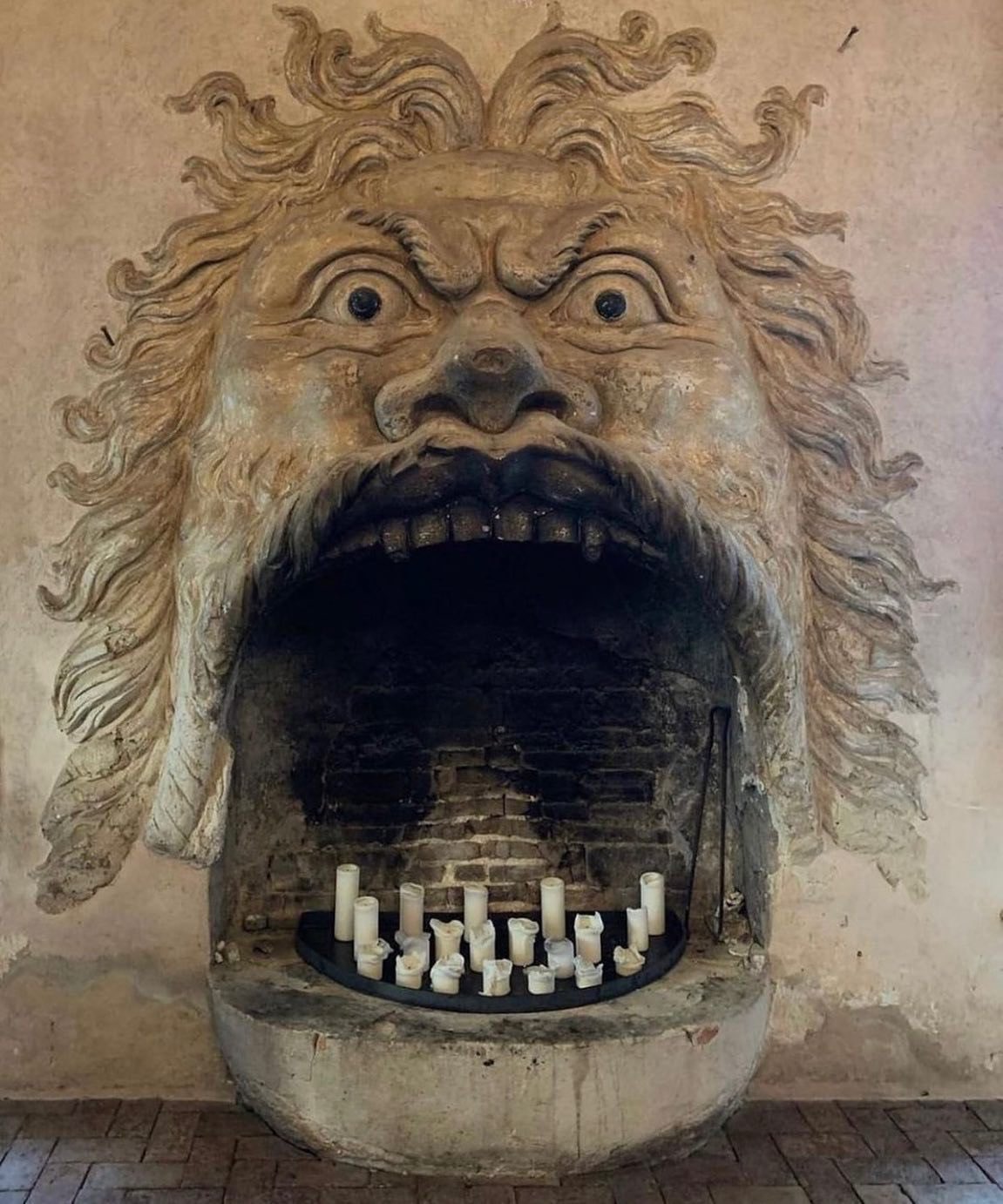 Villa della Torre, a jewel of the Italian Renaissance, was designed by Giulio Romano and Michele Sanmicheli between late 1440 and 1562, according to the model of the ancient Roman domus. It now houses a wine and art collection and is home to the Villa della Torre winery. The original building is not only a country house conceived for utilitarian purposes and connected to the agricultural activities of the estate, but also a place envisaged for the peace of body and soul according to the canons set out by authors of the Latin period. The startling and fascinating zoomorphic fireplaces across the site pay tribute to the force and beauty of fire; animated by grotesque, ironic spirits, they portray life-like animal features.



Flash Face, Tori Wrånes & Hanne Kolstø, 2011
The most outlandish addition to this line up, and technically not a functioning fireplace, comes from Oslo-based Tori Wrånes, a visual artist and vocalist whose multidisciplinary practice unfolds across performance, sculpture, video and installation. Her use of sound, musical instruments, costumes, props, architecture, and sculptures, mutates her appearance and creates new rituals and dreamlike constellations. The artists' collaborative work, Flash Fire, made with Hanne Kolstø, was first shown at the opening of the Sigurd Köhn building, University of Agder, Kristiansand, Norway in 2011. The mesmerising work imagines a log fire as a costume of sorts, personified and mobilised by its wearer.



Feature image: Mae West Room, Salvador Dalí, 1975. Photo: Wikimedia Commons