Rodrigo Cervantes's Mexico City notebook
There's a vast social, racial and economic divide in Mexico's society: permeated by violence, corruption and the ever present colonised complex that has shaped us as a country. In a state of tumult and volatility such as this, we crave consistencies. In my case, and in the case of millions of other Mexicans, food is something we can all hold onto and always hold onto. Nowhere is this truer than in the case of the taqueria: a place where a steaming food stand, lit by fluorescent lights, with a taquero yelling out orders as they lay warm over a plastic plate, draws the richest, the poorest, the criminal, and the entrepreneur – where everyone ends up eating tacos, standing on the side of the road.
These are my 24 favourite taquerias and cantinas in CDMX. ¡Que aproveche!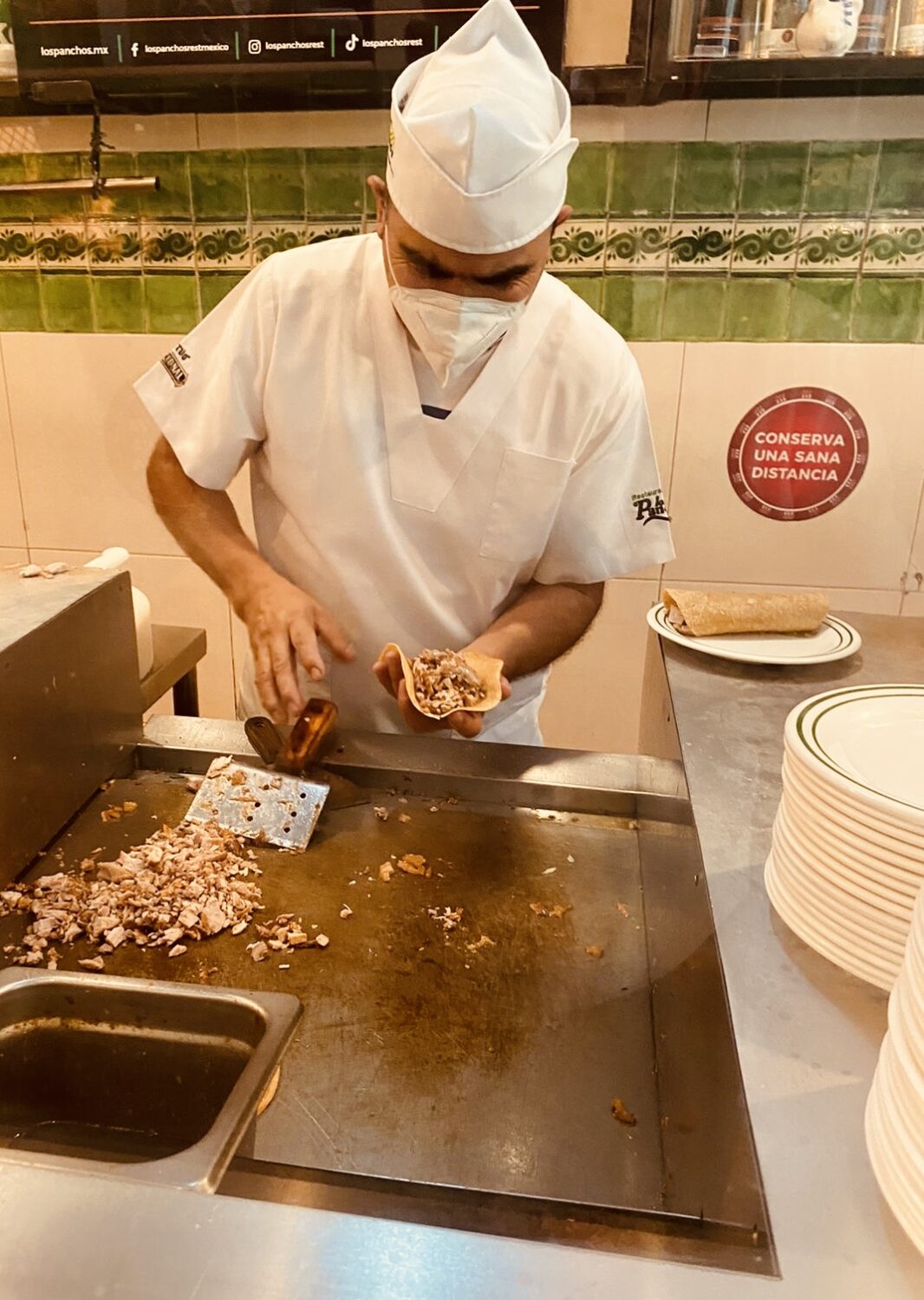 TURIX
"El Turix" is one of my favourite places to get cochinita pibil in the city. It's located in Polanco, a very posh neighbourhood, but this taqueria remains simple in the way, say, a caff in London does. It features a similarly straightforward menu that focuses on variations of cochinita pibil – a high-acid Yucatec Mayan slow-roasted pork dish from the Yucatán Peninsula. If you're hungry, get the torta, but I highly recommend the panuchos, a thick tortilla filled with refried beans, topped with cochinita, charred habanero salsa, the classic pickled pink onions and fresh habanero (insanely spicy) and a squeeze of lime.
Av. Emilio Castelar 212, Polanco, Polanco III Secc, Miguel Hidalgo, 11540, CDMX


MARIA ISABEL QUESADILLAS
In the same neighbourhood of Polanco. This loncheria (snack bar) serves the city's best quesadillas. Throughout the open kitchen you can see the aunties pressing, filling and frying quesadillas. This type of quesadilla is more like a masa empanada. There's this big joke with Mexicans about Mexico City being the only state where quesadillas (literal translation: "little cheese") don't actually have cheese.
And you can see that on Maria Isabel's menu: chicharron prensado (pressed pork belly), squash blossom, huitlacoche (corn mushroom), chorizo and potato. (Of course, some of them do have cheese). Definitely try the quesadillas de sesos (calf brain). On each table you'll find an assortment of sauces, and the secret is to mix the house salsa verde with the crema and dunk the quesadillas right in.
Av. Emilio Castelar 14 Local BCD CDMX, 11560 Talmas, CDMX


TOSTADAS COYOACAN MARKET
Coyoacan is such a beautiful neighbourhood, an artistic and intellectual one. Back in the 1920s the big artists used to live there, and it carries a lot of history. Diego Rivera, Frida Kahlo, Leon Trotsky all lived here during their lives. In the middle of this neighbourhood there's an indoor market and right in the middle, there's a bright yellow and red spot. I love the jaiba (crab). A very simple dish, a fried tortilla topped with crab, avocado, iceberg lettuce add salsa and lime. Delicious. Also the pata tostada is amazing — pata is a sort of pickled pig trotter, tart and gelatinous.
Mercado de Coyoacán, Ignacio Allende No.49, Del Carmen, Coyoacán, 04100 CDMX


LOS PANCHOS
Very traditional, specialising in carnitas. I believe they have opened a few branches around the city, but this one is the original.
Tolstoi 9, Anzures, Miguel Hidalgo, 11590 CDMX


EL FARAON ROMA
Roma neighbourhood was an up and coming neighbourhood 10 years ago when I lived in Mexico, but nowadays has become heavily gentrified. But there are things which remain the same. Like this taqueria, El Faron Roma. Get the bistec (beef) with cheese and pot beans (frijoles de la olla). (As of autumn 2023, Faraon's owners are refurbishing the taqueria.)
Av Oaxaca 93, Roma Nte., Cuauhtémoc, 06700 CDMX





EL VILSITO
One of the most famous taquerias in CDMX. You've probably seen it in some Netflix documentaries.
If it's late, you're drunk and hungry, this is the place to go. Great pastor tacos.
Petén 248 y, Av. Universidad, Narvarte Poniente, 03020 CDMX


TACOS TONY
Going a bit further down the road from El Vilsito, you'll find this drive-in taqueria where you can park your car and they'll take your order and bring over your food. If you don't have a car, you'll have to eat standing up, like at a proper taqueria. It serves my favourite suadero (incredible), head meat, and longaniza tacos.
Torres Adalid 1702, Narvarte Poniente, Benito Juárez, 03020 CDMX


LOS PICUDOS
All the proteins are cooked over charcoal. They've been open for 38 years and still got a Mexico 70's vibe in the restaurant. Los Picudos has been imitated by more trendy taquerias, like Orinoco Tacos.
Moras 230, Tlacoquemecatl del Valle, Benito Juárez, 03200 CDMX


HOLA EL GUERO
You can find so many styles of tacos, it seems to me that tacos are more of a concept and you can find so many variations of it. As long as there's a nixtamalized corn tortilla, you can put anything on top. One of these variations is stew tacos (tacos de guisado): Like onions and liver, chicharron en salsa verde, mole, nopales, and creamed poblano chiles. You choose one stew for your taco, top it with rice, beans, or even hard boiled egg (depending on taqueria). This is the working class kinda taco. I remember going there for lunch, when I used to work in an office, and finding office workers, cab drivers, and the ladies from the salon all sitting in the street eating their lunch.
Ámsterdam 135, Hipódromo, Cuauhtémoc, 06100 CDMX


EL BORREGO VIUDO
Every time I land in Mexico City, this is my first stop, because it is always on my way home. Open 24 hrs, they have a massive parking lot and about 20 waiters that fly around the parking lot, taking orders and running food.
It's always buzzing at night with people stopping for a taco in between parties or after the club. It's known for the al pastor tacos (which are great), but maybe you'll want to push the boundaries … since it also serves eyes, tongue, head, brain — delicious stuff.
Av. Revolución 241, Tacubaya, Miguel Hidalgo, 11870 CDMX


EL HIDALGUENSE
Very famous for its barbacoa and ant larvae (escaroles) tacos.They say ant larvae is the Mexican caviar (well… maybe just my dad does.) It's a very sweet and earthy flavour, usually cooked in butter, here served in a bowl with tortillas on the side for a DIY taco.
Campeche 155, Roma Sur, Cuauhtémoc, 06760 CDMX


TACOS DE MIXIOTE CASTELAN
Mixiote is mutton or lamb wrapped in agave leaves and cooked in an underground pit. (Although it seems it is now illegal to prepare mixiote using this method, due to the protection of maguey plants.) I am not sure of the technique this place uses, but it is worth trying. I really love this taco.
Juárez, Cuauhtémoc, 06600 CDMX


TACOS EL PONCHO
This unremarkable-looking street food stand might easily go unnoticed, but its proprietors make their own tortillas and hand-press them to order, which is not true of many taquerias. The sauces are amazing — it has an amazing salsa roja and an avocado-based salsa verde (like guacamole but spicier). It closes early and there's always a queue.
Teotihuacan, Colonia Condesa, Cuauhtémoc, 06100 CDMX





EL PESCADITO
Fish tacos, Sonoran style. I'm in love with this place. As you walk in you are greeted with a big frying bowl, filled with oil and all around the sides battered fried prawns, fish, and chillies stuffed with smoked marlin. And a taquero just dipping his hands in wet batter and frying. The menu is simple, but trying the smoked marlin stuffed chillies is a must. Everything is great though. Once you have received your tacos, you have a sort of salad bar, filled with pickles, salsa and all sorts of toppings from which to help yourself.
C. Atlixco 38, Colonia Condesa, Cuauhtémoc, 06140 CDMX


EL JAROCHO DE LAS LOMAS
Seafood cocktail in a street food cart. This guy has been parking his cart in this corner for decades, every morning after getting hold of the freshest seafood.
The speciality is prawn cocktails, but Mexican-style, specifically from Veracruz state, in the Gulf of Mexico. They're usually served with a spicy ketchup sauce – which I've heard includes Fanta soda – cooked prawns, onion, coriander, avocado and served with a side of cheese crackers. But sometimes you can get oysters, octopus, scallops, too. There's also this great sauce called salsa bruja (witch sauce) made with chilli_infused vinegar, herbs and spices, which they use to finish the cocktail and makes it extra spicy and acidic.
He opens from 11am to 4pm everyday apart from Sunday. Iturrigaray 105, Lomas – Virreyes, Lomas de Chapultepec, Miguel Hidalgo, 11000 CDMX


EL JAROCHO (Taqueria)
Located in the Condesa neighbourhood since 1947, this is a pretty safe bet for stew tacos.
Tapachula 94, Roma Nte., Cuauhtémoc, 06760 CDMX


TAQUERIA SELENE
Great for al pastor tacos.
Leibnitz 51-C, Anzures, Miguel Hidalgo, 11590 CDMX


FONDA 99
This a great old-school and relaxed spot in the neighbourhood of Del Valle, serving food originally from Yucatan.
Moras 347, Tlacoquemecatl del Valle, Benito Juárez, 03100 CDMX





TACOS MANOLO
This spot started as a street food stand and eventually opened up as a restaurant.
They have what's called an "Arab taco," which is served in pita bread, rather than corn tortilla, filled with thinly chopped beef and served with cheese. There's a big Lebanese community in Mexico City and you can see the influence in some taquerias. The peanut salsa is amazing. Manolo is open until 4am on the weekends.
Moras 347, Tlacoquemecatl del Valle, Benito Juárez, 03100 CDMX


TACOS CHARLY
Great suadero and pastor tacos. Legend has it that Maradona ate there … but I can't vouch for that.
Av. San Fernando 201, Toriello Guerra, Tlalpan, 14050 CDMX


RINCON TARASCO
Though I have never eaten here, at least five trusted people I asked have mentioned it serves the best carnitas in the city.
Av. José Martí 142, Escandón I Secc, Miguel Hidalgo, 11800 CDMX
---
I have always been fascinated by cantinas, places mainly focused on serving drinks, but always have a menu for food, too. Sometimes that food is amazing.
Here are three cantinas worth the visit.

Cantina El Mirador
In the neighbourhood of San Miguel Chapultepec, this old-school cantina serves some really good food: Some Spanish dishes, but mostly very traditional Mexican dishes. Chamorro (which is a 'cantina dish'), trotter tostadas, tongue tacos Veracruz-style, calf brains Toluca-style.
The Neighbourhood is worth a walk, as it features beautiful houses, a few art galleries and Luis Barragan Studio, which you need to book a few months in advance.
Rosales #1 esquina Puente de Alvarado, Eje 1 Pte 1, Tabacalera, Cuauhtémoc, 06030 CDMX


Cantina del Bosque
The chamorro tacos served here are amazing. Chamorro is the braised leg of beef (or sometimes pork) which is then confited in the rendered fat.
Cl. 13 de Septiembre 29, San Miguel Chapultepec I Secc, Miguel Hidalgo, 11750 CDMX


Cantina Montejo
Great for food from the southeast of Mexico (Yucatan peninsula and mayan dishes.)
Av. Benjamín Franklin 261-A, Colonia Condesa, Cuauhtémoc, 06140 CDMX



---
Rodrigo Cervantes grew up in Mexico City, and moved to London in 2012.
He currently works as head chef at Mexican breakfast and lunch spot Bad Manners in Hackney.
As well as a chef, Cervantes is an artist and illustrator and lives with his partner and their child in the east of the city.


Illustrations and photography by Rodrigo Cervantes.