Image Frequency Modulation: Audiovisual Artist & Curator Ethel Tawe Takes Over Library Fetish
An artistic statement and visual journal elucidating the artist and curator's time in Grand Cayman, this article concludes the four-part editorial series, Image Frequency Modulation, contributed by Palm Heights artist-in-residence Ethel Tawe. The below are her words.
In this particular prototype installed at Library Fetish [Palm Heights' print archive and bookstore], charted fragments of my sonic journey through a Black Atlantic constellation culminate in a 'radio program' partly recorded during my time in residency at Palm Heights, Grand Cayman. The project seeks to confront a sense of wounding in the diaspora, gathering and reactivating material from private and public archives, or 'digitised albums', while centring custodianship and the Black interior. Image Frequency Modulation is an ongoing iterated body of work investigating the sonic, visual and haptic frequencies of images. It is concerned with ancestral memory, transmission and the metaphors of radio technologies as sites of possibility for the Black diaspora. Frequency modulation, or FM as popularly known in radio, is the encoding of information in a carrier wave.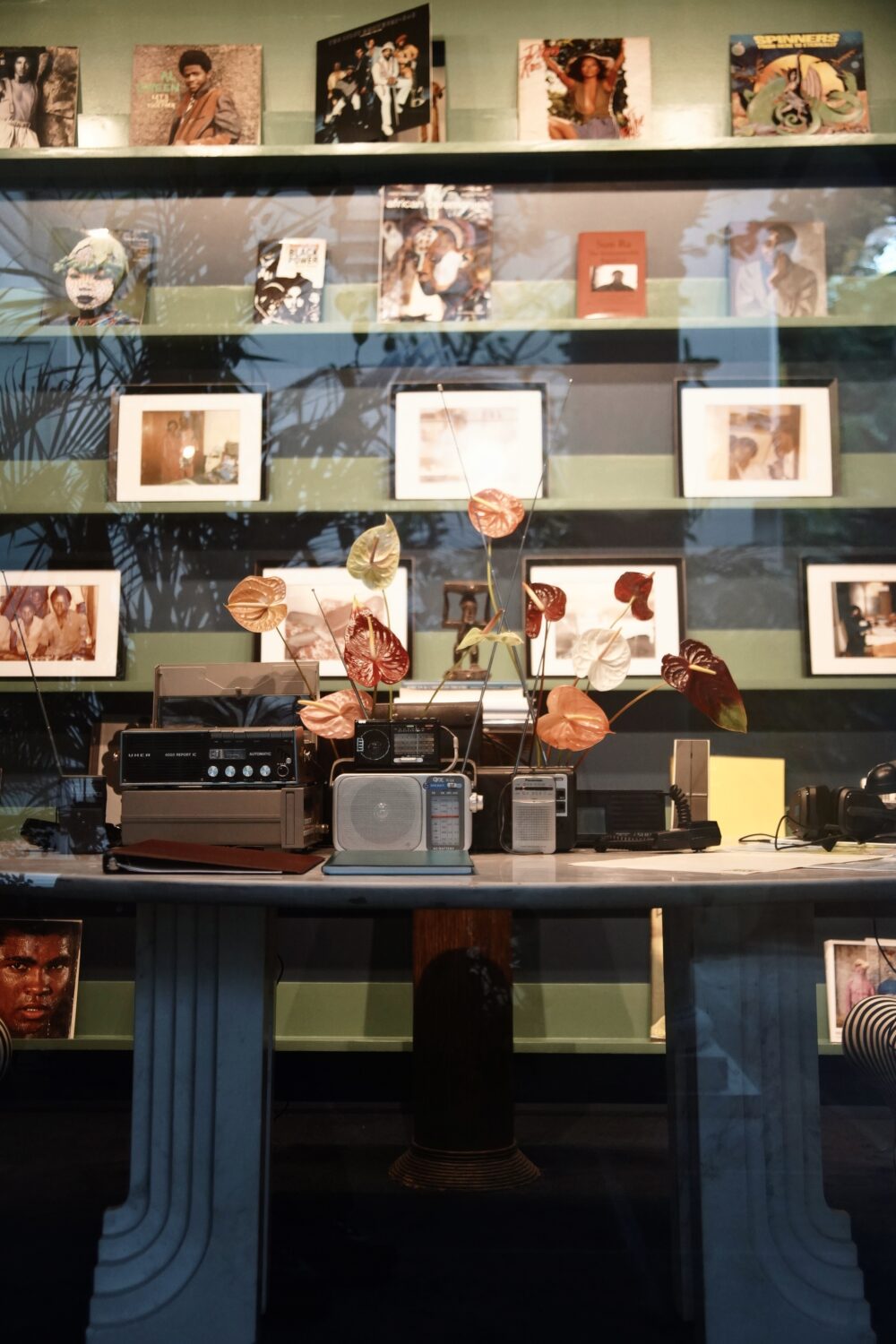 The curated space restages elements of the displayed images from my family's archive, paired with a curation of Afrodiasporic books from the Library Fetish collection. It mirrors the contemplative ambiance of an archive or listening room, highlighting the resonance between analogue and digital, ephemeral and permanence, then and now. In the spirit of call-and-response, the Afrovisualist essay transcript offers reflections on the continuum in which this work exists. Guided by prompts, an invitation is extended for listeners to contribute to the future archive by leaving written reflections on this audiovisual journey across Atlantic coasts. These components are assembling towards the full second iteration of Image Frequency Modulation, supported by the Magnum Foundation, and activated at several diasporic sites.

ENTRY 001: ON SPATIAL MEMORY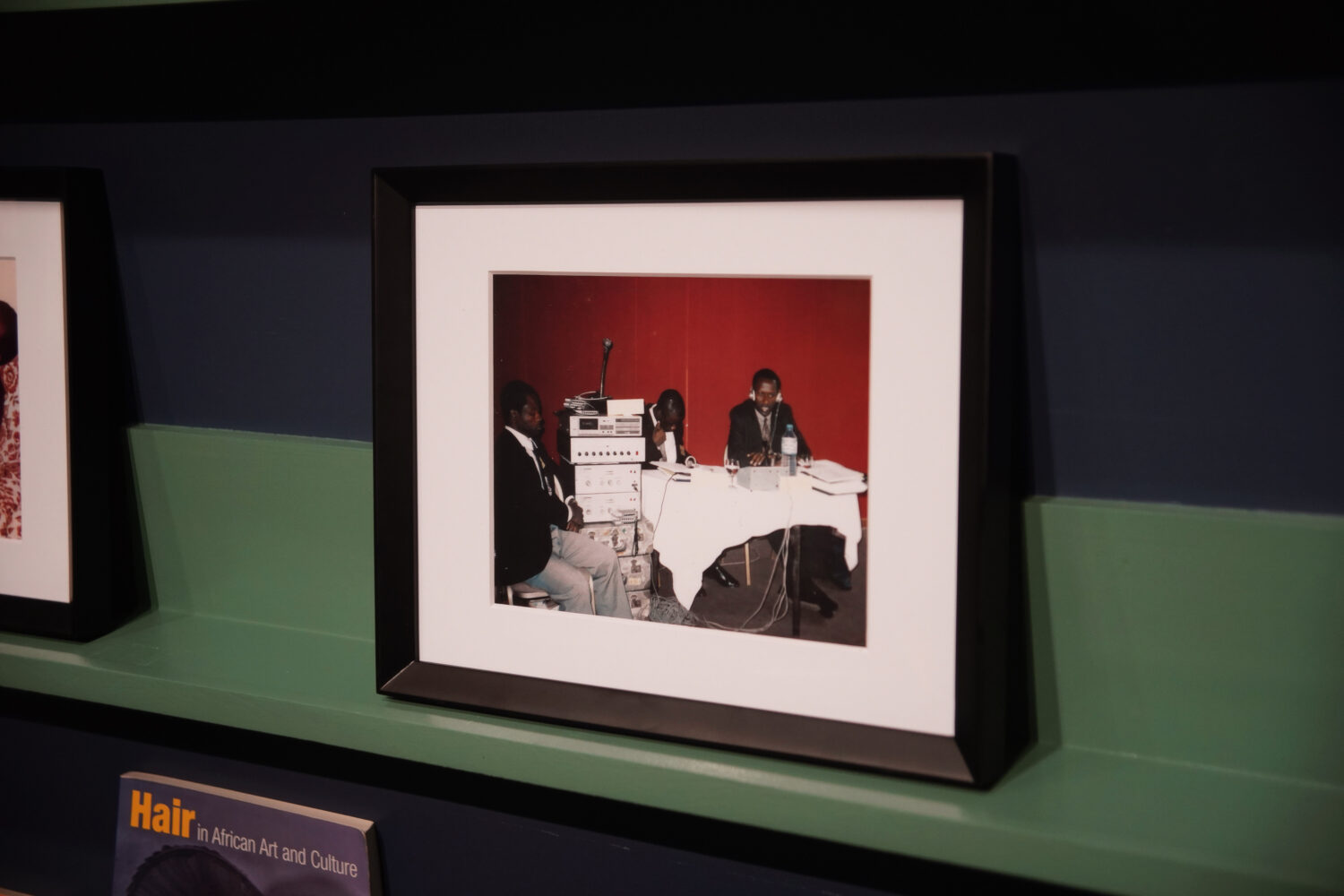 I grew up going to the library where my mother worked, waiting between shelves and on the floor till she finished. At first, I hated it. There weren't many children's books and it felt like the worst after school activity. Then I would hear the sound of the printer, fax and other machines that would excite me. The space gave me time to dream, draw and make art, uninterrupted. My earliest recollection of my father in a booth was at the National Assembly; an interpretation booth to be exact. The memories I don't have are those of him in radio booths at the national radio where he worked before. But in the process of developing the first iteration of Image Frequency Modulation, I began to learn more about his time in radio, and his intriguing relationship with sound throughout his career.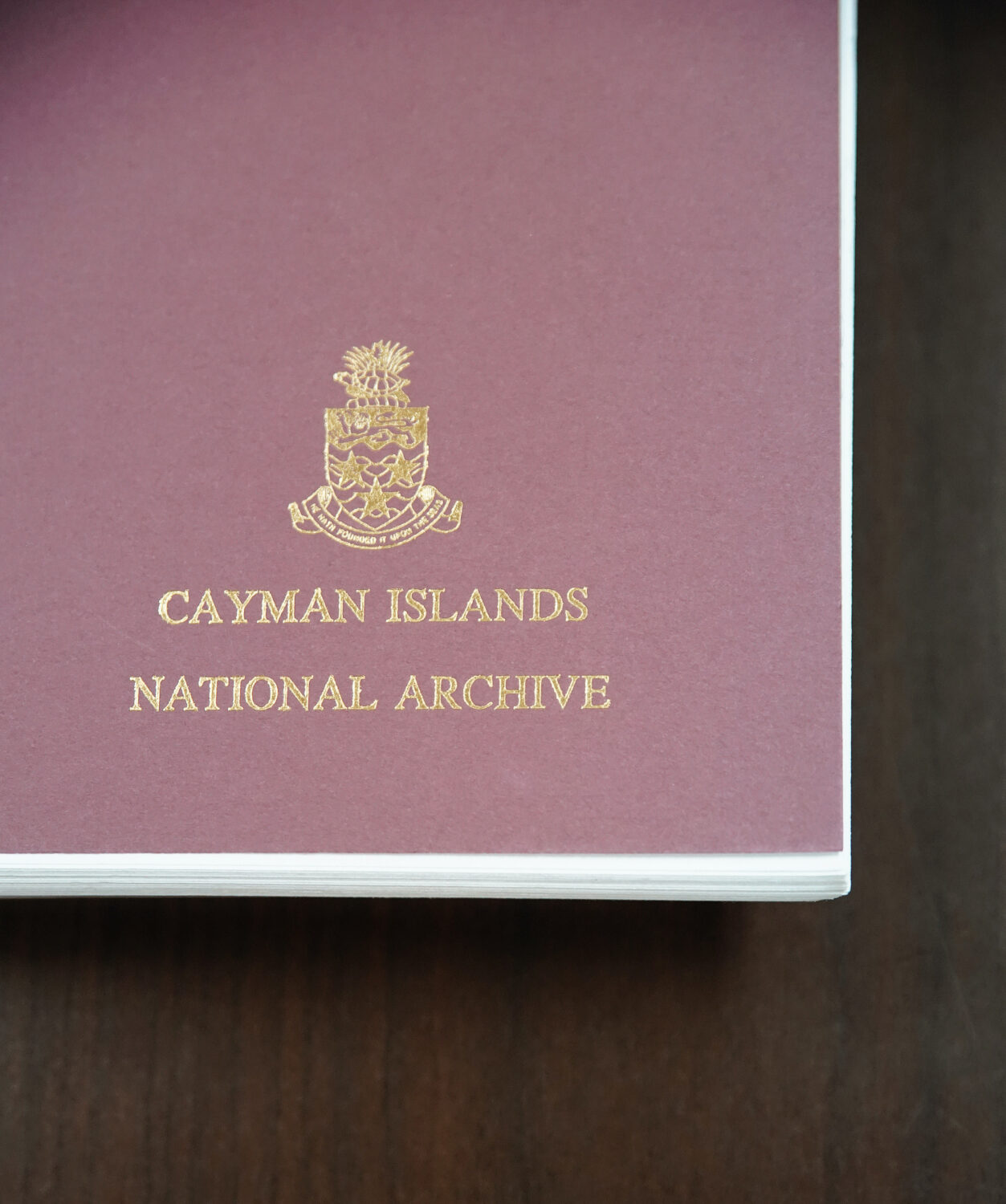 Reactivated by encounters with family photographs in recent years, the images now act as portals into deep memories, not just for myself but for my father and all those resonating within the frequential wave and circulation of these images. Pulling from my lived experiences in library spaces, to listening practices revisited through these memory exercises, this installation restages images from my family archive while contemplating what that means in this Caribbean island. Visiting key sites around Grand Cayman, including Pedro St. James Castle and the Cayman National Archives Historical Collections, allowed me to contextualise shared histories of Black diaspora and the nuances of Black life across the Atlantic.

ENTRY 002: ON BROADCASTING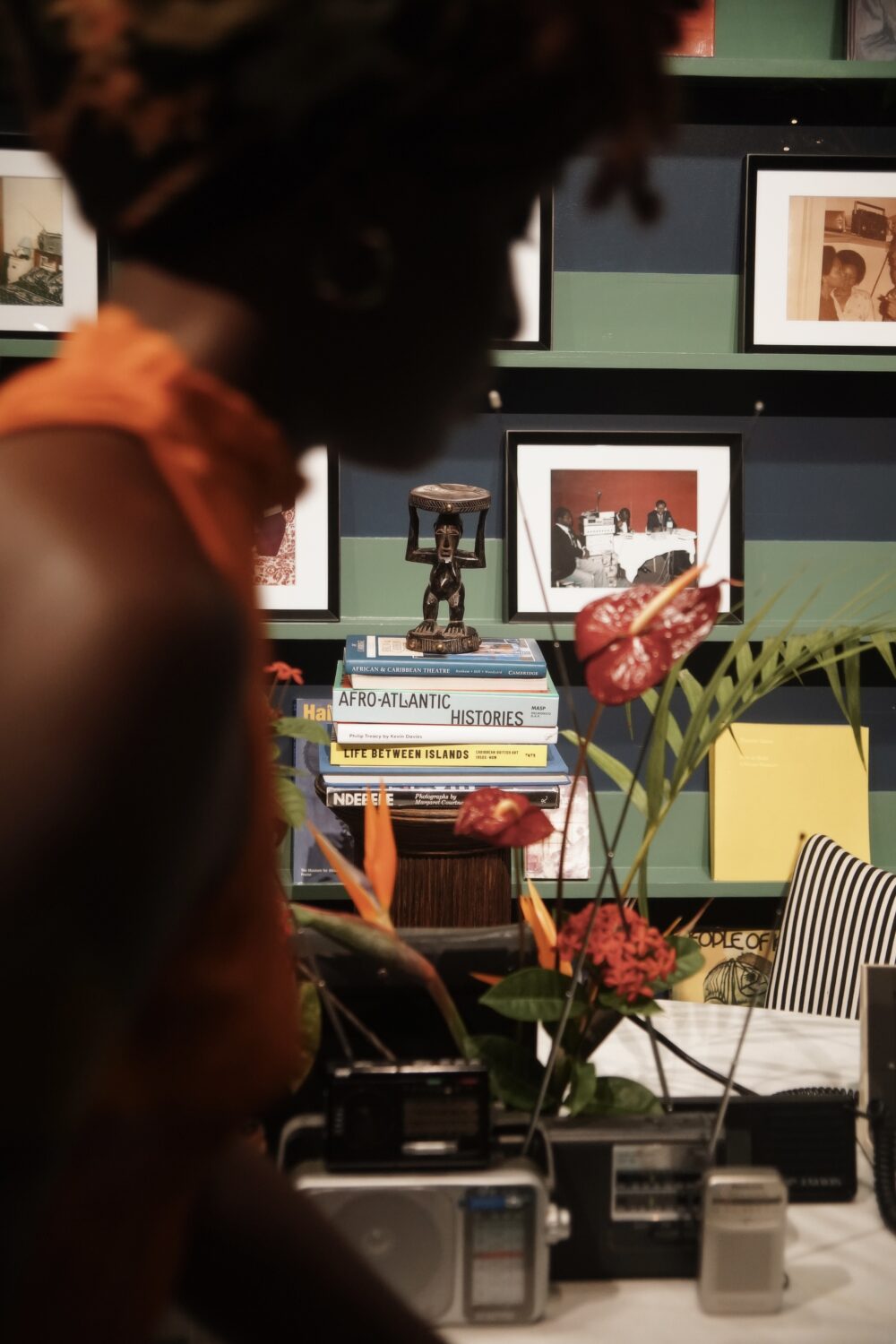 The recording of the radio program in the library space repositioned the space as a 'booth', teleporting and transcending spatial confines through sound and radio technologies. I think of the Black diaspora as a network of sorts, broadcasting radio waves across the Atlantic. The interior experience of reactivating memory as well as the metaphors of radio became crucial in the development of this work. The sonic and visual collide with the haptics of the analogue devices and ephemera on display.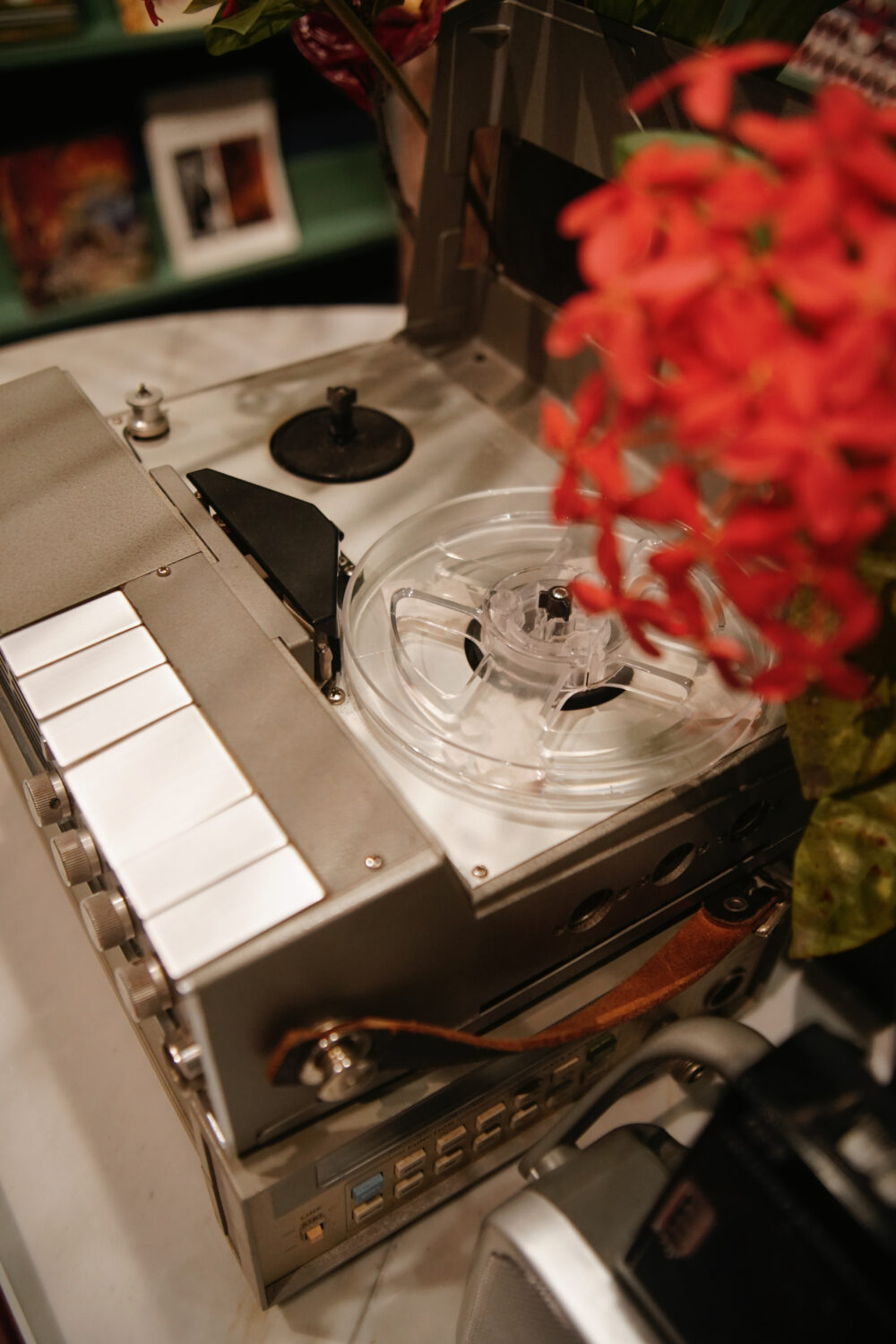 It is easy to bask in the nostalgia of what could have been, but the realities of uncovering these stories through conversation are quite difficult territories to traverse. As someone who has long struggled with locating home as a specific site, this second iteration in progress has become an opportunity to retrace and conjure through personal narratives and oral tradition. This particular audio collage includes sonic contributions by my father, my grandma Murkwi, my brother Elisha Tawe, Tina Campt, Neema Githere, Sheila Ramirez, and a separate channel in conversation with Caymanian artist Nasaria Suckoo Chollette.

ENTRY 003: ON IMPERMANENCE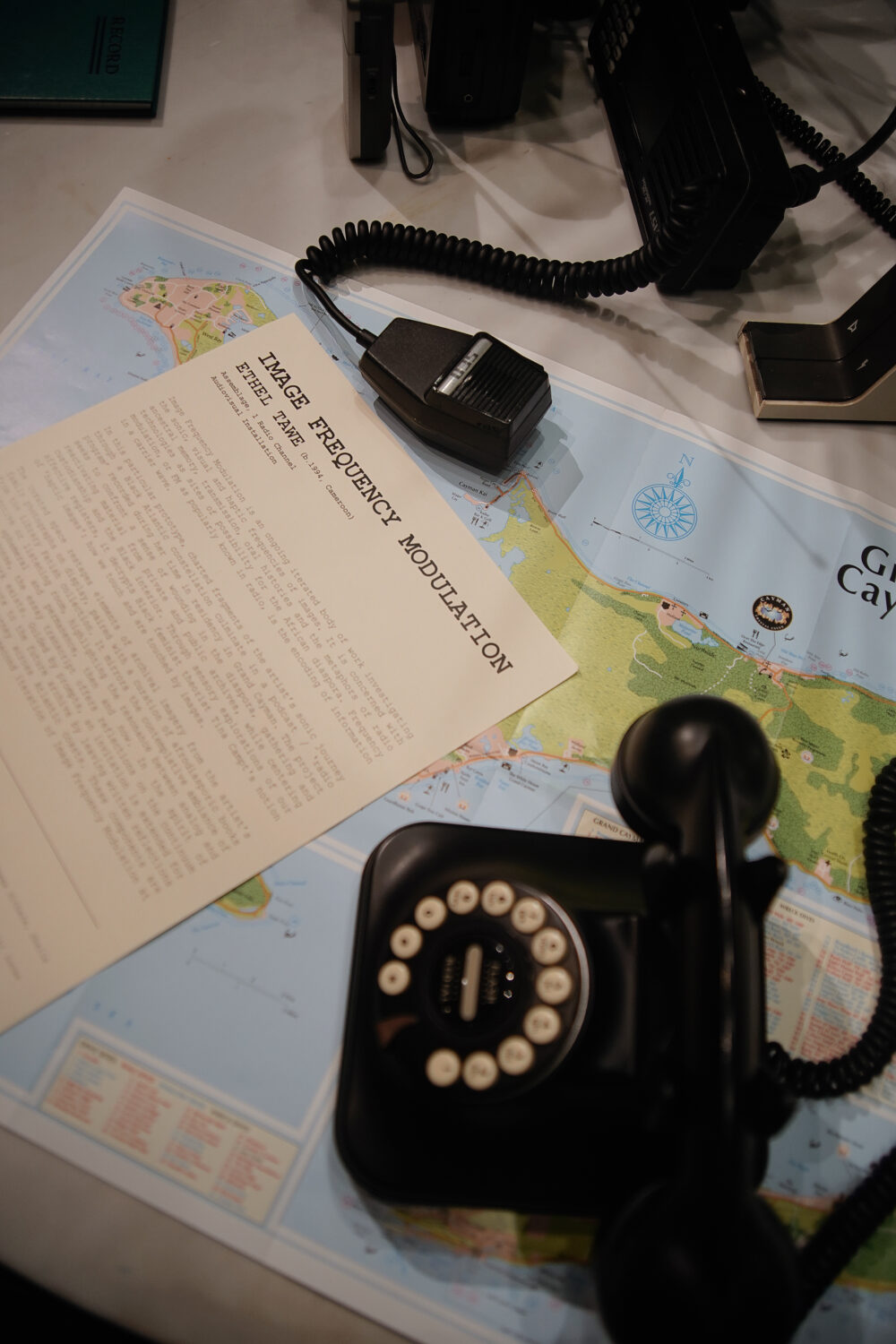 One of my favourite parts about this installation came to be that it can never be experienced in the same way twice. It is site-specific and impermanent: almost all the visual material was collected locally in Cayman and returned to their respective homes at the end of the showing. Materials were collected from Radio Cayman, Cayman National Cultural Foundation, an aviation warehouse (via Parcel 110), thrift shops, the roadside, people's homes and everything in between. The work is second-hand and ephemeral. The images are inherited. The sound is archival in part and experiments with make-shift processes.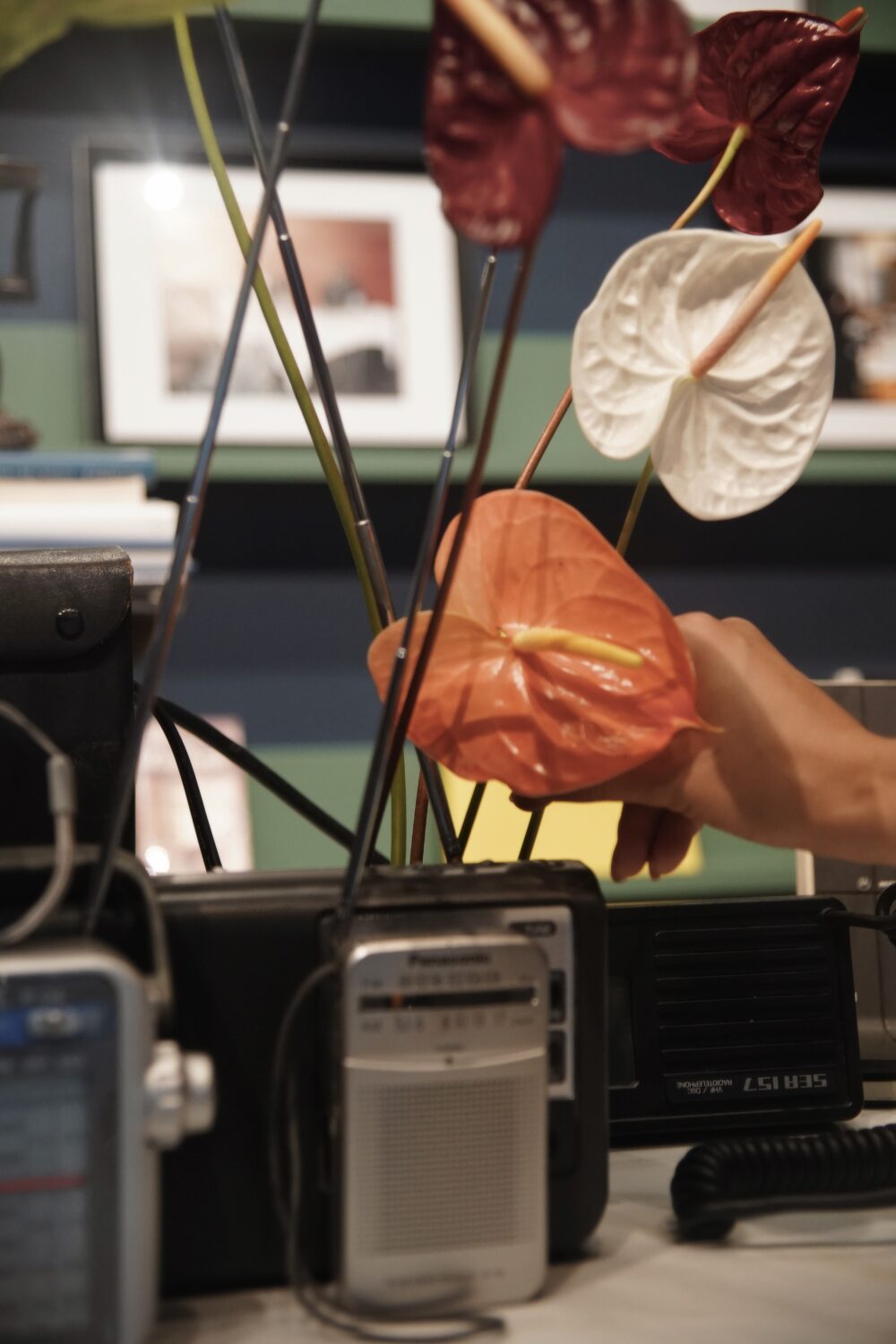 Image Frequency Modulation inevitably adopts a shape-shifting and collective process. From the old reel-to-reel device from the national radio, to the frequently changing live floral arrangements made from locally sourced flowers, the work breathes a life of its own. To be a custodian of these materials and stories, to hold them for a moment in time is to capture a portrait. It is testament to the power of syncretic practice inherent to Black diasporic traditions.



Credits: Photography Wami Aluko; Floral Arrangement Pearl Holmes; Podcast Producer (Sonic Curator) Justin Smith; Sound Design Khari Lucas; Creative Assistance Wairimu Nduba



Feature image: Image Frequency Modulation [radio], Ethel Tawe. Florals by Pearl Holmes. Photography by Wami Aluko